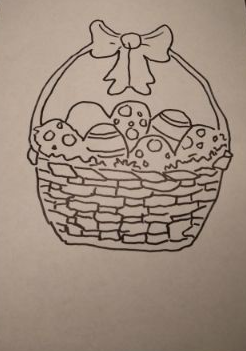 An Easter Egg.
Not any Easter Egg.
The egg!
It called to them from the window of the shop they passed on the way to nursery.
Hello!
It was the most exquisite thing they had ever seen, a magical golden orb in a wicker basket, atop which sat a brood of fluffy yellow chicks.
As they gazed upon its magnificence, both were of one mind determined they would have it, and together they began to formulate a plan. It was one shilling ten. Their uncle had given them savings boxes for Christmas, placing in each a shiny new sixpence and a tiny key. They wore the keys on strings safely around their necks. The boxes they hid in the hot press behind the immersion, away from covetous eyes.
In addition to their uncle's shilling, they calculated they needed to earn a further ten pence. At four years old, Síle could already read well and charm many the ha'penny from a soft-hearted adult with an impromptu display of this impressive skill. She also got a thruppenny bit for finding old Mrs. Moran's cat. Seán, 3 years older, got tuppence from Mr. O'Reilly at the electrical shop for breaking down some cardboard boxes.
Each day their determination grew along with their stash. They shone up each coin and counted their total at least once a day. They imagined over the over how their mother's face would light up when they gave her the incredible egg on Easter morning. How proud their father would be. How their parents would hug them tight. How their father would take them in his arms like Mr. Moran when his kids ran to meet him from work.
With only a day left to go and just a penny short, Mr. Byrne came up trumps and broke his arm, giving Sean a penny to go for his messages. The two little ones could hardly contain their excitement as they raced home to fetch their money boxes and deposit the last coin ready for their purchase next day. They flew up the stairs and wrenched open the hot press. Trembling hands explored the space on either side of the tank coming up empty, frantically searching again, stopping simultaneously to touch their fingers to the keys around their necks.
Their hearts thumping wildly they ran to their mother, certain she'd discovered their secret, but already half-drunk she could only shake her head. Fearful of waking their father snoozing in his chair, they retreated to the kitchen, holding back tears for whinging was the most cardinal of sins. There they discovered their most precious possessions in the bin, smashed and empty.
Other than between the two kids who could never forget it, no mention was made of the incident.
It was many years later their father confessed to doing it in desperation for drink, saying he hoped he'd taught them a lesson; though what that lesson was he couldn't say.

Posted in response to @tristancarax's 31sentence contest which this time round has only 30 sentences!
The image is my own