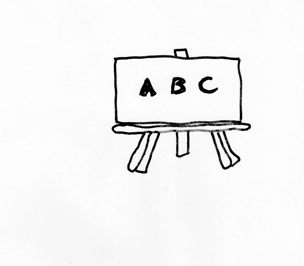 'Sticks and stones can break my bones but names can never hurt me' she repeated over and over to herself, though she knew very well it wasn't true. Taunting, mocking voices filling the classroom. One of the boys had drawn Dumbo the elephant on the blackboard, while the rest gathered around her chanting in unison ...'Truly Weird, Trudy Weir, Trudy Weird has elephant ears.'
The fickle finger of fate had bestowed upon Trudy Weir, ears which stuck out at right angles from her head.
She had tried sticking them back with sellotape and her father's Gummy Paper Glue. It just peeled off and stuck in her hair. She prayed every night to God, the Virgin Mary and St Anthony. Each morning upon waking she ran to the mirror desperate for a sign, but pray as hard as she may, an answer came there none. A child with a very determined nature, she redoubled her efforts and went to mass twice on Sundays. Three times on feast days.
Outdoors she wore her hood up to hide her shame and the curious clothes her mother, when sufficiently inebriated, would create on her sewing machine, but indoors she was unmasked, decloaked. Laid bare. 'Holy divine acrobatic Jesus, give my head peace', she implored. It was a magic incantation that her father often used to command silence. The teacher entered and all went quiet.
Mr Collins tolerated no messing in his class and Trudy felt like she could breathe again, at least until hostilities resumed again at lunchtime. But before he could get started with the roll call, his attention was drawn to a loud kerfuffle in the corridor outside. It was a woman's voice, shrieking incoherently and the classroom doors slamming open and shut. Several minutes ticked languidly by before Trudy realised with horror that she recognised the screaming voice. And time seemed to her to stand still as the heavy, lumbering footsteps continued down the hall until finally coming to a halt outside the classroom door. There was a sudden collective intake of breath and all eyes watched as the door handle turned.
There are many and varying accounts of what happened next, for it was a subject hotly discussed at many a dinner table in the subsequent days. But Trudy saw it all in slow motion. Eternally.
Mr Collins, anxious to intercept the intruder, ran for the door, reaching it as it swung open hitting him square in the head. The figure outside, meeting unexpected resistance, lost her footing, tripped over the sill and landed at Mr Collins' feet. There she lay, headscarf skew whiff, nylons torn at the knees.
'Trudy, Trudy' she slurred, her eyes lighting upon her daughter and she attempted to haul herself up, holding Mr Collins' leg.
Laughter filled the room No one could believe the scene unfolding before them as Mr Collins, bending to assist Trudy's mother, abruptly recoiled, and the heady aroma of urine rose into the air.
Trudy died...inside.

Posted in response to @tristancarax's 31sentence contest
The image is my own