Nada es mejor que salir y disfrutar con amigos, sobretodo si tienes tiempo sin verlos y bueno... solo puede mejorar si hay comida de por medio :joy:
Nothing is better than going out and enjoy with friends, especially if you have time without seeing them and well ... it can only be better if there's food
---
Llevaba tiempo sin ver a unos amigos y aunque hablamos a diario por whatsapp, nunca es lo mismo que vernos en persona. Algunos no tenemos el mismo horario de clases, o no coincidimos en la universidad y otros trabajan, so... tenemos como 2 semanas cuadrando esta salida, pero por fin lo logramos.
I had a long time without seen them and although we talk about whatsapp everyday, it's never the same as in person. Some of us do not have the same class schedule, or don't coincide in the university and others have to work, so... we have about 2 weeks planning this, but finally we did it.
Decidimos ir a Mamma Bella a comer pizza, que queda en el C. C. El recreo. Después de ver el menú (y los precios por supuesto) decidimos pedir una para cada uno. Mientras esperábamos, entre risas, nos pusimos al día. Hablamos de todo, hasta de la razón por la cual nos reunimos.
We decided to go to Mamma Bella to eat pizza, which is in C. C. El Recreo. After seeing the menu (and the prices of course) we decided to order 5 pizzas. While we waited, laughing, we caught up. We talked about everything, even about the reason why we met.
---
As everyone knows, the inflation that exists in Venezuela is absurd. Is that much, that even when you are gonna to buy any bauble or candy you think twice to do it. Some will ask, "how the hell did they go to eat pizza?" For the same situation, it is common for people to migrate to other countries, more than one acquaintance must have ... but actually affects you when it is a relative or a good friend. In this case, our dear friend @orii went to Spain in February and although we are still talking about whatsapp, we missed her. She gave us this opportunity to share and it is so great to know that despite the distance she keeps thinking about us.
Terminamos de comer a duras penas, casi salimos rodando del restaurante. La comida estuvo increíble, de buen tamaño y bien sabrosa. Para los que se encuentran en Caracas, se los recomiendo. Al final, caminamos todos al metro, nos despedimos y cada uno fue para su casa. Ojalá se pudiera hacer más seguido porque me hacía falta verlos y echar tanta broma. Espero que pueda repetirse pronto y que un futuro no tan lejano, aunque sea en otro país, nuestra amiga pueda estar con nosotros.
We finished eating barely, almost rolled out of the restaurant. The food was amazing, good size and very tasty. For those who are in Caracas, I recommend it. At the end we all walked to the subway, we said goodbye and everyone went home. I wish it could be done more often because I needed to see them and have such a good time. I hope it can be repeated soon and in a future not so distant, even in another country our dear friend can be with us.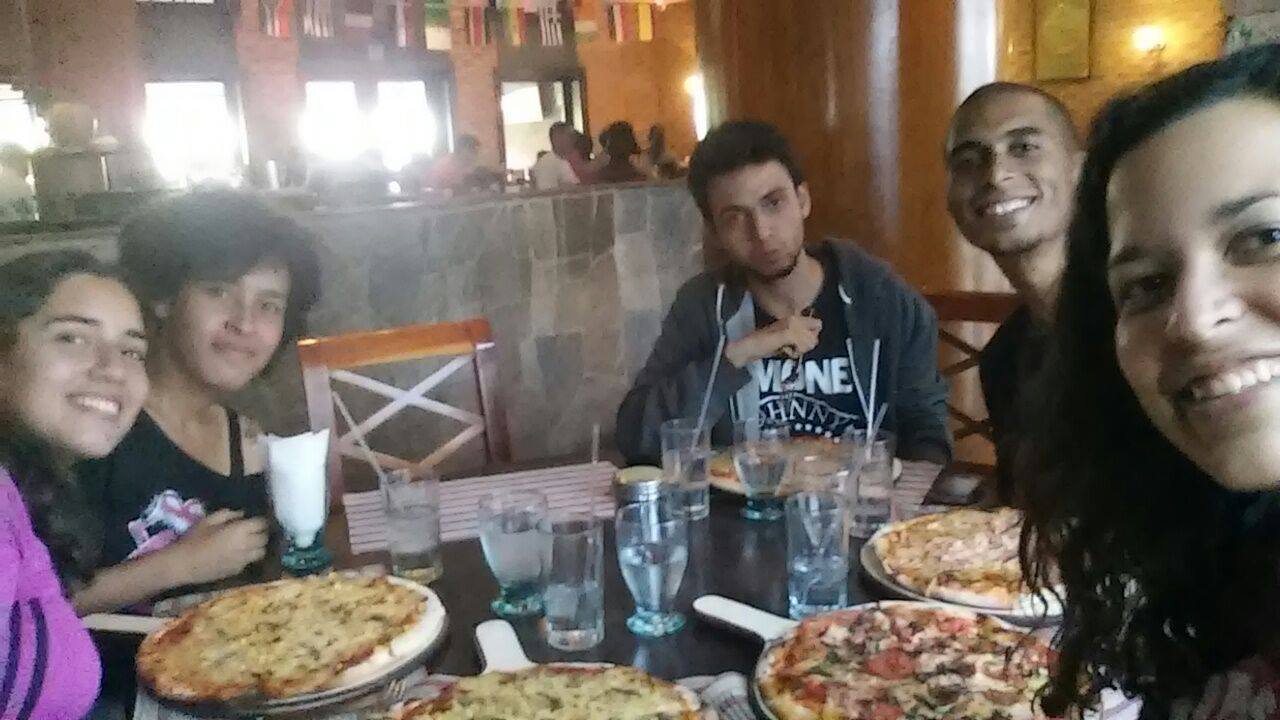 Gracias, Ori bella <3
Thanks Ori <3
Para unirte, sigue esta guía:
Escribe una publicación sobre algo sobre lo que tengas que ser positivo hoy en día. Podría ser una cosa real, estar agradecido por sus amigos y familiares, o incluso estar agradecido por la oportunidad que se puede brindar aquí en Steemit, solo mantenlo positivo.
Haz esto durante 7 días seguidos si te nominan.
Mencione a tres personas que pueden hacer esto cada día.
Etiquétalo con #7daypositivitychallenge e incluye estas reglas en la parte inferior de tu publicación. No olvides poner el símbolo # para que la etiqueta sea aceptada.
Incluye una imagen de algo positivo (relacionado con tu historia si es posible).
To join, follow this guide:
Write a post about something that you have to be positive about today. It could be a real thing, be grateful for your friends and family, or even be grateful for the opportunity that can be offered here at Steemit, just keep it positive.

Do this for 7 days in a row if they nominate you.
Mention three people who can do this every day.
Label it with # 7daypositivitychallenge and include these rules at the bottom of your post. Do not forget to put the symbol # so that the label is accepted.
Include an image of something positive (related to your story if possible).