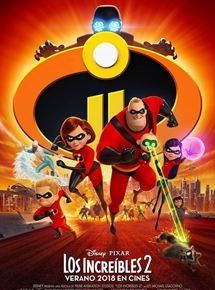 Los Increíbles 2
Tenía días tratando de cuadrar con mi novio para poder ver Los Increíbles 2 pero siempre sucedía algo y no se podía. No se ustedes, pero no importa la edad que tenga, si sacan alguna secuela de una película de Disney tengo que verla, es como revivir un poco de mi infancia.
I had days talking with my boyfriend to see The Incredibles 2 but something always happened and couldn't see it. I don't know if it happens to you but no matter how old I am, if there is a sequel to a Disney movie I have to see it, it's like reliving a bit of my childhood.


En nuestro mesario - el día que cumplimos 1 mes más de novios 😍 - no ibamos a poder vernos porque salía tarde de la clínica - donde estoy haciendo pasantías - y como vivimos lejos el uno del otro, era riesgoso regresarnos a nuestras casas después. Para mi sorpresa, un amigo me llamó esa tarde para invitarme a ver esa película, el iba a ir con su novia y quería que mi novio y yo nos llegáramos, que el podía darnos la cola. Así que la terminamos viendo ¡y fue genial!
In our monthversary - the day that we celebrate 1 more month as a couple 😍 - we were not going to see each other because I was going out late from the clinic - where I am doing internships - and since we lived far from each other, it was risky to return to our homes later. To my surprise, a friend called me that afternoon to invite me to see that movie, he was going with his girlfriend and he wanted my boyfriend and I to arrive, he could give us a ride. So, we ended up watching it and it was great!


Lo más loco fue lo random de la salida porque todo fue a último minuto pero afortunadamente, todo se dio. Llegamos temprano, compramos las entradas y después fuimos a comprar las chucherías para poder disfrutarla como debe ser.
The most crazy thing was the randomness of the hang out because everything was at the last minute but fortunately, everything went well. We arrived early, bought the tickets and then went to buy the trinkets to enjoy it as it should be.


Desde que empezó la película hasta el final fue pura risa, me atrevo a decir que me gustó más que la primera. Hay más desarrollo de los personajes, le dan más protagonismo a la Elastigirl en cuestiones heroícas, a Mr. Increíble le toca ser "ama de casa" y ayudar en los problemas escolares y amorosos de sus hijos y Jack Jack... simplemente estuvo sorprendente, le dan muchísimo más protagonismo a pesar de ser "tan solo un bebé". Supieron como agregar todo lo que lo hace especial de una manera cómica y agradable para la audiencia, a pesar de que le saca canas verdes a su papá 😆
Since the movie began 'til the end it was pure laughter, I dare to say that I liked more than the first one. There is more development of the characters, they give more prominence to the Elastigirl in heroic issues, Mr. Incredible is the "housewife" and help in the school and love problems of his children and Jack Jack ... he was just amazing , they give it a lot more prominence despite being "just a baby". They knew how to add everything that makes it special in a comical and pleasant way for the audience, even though it brings green hair to his dad 😆


Hay unas secuelas que en vez de ser un éxito son todo lo contrario, temía que esta fuera así pero de verdad se lucieron. Tampoco quiero darles mucho spoilers por si la quieren ver... yo la disfruté bastante. Es una película para pasar un rato agradable en familia o para ver con tus amigos, como hice yo.
There are some sequels that instead of being a success are just the opposite, I was afraid that this was the case but they really showed off. I do not want to give you much spoilers in case you want to see it... I enjoyed it a lot. It's a movie to have a nice time with your family or to see with your friends, like I did.


Lo dejo hasta aquí ¡Nos vemos en el próximo post!
I leave it here. See you in the next post!
Para unirte, sigue esta guía:
Escribe una publicación sobre algo sobre lo que tengas que ser positivo hoy en día. Podría ser una cosa real, estar agradecido por sus amigos y familiares, o incluso estar agradecido por la oportunidad que se puede brindar aquí en Steemit, solo mantenlo positivo.
Haz esto durante 7 días seguidos si te nominan.
Mencione a tres personas que pueden hacer esto cada día.
Etiquétalo con #7daypositivitychallenge e incluye estas reglas en la parte inferior de tu publicación. No olvides poner el símbolo # para que la etiqueta sea aceptada.
Incluye una imagen de algo positivo (relacionado con tu historia si es posible).
To join, follow this guide:
Write a post about something that you have to be positive about today. It could be a real thing, be grateful for your friends and family, or even be grateful for the opportunity that can be offered here at Steemit, just keep it positive.

Do this for 7 days in a row if they nominate you.
Mention three people who can do this every day.
Label it with # 7daypositivitychallenge and include these rules at the bottom of your post. Do not forget to put the symbol # so that the label is accepted.
Include an image of something positive (related to your story if possible)