Brief introduction about the director
Quentin Tarantino is American film maker, and director of Once Upon a Time In Hollywood , and once again he does his best to renew himself. After chewing on his own jokes with The Hateful Eight , Once Upon A Time In Hollywood is a fresh wind. A breather even, because not every scene is covered with a thick layer of artificial coolness. Very often, refreshingly little happens on screen, and that makes this his most relaxed film in years.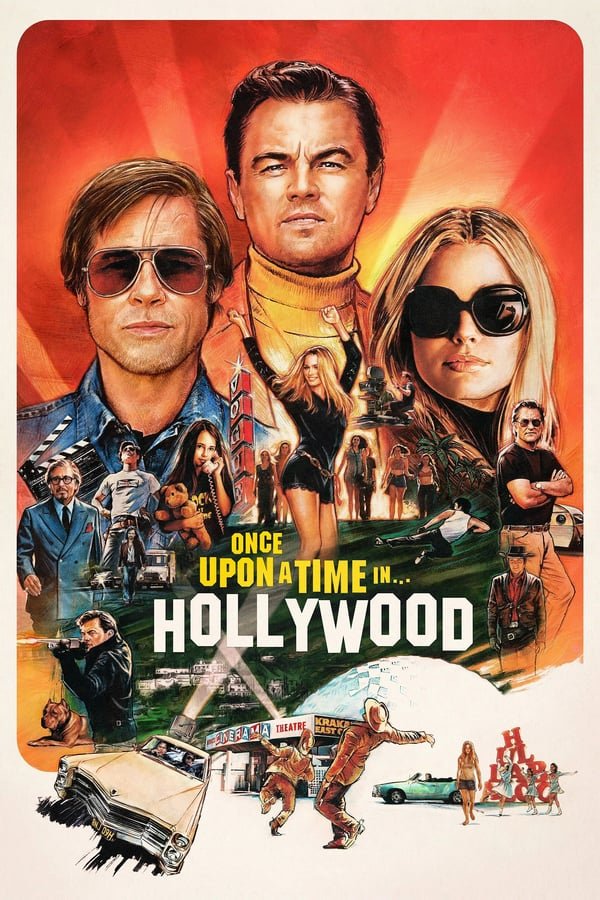 Image Source
Plot and review
Hollywood, late sixties. Director Roman Polanski and pregnant actress Sharon Tate form a golden couple. They move into the house next to Rick Dalton, a glorified TV cowboy whose career is in a dip. He gets sporadically still rolls like the villain of the week; a sign that it's done with him. He doesn't even get his regular stuntman Cliff Booth to get new work. While old Hollywood is bleeding to death, hippies are entering with new-fashioned frills. Can Rick adjust to save his career?
According to Tarantino, this is his most personal film. He even said in interviews that this is his 'memory piece', like Alfonso Cuarón's Roma. His way of showing that is by ramming each frame as fully as possible with references to existing films and other pop culture. More than his previous films - and that is quite a task - Once Upon A Time looks like a teenage girl's bedroom full of posters of ogling male flesh, not a millimeter of wall visible anymore. So that we know with which cultural baggage Tarantino made this film.
It only starts to grind when a scene is suddenly stopped for an unnecessary flashback that is purely for a joke. Fans of Family Guy will enjoy it. For example, we see Dalton briefly in a role he missed: that of Steve McQueen in The Great Escape. DiCaprio has been put into it. Then we continue where we left off. Tarantino uses such jokes with a flair and self-confidence that will smooth out the dissonance for most people. It has certainly been entertained, but enough is already being played with the historical context.
Charles Manson is like a character in the film. Just for a moment. There is much more attention for his murderous cult, the Manson Family. It is better not to tell where that is working, but it gives this film the impression that it is really about something. And we all know what appearances are: cheating. Tarantino colors the story in a historical context, but forgets to explain why it has a load. That is why you have to have historical prior knowledge, otherwise you will not get some things. And that is perhaps too much to ask of the Wikipedia generation.
DiCaprio and Pitt work wonderfully together. Stuntman Booth is a casual guy with big muscles for the crucial moment. A guy with whom you want to drink a beer. You mainly have to do with Dalton. DiCaprio has an unprecedented talent for playing the loser: he hacks and sweats through the scenes in which he has to sell himself to important people as an actor and fails. Precisely by playing the right thing for his turn without exaggerating wink, DiCaprio displays the humorous undertone in his character.
Margot Robbie acts beautifully as Tate, who has been living on a pink cloud for almost the entire film, but her role has zero depth. And if you know what happened to the real Tate, you might feel why it was chosen. The smaller supporting roles color the film in particular. Tarantino has fun names that pass quite short, but in that flurry almost everyone gets the chance to make their mark. Especially the menacing Dakota Fanning and Julia Butters, who is far too wise for her age, make an impression. Of all the ways that Once Upon A Time ... is stuffed in Hollywood , that's probably the best.
It all remains a big ego show...
Look at how great Quentin Tarantino is. It's a good thing he can deliver that same message time and again in a spectacularly entertaining way. Because of a much deeper meaning, this very talented filmmaker must not really have it. Once Upon A Time ... in Hollywood , you'll be on the edge of your seat and play. In that regard, Tarantino always delivers. But he also learned to lean back a little. He hardly did that after Jackie Brown .
Concluding remarks
Overall, it is a good, entertaining comedy-drama movie. The character I liked the most and which made this movie interestin, in my opinion, is that of Charles Manson who lived a part of his life with his aunt and uncle that may have affected his psyche.
I would give this movie a rating of 4 out of 5 and would recommend to watch it.
---
Movie URL: https://www.themoviedb.org/movie/466272-once-upon-a-time-in-hollywood?language=en-US
Critic: AAA