Please RESTEEM to stop this scammer and warn others
There is an account on https://steemit.chat going under the name @steem. Note the "." at the end of the name.
This person is pretending to be @steem, which just happens to be a whale.  And this person is requesting 20steem for a $200 vote.
Today he approached me. Of all people, me.  Sure I analyse the data, is he mad?
Here is the conversation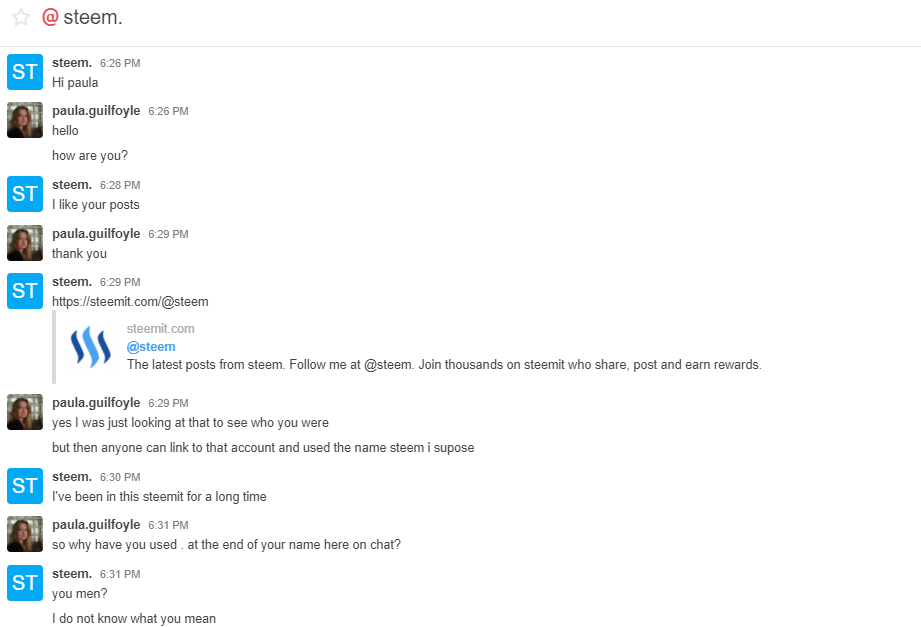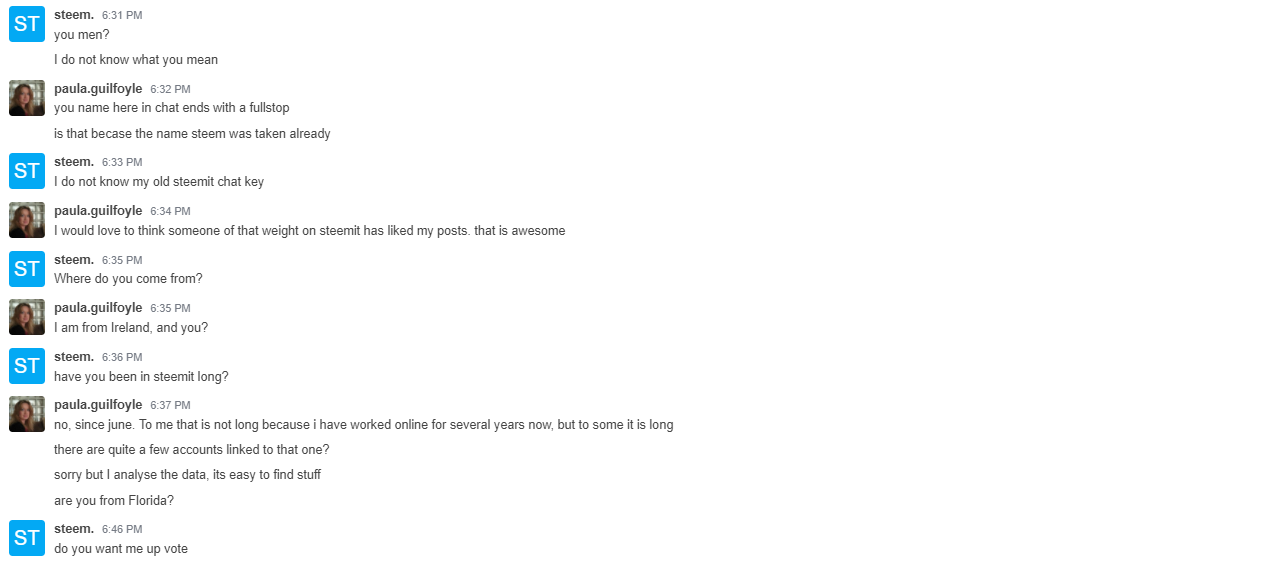 This conversation goes on and he send me a memo asking for 20steem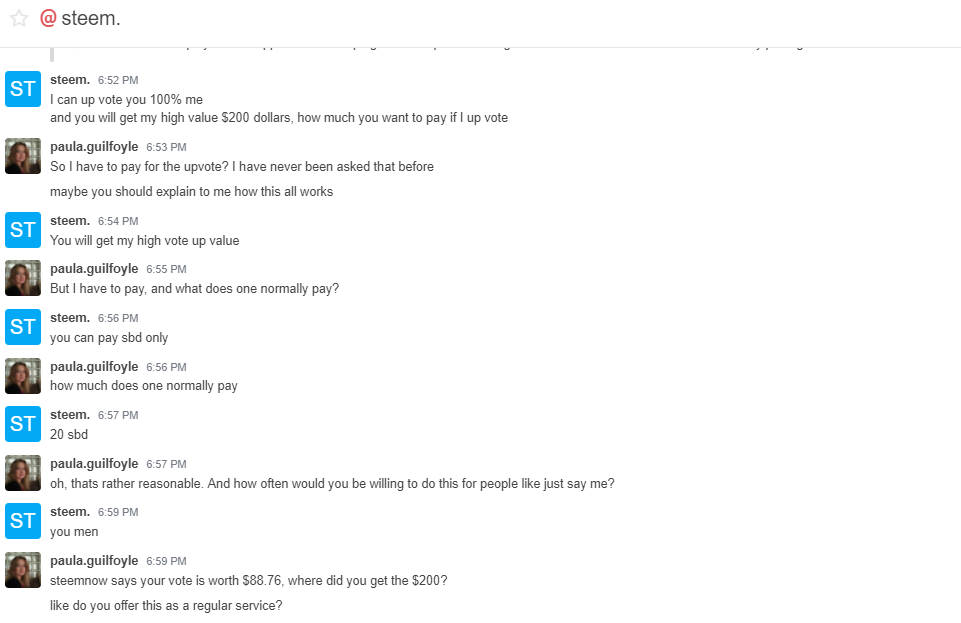 Needless to say I did not send any steem, but I did look up the memo details in the steemit database to see if anyone else sent him steem.

What I found were 4 other steemit accounts that had made a transfer to this memo.  I looked at each of these accounts in detail and it lead me to a second memo number d48d7d3d33d04931a51 and another steemit account that made a transfer.
So I have contacted each of these on steemit chat to confirm this scam.  Here are some further screen shots of conversations with the scammer. The first one is from @drdave who lost 10 steem and 5sbd on this scam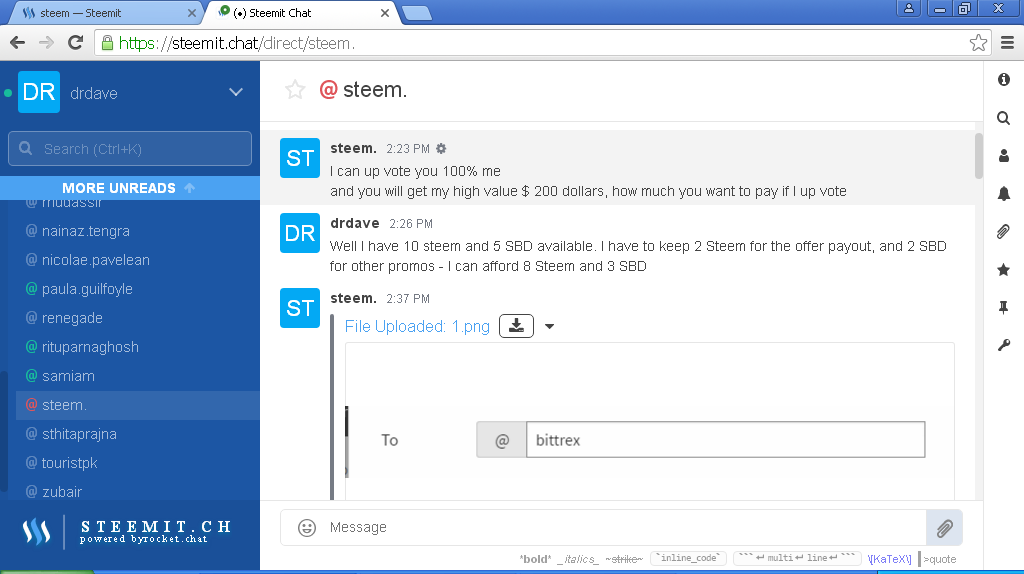 this second one scammed would rather not be named, however I have been supplied with a screen shot of the chat.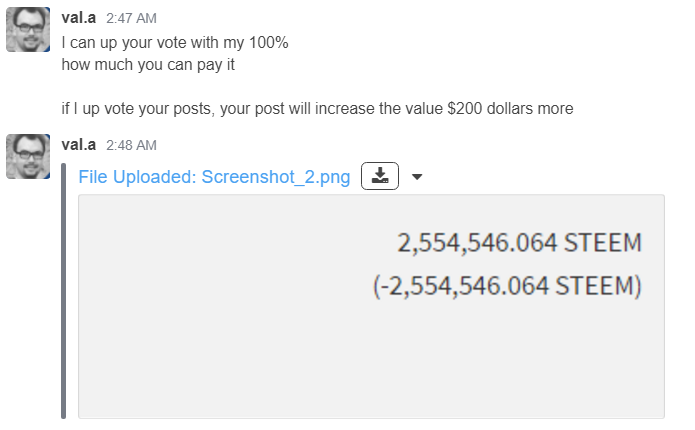 You will note that the second is going by the name @val.a  This scam has already been identified and the real @val.a has written a post about it which you can read here
https://steemit.com/scam/@val-a/please-be-aware-of-scammers-on-steemit-chat
Here is a third one – and guess what, this conversation is happening now while I am writing this post.  I am talking with @themarkymark on discord right now. @themarkymark was wise enough to spot the scam and not send any money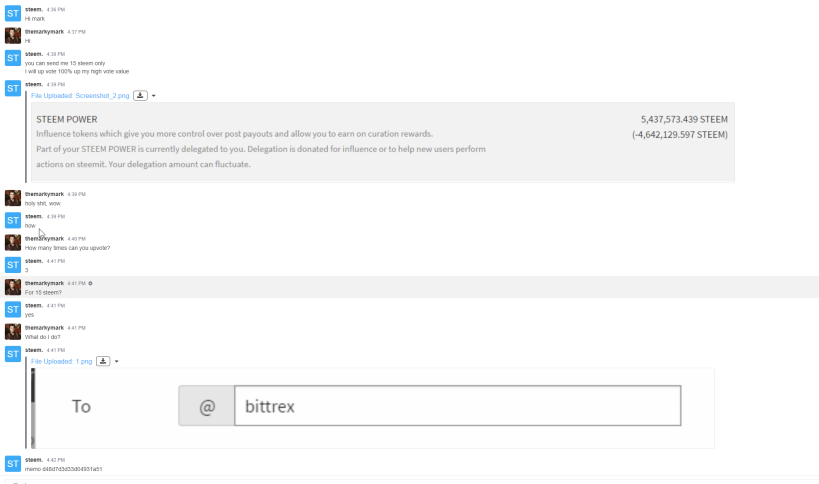 Look how he catches him out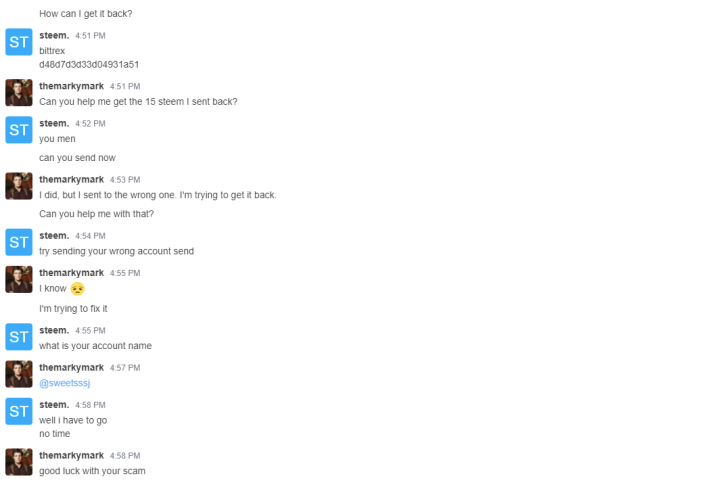 However the scammer is the same person, because the memos used overlap.
DO NOT SEND STEEM TO ANYONY UNLESS YOU KNOW WHO THEY ARE
If you have been effected by this scam, please post below or contact me on steemit chat or discord.  I would like to see if there are further memo numbers involved and get this stopped.  Between the 5 accounts that fell for the scam, this scammer has made  20 Steem and 32 SBD
  I am part of a Steemit Business Intelligence community. We all post under the tag #BIsteemit. If you have an analysis you would like carried out on Steemit data, please do contact me or any of the #bisteemit team and we will do our best to help you...
Follow, upvote and resteem