For anyone living in a cave, there is an argument going on Steemit for the last few months.
Haejln is the Steemian at the heart of this argument.
Many have ducked their heads and tried to ignore it (me too most of the time).
Many have looked at the parties involved and thought maybe "he" is being picked on by "that" jerk.
Many have looked at the numbers and thought... That is INSANE! No Steemian deserves that WEEK after WEEK, Month after Month (me here... for the most part).
Let's have a look at the current numbers: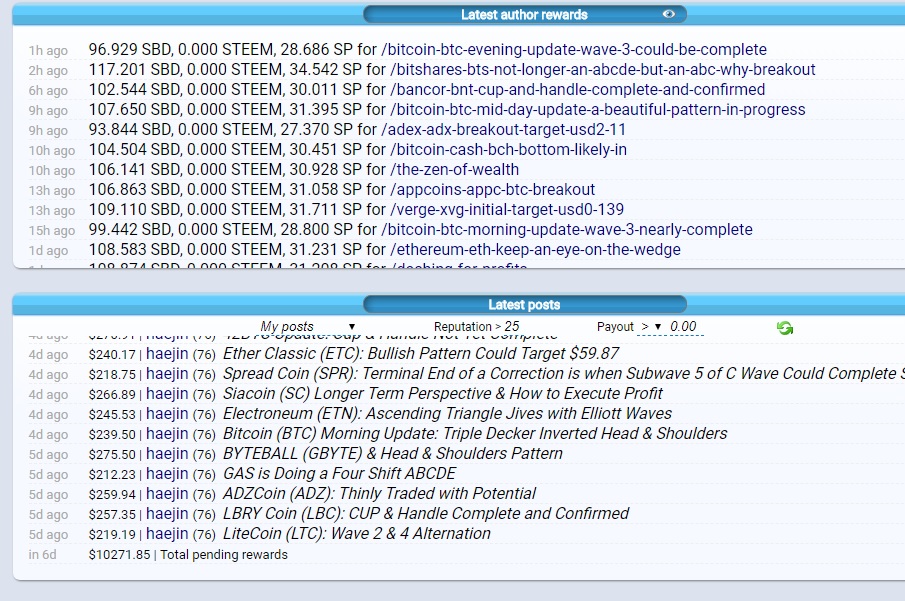 Actually... I noticed this just now, but saw it 2 days ago when I first looked. Steemnow is missing the last day or half day: 5 posts and over $1000 are not displayed in the total.
AND this is AFTER 5 more posts have been flagged into $0.00 value. That would have been another $1000. But I will overlook those, since some pity upvotes may have come in on other posts to counteract that.
SO, over $11,000 in potential rewards... minimum of 75% go to the Poster (more than 75% since he 100% upvotes all of his own posts. His curation rewards will take in another 5% maybe. Also... going to ignore this for my calculations.)
11,000 X 75% = $8250.00
To get the SBD we divide it by two: 8250/2 = 4125 SBD
to get the Steem that goes directly to SP we divide the 4125 by 3.48 (Market price of STEEM) 4125/3.48 = 1,185 STEEM
Again, this is a 7 day projection.
Assuming the Steem and SBD prices stay the same, the estimated earnings for 7 days would be:
4,125 X $4.00 = $16,500
1,185 X $3.48 = $4,125
Total = $20,625.00 PER WEEK
If that happened to be carried for a whole year, that is:
$1,072,500 for creating 10+ charts a day that are for entertainment purposes only and may actually lead someone to loose money.
Now.... if Haejln did not ask for this windfall wealth, and Ranch0relax0 just decided to adopt him from the goodness of his heart, that is amazing for Haejln.
However, if that was the case, why wouldn't Haejln share the wealth, at least after the first week or two weeks of these AMAZING Rewards, and give out 100% of HIS upvotes to others. OR delegate to healthy-home or utopian.io or curie or anything????
IF Haejln did not buy these votes through some deal outside of Steem. And if Haejln is not Ranch0Relax0, then the real "trouble maker" is Ranch0Relax0. He is rewarding one Steemian with a share of the Reward Pool, that, for most Steemit investors' sensibilities is considered excessive.
One important or great post at $1000 is not generally seen as excessive. But a daily production of $2000+ for week on week on week IS!!
"But he is doing nothing wrong. If the system lets him earn so much, it must be fine. If there is a problem, then put a cap in the coding."
That is not how Steemit works. It is an open and semi-anarchist system. If some limit was written into the code, a real schemer would just find a way to circumvent it. And these limits would just work to hurt Real Rewarding of Amazing Posts when they do come around.
So, is Haejln being bullied by those that are flagging these high paying posts? No. Read the first Reason given for flagging:
.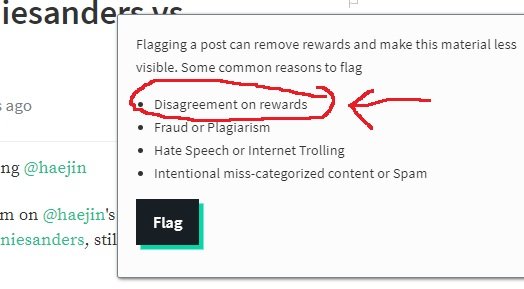 The first reason is: "I have x much SP and I disagree with the rewards this post is getting" It is the FIRST reason. Could you abuse that reason, be jealous, be a jerk, etc?? Sure. But Flagging is a generous act because you are GIVING UP rewards that you would otherwise be awarding to yourself, your friends, and amazing posts of others. And you give up any curation rewards also. Flagging can be a VERY sacrificial act.
NOW.... Steemit is a flawed platform full of flawed people. So, I agree that the UGLINESS that has ensued in this "Flag War" so far is deplorable. One particular strong whale gets rude, obnoxious and vulgar. Of these behaviors, I do not approve!!!!!
However, I think something must be done. Ranch0Relax0 is the true trouble maker here. As far as I know, he/she/it has not spoken up a single time. He/She/It has not given a single vote to other deserving Steemians. He/She/It has allowed this disagreement to continue for months now, slowly poisoning the mood and emotions of many involved and of observing steemians. This lack of involvement and peace making is DEPLORABLE!!!
And secondly, this could all be water under the bridge already if Haejln had simply condensed his posts into an average of 5 or less per day. As fat and glutinous as that still would have been, 5 or less would have been acceptable....more or less. Or if he gave out/away 75% of his own votes to his post's commenters, and other deserving Posts. That would have gone a long way as well. But neither have shown community positive behaviour. So now it has come to this.
And I believe I will join the call to flag as requested by my friend here.
Should I join? Should you? I think minnows should play a part. And I think this has been draining from the community rewards for long enough. But each will have to decide for themselves. I am sure there will be a lot of hurt feelings following the new stage of the flagging initiative. And perhaps many hurt accounts as well. But if you disagree with the Porportion and Size of the rewards Haejln is taking.... it is in your power and right to flag these over rewarded posts as well.
---
Just for comparison let's look at @papa-pepper. He is an equally active/prolific poster, who has been responsible for encouraging and keeping a greater number of Steemians active on Steemit. I am told it is probable that my friend, would have abandoned Steemit had it not been for his interaction on one of @papa-pepper's games. And then, I only joined Steemit because of this friend.
So, again, @papa-pepper posts often. Interacts with his commenters. Provides useful information. Encourages new Steemians. Upvotes himself less than 10% (ergo gives out 90% of his upvotes!!!) AND earns a partial living from Steemit income. And his Rewards from the Reward Pool amount to only 10% of those of HaejIn!!! And he has been contributing for 6 months or a year longer than Haejln joined the platform.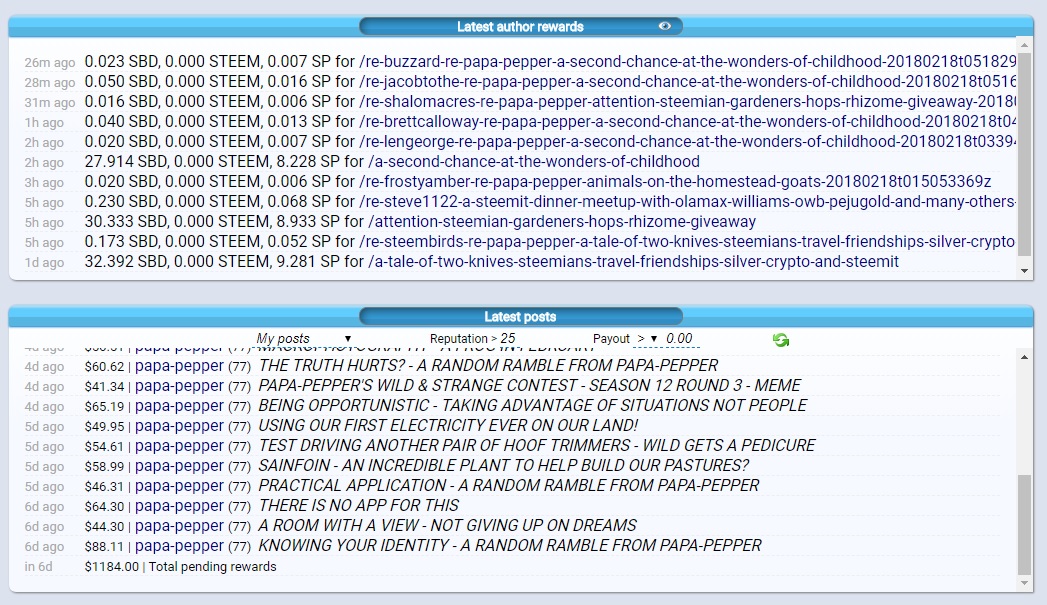 Join @fulltimegeek in his flag initiative to convince Haejln and/or Ranch0Relax0 to alter their Posting and Reward Harvest behavior. Ignore the Lord of the Rings analogy and battle language. See this for what it really is. Enacting and utilizing a component of Steemit THAT IS ALREADY written into the code to curb and deter abuse of the Reward system.
Thx