From my last post I got a good question. I can see how someone may think this. Blockchain is new to most people. Steem is even newer. Many witnesses probably don't even understand every aspect of Steem. So let's look at this statement:
@abel04 (49) · 44 minutes ago "I really don't understand the reason for this fight. The money haejln makes is not an obstacle to what others make. So why the beef? If you want to make what he makes, then do what he does."
---
Yeah bruh..... Why the BEEF?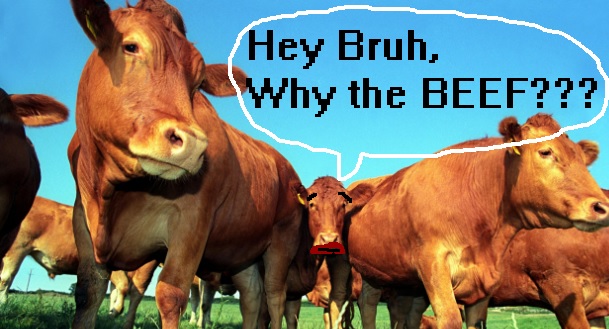 Here is my response with very few modifications and a few additions:
I only have a surface understanding of Steem. Can any of the experts please clarify and correct any mistakes I make, I would appreciate it!
---
Here is how I explained it.
First, Steem production is a limited number. They are not magically created each time a whale drops a massive upvote. There is a rule that says how much is produced everyday. It is: DAILY STEEM ADDED TO THE REWARD POOL: 49,160
Haijln's 10 daily posts take from the Reward Pool over 1,500 Steem. This is 3% of the reward pool. If no one was flagging Haejln, the number would be higher. Maybe 4%. Maybe 5%.
There are now more than 100,000 users on Steemit. !!!! One person (Haejln) is EVERDAY getting 3-4% of the reward pool!!!
If all big whales do the same, only 33 whales can take so much Rewards, AND ALL THE MINNOWS (and dolphins) WOULD GET NOTHING!!!
Well, the rewards would keep going out for a short while. There is a SURPLUS at the moment. This SURPLUS (the reward pool) is NECESSARY FOR THE FUTURE of Steemit. Once ALL the surplus is gone, then the rewards will be limited to 49,000 per day. And rewards WILL GO DOWN for everyone. Minnows will get 1 Steem for a post when the Post says $10. Whales will get only 10 Steem for a Post when the Post says $100.
The Rewards WILL RUN OUT if every big Whale behaves the same as HAEJlN!!!
If every whale does this, it IS an obstacle for YOU and ME.
Then no one will join Steemit. The price of STEEM will drop to $0.00 and everyone will be sad.
I don't want everyone to be sad.
---
What about the statement of "just do what he does"....
He does Technical Analysis (TA) on Cryptocurrencies....
Ex Given: @marketingmonk also does technical analysis. He also posts news and information. He also checks out new ICOs. He does research. He posts on D-Tube. He Posts on YouTube. He also draws in hundreds to thousands of new Users onto Steemit. And depending on your opinion, his information (greater than simple TA) may be more valuable than Haejln's. He has been on Steemit longer. And SOME of his posts get $200 each like Haejln's. But he doesn't have a whale that has put his autovoter at 100% on him. And he doesn't post 10 posts a day to GAIN EVERYTHING POSSIBLE!
There is no way that Ranch0Relax0 (the whale that created Haejln) looks at each of Haejln's posts and says "WOW, this post is worth $500 US Dollars!!!" NO, either Ranc0Relax0 IS Haejln, or Haejln is best friends with RR, or Haejln PAID RR for the service.
Votes on Haejlns posts, by accounts... Other Than... Haejln and Ranch0Relax0, make up about 5% of the upvotes....usually less.
Votes on @marketingmonk's posts are 90% by unique users. At most, 20% by one or two whales. 5% for Haejln vs 90% for @marketingmonk
SO "No".... just because you post GREAT CONTENT does not mean you WILL get 10 votes a day, EVERYDAY...... for your content.
Haejln is not THAT SPECIAL. He IS NOT 10 to 100 Times more wonderful than EVERY OTHER STEEMIAN ACCOUNT. HE IS NOT!!! NO, he is either very LUCKY... or he has BOUGHT the services of RR, or HE IS RR.
---
Sorry for all the BOLD and BIG and EMPHATIC text.....
I was trying to make my point clear... but I think i have just made it loud. I need to do a dSound recording of this post... that would be humorous.
Thx