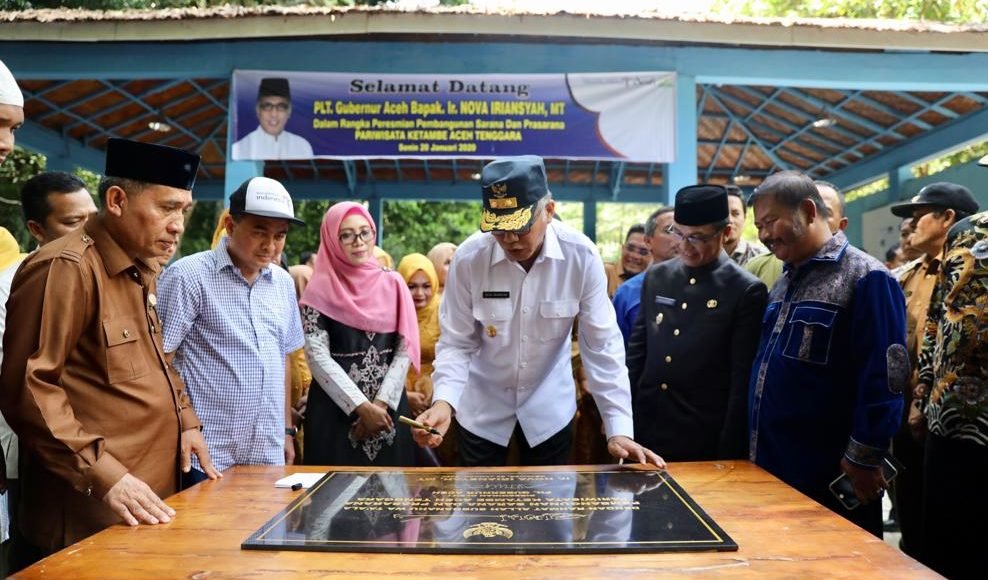 A number of development facilities and infrastructure developed by the Aceh Government through the Aceh Culture and Tourism Office in the Ketambe tourist attraction, Southeast Aceh, on Monday (1/20/2020) were inaugurated by the Acting Governor of Aceh, Nova Iriansyah.
The inauguration of the tourist attraction was marked by cutting the ribbon and signing of the inscription by Nova Iriansyah witnessed by the representative of the Southeast Aceh Regent Bukhari, a member of the DPRA, the Head of the Indonesian Culture and Tourism Office, and elements of the local Forkopimda and SKPK.
The construction of tourism facilities and infrastructure in the Ketambe tourism object, including the gate, meeting hall, mushalla, drainage channel, and a stage which is a program from APBA 2019.
The development of the Ketambe attraction will not only be in 2019, but it will also be increased in 2020 as in the construction of driveways, toilets, ticket buildings and gazebos.
Nova said that this development was expected to continue and environmental beauty would be maintained.
"Facilities that have been built to be utilized as much as possible but must be maintained so that it is not easily damaged," he concluded.
He also asked for input in the form of suggestions and constructive criticism, so that in the future the facilities and infrastructure that had been built did not cause negative impacts on the community.
"We are not anti-criticism, but every criticism must be constructive and there is a solution to the solution," said Nova.
Kadisbudpar Aceh Jamaluddin added, the construction of public facilities in Ketambe in order to improve services to tourists, because tourist visits to attractions continue to increase.
In addition to being a leading tourist attraction in Southeast Aceh with the attraction of the swift river water flow and its beautiful nature, the Ketambe attraction is also routinely held every year in the international rafting festival.
"This event will not only bring participants from within the country but also from abroad, so the available facilities should be improved," Jamal said.