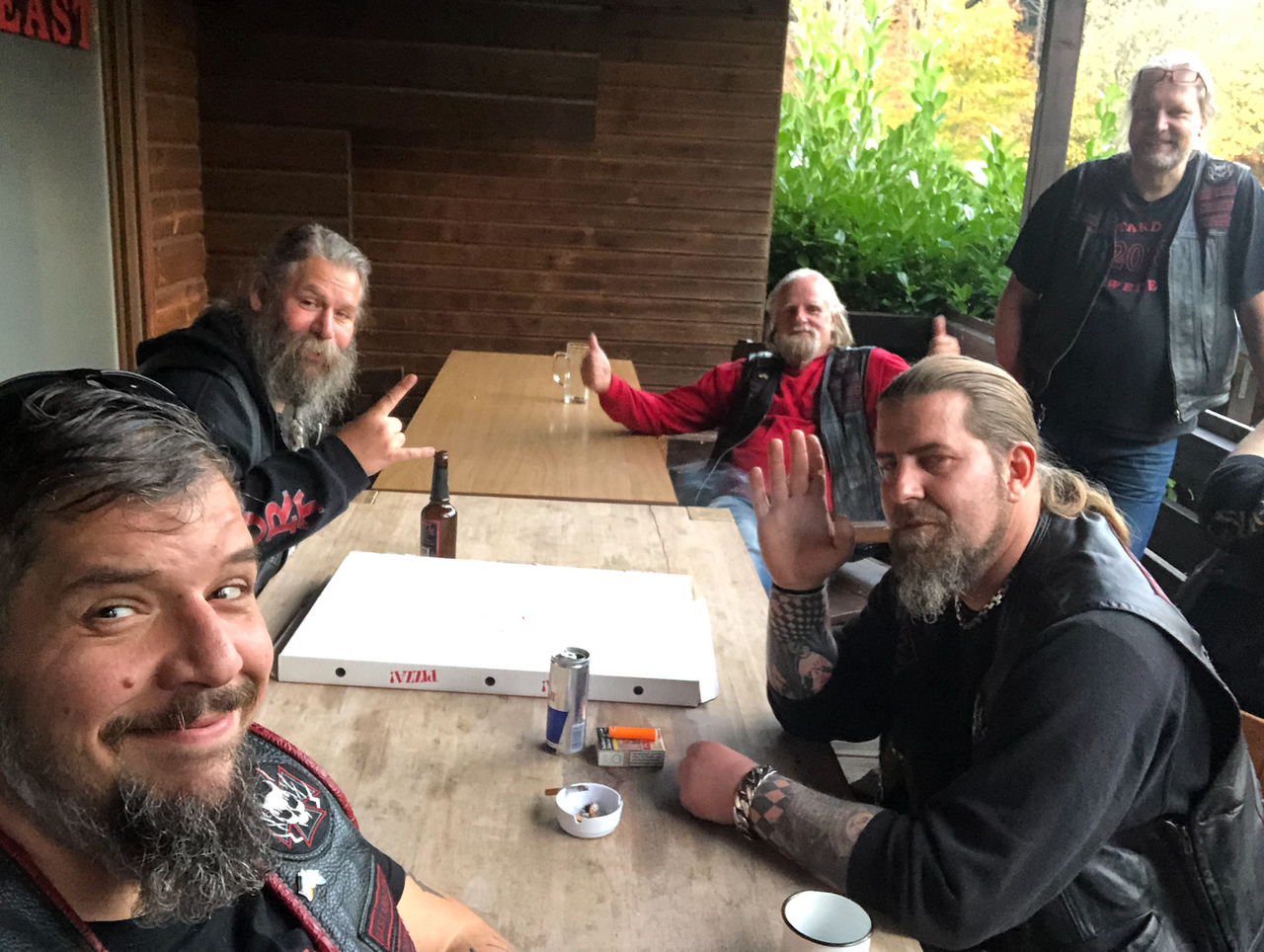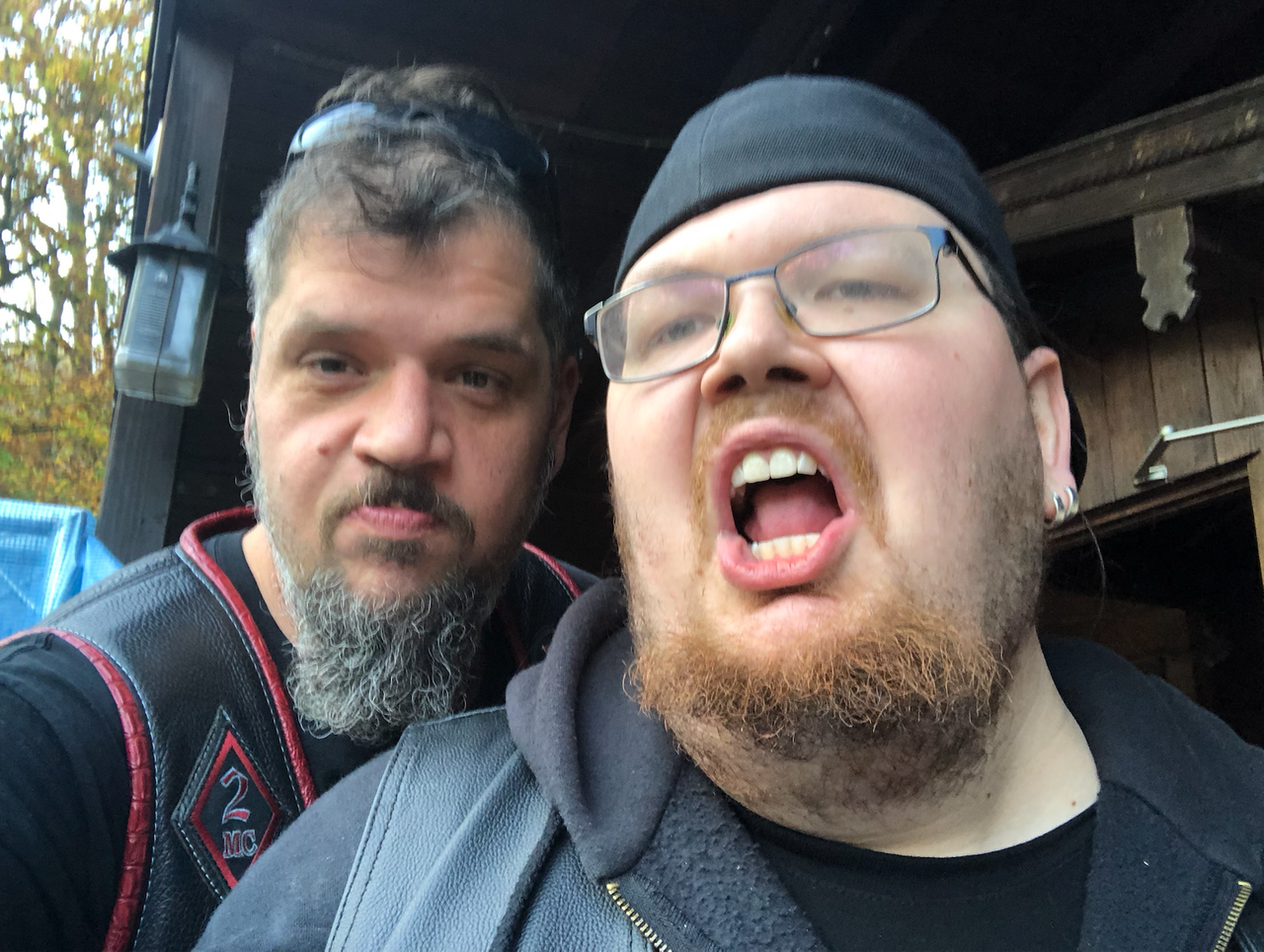 Junior wieder auf dem Weg der Besserung, blöde gucken können wir.
[DE]Freunde aus Schweden zu Besuch
Freundschaft kennt keine Grenzen. In diesem Fall waren unsere Brüder aus Stockholm, Pitea und Borlänge zu Gast und nächtigten bei uns. Nach einem schönen Wochenende werden sie morgen wieder zurück nach Schweden fliegen. Peter hat dann gestern noch seinen Autoschlüssel in Abtsgmünd liegen lassen, der wird ihm aber morgen früh noch gebracht. Man stelle sich vor er hätte ihn nicht mehr gefunden. Von Stockholm nach Borlänge sind es 450 km.
Für uns war es wieder toll. Ich hab mich auch gefreut Junior wieder zusehen. Er hatte vor kurzem noch einen schweren Motorradunfall und kann von Glück reden alles so gut überstanden zu haben. Eine lange Zeit stand es nicht gut um Ihn.
Ich muss immer wieder betonen das ich Mega toll finde überall auf der Welt einige Menschen zu kennen, von Schweden, Norwegen, Russland, Italien, Brasilien, USA, Spanien, Kroatien, Holland, Polen etc etc etc etc..... Überall kenne ich Biker (viele davon sind in anderen Clubs) welche ich zu meinen Freunden zählen kann und wir gemeinsam eigentlich wie eine große Familie sind. Immer und überall sind wir füreinander da.
Sei es wenn man mit Frau und Kinder in den Urlaub fährt und dort vollständig umsorgt wird, oder wenn man einfach mal mit dem Bike ne Tour macht und einfach mal ne Nacht schlafen will. Die Freundschaft bleibt auch über viele Kilometer. Man muss sich nicht jeden Tag sehen oder sich hören, nur die gemeinsame Zeit umso mehr mit einander teilen.
Am besten fand ich heut die Aussage der Schweden, dass sie nur eine Pizza wollen. Da bist du endlich in Bayern und dann willst du Pizza :D.... Ich war geschockt. Also mal so zur Verständnis. Die Jungs kommen alle von kleineren Ortschaften in Schweden. Pitea ist am Polarkreis, da gibts keinen kulinarischen Hochgenuss, sondern ehr ziemlich lange haltbares Essen. Genau so schmeckt das teilweise auch.
Naja ok, mit Essen haben sie es da eh nicht so, da wird ehr auf Bier wertgelegt wenn sie hier sind. Natürlich haben sie ihre Pizza auch bekommen.
Guten Nacht euch allen.
(EN)Friends from Sweden visiting us
Friendship knows no bounds. In this case our brothers from Stockholm, Pitea and Borlänge were our guests and spent the night with us. After a nice weekend they will fly back to Sweden tomorrow. Yesterday Peter left his car key in Abtsgmünd, but it will be brought to him tomorrow morning. Imagine if he hadn't found it. From Stockholm to Borlänge it is 450 km.
For us it was great again. I was also happy to see Junior again. Recently he had a serious motorcycle accident and is lucky to have survived everything so well. A long time it was not good around him.
I must emphasize again and again that I find mega great everywhere in the world to know some people, from Sweden, Norway, Russia, Italy, Brazil, USA, Spain, Croatia, Holland, Poland etc etc etc etc etc ...... Everywhere I know bikers (many of them are in other clubs) which I can count among my friends and we together are actually like a big family. Always and everywhere we are there for each other.
Be it if you go on holiday with your wife and children and are completely taken care of there, or if you just go on a bike tour and just want to sleep a night. The friendship remains also over many kilometers. You don't have to see or hear each other every day, just share your time with each other all the more.
The best thing I found today was the statement of the Swedes that they only want a pizza. There you are finally in Bavaria and then you want pizza :D.... I was shocked. So let's understand. The guys all come from smaller towns in Sweden. Pitea is at the Arctic Circle, there's no culinary treat, but rather quite long lasting food. That's exactly how it tastes.
Well ok, they don't have it that way with food anyway, they value beer when they are here. Of course they also got their pizza.
Good night to all of you.
---


8477