[DE] Fussball 3 Liga Live
Sonntag und es war ein Fussballtag. Mein Verein der 1. FC Magdeburg war zu Gast in München und spielte gegen die Amateurmannschaft des FC Bayern München. Seid dem Anfang der Saison habe ich mich auf diesen Tag gefreut und mir meinen großen Sohn geschnappt und ins Stadion gefahren.
Bei 1,5 Grad Celsius haben wir uns durch die 90 Minuten gezittert und leider hat der 1 FC Magdeburg das Spiel auf dem Feld nur knapp nicht gewonnen. Es war ein absolutes Chaosspiel. Eigentlich lief es immer nur in der Hälfte der Bayern ab und dann bekommt der Club 2 Konter und 2 Gegentore.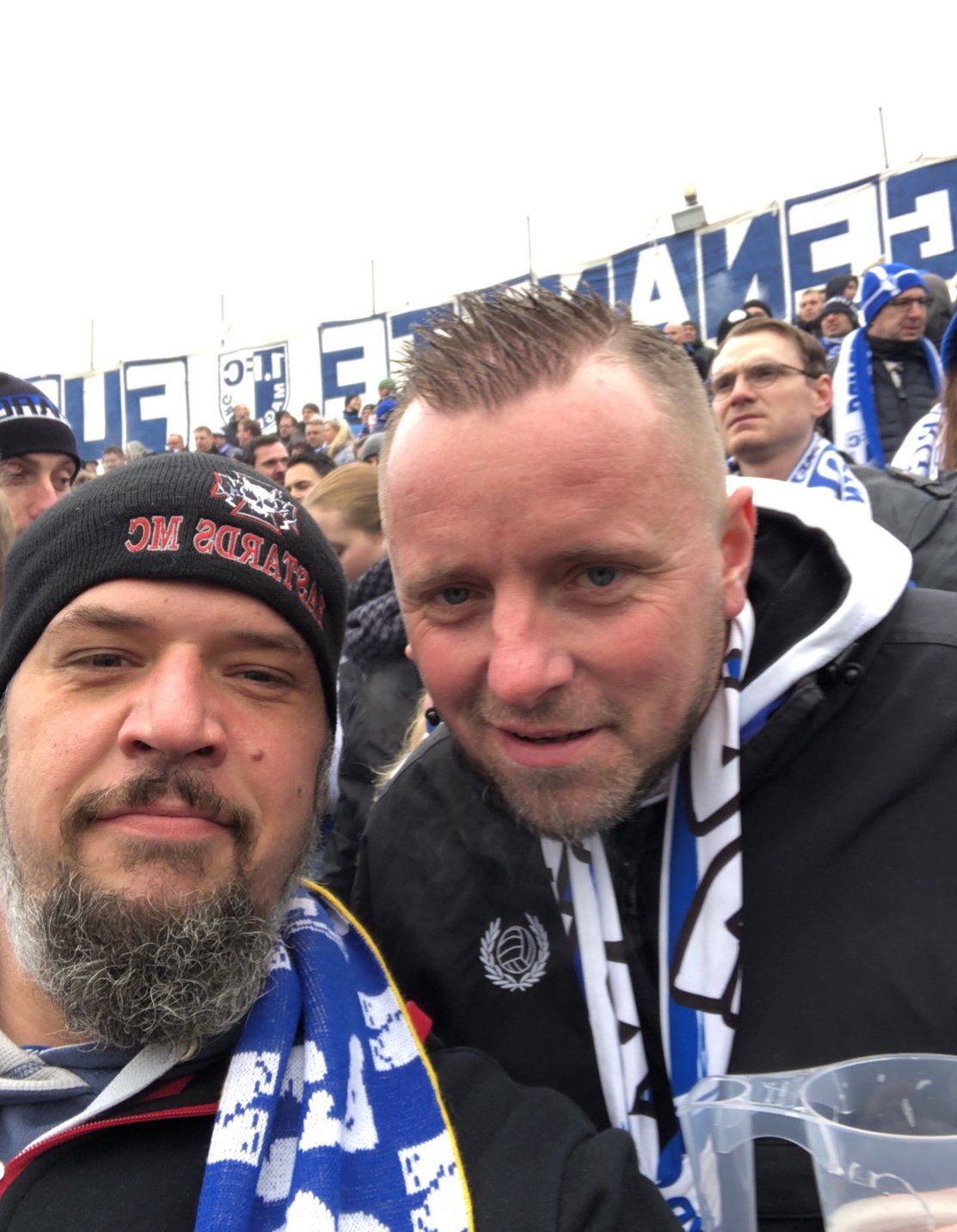 In der zweiten Halbzeit konnte Magdeburg zwar noch ein Tor schießen und die eine oder andere Chance herausspielen, aber es hat am Ende nicht gereicht.
Auf den Rängen sah es anders aus. Es waren defenitiv mehr Magdeburger im Stadion wie Bayern Fans und die haben richtig Stimmung gemacht. Fanclub Magdeburg eindeutig der Gewinner auf der Tribüne.
Aber trotzdem noch ein paar anerkennde Worte an die Fans der Bayern Amateure, die sollten mal in die Allianz Arena zu den Profis gehen, damit da auch mal gescheite Stimmung herrscht.
Für meinen großen wars das erste Fussballspiel wo er dabei war, er fand es klasse und freut sich schon auf den Februar wenn es dann im Grünwalder Stadion heißt. "1860 München - 1.FC Magdeburg".
Nach dem Spiel ging es dann Heim, aber das war ein Chaos. Nun zu erst mal U-Bahn fahren, total entspannt am Hauptbahnhof angekommen und wieder etwas aufgewärmt, haben wir noch einen Käsekrainer gegessen und dann auf dem Weg zu S Bahn das Ende der guten Laune. Ein Störung ließ alle S-Bahnen auf der Stammstrecke ausfallen.
Wir sind dann mit der Tram nach München-Pasing gefahren, da von dort die S-Bahnen wieder fahren. Das nächste Drama, die S-Bahn hatte enorm Verspätung. Statt 16 Uhr waren wir 18 Uhr erst daheim und völlig durchgefroren. Daheim gab es erstmal einen wärmenden Tee und Abendessen.
So und nun wünsch ich euch eine gute Nacht.
(EN)Soccer 3 Liga Live
Sunday and it was a football day. My club the 1st FC Magdeburg was a guest in Munich and played against the amateur team of FC Bayern Munich. Since the beginning of the season, I have been looking forward to this day and grabbed my big son and drove to the stadium.
At 1.5 degrees Celsius we trembled through the 90 minutes and unfortunately 1 FC Magdeburg did not win the game on the field. It was an absolute chaos game. Actually, it was always only in half of Bavaria and then the club gets 2 counter and 2 goals.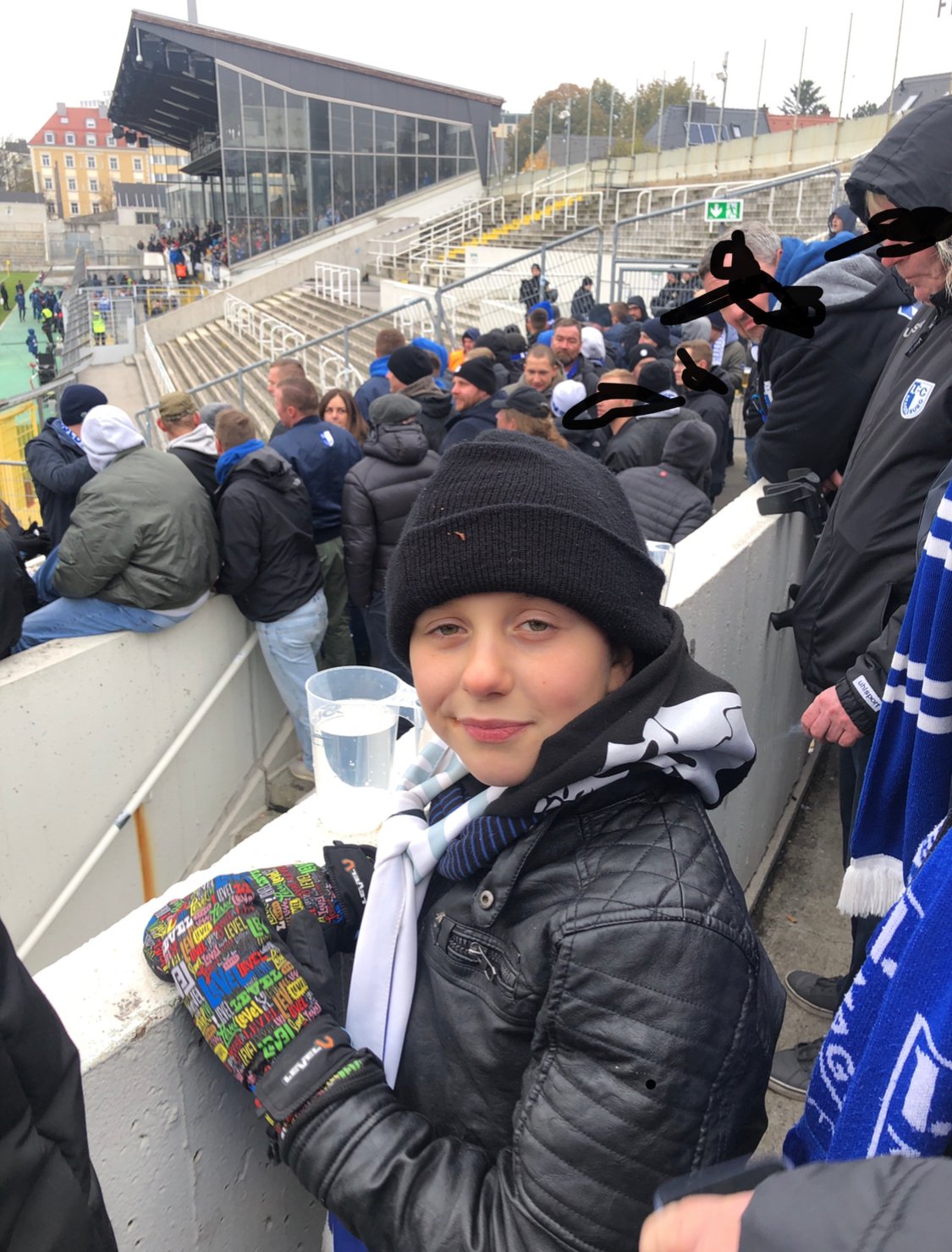 In the second half Magdeburg could still shoot a goal and play out one or the other chance, but it was not enough in the end.
On the ranks it looked different. There were defenitive more Magdeburger in the stadium like Bayern fans and they have made right mood. Fanclub Magdeburg clearly the winner on the grandstand.
But nevertheless still a few words of appreciation to the fans of the Bayern amateurs, who should go to the Allianz Arena to the professionals, so that there is also a good mood.
For my big one it was the first football game where he was there, he found it great and is already looking forward to February when it will be called in the Grünwalder stadium. "1860 Munich - 1.FC Magdeburg".
After the game we went home, but it was a mess. Now first of all we took the subway, arrived at the main station totally relaxed and warmed up a bit again, we ate a cheesekrainer and then on the way to S Bahn the end of the good mood. A malfunction caused all S-Bahn trains on the trunk line to fail.
Then we took the tram to Munich-Pasing, from where the suburban trains leave again. The next drama, the S-Bahn had enormous delays. Instead of 16 o'clock we were 18 o'clock only at home and completely frozen. At home we had a warming tea and dinner.
So and now I wish you a good night.
---