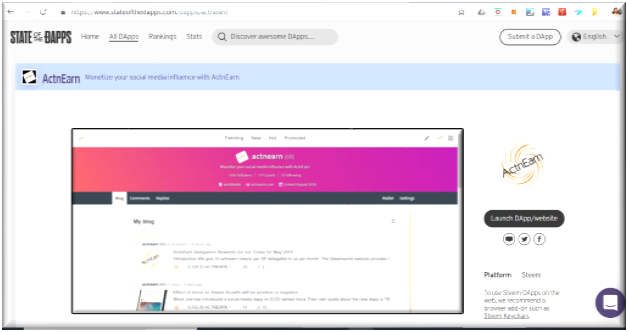 State of The dapps is leading platform which ranks various dapps from across multiple private blockchain platforms e.g. steem, ethereum, eos etc. As of today a total of 2667 dapps are registered and ranked.
In order to independently track the performance of our project - we have listed actnearn on @stateofthedapps
The link to our project on State of The Dapps is actnearn on state of dapps
We are glad to see and inform our supporters that we are ranked 600th out of 2667 dapps. It is not what we are aiming for but happy with when we are only a month old. Our objective is to be among top 10 dapps. And we can not do it without the support of our community and supporters. We invite you all to help us grow actnearn community which in turn will help us grow the entire crypto ecosystem.
Proof of Action (POA)
Support us by Delegating SP to ActnEarn
Delegate SPs to @actnearn. To delegate SP to @actnearn you can use steembottracker to enter your username, the amount of SP you want to delegate, and place actnearn as the user you are delegating to.
We thank our delegators for their immense faith in us and their support - @prameshtyagi, @michelios, @jist, @saskia,@blockcryptochain,@boyasyie, @mcoinz79, @pouchon, @bencana0523 . Our current SP weight is 6455.
What will our Steem Delegators get
Delegators will receive 10 actnearn SMT tokens per month for each delegated SP.
Follow us at
Steem Twitter Facebook Linkedin YouTube Instagram SkorrDiscord
Link to Token Launch Post