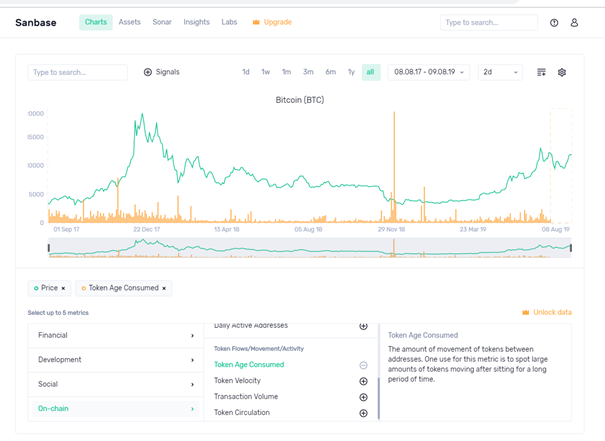 In response to invite from Active Campaigns by ActnEarn - I have decided to participate for Santiment.
I had a very cursory look at what data is available. It seems that Santiment has good data to explore crypto dynamics. So I am thinking to explore the value of various data fields one by one that Santiment provides. Today I am going to look at Token Age Consumed.
"The amount of movement of tokens between addresses. One use for this metric is to spot large amounts of tokens moving after sitting for a long period of time" is the definition of this indicator by Santiment.
In my opinion oversold trends leads to excessive fear even among long term investors. Therefore, if that is true then large volume of coins that are held for long time should move when fear sets in the market.
So if one sees large peak in token age consumed near the current oversold trend then that actually is the buying opportunity from contrarian perspective.
In the chart above many troughs are associated with peak for Token Age Consumed e.g. at 10-Nov-17, 4-Feb-18, and 3-Dec-18.
I am sure experienced traders and investors can make much better decisions using this data.