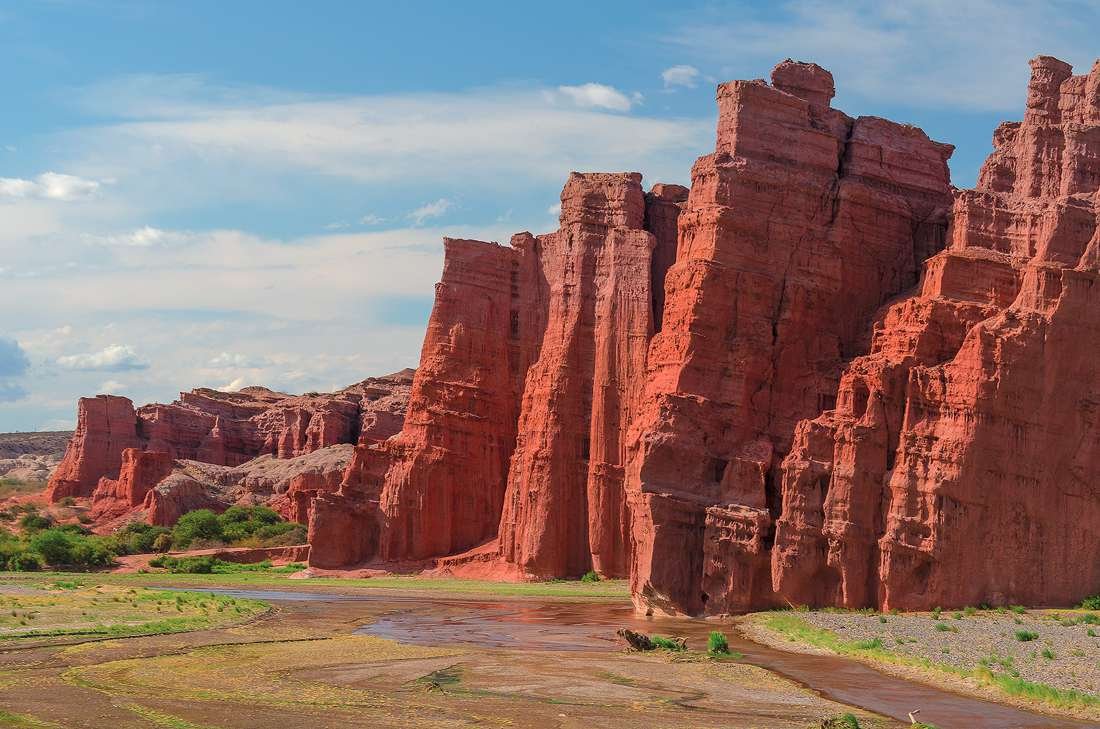 The Quebrada de Cafayate is filled with amazing scenery. Located in the Calchaquíes Valleys, in the province of Salta, this gorge is full of unforgettable features. The red sandstone and rock formations layered in the mountainous landscape are reminiscent of the Grand Canyon and Southwestern American landscapes. Lush vineyards littered throughout to make the area very unique, I knew then, I had to explore the Quebrada de las Conchas in Cafayate Argentina.
I looked into renting a car but there weren't any rental companies in Cafayate and I would have to double back to Salta and pay the exuberant rental fees. I found several tour companies operating in the town center. It was cheap so I got on the late afternoon tour. The tour was okay. It made a few stops to the "highlights" of the Quebrada de las Conchas (aka., Quebrada de Cafayate).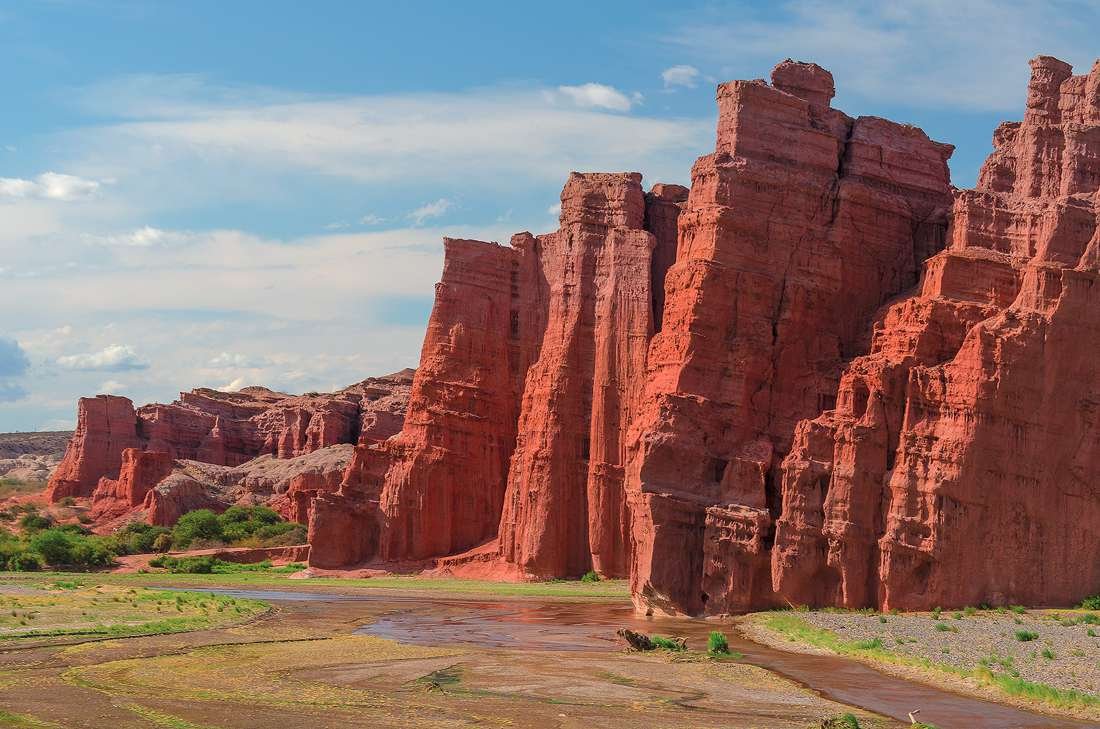 Quebrada De Las Conchas
Just another tour
I'm not a big fan of tours. It feels too restrictive and structured. Something I'm not. After the tour ended I felt like I barely scratched the surface. I was already thinking about going back to Salta to rent a car. I went back to my hostel to plan the whole thing.
Unfortunately, I got distracted by some random festivity that was happening at the hostel. After a wine-filled evening with hostel mates (Cafayate's wine is uh-mazing!), I woke up to Gabriel (one of the hostel mates) yelling "Are you ready?!?"

Ready for what?
Apparently, in a drunken stupor, I had suggested we rent mountain bikes and explore the Quebrada de las Conchas with another hostel mate, Ajay. I have no recollection of ever suggesting such a thing, I was not too keen on doing another bike ride in the desert after my ride through the
Quebrada del Diablo in San Pedro de Atacama
.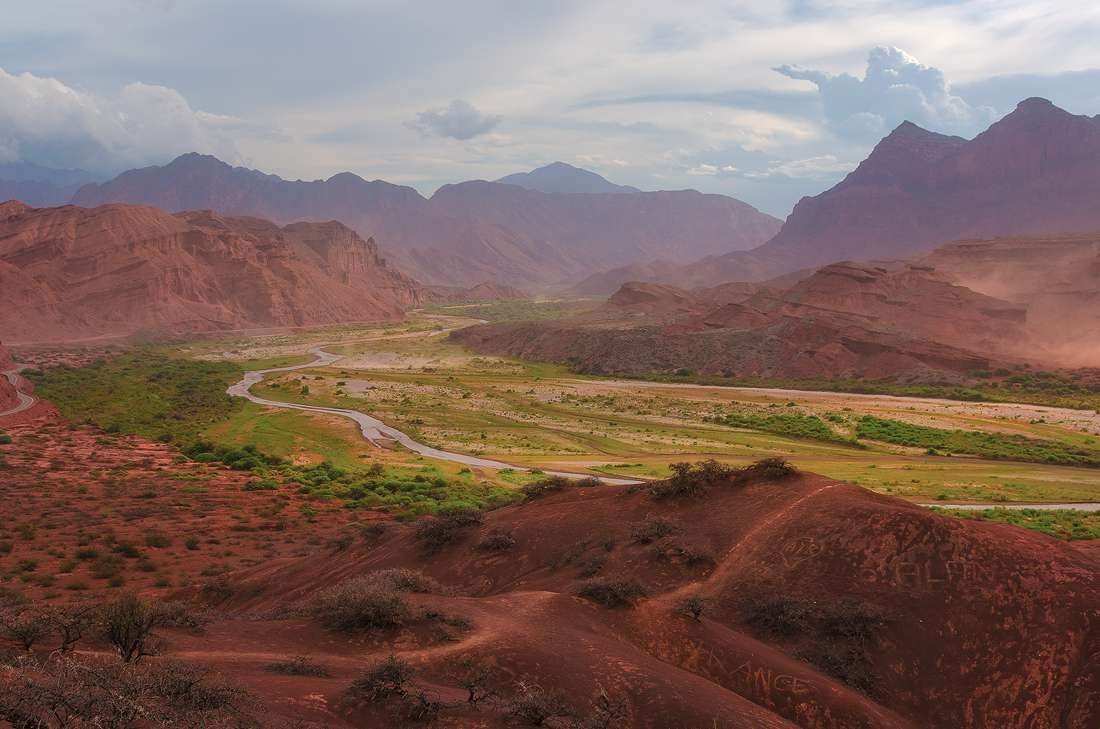 Quebrada De Cafayate
But I'm a man of my words, liquor speaking or not, so it must be done. Gabriel is a musician from Buenos Aires on a vacation while Ajay is a Brit on sabbatical. The three of us are staying at the Hostal Casa Arbol. The hostel rents mountain bikes for $10 ARS a day.
The rental bikes are in pretty bad shape and that's being generous

They're even worse than the rental bikes I used in the
Atacama desert
and it would come to haunt me later. Gabriel mentioned that we can take the Flecha bus to La Garganta Del Diablo with our bikes. The Garganta Del Diablo (Devil's Throat) was where the bus tour ended, so I figured it's a good place to start the ride.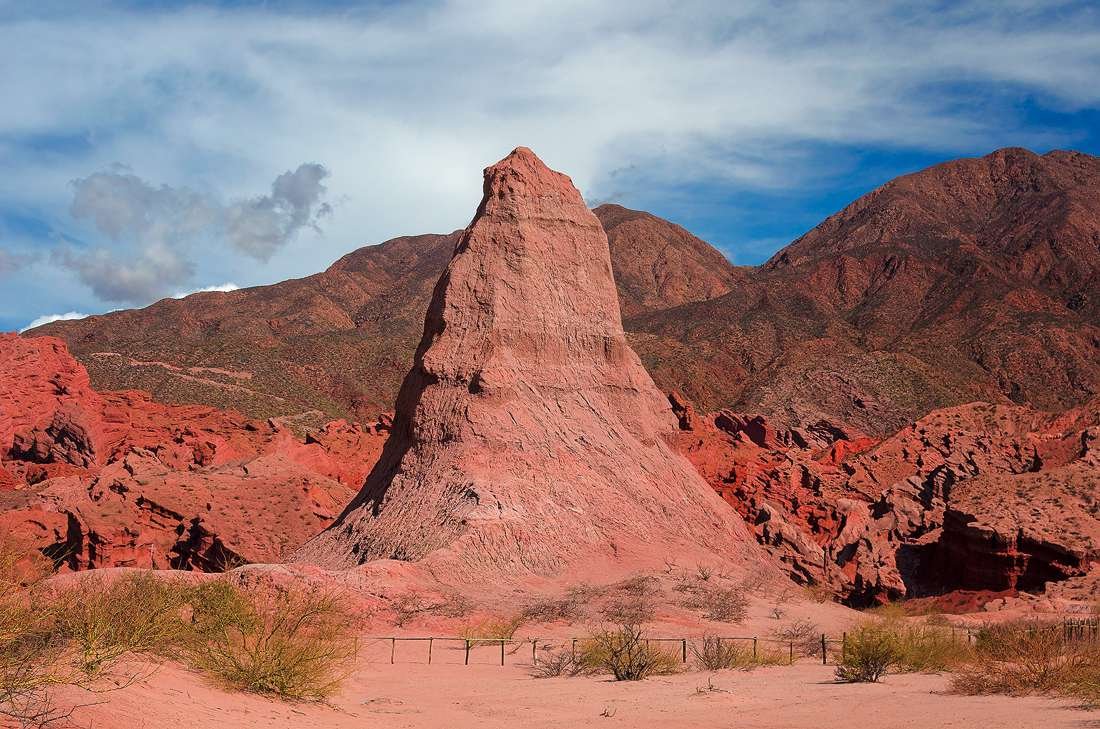 El Obelisko Cafayate
Ajay was a little worried about how much elevation we'd have to tackle. It didn't look all that bad. As long as the bikes hold up, the 50 km ride back should be a breeze.

A breeze, it was not
Ajay rode his bike a few meters from the Garganta del Diablo and the rear tire went flat. Or maybe it was already flat. We're confident we checked before choosing the bikes. There were two spare tire tubes in the emergency bag. We tackled that tire the way Justin Beiber's bodyguards tackle paparazzi. Took a few minutes but it got the job done.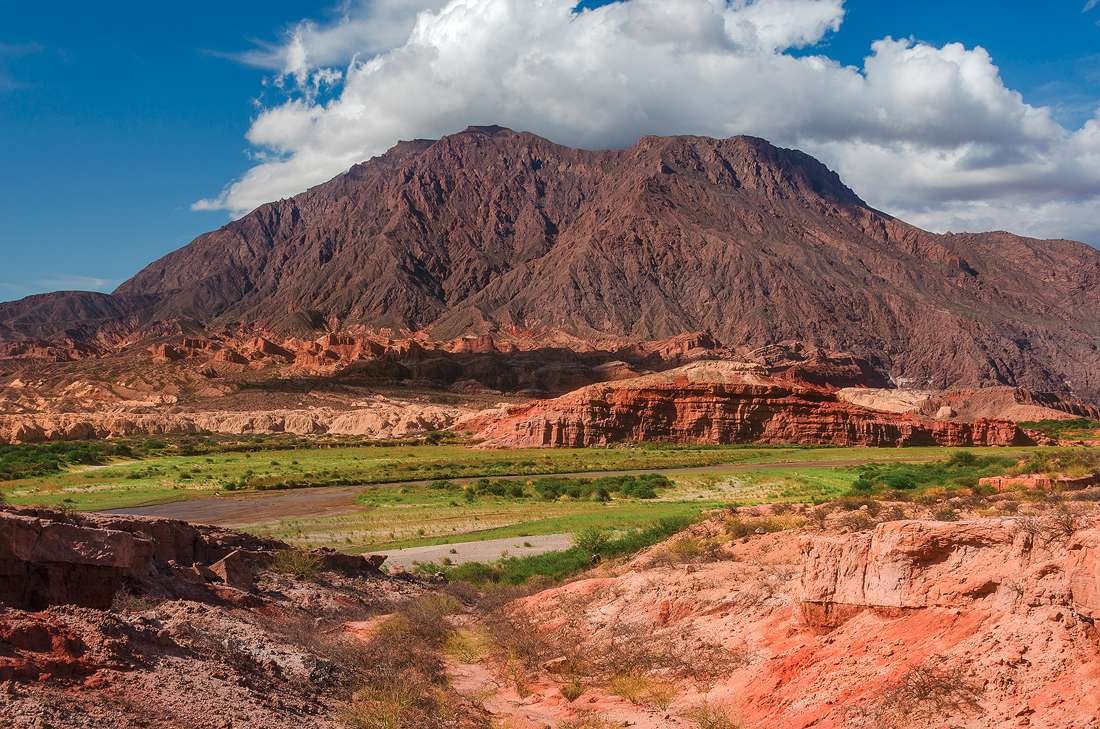 Cafayate Landscapes
We continued
The route meanders through some of the most rugged desert landscapes in Argentina. A floral array of colors in the sandstone and rock formations, from ethereal greens to gem like reds dominate the landscapes. Nature's power of erosion is on display here.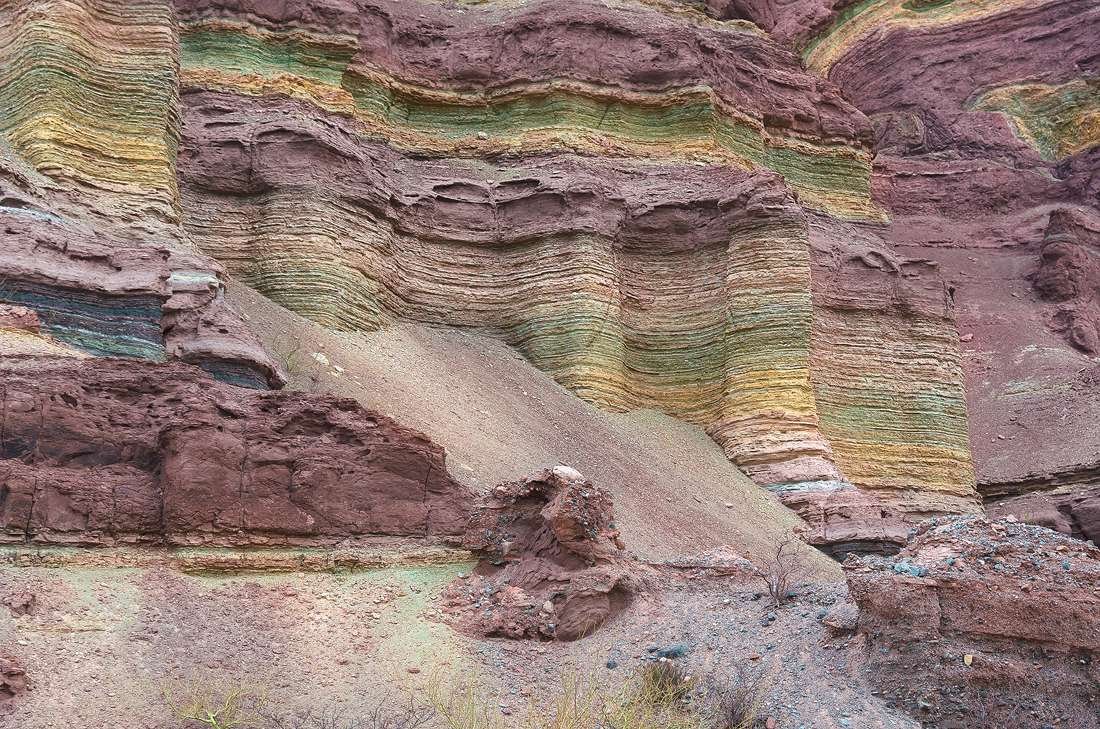 Ethereal Green Quebrada
There are notable attractions along the way. One, in particular, is the Anfiteatro. The sheer steep walls and shape of the rocky outcrop offer some interesting acoustics. Gabriel borrowed a guitar from one visitor and performed it in the center of the Anfiteatro. Seems to be a popular spot for musicians to do their pieces.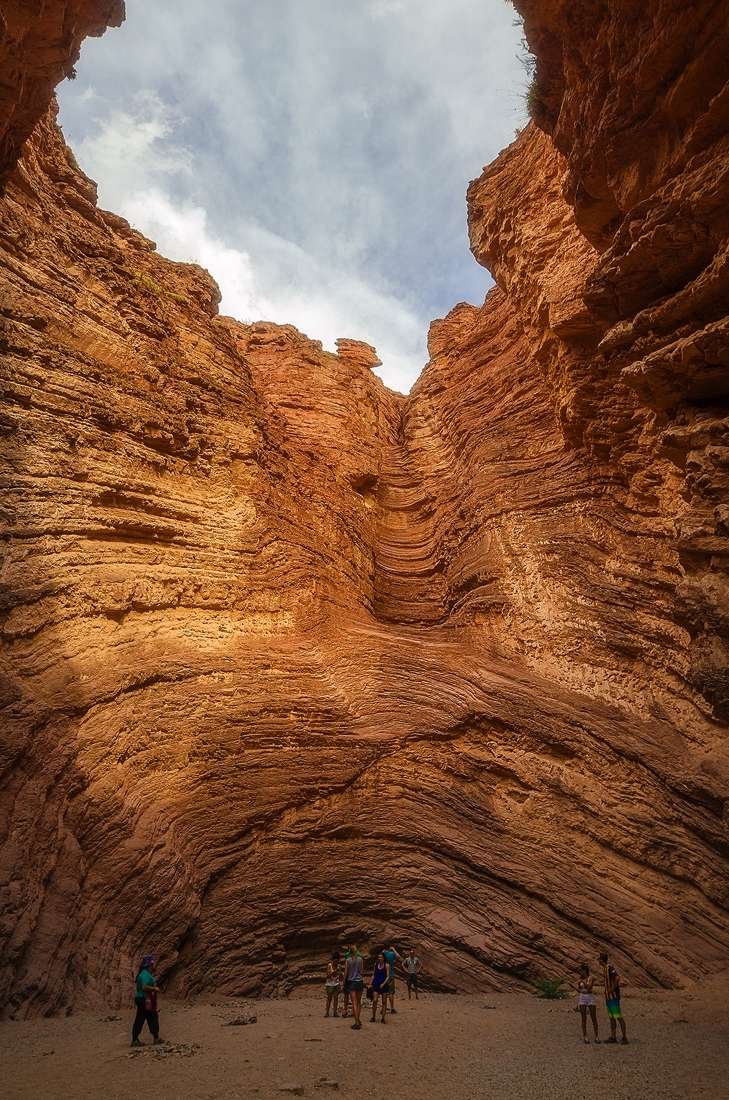 Anfiteatro Quebrada De Cafayate
The Amphitheater
There are several other attractions in the area, but my favorite has to be the grand views of the river. The view from the Mirador Tres Cruces, named after the three crosses erected on the hill. We took a break there for a minute. Taking pictures. Enjoying the view. Taking it all in. Then we continued on to ride for another Kilometer. All of a sudden, I felt my bike dragging and then I heard a sound that sent shivers down my spine.
POP!
The rear tire blew out AGAIN!
And guess what? We only got one spare tube left.
Seriously? WTF?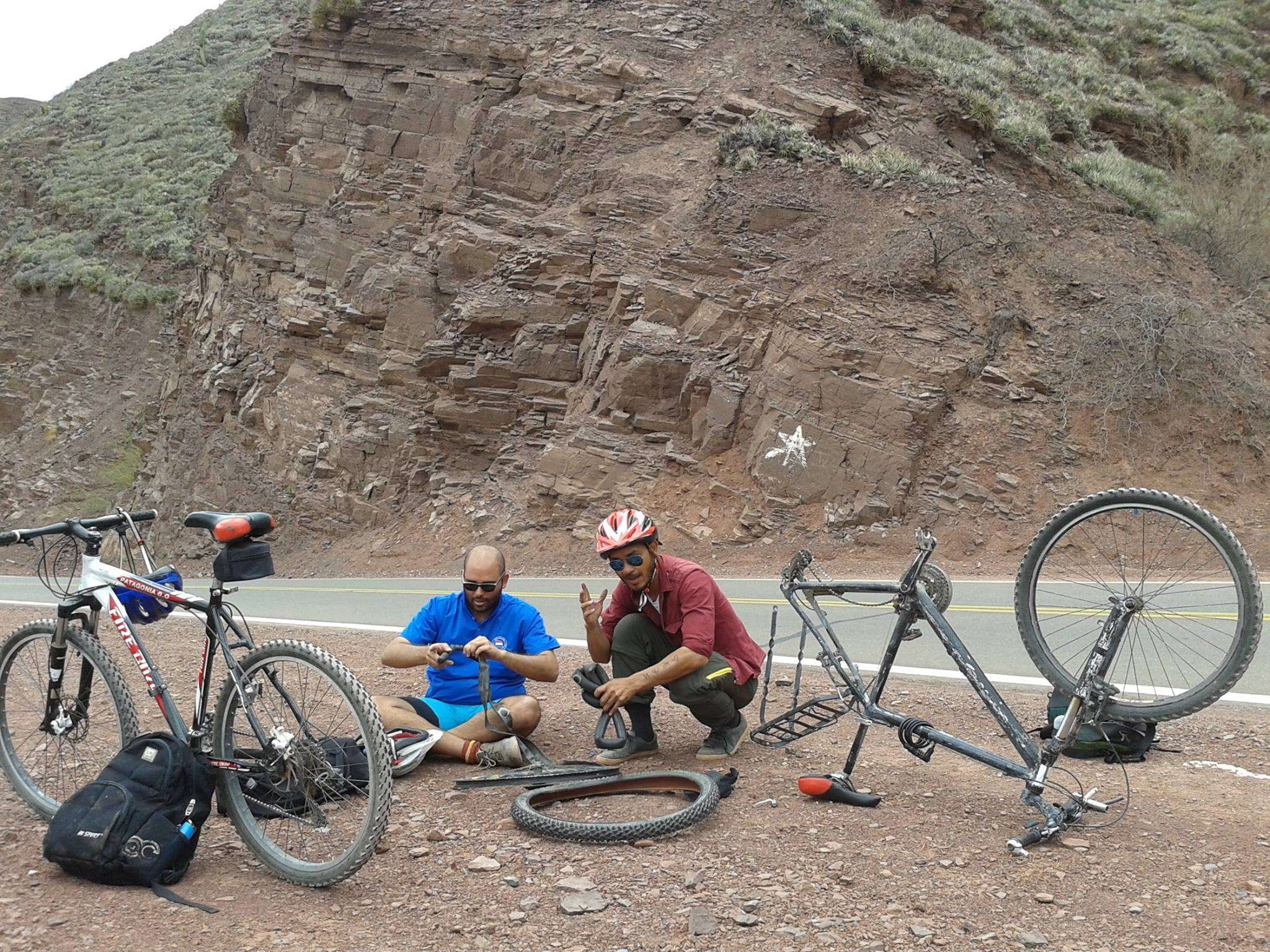 I got 99 problems and a bike is one
It turns out even the spare tubes already had holes in it. Hello? Ever heard of Quality Assurance? You don't put a used tire tube in the emergency kit, genius (whoever you are)! We were all out of options and it's another 20 kilometers into town. We waved and stopped a truck to see if they had any tire repair kit.
No cigar.
Hell, I would have settled for duct tape at that point.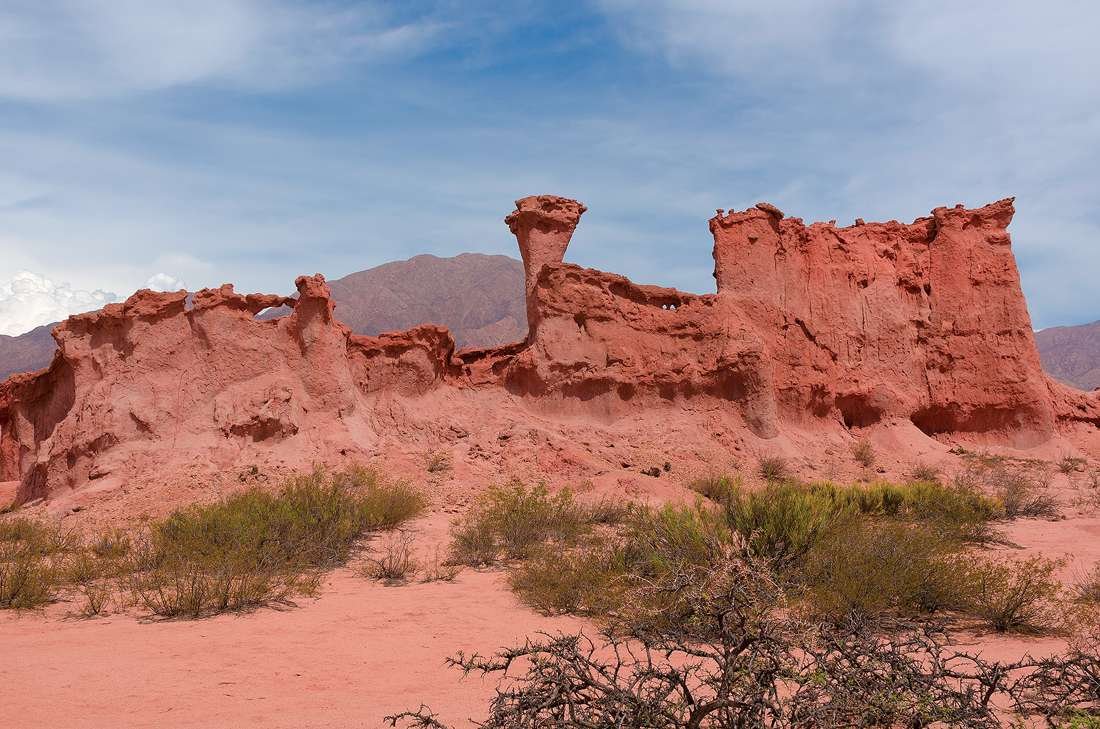 I wish I could have taken a train back to Cafayate instead.
The Flecha bus into town was out hours ago. Maybe I could hitchhike my way back. Maybe I walk and drag that bike all the way back. We sat there scratching our heads about what to do next. A motorcyclist stopped to offer help. He didn't have a patching tool but a foam spray that would, at least, plug the holes on the tube long enough for me to get back into town.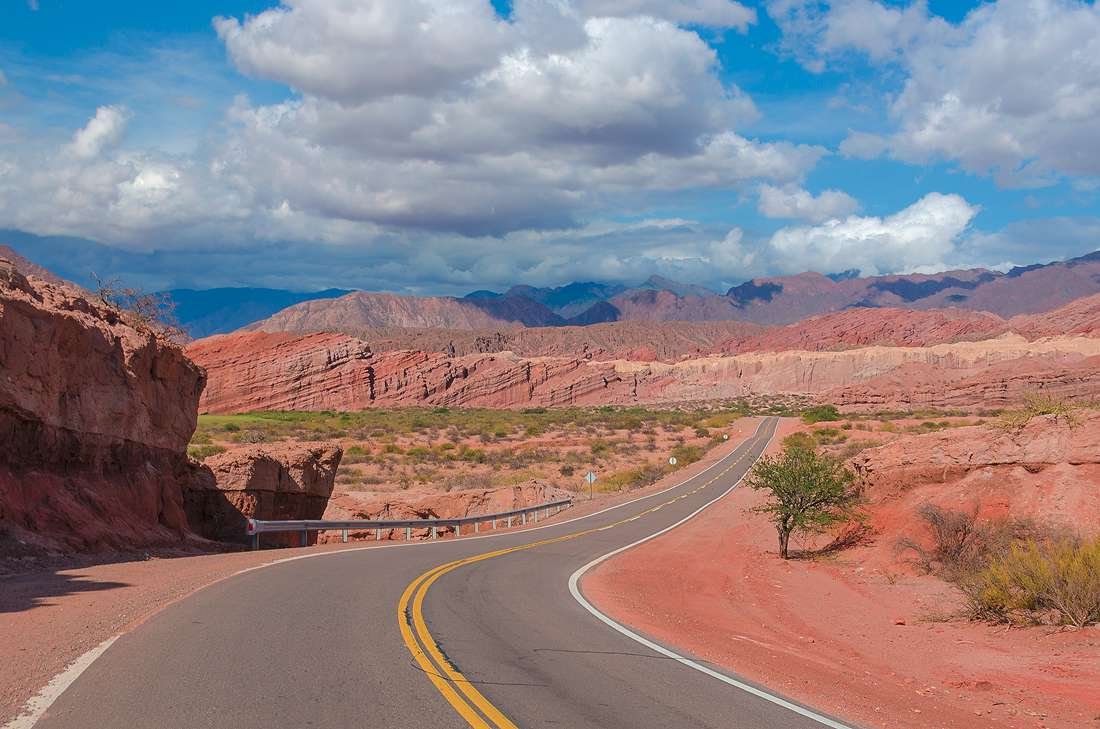 Road To Cafayate

A lame duck
It wasn't the best solution but it was good enough. That bike was a lame duck at that point. Maybe not the metaphorical lame duck, but a real duck that was actually fucking lame. Perhaps from stepping on a landmine or something. The whole ordeal was tiring. Gabriel's bike was the only intact bike and he blew past me and Ajay. Riding on those bikes was like dragging an elephant through New York's Time Square. A turtle high on marijuana could go faster.
Ajay and I walked the bike about 3 kilometers into Cafayate. Our legs were shot. We arrived into town looking worse than the bikes that took us there. And we were thirsty. Nothing like a refreshing beer at the end to mend sore muscles and bruised egos.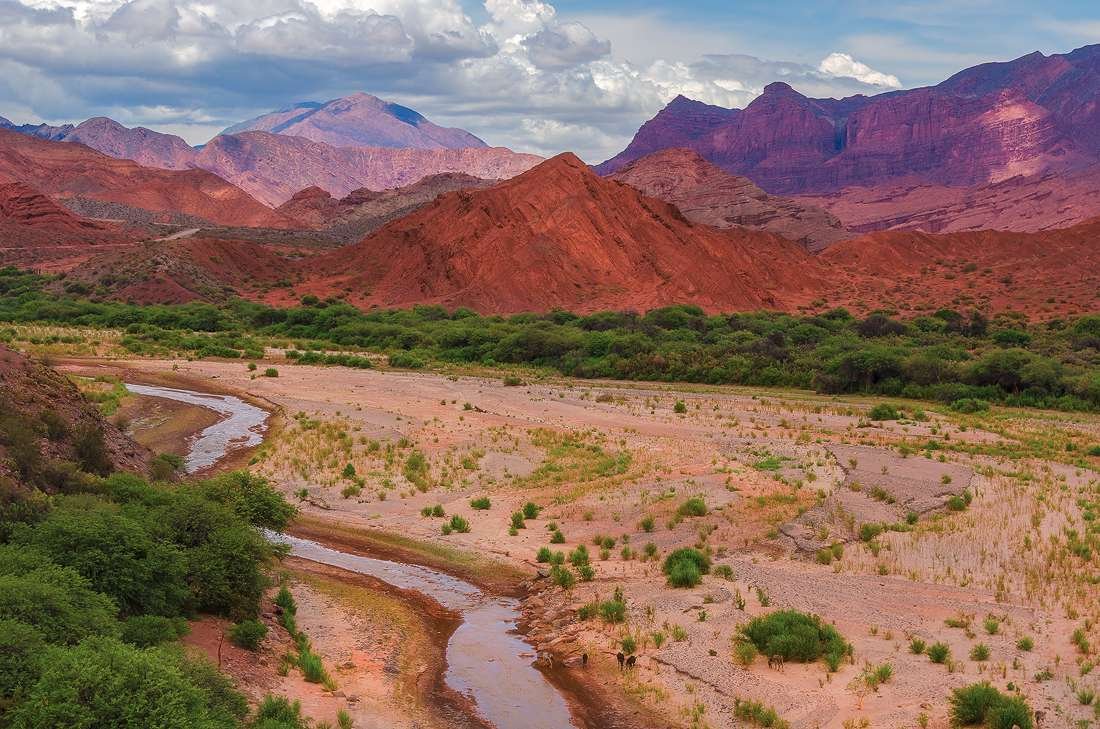 Quebrada De Las Conchas Valley
GO CYCLE THE QUEBRADA DE CAFAYATE YOURSELF
• There are 6 daily departures from Salta to Cafayate by Flecha bus. It takes about 4 hours.
• If you want to explore by car, rent it in Salta. There are no rental companies in Cafayate.
• The town is small. You should be able to find the center within a few blocks from the Bus Station.
• There are several hostels operating in the area. Most have bikes you can rent for the day. If not there are several bike rental companies in the town center. In fact, I would say rent from those guys instead. They have better quality bikes.
• You can take the Flecha Bus all the way to the Garganta Del Diablo and ride it back down. You also can ride the 100km of the Quebrada route.
HAVE YOU BEEN TO CAFAYATE ARGENTINA?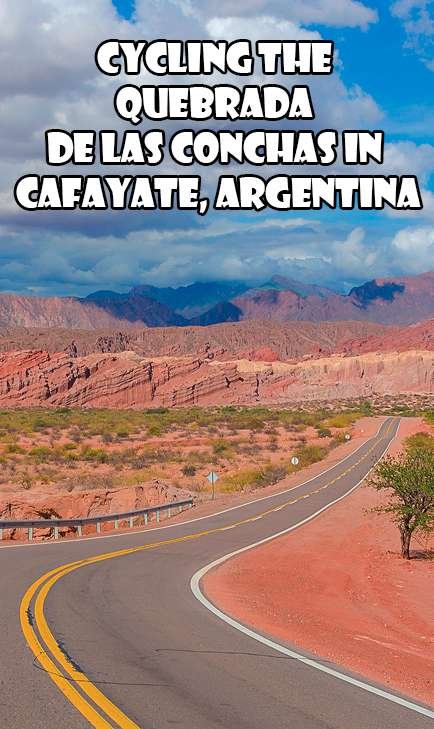 PIN IT!
---
Posted from my blog with SteemPress : Quebrada de las Conchas
---