House Running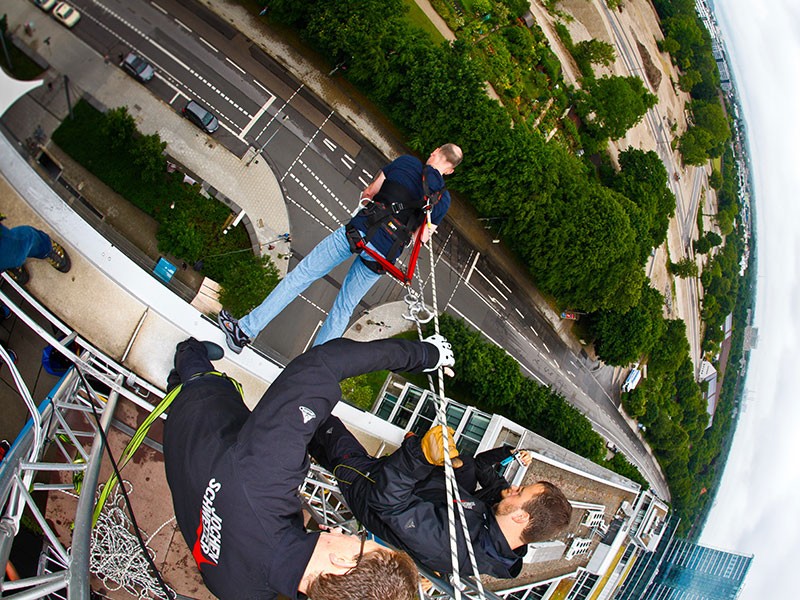 [1] Foto von der Station, von der ich auch runter bin - allein an der Frisur erkennt man jedoch, dass es nicht ich selbst auf dem Foto bin.. :P
Deutsch / English
Für jeden, dem *House Running* noch nichts sagt: Es geht dabei darum, eine Hauswand der Höhe X Meter an Seilen gesichert herunter zu laufen.
Gesichert ist man dabei mehrfach - zum einen von einer Plattform vom Dach aus, parallel dazu von einer weiteren Person am Boden.
Wie schnell/langsam man dabei die Hauswand hinunter geht kann man dabei selbst bestimmen, indem man dem eigenen Seil "mehr Luft" lässt.
---
Mein *House Running* war in München vom Rilano 24/7 Hotel aus einer Höhe von 50 Metern.
Es waren mehrere Personen mit auf dem Dach, die selbst laufen wollten. Ich habe mich direkt als Erster Freiwilliger gemeldet..
Nachdem ich auf der Plattform in das Geschirr geschnallt wurde ging es auch recht flott los:
Immer näher und näher an den Rand gehen, bis die Zehen über die Plattform hinaus ragen.
Dann einmal kräftig ein-/ausatmen und sich einfach vornüber kippen lassen: Ein super Gefühl, wenn man die kurze Angst überwunden hat!
Nach einigen unsicheren Schritten an der Hauswand ging es bei mir recht schnell, dass ich mich dabei sehr wohl gefühlt hatte. Etwa in der Mitte wurde ich auch dazu aufgefordert, etwas zu hüpfen - total lustiges Gefühl!!
If you don't know, what I mean with *House Running*: it is a question of running down a house wall of height X meters on ropes securely.
You're secured several times: on the one hand from a platform on the roof top and in parallel from another person on the ground.
The hole time you can decide how fast/slow you want to go down the house wall by releasing your own rope.
---
My own *House Running* was in Munich from the Rilano 24/7 Hotel with a height of 50 meters. A couple of persons were waiting on the roof top for their own running - I ask if I can start.
After being secured with the rope and so on, I stepped on the platform and moved egde, so my toes were in the air.
Then breathing deeply and tip over the edge in front: A great feeling after overcome the short fear!
After some uncertain steps a felt really comfortable. At the middle of the wall, I was asked to bounce - totally funny/strange feeling!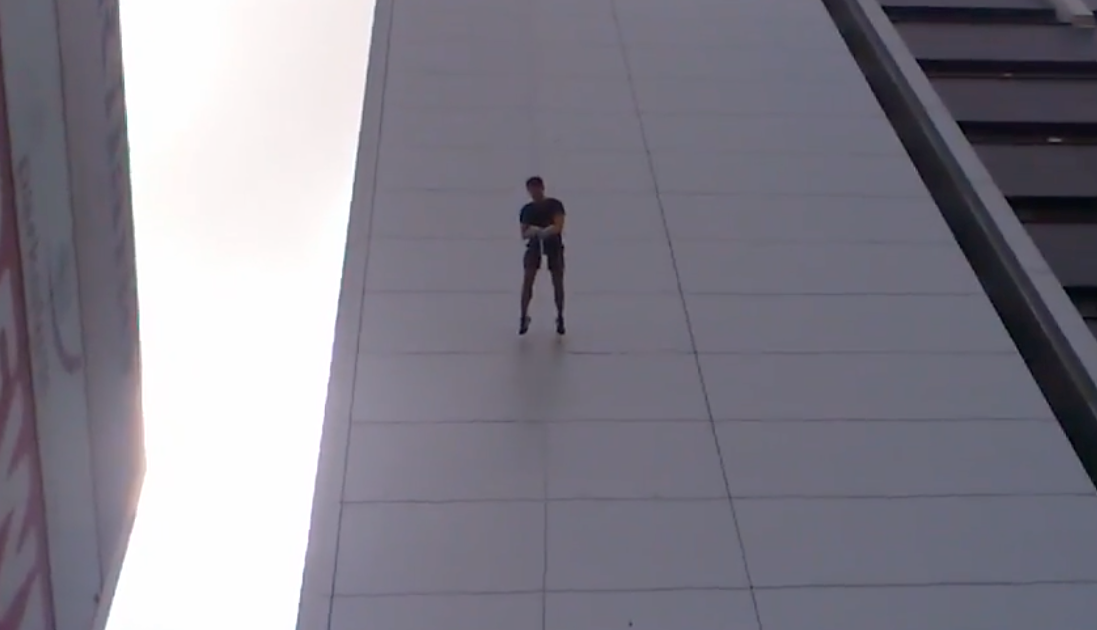 [2] - musste leider das Foto noch einfügen, da sonst das Video in den Text darüber rutscht.. wenn er einen Fix dafür kennt gerne her damit in den Kommentaren :D

Quellen:
[1]: https://www.house-running.de/muenchen/
[2]: eigenes Video

More adventures:
Bungee Jump
meine Asienreise / my Trip to Asia