A few months back I headed up into the Cascade Mountains with Cash and my buddy Brandon to hike Lake 22. The forecast predicted clouds and overcast skies, but we figured it would help quell the late summer heat and thought that maybe we'd even get a chance to jump in the water!
---
With high hopes we drove 90 minutes out of Seattle onto the Mountain Loop Highway to the trailhead. The trail itself is relatively easy-moderate at 5.4 miles and 1350 ft elevation gain. The trail is one of the better kept trails regionally, and features many beautiful rock stairs and wooden platforms that keep things entertaining throughout as you hike up to the lake.
---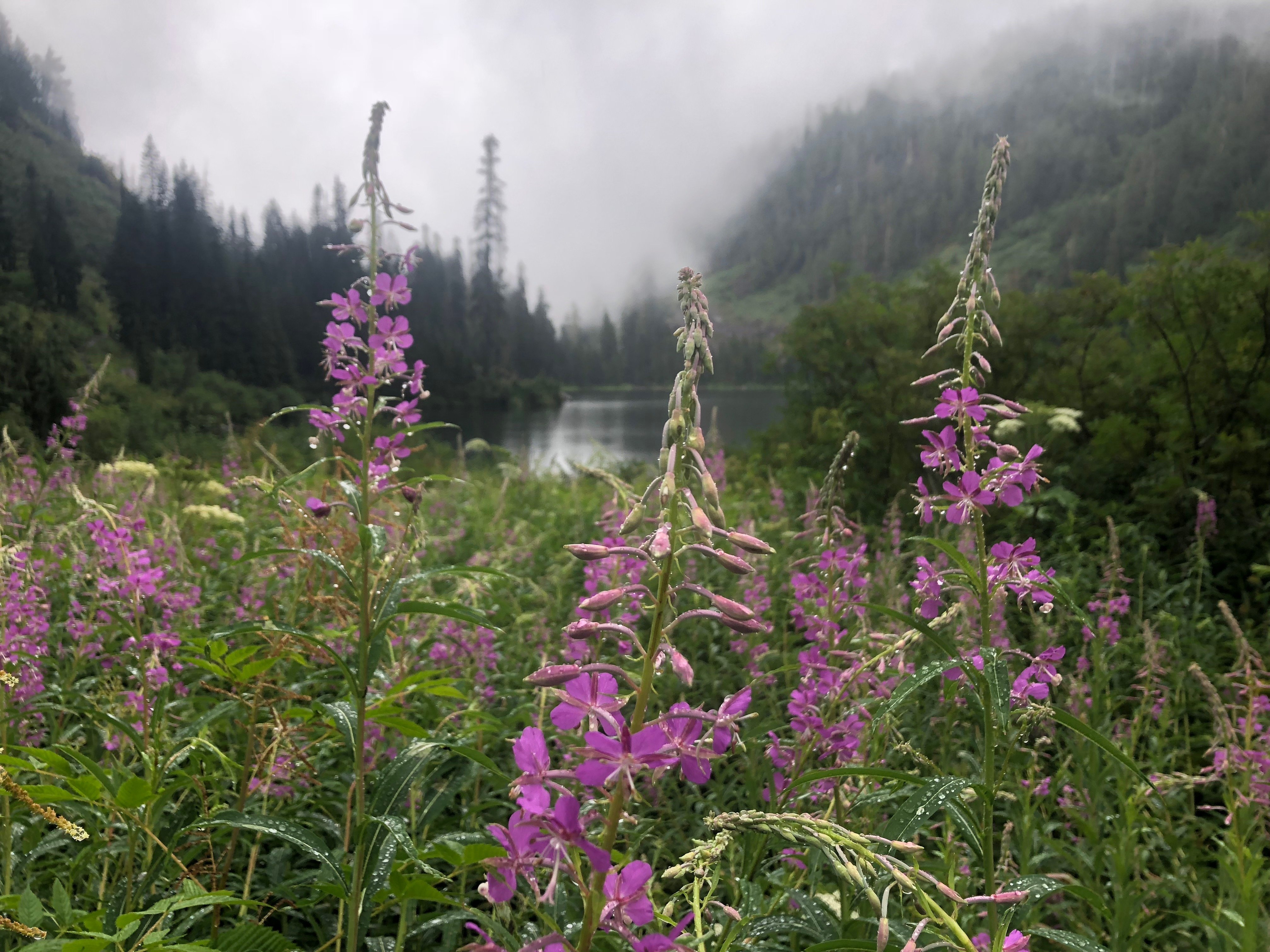 ---
The jaunt up was pretty easy, and we were excited to start to get some beautiful views of wildflowers and open space as we neared the lake.
The gorgeous purple spikes you see up above grow 3-4 feet tall and fill the mountains in July and early August in the PNW. Their vivid, bright color is one of the prettiest sights to see in the woods I think!
---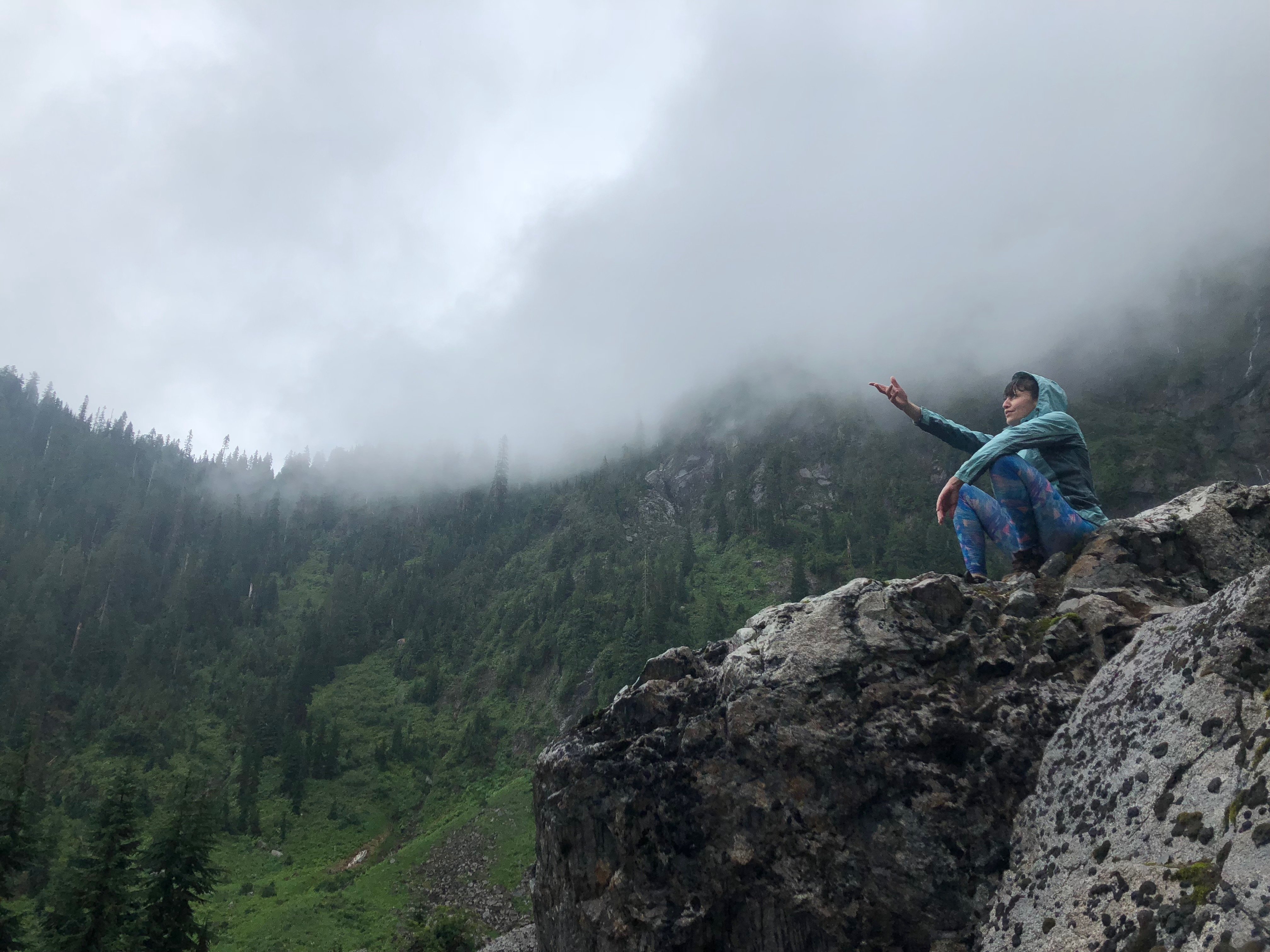 ---
One of the great attractions of this hike are the gigantic boulders surrounding the lake, which is nestled on the northern shoulder of Mt. Pilchuk.
These huge stones are fun to climb and create an incredible natural landscape by the water. Here I am, perched on of these big 'ol stones, as the drizzle begins!
---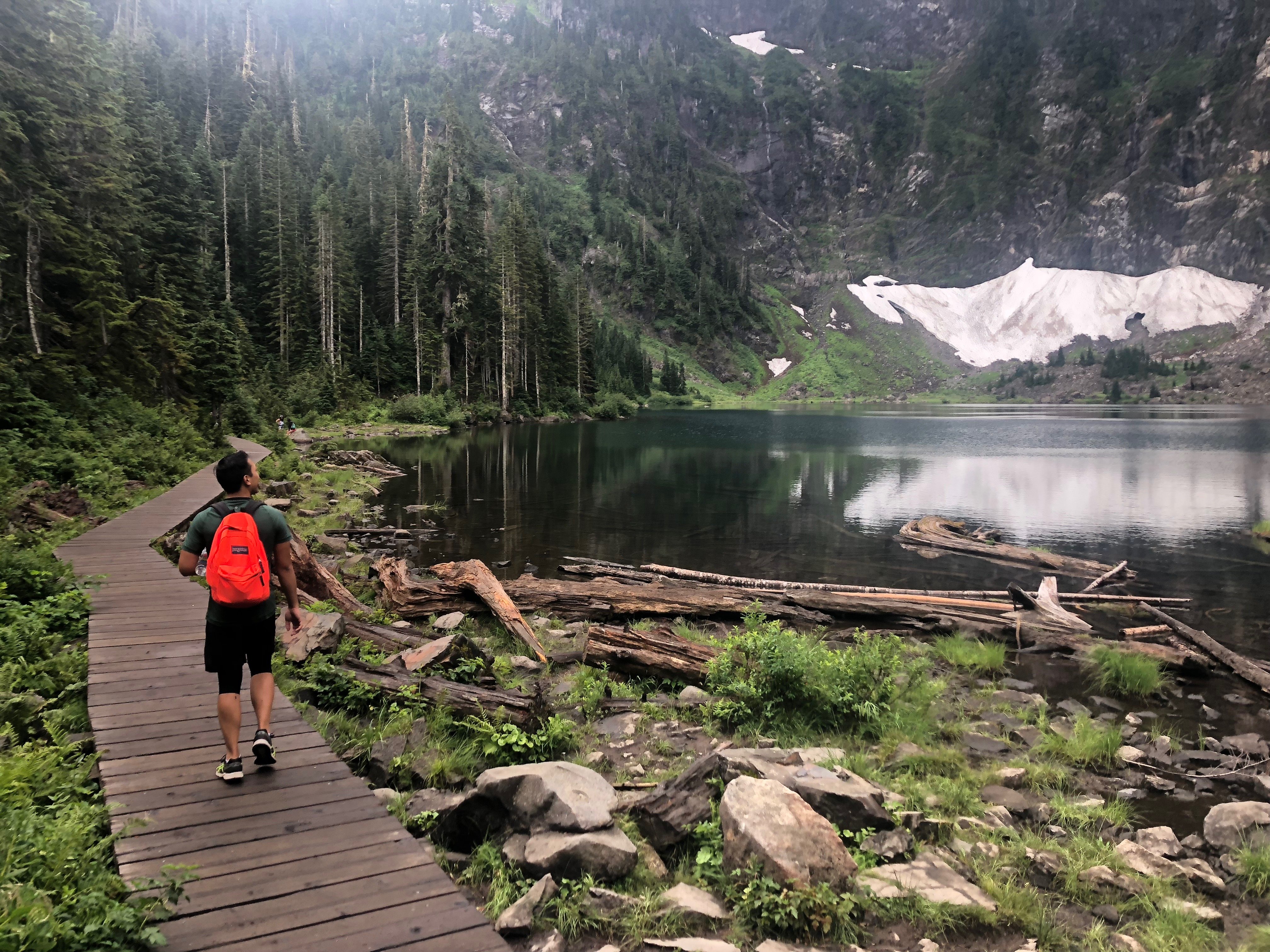 ---
Beautiful wooden boardwalks help hikers navigate around many parts of the lake.
Here you can see how still - and green - the water is. This was literally the calm before the storm.
---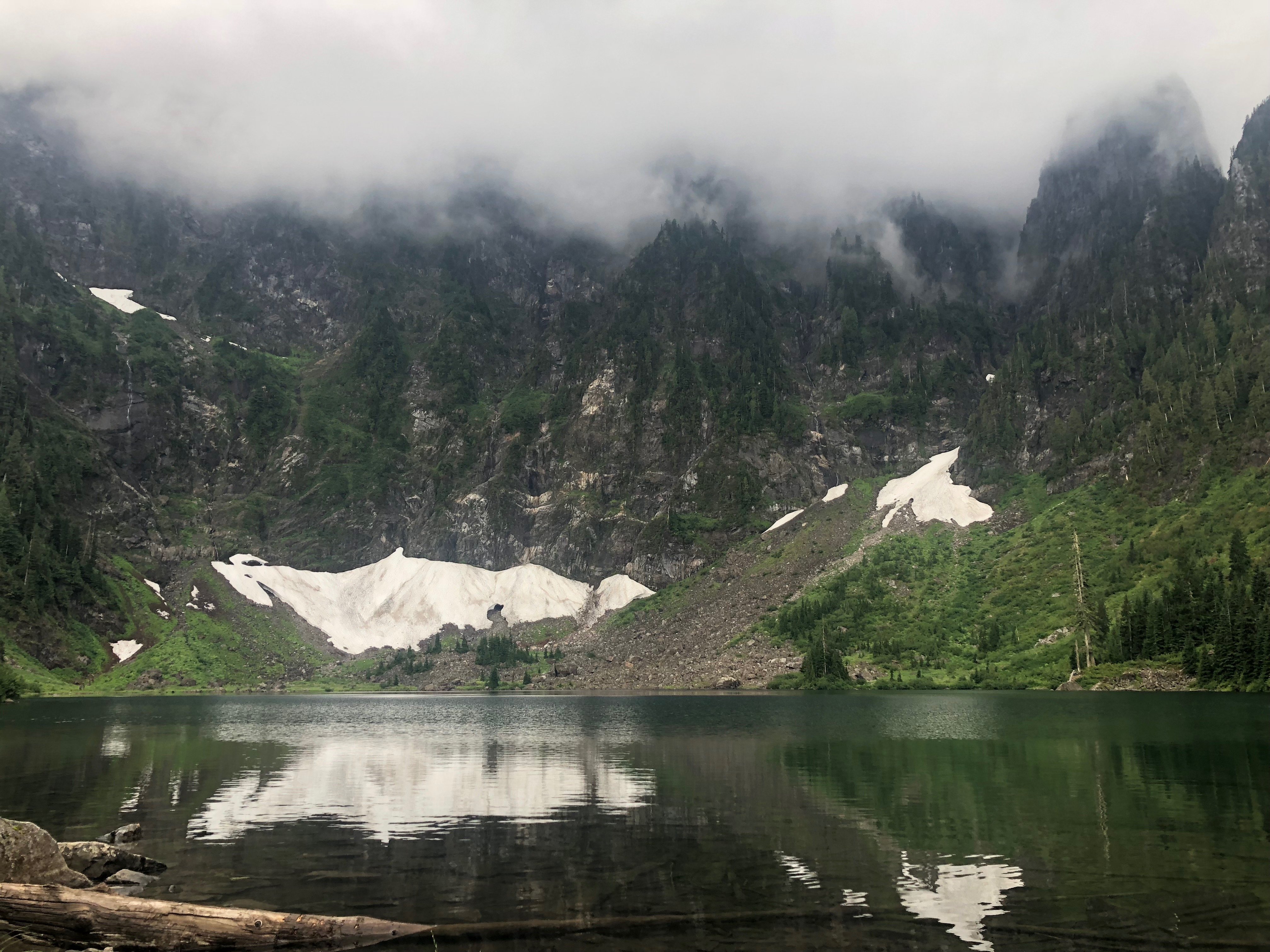 ---
Because of the weather, all the colors on this hike were oversaturated.
I love how cloudy skies and rain makes everything in nature more deeply colored and vital. As we continued around the lake, the light drizzle began to pick up more and more, however...
---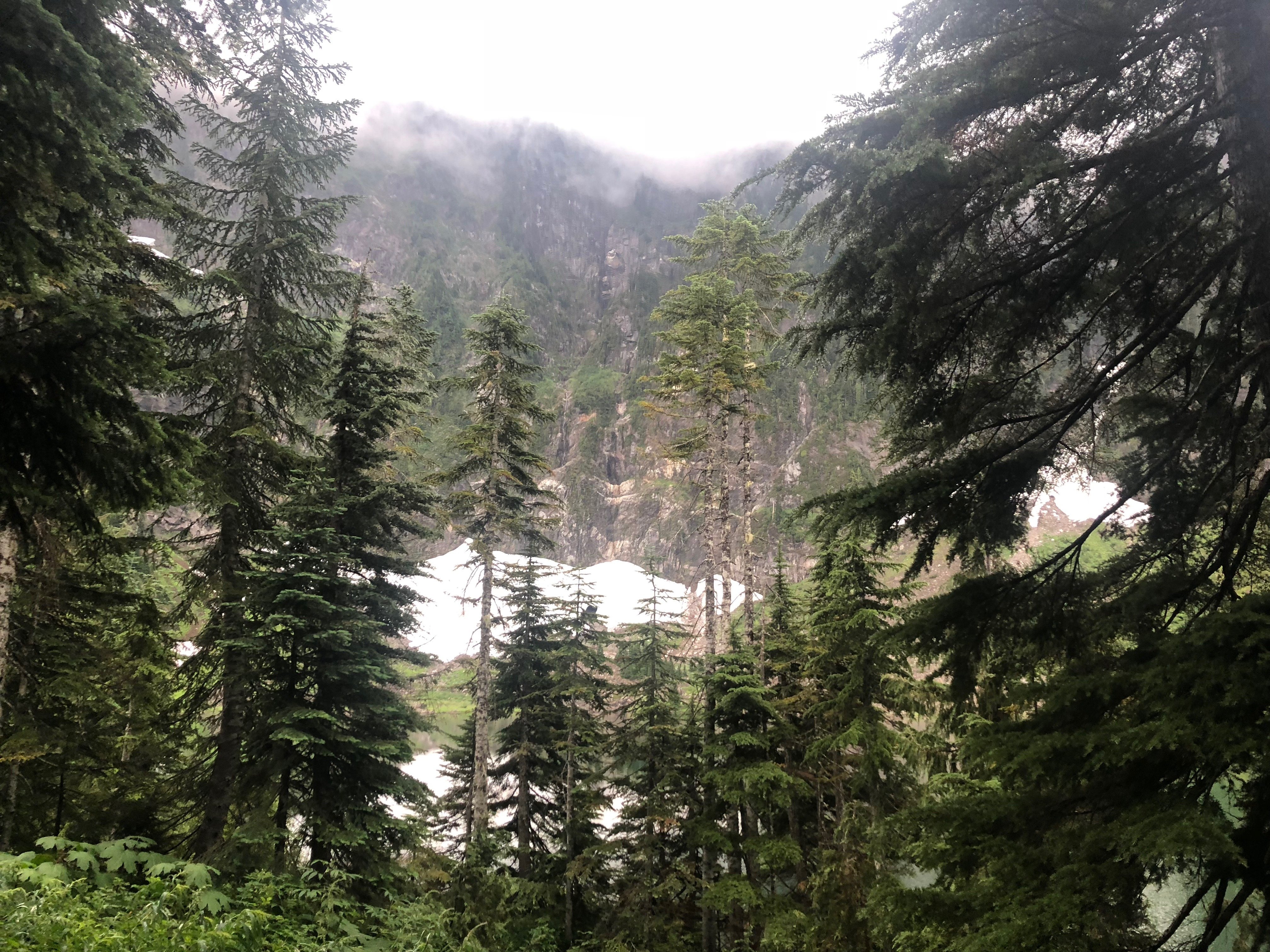 ---
We finally found ourselves taking shelter in this stand of trees.
We enjoyed our sandwiches nestled underneath a few massive hemlock, and tried to wait out the rain. While I don't have the pictures to do this storm justice - suffice to say it began to completely pour - the kind of rain that soaks you to the skin the minute you walk into it! Luckily, it was still summer, so it wasn't icey - just chilly and oh so wet!
---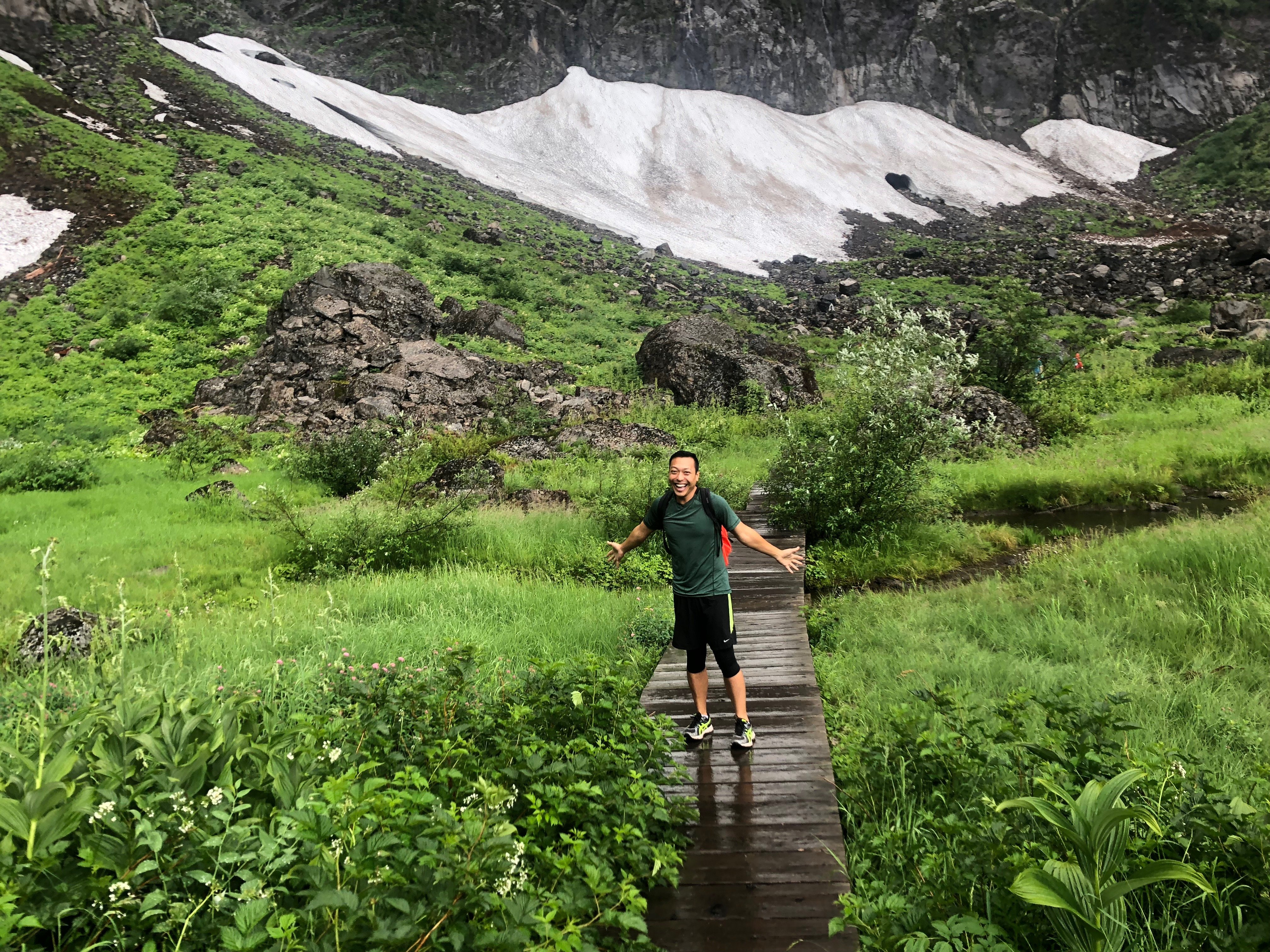 ---
After eating and trying to wait the rain out for 45 minutes (yes, you read that right!) we decided to say "oh well" and just went for it!
Here's my friend embracing the precipitation and dancing in the rain. :)
---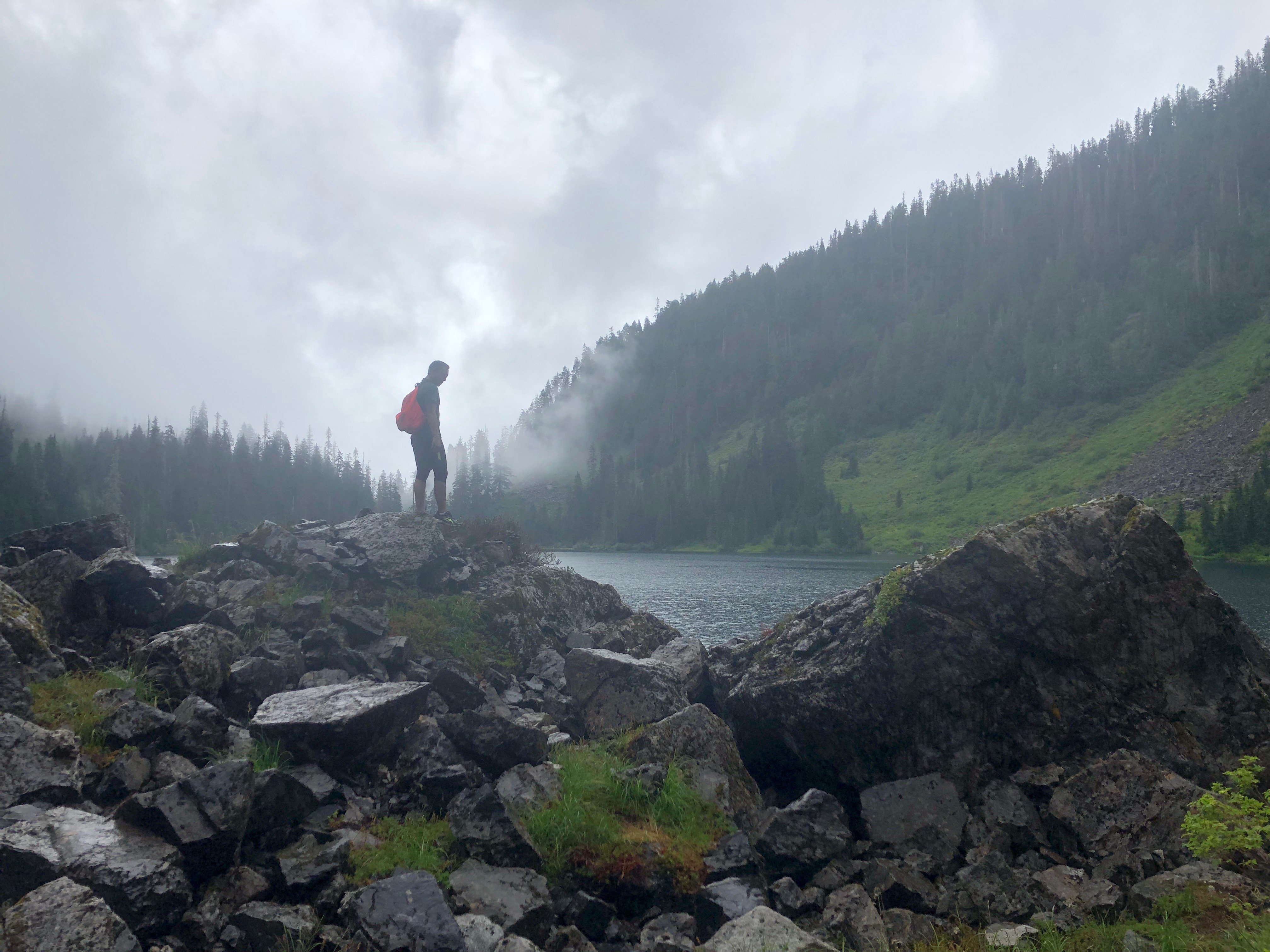 ---
Rain made all the rocks pretty slippery, but that didn't stop us from continuing to climb around and explore.
If you look at the lake in the background, you can see the choppy water from the pelting of rain that is falling!
---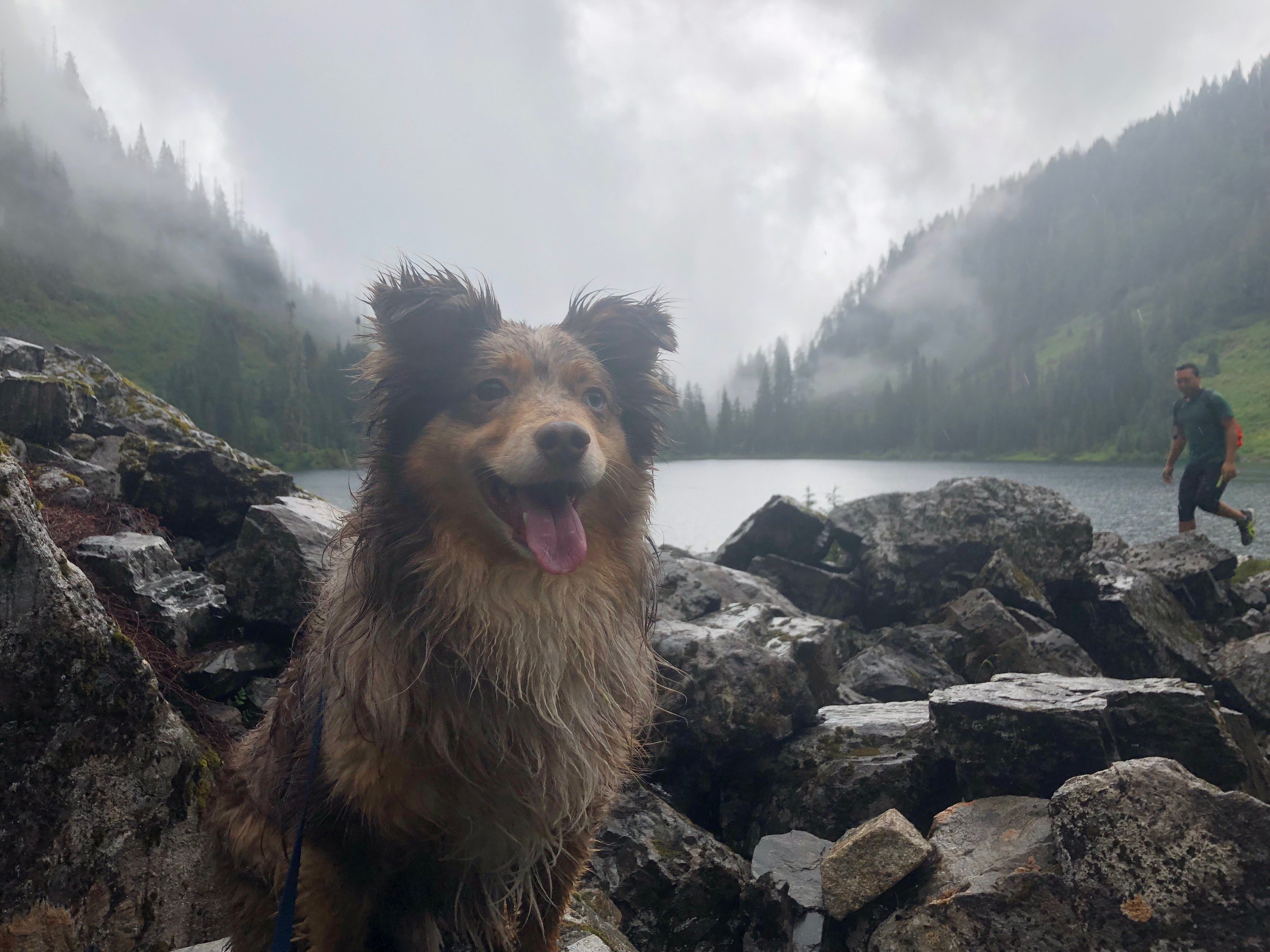 ---
Wet dog in the woods
Cash was in his element scrambling around the mountains and the wet rocks. Although he was starting to tire out by the end of the hike, at this point he was raring to go no matter the weather. Just look at that grin.
---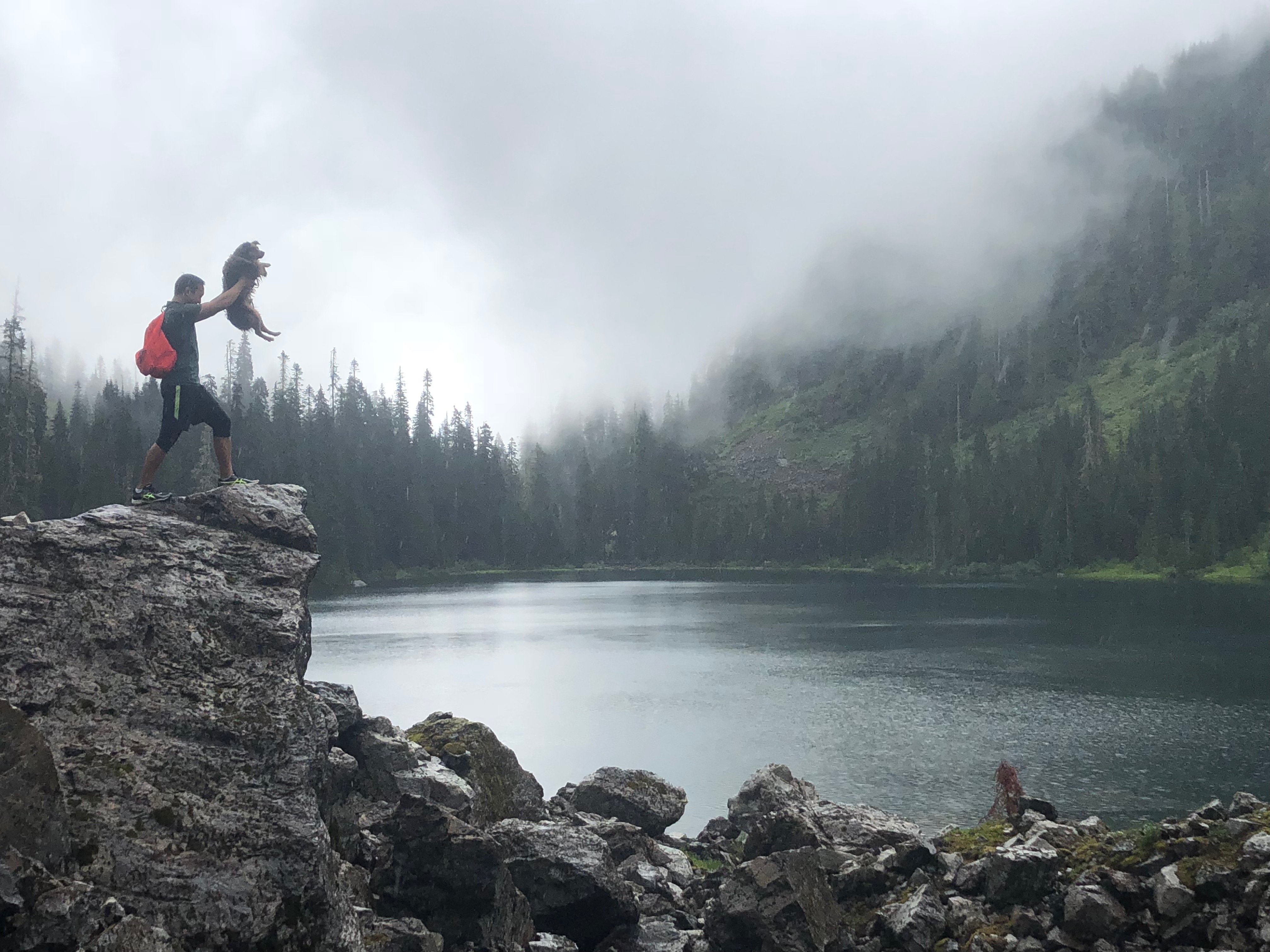 ---
And I'll leave you with this snap of Cash having a Lion King moment in the mountains.
He's such a comedian - and loves the attention. I think he knows when he's part of a stunt like this and he just eats it up, haha.
And that's what I have to share with you today for this lovely jaunt into the Cascades. If you're ever in Seattle and looking for a great, accessible-to-beginners trail with a great payout - this is a winner. :)
---
Check out more of my work @lilyraabe and below:
My Sunday Rituals | What are yours?
I've Been Teaching Theatre in Prison for 8 Years
🎨 Let's Talk About Art 🎨 | GIVING AWAY SBI SHARES!!
The Future is Female: U.S. Election Results - many firsts!
Chasing Wild Horses in South Dakota | Photo Album
Making Terrariums | Photo Album and Tutorial!
Salty Dog | Entry to @Axeman's Seascape Contest
Exploring Yellowstone National Park | Photo Album
Two for One | A QUIET PLACE Movie Review (entry for Steemitbloggers Contest) + Halloween Watchlist Results!
Exploring the Lewis & Clark Caverns in Montana | Photo Album
I Have a Long-Term Relationship with Marijuana
Quick Trip to Franklin Falls | WA State
Ultimate Halloween Watchlist Contest - 6sbd to giveaway
Exploring Crater Lake - one of the 7 Wonders of Oregon | Photo Album
Exploring Ruby Beach on the Olympic Peninsula | Photo Album
A Summer's Worth of Adventures | Photo Album
---

---

---


Join us @steemitbloggers
Animation By @zord189
---
All photos by me! Follow on instagram @lilyraabe!
---
Thanks for stopping by!
BIG LOVE, Lily