The picture of happiness - a salty pup smiling by the Puget Sound. In this snap, Cash and co. are perched on a series of cliffs on Orcas Island in the San Juan's.
---
This has become one of my favorite photos, and I thought it would be fun to toss it into the mix of @axeman's Landscape/Seascape Contest - which ends today. (It's a recurring contest, so head on over to @axeman's page for more announcements.)
---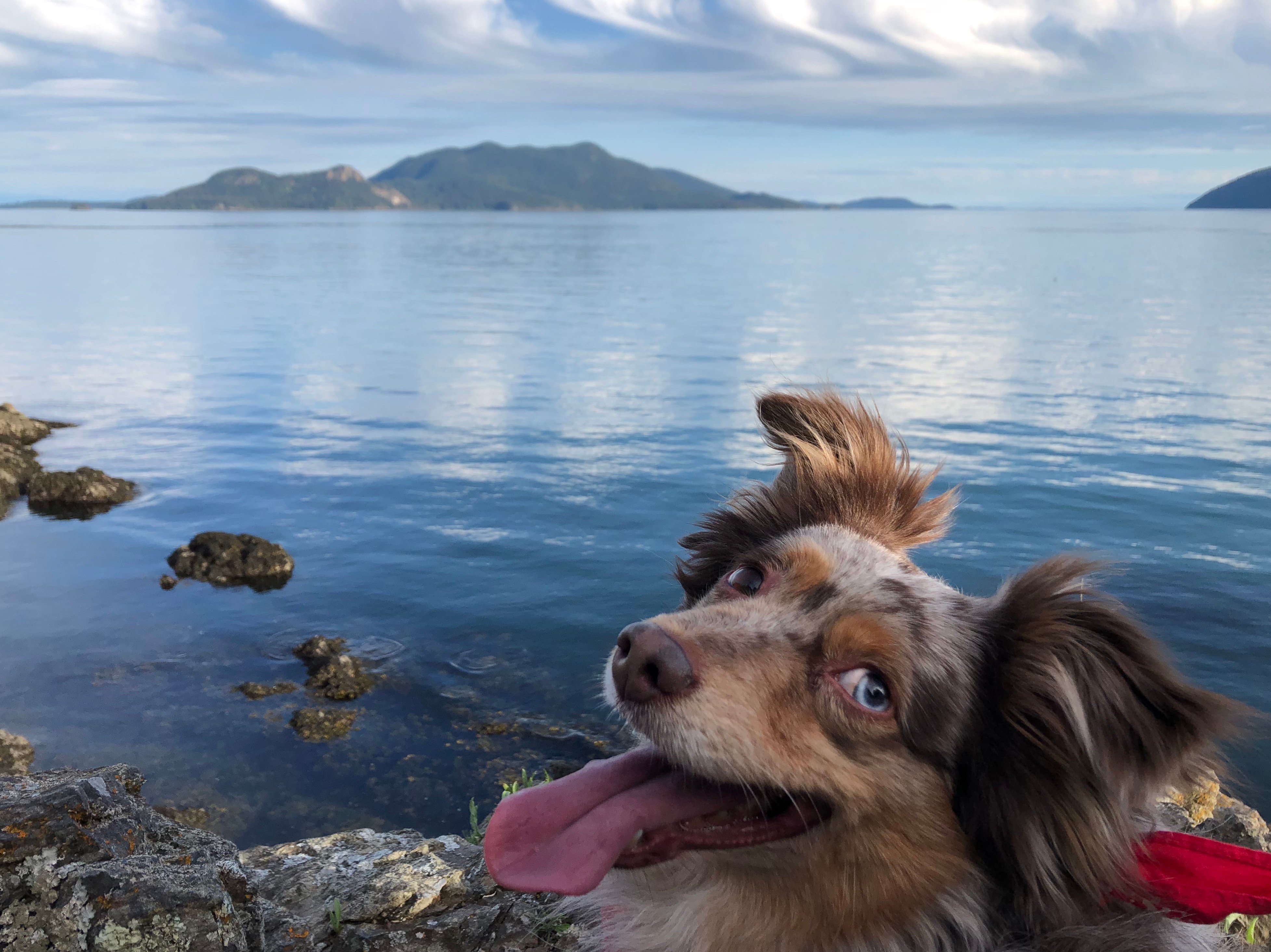 ---
There's nothing finer than the smell of salt water, would you agree?
Getting out to these islands is a bit of a trek - about 5 hours from Seattle including traffic. That being said, it's always worth it. Time moves slower on-island and it's always an amazing opportunity to unwind and disconnect. The San Juan's are literally the jewels of the Pacific Northwest and I'm always delighted when I get to spend time in this amazing archipelago of over 170 islands!
---
May all your adventures be accompanied by a smile as big as this one. Who's your favorite travel companion?
---
Check out more of my work @lilyraabe and below:
Exploring Yellowstone National Park | Photo Album
Two for One | A QUIET PLACE Movie Review (entry for Steemitbloggers Contest) + Halloween Watchlist Results!
Exploring the Lewis & Clark Caverns in Montana | Photo Album
I Have a Long-Term Relationship with Marijuana
Quick Trip to Franklin Falls | WA State
Ultimate Halloween Watchlist Contest - 6sbd to giveaway
Exploring Crater Lake - one of the 7 Wonders of Oregon | Photo Album
Exploring Ruby Beach on the Olympic Peninsula | Photo Album
A Summer's Worth of Adventures | Photo Album
Offering an Explanation
How I Got Here: a poem about existence
---

---

---


Join us @steemitbloggers
Animation By @zord189
---
All photos from my iPhone
---
Thanks for stopping by!
BIG LOVE, Lily