I would like to give a humble shoutout to a new Steemit user from Nigeria, Africa, who is already doing very well and who deserves some attention from me and so please check out @bania . if you like up and coming African Steemit users who are proving that you can make a living from the developing world by working online then please follow @bania (Especially if you follow @tj4real or @xpency or any other users from http://www.steemit.com/trending/Africa ) Let's encourage this new steemit user to post everyday and to reach out to @tj4real @ortigas100 @xpency @ogoowinner and the other Steemit Africa Team members, because Stemit Africa will become more and more important as we gain more and more users from the African Continent, which we will use as an example to show the rest of the developing world what Steemit can do for a developing nation....I mean like a serious chunk of new GDP can be raised using steemit and bitcoin! Just look at the success of @bania here,

I made sure to upvote all of his recent posts on his Blog as they are all high quality and this user is a perfect example of how people in a developing nation can EARN A LIVING off steem and crypto currency! We should make it easier for them to exchange thir steem for bitcoins and bitcoins for cash by helping a steemit user in every city in west africa to become a localbitcoin dealer which requires a reserve of local fiat cash and a reserve of bitcoins, so they can charge a small fee every time someone neds an exchange, and this will alow for a Job to be created! See how Bitcoin simply creates jobs wherever it goes? Anyone can run a small Bitcoin ATM service! Plenty of people might need to sell some bitcoin for some cash to buy some food for example, and the person giving fiat cash for bitcoin can simply charge a 5 or 10 percent fe or even more, and just make money all day exchanging money for money! and if someone cant "use" their bitcoins immediately, well, that only helps them in the long term, they are forced to save their btc and the price inevitably goes up, and they end up with even more money! But as I just explained, that problem takes care of itself, we can help by upvoting and donating Smartphones and Wifi and money to pay for Mobile Data plans (Until we can get them cheaper or free public wifi like i want to do for the Church of @tj4real so his church can have free wifi for its members and children after school etc AND a computer lab with at least 10 computers for the poor to get on steemit!)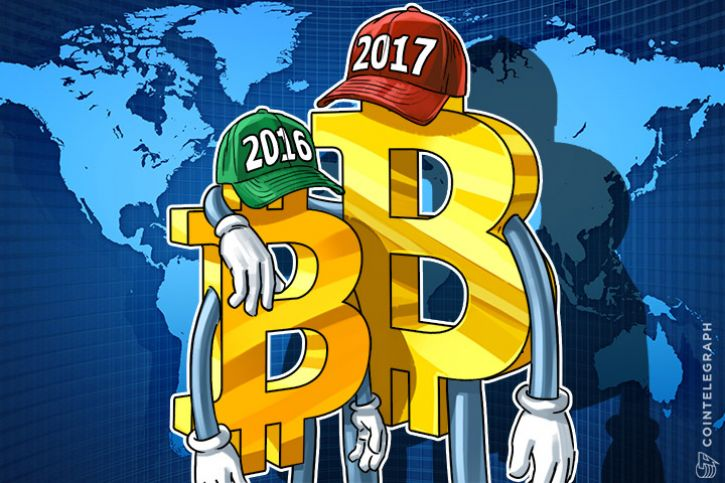 It's miraculous and the biggest challenge is simply getting cheap android smartphones in the hands of every person in Africa, AND getting them all small USB solar battery chargers, and affordable Wifi or Mobile Data plans, and I believe helping people like @bania and @tj4real and @ortigas100 continue to pay their expensive internet bills will help everyone around them! And eventually we must set them up some sort of Free Satellite Internet like Outernet, or help them buy the WIFI router and service plan to provide Free Wifi or help setup an internet cafe where they can allow people in their hometown somewhere to use computers and get on steemit. This would give people the tools they need to make money and eventually afford their own smartphone, all by just posting on steemit. We could even have a bitcoin ATN at the internet Cafe or allow the manager working there to exchange Bitcoin or Steem for local fiat currency to make it very easy for any local steemit users top cash out to buy food with SBD someone sent them! Imagine if the world's hungry had internet, and could ask us for SBD to buy food with! And we can find jobs for them online! Young people in Africa can even Vlog for example, to gain followers and sell products, vlogging about Africa will gain them a big western audience! All Africans have a wealth of culture to video record and blog or vlog about!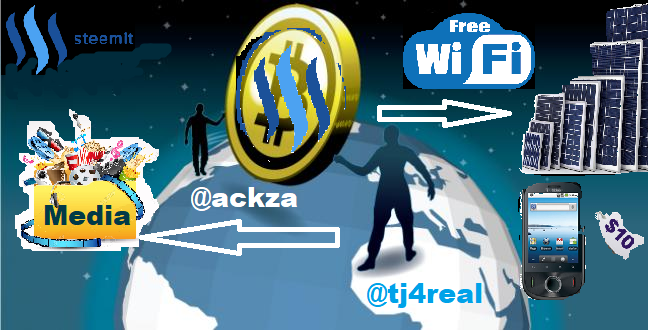 (Image I made illustrating Myself and @tj4real exchanging technology for culture, built on an existing illustration of Bitcoin being a tool for helping develop business relationships between north america and Africa. Before bitcoin there was no real way to instantly pay anyone for doing work online, at least nothing as reliable as Bitcoin and now with steemit its even easier to send and receive money, and thre are plenty of things even the most poor in Africa can offer us in the west especially with entertainment, Youtube, Photography, Music, Dance videos etc so even the poor and uneducated can still participate! And with internet they will become educated also!

(Here is a really cool Billboard idea that I have been talking to @tj4real about funding in Ghana and then in Nigeria with @xpency and we hope to talk to an African Advertising Agency to find the cheapest Open air advertising so we can test it out and then do a media blitz to put steemit logos EVERYWHERE, with steemit ads on African Youtube, African Radio and then steemit logos on multiple billboards, so all at once people in Lagos Nigeria for example, will start to notice this steemit logo everywhere and the posters and billboards will explain briefly how you can "get Paid to Use the Internet" or "get paid to blog" or 'make extra money online" we will make it seem very simple, and people will be curious and join! we need a new ad campaign a GENIUS advertising campaign, maybe showing an animal on a laptop making some money very easily....we need a mascot!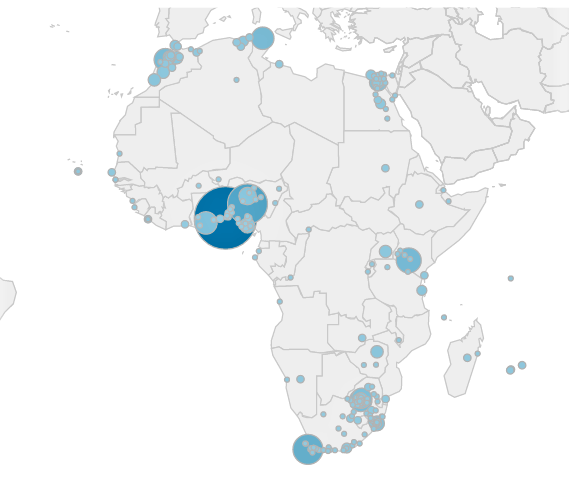 Image by @DonkeyPong showing steemit usage in Africa, with much of the users concentrated in places like Nigeria, so let's take advantage of this natural growth of steemit in this region and let's CATER to this market and really make use of the very low advertising costs here, to saturate the african markets with steemit ads! just SATURATE everything! We should pay people to go around putting steemit stickers everywhere and we should really see how cheap we can buy open air advertising on the side of a restaurant or any building for that matter!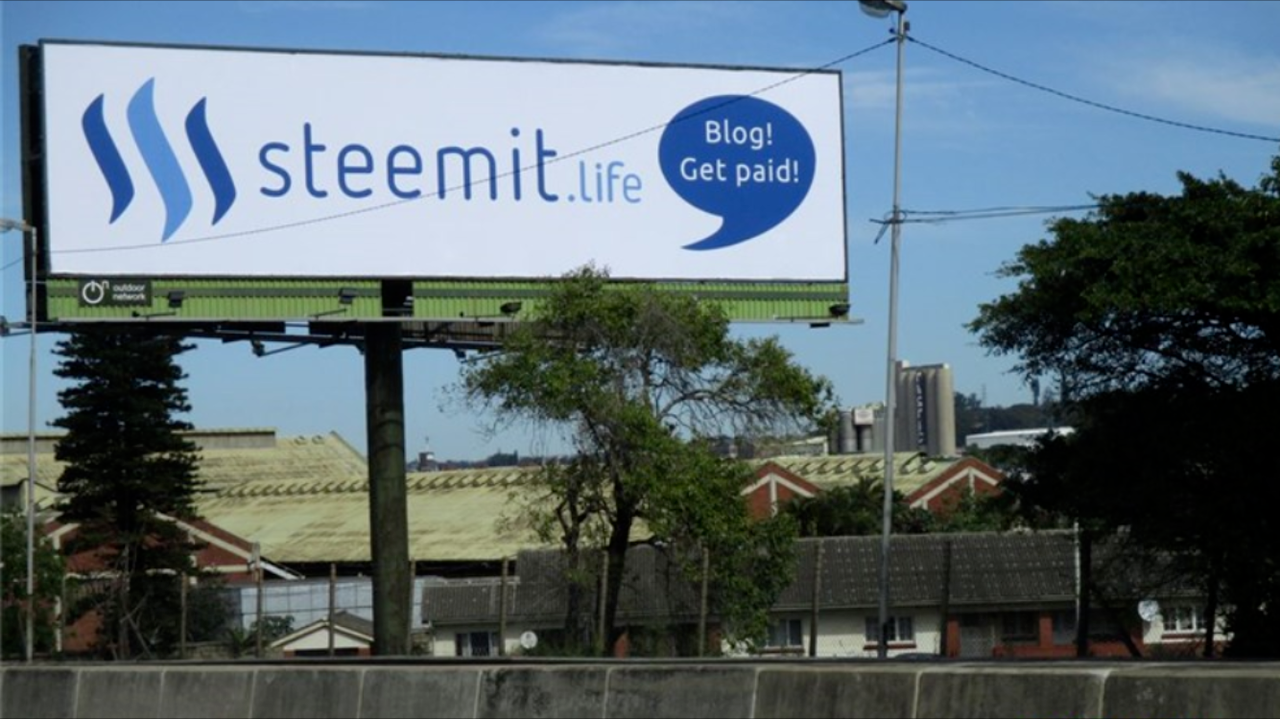 (Great image from @steemdrive from South Africa which is by chance! I just google image searched 'Steemit Billboard" and it came up! https://steemit.com/steemit/@steemdrive/steemdrive-second-proof-of-successful-crowdfunded-billboard-flight-in-durban-south-africa
So I hope @bania can do a little research and find out how much advertisements will cost in his local area. He can look up a local ad agency and ask for a basic package of Open Air or Billboard advertisements. It can be on the side of a building and does not have to be a billboard, , but we can start with a Billboard or open air type, and see how much it will cost or us to have a billboard for steemit for a month....if we get one up, it will get to the top of steemit and @stellabelle and @thejohalfiles and @neoxian and all sorts of steemit whales will definitely upvote it if we can actually get a real life Steemit Billboard up in Africa...that image would be VERY powerful Especially with a bunch of Steemit Africa users all taking their photo together in front of it! And @Tj4real is ordering some Steemit T shirts to be made and will have a Steemit Dance crew at his Church and no mnattr what they do, they will be spreading the word about steemit just with their t shirts! They can make cool videos of them dancing while the background chances to all the spots of their city, we can copy popular dance videos from Hanagami choreography, and that steemit logo on their T shirts will shine through and become another layer of advertising!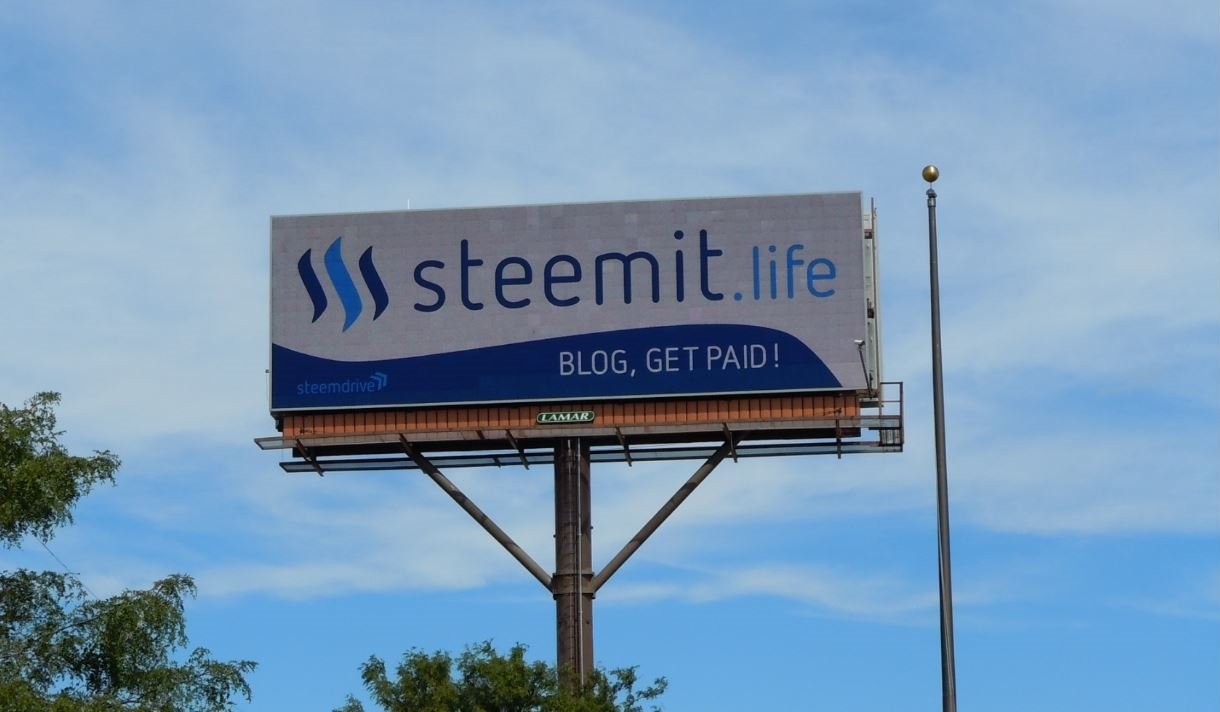 (Another @steemdrive Steemit billboard design be sure to go upvote thir posts if you like their work! )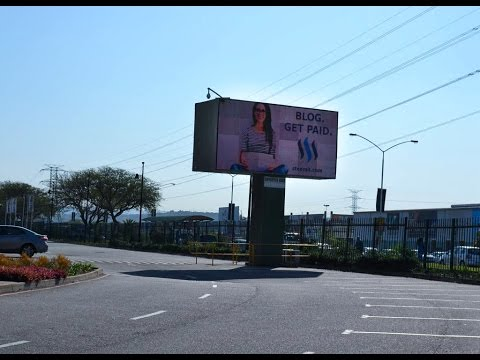 (real life steemit billbaord in Manilla Philipines by @tjpezlo full post available here https://steemit.com/steemit/@tjpezlo/manila-s-first-steemit-billboard we should be learning from these succesful steemit advertising campaigns, which will work a lot better now and give you a greater ROi in terms of upvotes now with steemit being much bigger! These billbaords were done last year!)

(Another @steemdrive post showing what a Steemit billboard in Chicago would look like! Illustration by @mrgreen and his comment on this post of @steemdrive which got over $7,000 wow https://steemit.com/steemit/@steemdrive/steemdrive-first-steemit-billboard-to-hit-usa-in-chicago-illinios-vote-for-the-american-dream )
WOW even the top COMMENT on this $7,000 post got over $800 for one comment!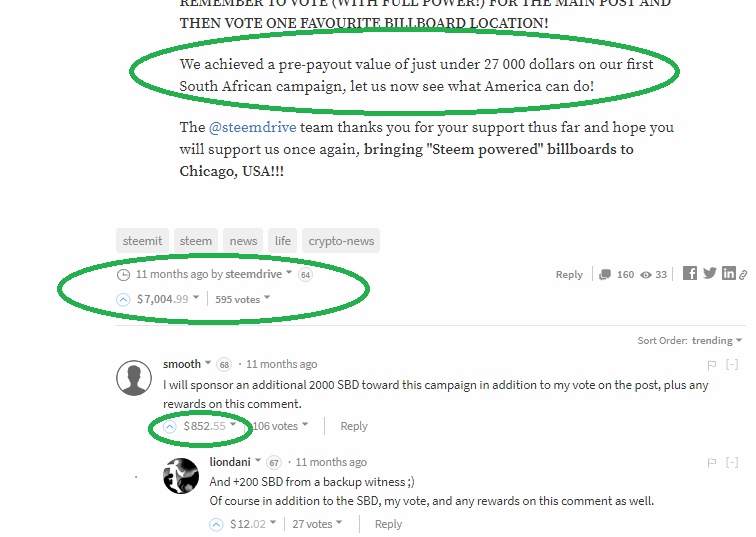 Well the comment as about a 2000 SBD donation being paid to help these billboards happen! So let this be a LESSON to ANYONE who doubts the ability for anyone to earn thousands of dollars on steemit, you JUST have to make posts ABOUT ADVERTISINg steemit itself! And actual billboards or youtube ads like @jerrybanfield are alternatives! or advertise on instagram like i do that works too, but this should show you how you can take it to ANOTHER level beyond Jerry's level, where you're doing actual billboards! This is where Jerry Banfield should move towards! And hosting big free events to show people steemit! id like to talk to a professor at my local SDSu university and try to see if I could do a small plug for steemit at the end of a class!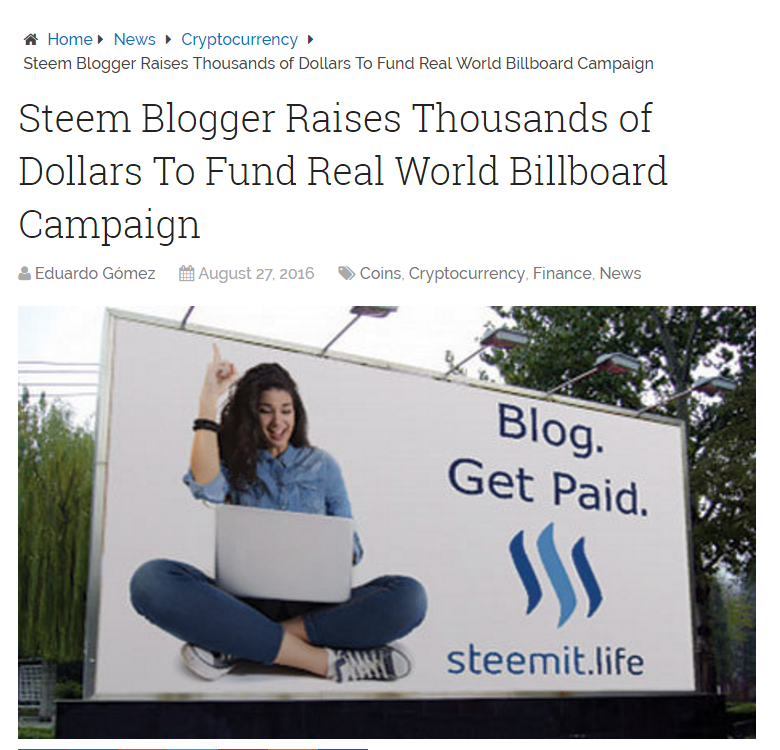 (Posted on steemit by @ash from @themerkle http://themerkle.com/steem-blogger-raises-thousands-of-dollars-to-fund-real-world-billboard-campaign/ a whole article about how awesome we are here at steemit bcause we raised money to buy our own billbaords! We really are a decentralized company! We are the first decentralized company where we get paid when we work and noone is the boss! "I'm makin money like a make sweet love" the way it should be!
Anyway I hope you enjoyed this post and my next post will be all about this $7000 post from last year by @steemdrive and I will be seeing if @steemdrive will talk to us and give us advice for buying billboards, and how we can get the MOST advertising done for the lowest price! I believe this is the type of story every steemit user can support because the result will just be more steemit users, higher price of stem and everyone benefiting! So let's work on some Billboards in Africa, AND in the USa and all over the world! thanks to the Steemit Users who started this ide aof Steemit Billboards and I can't wait to rally get this done and see a big steemit ad in my local town AND across the planet in West Africa! it's going to be VERY exciting for everyone! Plenty of work for everyone! we can ALL make money doing this!
If you have questions about bitcoin steemit crypto or making money mining like this email zackza@gmail.com or text/call me (619) 302 0398 and....