Life as a business traveller has both its perks and its constraints. On the one hand, business men and women can venture to cities and countries they may never have voluntarily chosen to, or had the time or capital to go to. They can seize a chance to understand more about a culture and a country while working. On the other hand, jammed timetables and packed meeting schedules mean that these earnest workers sometimes head to a destination without seeing much more than hotel lobbies and soulless conference centers. Continuous coffees, early starts, and dreary speakers resound all too familiarly. Workers might return from exotic (prescribed) locations as ignorant as when they set off. There are, of course, some business travelers who take advantage of this period to explore more than what is on their work agenda. They spend small pockets of their time wisely, embracing local cultures and histories in order to develop both personally and professionally. In the last five years, an expression for this type of exploration has emerged: "bleisure" travel. Bleisure may not have much of a ring to it, but it describes an important idea that some of the more curious of business travelers (and companies) are choosing to follow up on. Others could take a few leaves out of their travel books.
Bleisure: Sustaining Cultural Curiosity Between Meetings
Bleisure: Exploring Edinburgh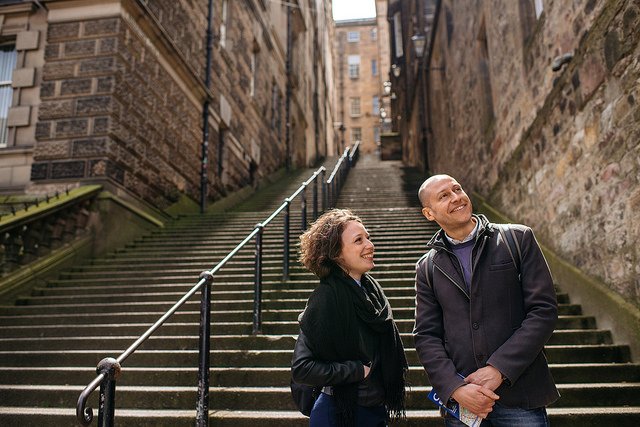 There can be a symbiosis between business and leisure if one makes a bit of room and time for it. It can be as accessible as missing the hotel breakfast buffet, instead heading out a couple of hundred meters to a local eatery and rubbing elbows with residents. Alternatively, one can go even further and dedicate some hours to spend wandering the city's well-known or offbeat sites.
Picture a plethora of physicians traveling from the United States to Shanghai (true story). Their schedules are jam-packed for four days; even their evenings are to be kept for networking or meals with colleagues. By the time they roll into bed they have a few hours to rest before it all kicks off again. But they do have a full day tossed in to "explore city at own leisure." What to do with this time? Taking a plunge in the hotel pool and kicking back and relaxing might be the easy choice in an unfamiliar city with seemingly peculiar customs and an incomprehensible language. It is the definition of the word 'leisure' for some. On the flip side, 'leisure' might mean taking an alternative plunge into the essence of a city: roaming the back streets, local markets, museums, or the architecturally impressive Bund.