One of my new year resolutions this year is to attend as many conferences at the intersection of AI and Finance as I can and was so glad when I stumbled upon this one.
If you will be in North America (or close by) in April 2-3, 2020, plan to attend the "Transformations in Finance: Artificial Intelligence" to be held in Calgary at the Telus Convention Centre.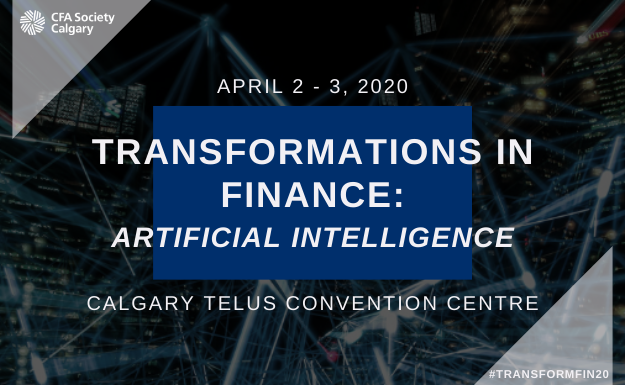 To register for the conference, use the link below
https://www.cvent.com/events/transformations-in-finance-artificial-intelligence/event-summary-ca1a9d46fe154044b8934a4957a4355d.aspx?tw=69-C8-27-EC-9D-01-7E-5D-44-D3-7D-23-2E-27-02-EE
There is currently discounted pricing for the first 250 registrants (which may end soon) so hurry if you are interested. Also, if you are a CFA institute member, you also get an additional $100 discount.
Speakers include:
Kevin Brent, CIO of Bluesky Equities Ltd.,
Geoff Colvin, Senior Editor-at-large, Fortune,
Nicholas Thompson, Editor-in-Chief, Wired,
Margaret Franklin, President & CEO, CFA Institute,
Denise Shull, CEO & Lead Performance Coach, The ReThink Group and much more.
The event seems to be sponsored by BlackRock and avisowealth, so it promises to have some great networking opportunities.
Hope to see some of you there!
aiplusfinance