When traveling, Airbnb can be a great way to get convenient, affordable, and quality accommodations. However, you need to know what to look for.
If you aren't familiar with nuances of the platform and with these hacks, tips, and tricks, you may end up paying far more than you had to. Perhaps even worse, you might end up with extremely unpleasant housing on your vacation.
Use these hacks to make sure you get the most out of your stay!
---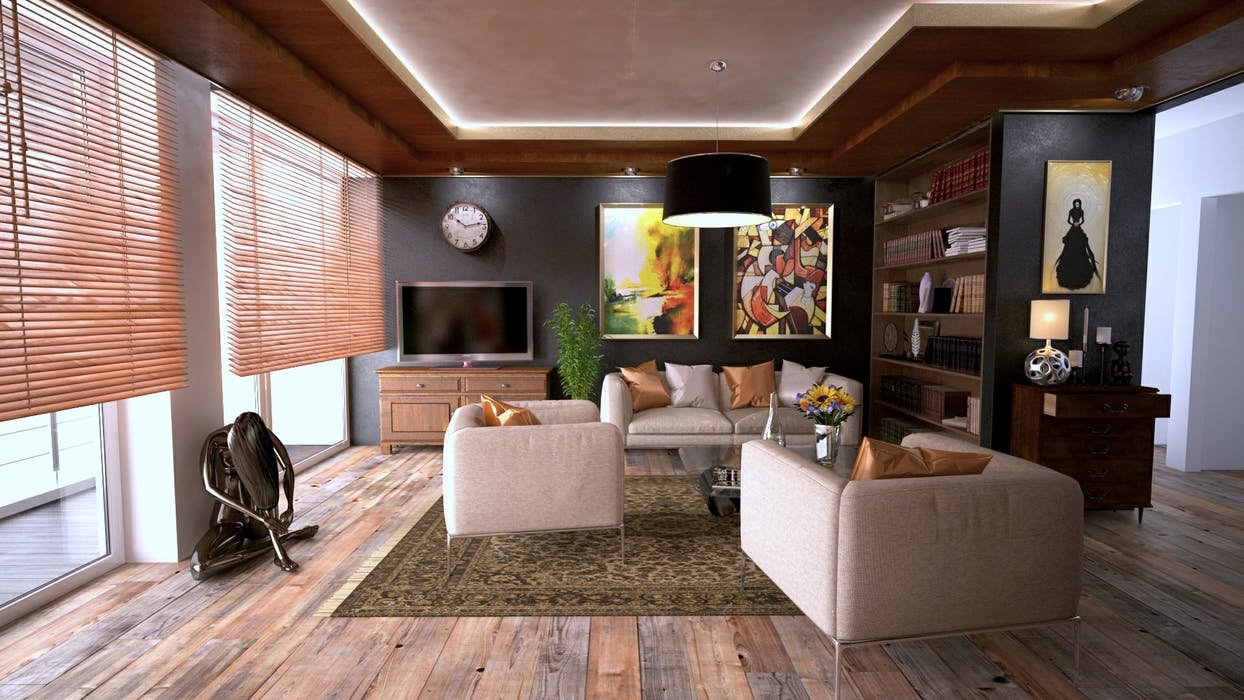 ---
Buy discounted Airbnb gift cards on eBay
---
At least a couple of times each month, eBay.com has Airbnb gift cards for 6-10% off. These gift cards deals are a breeze to purchase and use because they are sold by the eBay account "PaypalDigitalGifts". You'll buy gift cards and get an email with the gift card code about an hour later.
If you aren't buying discounted gift cards, you're leaving free, easy money on the table! As long as you know for a fact that you'll be using your Airbnb gift cards in the future, do not skip this hack!
Connect your Delta and Airbnb accounts
---
Airbnb has a relationship with Delta that allows you to earn Delta miles for your Airbnb stays. It's simple to connect your Delta account, so don't skip this step! This is free money, people! Much like the last hack, you're leaving free Delta miles on the table if you don't do this.
You'll get 1 Delta mile for every dollar you spend on your Airbnb stays. However, to get this deal, you must book your Airbnb through https://www.deltaairbnb.com.
---
New to Airbnb? Get a $40 Airbnb travel credit when you sign up!
---
Use filters
---
No, not filters like on Instagram. Use filters to weed out the homes that don't fit your needs. During our travels, we always set three filters: Under $50/night, pets allowed, and has Wifi.
---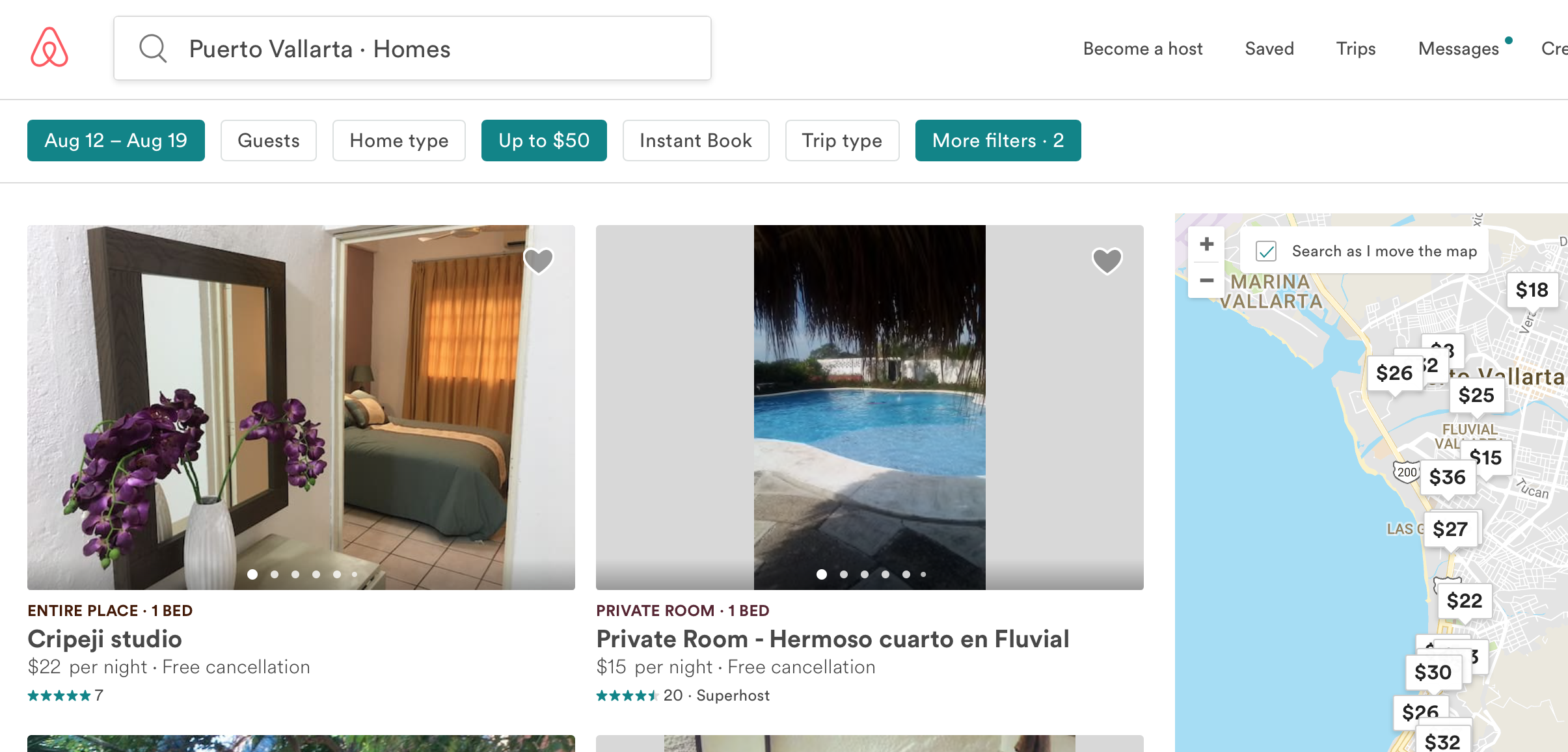 ---
Choose the amenities that are most important to you and put on those filters! If you're traveling with a pet and you forget to check to see if pets are allowed, it may cause you a lot of headaches later. Apply filters to make sure you're only shown accommodations that will work for you.
Book as far in advance as possible
---
The best deals on Airbnb are usually booked far in advance. Unless you get lucky, if you don't book long before your trip, you're probably not going to be able to stay in one of these awesome homes.
Don't get me wrong, there will almost always be last-minute availability, but your options will be much more limited than if you were to book in advance, and you'll probably end up paying more.
When booking months before your trip, look for homes with flexible cancellation policies. This way, you'll have the option to switch to another home should you find a better deal, plus it will give your trip more flexibility.
Look for 5 stars or no reviews at all
---
In our experience, users of Airbnb are very generous with their ratings. You might think that a 4-Star rated home is going to give you a reasonably pleasant experience. Don't count on it! We've made the mistake of booking a 4.5-Star-rated home on three different occasions. All three stays left a lot to be desired.
---

---
Only book 5-Star homes, but for one exception...
If it looks like an outstanding deal, don't be afraid to book a home without any reviews. When hosts first start out on Airbnb, they can't compete for renters based on reviews, so they have no choice but to compete on price.
When homes are listed on Airbnb for the first time, they are often far cheaper than they should be. After the hosts get a couple of good reviews, they'll usually be able to raise their prices substantially. If you book one of these homes months in advance, you'll have your stay locked in at the lowest possible price, even after the host gets some great reviews and raises their prices.
If it turns out to be the case that this particular host ends up getting some bad reviews after you book, you can contact Airbnb, and tell them you no longer feel comfortable staying there. They will more than likely cancel your reservation without penalty.
Keep an eye out for discounts
---
Another reason to look for homes without any reviews is that they frequently offer promotions like 20-25% off for the first three people who book their home. These promotions can score you some significant discounts, and when they are available, they can be combined with weekly discounts.
---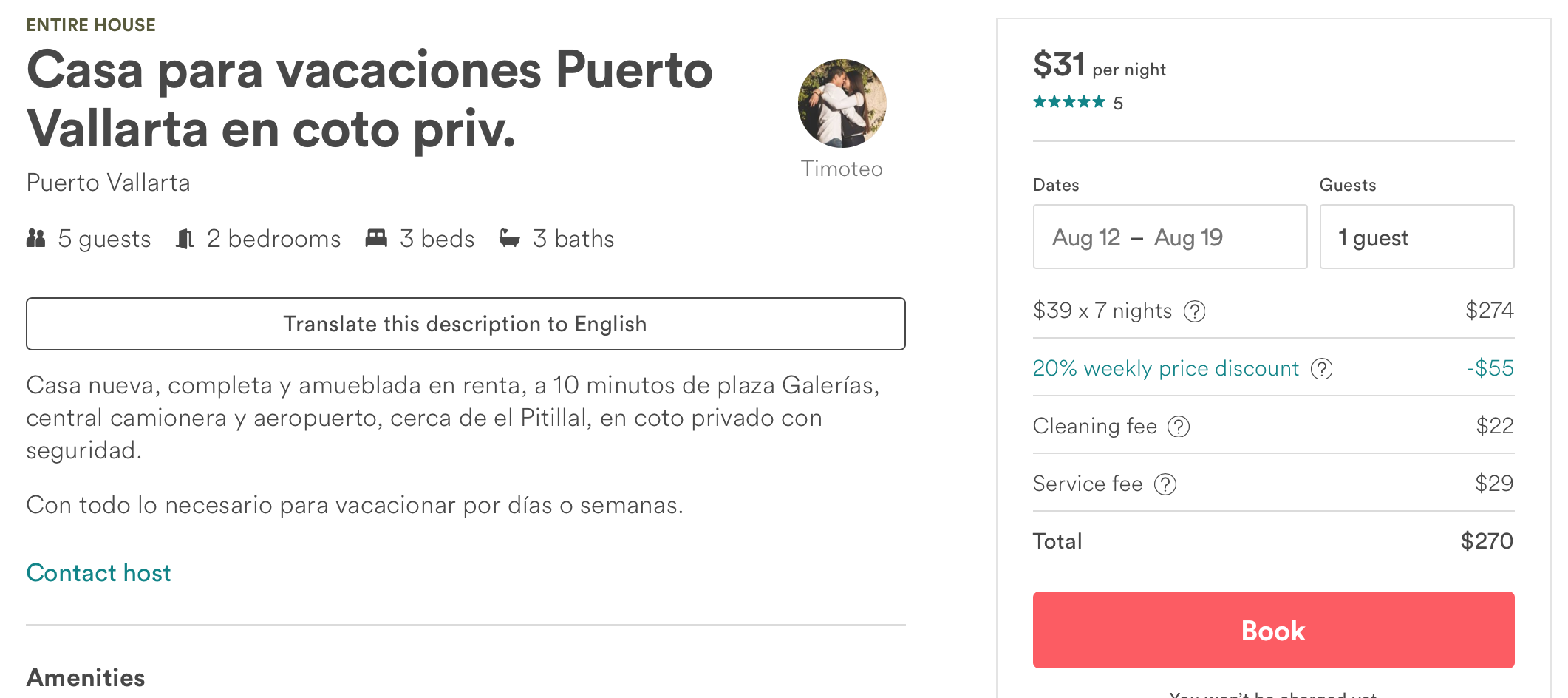 ---
If you're staying a week or more, look for homes that offer a weekly or a monthly discount. You can usually expect to save an additional 5-20% if staying for a week or more. If staying for a month, monthly discounts may qualify you for up to 50% off!
In the screenshot above, this particular host offers 20% off for weekly stays, which is a larger discount than is typical. But watch out for their cleaning fees! This home has a significant ($22) cleaning fee which will be charged one time per stay, regardless of how long your stay. Some hosts charge a substantial cleaning fee while others charge no cleaning fee at all.
You can use Airbnb to find an awesome place to stay, just about anywhere in the world. We hope you'll use these Airbnb hacks to save a whole lot of money on your next vacation!
---
---
If you enjoyed this post, follow us @TangerineTravels.
Curious to learn more about us?
Check out @wadepaterson's 20 Questions with TangerineTravels.
Until next time,
@shenanigator (Jordan)
@sharingeverybite (Maddie)
(and Laska the Siberian Husky)