Mingocoin is touting itself as the app that will introduce crypto to the masses. I thus saw it fitting to create a step by step guide for receiving the Mingocoin airdrop for those starting from scratch.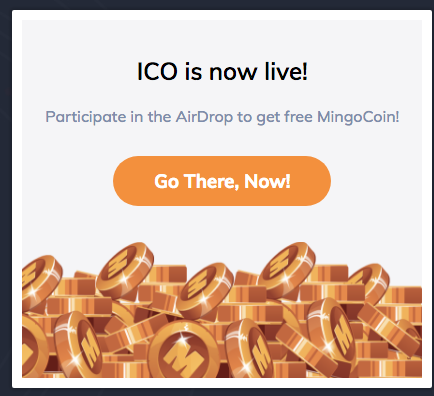 Step 1
Download Telegram and Create an Account
https://telegram.org/apps
Step 2
Join the Mingocoin Telegram Channel
https://t.me/GoMingoCoin
Step 3
Create an Ethereum Wallet.
Follow the steps at
https://www.myetherwallet.com/
Step 3
Go to the My Wallets Tab and Copy Your Ethereum ETH address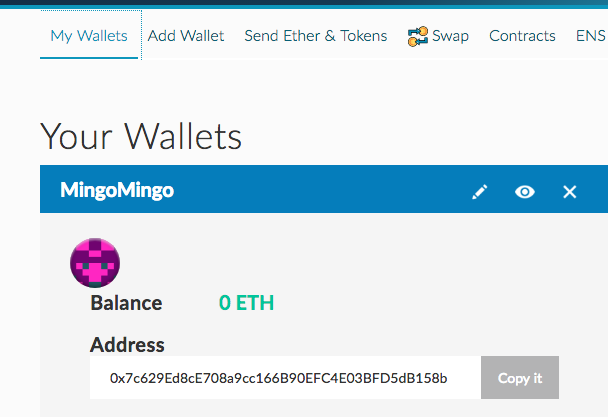 Step 4
Fund Your Wallet with ETH any Amount - The wallet must have ETH in it to receive the Airdrop
http://www.QuickBT.com
Use the address you copied in the step above to receive your ETH
Step 5
Follow these steps at Mingocoin.com to register for the Airdrop.
(a) click the link in your validation email
(b) enter your funded ETH wallet address
(c) upload a selfie holding photo ID for verification. (only one account per human)
(d) Send the generated code to @mingo_coin_bot via the Mingocoin Telegram channel, you can find this link by clicking on the pinned message at the top of the chat window and scrolling down.
(e) Share Mingo publically to a social media account. I posted to my Facebook Page. https://www.facebook.com/bitkat.tech
Your account will now be set up and your 100 Mingocoin (XMC) balance will be showing at the top right of your Mingocoin.com/dashboard page. Your tokens will be transferred to your ETH wallet end of the month when the Initial Coin Offering ICO, has ended.
Learn more about Mingocoin: https://steemit.com/airdrop/@bitkat/hashgraph-and-mingocoin