Hello Steemit Community ,
I am Lawrence and I am the community manager of bcshop.io . We are proud to announce our community development campaign to all of you here . We are going to have 3 sets of airdrop / giveaways .
Airdrop to holders.
100 ETH budget for review bounty
Airdrop
I will include below the full details of our campaign .
COMMUNITY DEVELOPMENT CAMPAIGN ANNOUNCEMENT!!!
To promote the launch of the first feature-full blockchain-based e-commerce and e-payments platform, in accordance with art. 14 of Appendix to General Terms & Conditions of BCS Tokens Sale, with this letter BCShop.io announces comprehensive community development campaign. The campaign will consist of several different activities and reward pools.
TOKEN HOLDERS PROMOTION :
This promotion is dedicated to our early token holders who obtained BCS tokens before actual mainnet release thus helping to make BCShop.io platform into reality. We will make ALL token holders snapshot at 15th of May 2018 and 200k tokens will be reserved for distribution between those token holders in the snapshot. Tokens will be rewarded proportionally to token holdings so 200k tokens will lead to ~60% reward given the current circulating supply of 332k tokens.
Note: It is obligatory for you to qualify for the reward. We ask you to write your feedback about BCShop.io platform (after mainnet release) in a free form at telegra.ph and send it to bounty@bcshop.io, don't forget to specify your wallet address with BCS tokens. The qualification process is conditioned by regulators recommendations and team's adherence to Customer Development approach. Your valuable feedback will be used to improve the platform and deliver better experience to all its users.
We will start sending rewards weekly after mainnet release and there will be no set deadline so feel free to qualify at your convenience. Sharing your personal experience in social media networks is very much appreciated.
Be sure that you hold tokens on personal wallets, exchange wallets are not supported.
BOUNTY CAMPAIGN :
Bounty campaign fund of 100 ETH will be distributed between social media influencers.
The following content will be accepted:
Video review of the BCShop.io platform
Video or text (with screenshots) introduction of BCShop.io platform
Other content featuring BCShop.io, comparing it to other blockchain based competitors, etc
Non-speculative content is expected, with actual observations of the platform's functions and token usage after mainnet release.
To apply for the bounty campaign, send us your introduction to bounty@bcshop.io. We will carefully consider all applications and choose several candidates to cooperate with.
AIRDROP CAMPAIGN !!!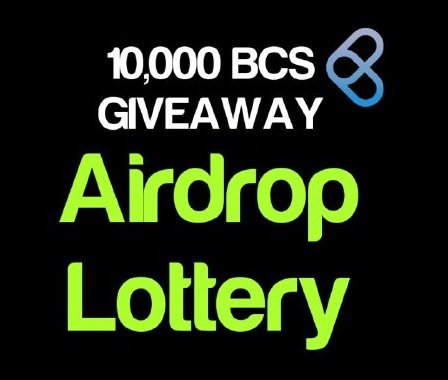 10,000 BCS will be distributed for 1000 members randomly chosen from those who qualified.
We will determine 1000 people to receive 10 BCS tokens each with the help of random.org website. For the
process to be transparent, fair and verifiable, we will use the hash code of the first Ethereum block mined
after 1:11 AM (UTC) 1 st of June 2018 as a persistent random seed. Thus, every participant of the airdrop will
be able to verify winners' sequence itself.
*** Keep in mind that we require you to put all details that needed in the form . Failure to fulfilled the following details will lead to termination of your application on our airdrop .
Form: https://docs.google.com/forms/d/e/1FAIpQLSfdhGhat077WPeYa-6NzWriE9XtnKBGJr0dQWmQmUROJTKd-A/viewform
If you have any questions you can just go ahead and reply on the comment section and I will reply as fast as I can .