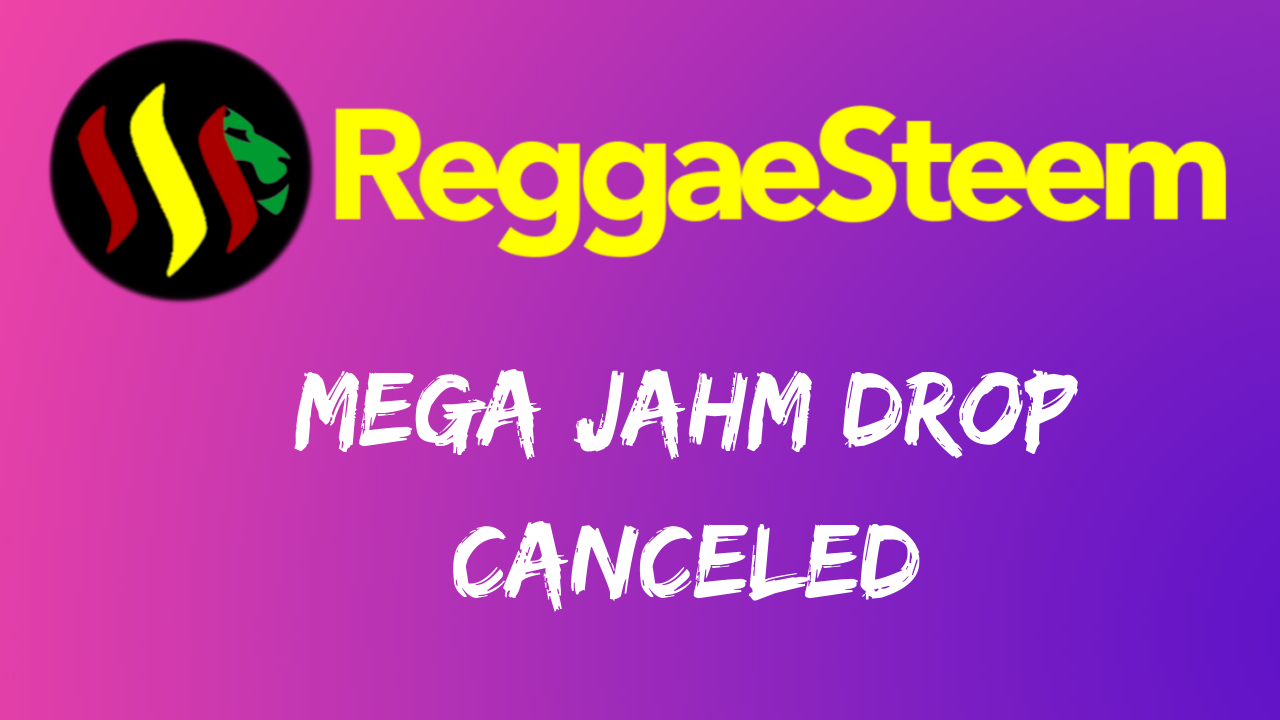 Greetings from team ReggaeSteem,
In this post we'd like to inform you about the cancellation of the Mega JAHM Drop Airdrop and why we had to make this tough decision.
The Mega Jahm Drop consisted of 1,000,000 JAHM tokens to be shared between individuals who created a post about their favorite Reggae song. The main aim was to attract new users to steem/ReggaeSteem and reward those who contributed to building ReggaeSteem through their JAHM drop post.
We know many may be disappointed with this news of the cancellation of the Mega JAHM airdrop, but it is something that had to be done for the following reasons:
The airdrop form was not set up correctly to account for usernames/SP values at time of submission.

Due to our direct dialogue with the Jamaica Stock Exchange and their advisers who are knowledgeable about SEC regualtions, it has come to our attention that all scot based tokens are deemed security tokens as they are being traded on a secondary exchange ( Steem Engine). In order to stay in line with regulations which may or may not apply to us ( it is a grey area), it is in our best interests not to go through with a drop of this magnitude.

Giving away almost $10,000 USD worth of JAHM or the equivalent of 1.3m Jamaican Dollars will bring the wrong attention to our budding project.
For these reasons we have decided to cancel the Mega Drop. We do apologize for the inconvenience as we know many were looking forward to the Mega drop. However, we thought we couldn't leave the community hanging, so what we decided to do is give individuals who can prove they did their Mega drop post, 1,000 JAHM staked.
Note: If you have already made your post for the Mega drop about your favorite Reggae song, please post the link below in the comments so we can verify it. In this case, there is no need to do the task mentioned below to receive the 1,000 Jahm staked.
For individuals who were thinking to enter the Mega drop, we'd like you to complete the following task and post the link in the comments below to receive 1,000 staked JAHM.
The task: Write an article talking about the following.
Which Reggae artiste do you want to see on ReggaeSteem?

Why do you want to see them on ReggaeSteem?

What can we do to get the artiste here?

Embed a song from the artiste.
The deadline for your submission ends when this post pays out
We expect quality posts for this task.
Again, we do apologize for this inconvenience and we do hope you understand why we decided to cancel the Mega drop. It was in the best interest of the ReggaeSteem community. If you have any questions, please contact us in our discord server.
Thank you for being a part of this journey. We look forward to growing with you and bringing Reggae Culture and a nation onto the Steem blockchain.





Web| Tribe| Telegram| Twitter| YouTube


---

Posted via ReggaeSteem | Reggae Culture Rewarded