This post will explain the detailed guideline regarding our brand new Dashboard. See below for details.
1 — SIGN IN TO THE DASHBOARD
ZeroBank Dashboard can be accessed via the "Sign In" button on the top right of ZeroBank Website at any stage of our crowdsale, or at the hyperlink: https://ico.zerobank.cash/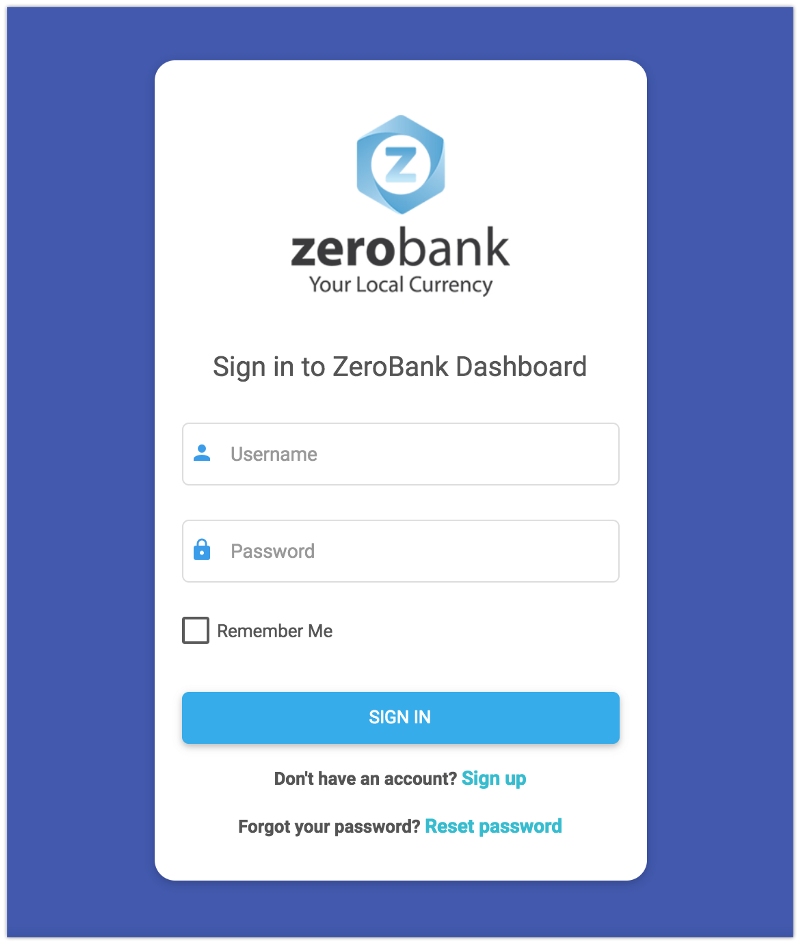 If you joined the first Bounty Program, you can use your Bounty account username and password to sign in. You may also use your email address as the username.
If you have already registered for ZeroBank Whitelist or Newsletter, kindly check your email inbox and use the password ZeroBank sent you to sign in.
Otherwise, sign up for a new account by clicking "Sign up" button. Once you finish registration, you will get a verification email to activate your account.
2 — JOIN THE WHITELIST & KYC
After signing in successfully, you will see the dashboard (illustration below). The Join Whitelist function is combined in the KYC function during the Whitelist stage. Unless you pass ZeroBank KYC, you will not be able to make contribution to ZeroBank.
*Note: If you joined our Whitelist and already got the KYC Authentication Pass email, you do not need to follow this step.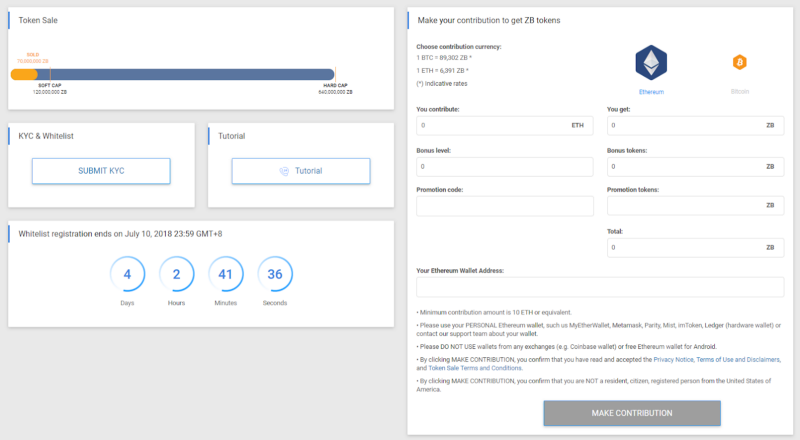 To start your KYC procedure, click on "Submit KYC" button. The "KYC and Whitelist registration" form will show up (illustration below). You can register as an individual ("I'm a person" tab) or a corporation ("I'm a business" tab). All fields are obligatory.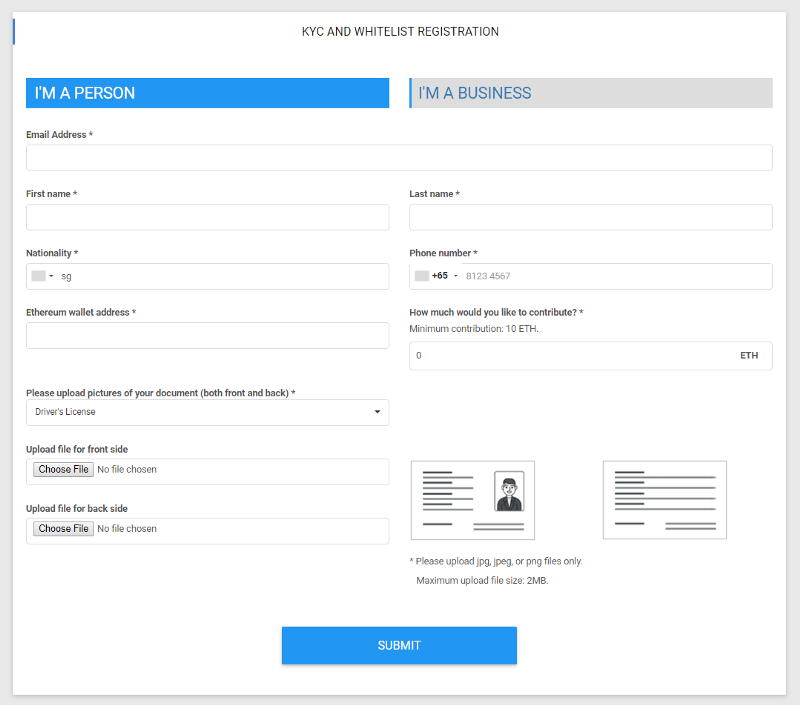 Email address: This field should already be filled out using your account registration email address.
First name and Last name: Fill in your first name and last name exactly like shown in your identification document.
Nationality: Choose your nationality. Residents, citizens, and registered persons of the United States of America are restricted from participating in ZeroBank ICO.
Phone number: Input your current phone number. Please change the country code if needed. (This field may already be filled out if you signed up your new account on the Dashboard system.)
Ethereum wallet address: Input your ERC223-compatible ETH wallet address. This wallet address is where you will receive ZeroBank tokens after the ICO. You should use your PERSONAL Ethereum wallet such as: MyEtherWallet, Metamask, Parity, Mist, imToken, Ledger (hardware wallet); DO NOT use wallets from any exchanges (e.g. Coinbase wallet) or free Ethereum wallet for Android.
How much would you like to contribute? Input your contribution registration in ETH
Please upload pictures of your document (both front and back): Upload one of the following documents: Driver's License, Identity Card, Residence Permit and Passport.
The "I'm a business" form has the same process but different information and documents required.
After you complete filling out the form, please double-check your data, if everything is correct, click "Submit".
The button then will be changed to "KYC Pending". Please accept 7–10 working days for ZeroBank team to check and verify your KYC Application. ZeroBank will send the result of your KYC application via email or you can follow your KYC application status right on the dashboard.
KYC FAILED
If ZeroBank sends you an email notifying that you have failed the KYC procedure, please return to your Dashboard, click on "KYC failed" red button to get back to the KYC form, then click on the "Resubmit KYC" link below the KYC button. This time, please pay more attention to the information you fill in the form.

Here are some TIPS to make or break your KYC application
Your identification document must be valid (not expired). It also shouldn't be modified in any way.
The scan/photo of the document should preferably be taken in natural sunlight or other bright area.
Make sure you take photos without any glare.
Make sure you capture your whole ID (no corner cutting) and that the photo is in focus.
KYC PASSED
Congratulation! You are authorized to make your contribution. In the dashboard, you will see green button "KYC approved".
Our system will open for contributions on July 10th, 2018 at 09:00AM GMT+8. Mark the date!
3 — MAKE CONTRIBUTION
ZeroBank system will be opened for Whitelist participants who passed KYC procedure to make your contribution between 09:00AM July 10th and 23:59 July 11th, 2018 GMT+8.
Pre-ICO and ICO participants will be able to contribute from July 12th to 30th, and from August 1st to 25th respectively.
*NOTE: Please make sure your KYC Application completed and passed before the Private sale or Public Sale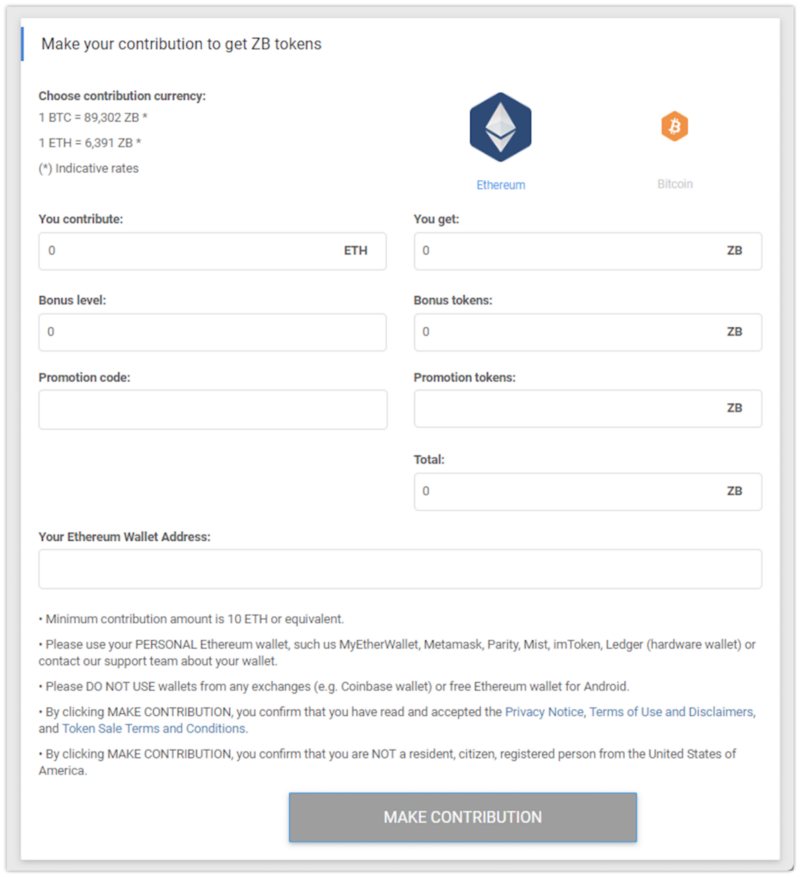 Choose the currency you'd like to contribute by by clicking on the ETH or BTC icon.
You contribute: Input the value you'd like to contribute.
Bonus level: Your bonus level will automatically be calculated for you with the result of total ZB token you will get.
Promotion code: Fill in this field if you received a Bonus code after signing up for our newsletter from our previous events. Promotion codes are applicable to Pre-ICO and ICO contribution only.
Copy your ERC223-compatible ETH wallet address to the field "Your Ethereum Wallet Address". This will be the wallet address where ZeroBank will send you ZB tokens later on.
Click on "MAKE CONTRIBUTION" to move to the next steps.

After reviewing your order, make a transfer to a wallet address the system provides you under the Send Contribution section.
Once you're done transferring your contribution, copy your transaction Txid to the field "Txid" under the Proof of Contribution section and click on "CONTRIBUTE".
Well-done! You just completed making your contribution to ZeroBank!
Now you only have to wait for ZeroBank to verify your transaction and send you an email notification. If you have any further questions, do not hesitate to contact us at contact@zerobank.cash.
Follow us to get the latest updates on: