Meet Scott — our advisor and Founder/CEO at Crypto Improvement Fund.
Scott is a seasoned business strategist with a passion for bleeding edge technologies. He worked in the enterprise space, consulting on complex networking, telecommunication and SaaS projects.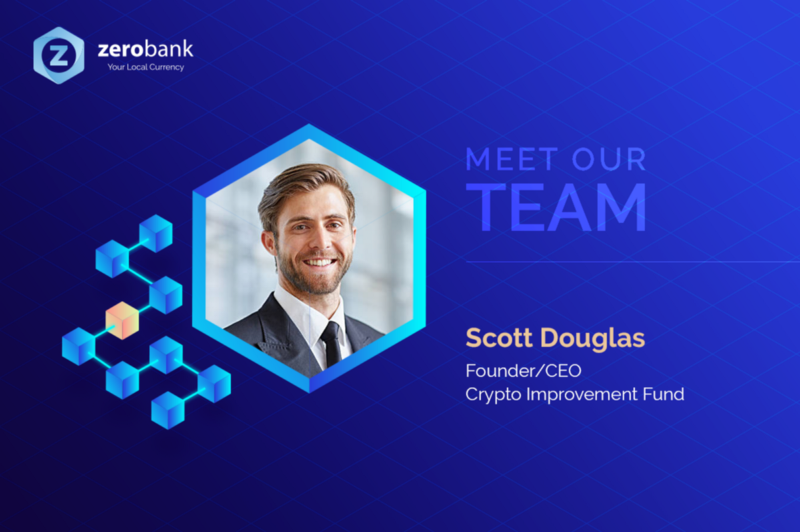 With a proficiency in project management, sales, leadership, scaling and improving operational efficiencies in F500 companies, Scott is an industry leader in knowledge pertaining to fintech, blockchain, and cryptocurrency. He is the founder of the Crypto Improvement Fund (CIF), Blockchain.Edu and Blockchain.Launchpad. These businesses were created to help businesses learn, understand and implement blockchain solutions as well as making business acceptance of cryptocurrency and blockchain technologies seamless and pain-free.
Scott received a BSc degree from one of the top universities in Canada — Ottawa University, the largest bilingual (English-French) university in the world. He also dove deep into blockchain through his internal assimilation of knowledge and taking one of the few (albeit valuable) institutional courses on the subject at the world's leading Princeton University. Before founding CIF, Scott had a successful career at top Networking, Technology & SaaS companies such as Bell — Canada's leading communications provider.
Scott is an invaluable advisor for ZeroBank. He brings to our project his comprehensive knowledge in fintech, especially blockchain and cryptocurrency, as well as his extensive experience in project management, business scaling and consulting.
Let's learn more about Scott and why he chose to support ZeroBank with our interview below:
ZeroBank: Why did you join ZeroBank team?
Scott: Blockchain technology has opened up for a new wave of innovating technologies. Blockchain can literally revolutionize the way almost all industries do business — yet there's an application we still haven't properly tackled.
ZeroBank is tackling one of such cases.
The money remittance and transfer industry still is notorious for charging exceptionally high fees to facilitate international money transfers. Thus, this process is undoubtedly broken. However, blockchain technology along with smart contracts is going to turn this industry upside down. Although the concept of international money transfer and remittance through the use of blockchain technology has been basically defined by some enterprises, through international money transfer or "banking the unbanked" still hasn't been achieved — regardless of the fact that we have actively been buying and selling a variety of different cryptocurrencies — since the inception of Bitcoin in 2009.
With these problems, I decided to become an advisor for ZeroBank to find a solution.
ZeroBank: From your experience, what makes ZeroBank a successful project?
Here are the two main reasons why I think it will be a successful project.
The first one is your dynamic team.
The Zerobank team is a robust, capable team — headed by Kai Yee Goh, a senior executive in the payment and money transfer fields with an extremely impressive resume and over 25 years in industry experience. Kai has worked with notable companies such as Paypal — and will bring a significant amount of leadership experience to the ZeroBank team.
Secondly — the co-founder, Bao Ly, has an impressive background — boasting a PHD in Computer Sciences with a specialty in Financial & Banking consulting. He has worked with a variety of complex technical architectures and will be an incredible asset to the team, assuming the position of CTO.
The second reason is ZeroBank's vision.
The vision of the ZeroBank team is not to create a new currency, but to use tokens as collateral, ensuring the usability and trust of a robust money remittance and transfer service. By leveraging blockchain technology — ZeroBank will create tokens which will act as collateral — enabling trustless money transfers and conversions — globally. Through the use of smart contracts and tokens, all payments and transfers will be able to bypass central banking authorities — eliminating the majority of expenses and fees associated with these institutions.
The ZeroBank utilizes blockchain to successfully re-actualize a traditional barter system which relies on agents and trust to successfully complete a money transfer. The layering of blockchain technology (specifically smart contracts) to improve this process, has allowed ZeroBank to allow international money exchange and transfer (in local currencies) at a fraction of the cost. The potential use cases for these technologies are limitless — from business transactions, tourists, foreign works etc.
Combining their sound vision with their solid, experienced team — ZeroBank hopes to do amazing, disruptive things to the money transfer and remittance industry.
ZeroBank: Thank you so much!
Stay updated on our channels:
Website: www.zerobank.cash
Email: contact@zerobank.cash
Telegram Community: https://t.me/zerobank_cash
Telegram News: https://t.me/zerobank_news
Chinese Community: https://t.me/zerobank_Chinesecommunity
Twitter: https://twitter.com/zerobank_cash
Facebook: https://www.facebook.com/zerobank.cash/