On June 8th, 2018, ZeroBank, the ultimate feasible ICO project in the money exchange and remittance industry utilizing the power of blockchain, smart contracts and sharing economy, signed a Memorandum of Understanding (MOU) with AlphaWhale Capital (AWC) — one of the most well-trusted market-leading investment funds in the Fintech and cryptocurrency market.
The partnership between ZeroBank and AWC aims at achieving various objectives in investment and cooperation for the development and marketing of ZeroBank project. As global players, this partnership enables both ZeroBank and AWC to promote their products and services, as well as attract more potential users and investors.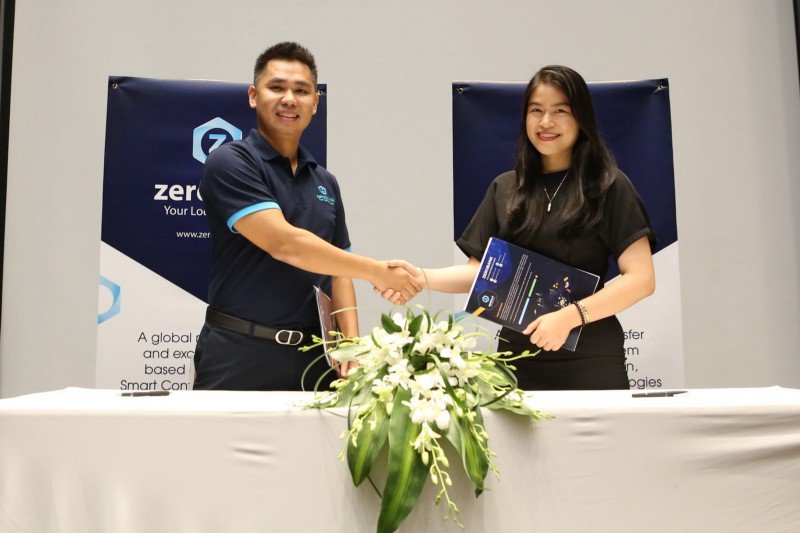 Mr Ben Nguyen — Co Founder of ZeroBank and Ms Hillary Nguyen — Co Founder of AlphaWhale Capital
In the co-operation, ZeroBank will develop and deploy a non-commercial international money transfer platform with a mobile application for iOS and Android operating systems, utilizing blockchain and smart contracts. Meanwhile, AWC will invest in the project and advise on marketing, both during the fundraising process and when the platform goes into operation.
You can watch our video on the MOU signature HERE : https://goo.gl/XDh18a
About Zerobank:
ZeroBank is an innovative money transfer and exchange platform that allows instant non-commercial peer-to-peer transactions globally. ZeroBank employs the currently flourishing technologies — blockchain and smart contracts — along with the proven sharing economy model to remove the barriers in the traditional remittance and exchange systems, and make a breakthrough in the way people can send, receive, and exchange their money.
Via ZeroBank platform, money can be sent, received, and exchanged quickly, directly, at any time, anywhere in the world through a network of community agents. End-users will bear minimal fees since ZeroBank platform completely removes the interference of the centralized intermediaries like banks, or MTOs.
About AlphaWhale Capital:
AlphaWhale Capital (AWC) was founded in Singapore in January 2018. AWC operates in the cryptocurrency financial market and provides investment consulting services to high-tech companies using blockchain technology. AWC fund invests in ICO, Mining, and Trading to maximize profit to investors.
Follow us on other channels to get the latest news:
Telegram: https://t.me/zerobank_cash
Facebook: https://www.facebook.com/zerobank.cash/
Twitter: https://twitter.com/zerobank_cash