ZeroBank project is at the very heart of revolutionizing the finance and banking industry across the globe and we are proud to let you know that our project is grabbing attention from all kinds of audiences at different international high-tech forums as well as finance conferences around the world.
On June 23rd, 2018 ZeroBank project was presented by our founder and CTO — Dr. Bao at the International Conference On Finance (2018 IFC) organized by Vietnamese Finance Association (VN Finance) in Paris. The conference aimed at discussing the trending topics in finance from Europe and Asia, including two main themes:
A new wage of regulation (IFRS9, MIDFID 2, FRTB,…) and its impact on the financial sector
Digital economy and Fintech: Blockchain technology, Machine Learning, and their applications in Finance.
On this occasion of the 10th anniversary of VN Finance association, Dr. Bao was an honored and invited guest. He shared with the scientific committee, the field experts and other high-profile guests attending the event about ZeroBank as the most feasible ICO project in the money exchange and remittance market. With his sharing of money exchange industries with blockchain, smart contracts and sharing economy, Dr. Bao and ZeroBank project received full attention and praises from the whole conference.
We will continue joining other prestigious technology events across the world and get you updated soon!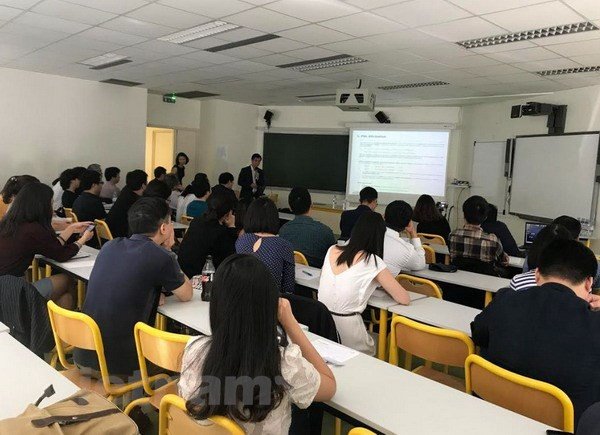 The International Conference On Finance organized by Vietnamese Finance Association in Paris (source: Vnplus.vn)
Organized by VN Finance on its 10th anniversary, ICF 2018 aimed at providing a forum for discussions and exchange of ideas among economists and financial experts from academia, governments and the private sector.
The conference gathered different high-profile expert guests from the top organizations and institutions, including:
Mr. Cuong — Research Director at CNRS and Prof. at University Paris 1 & PSE;

Prof. Duc Pham — Prof. Head of Fin. Eng. at ECE Graduate School — Consultant at R2M Analytics

Ms. Huyen — Co-director of the MSc: Statistics and stochastic modeling in finance (M2MO), Paris 7 Diderot-ENSAE

President Trung Lap — President of QuantX Finance

Mr. Gia Khanh — Head of Risk Analytics & Modelling BNP Parisbas

Mr. Samuel BARCLAY — Direction of Accounting & Finance at Natixis CIB

Mr. Phi Hung — Chief Data Officer at Javaness

Ms. Anh Phuong — Head of Data Scientist Team at Figaro Group

About VN Finance
Vietnamese Finance Association (VN Finance), founded in 2008 in Paris, serves as an open environment for all aspects of economics and finance knowledge exchange, research, and discussion. Its members vary from stock market experts, researchers in financial and economic fields to finance and technology evangelists around the world.
The organization has been hosting numerous thematic seminars and conferences about finance, economy, fintech and new technologies.