⚡️ Allumanauts! Are you ready to be part of Alluma history? Here's your chance to join the FIRST (but definitely not last) Alluma trading competition! To celebrate, we're offering over ₹380,000 ($5,500 USD) in rewards up for grabs!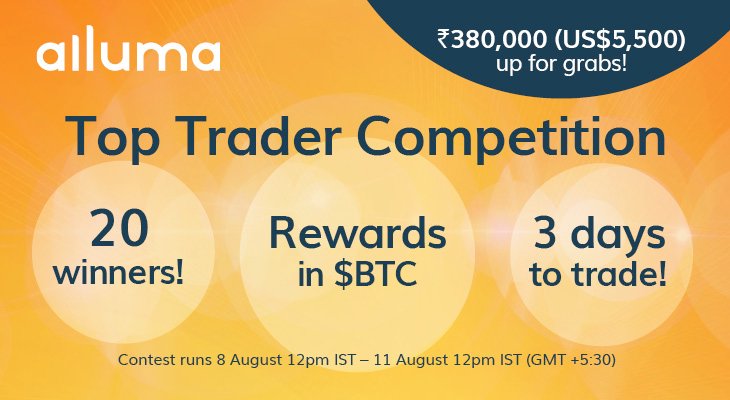 Here's how to participate
Join beta Telegram group: https://t.me/alluma_beta_users
Trade any pairs in the BTC market from August 8th, 12PM IST through August 11th, 12pm IST (GMT +5:30)
The top 20 traders with the highest trade volume during the competition period will share the reward pool. Rewards will be paid in both Bitcoin ($BTC) and Alluma ($LUMA) tokens.
Wait! But there's a twist! And your secret to success....
Invite your friends!
During the competition, 50% of your referrals trade volume will be added to your total. (Referral must complete ID verified for trade volume to be counted.)
Here's your step-by-step guide to referring friends to Alluma
What are the Rewards?
🏆 1st Place gets 0.03 BTC and 20,000 LUMA (~₹82,000 or $1,190 USD)
2nd Place: .012 BTC + 10,000 LUMA (~₹40,000 or $580 USD)
3rd Place: .012 BTC + 9,000 LUMA (~₹36,500 or $530 USD)
4th Place: .012 BTC + 8,000 LUMA (~₹33,000 or $480 USD)
5th Place: .012 BTC + 7,000 LUMA (~₹29,500 or $430 USD)
6th Place: .012 BTC + 6,000 LUMA (~₹26,000 or $375 USD)
7th Place: .012 BTC + 5,000 LUMA (~₹23,000 or $335 USD)
8th Place: .012 BTC + 4,000 LUMA (~₹19,500 or $280 USD)
9th Place: .012 BTC + 3,000 LUMA (~₹16,000 or $230 USD)
10th Place: .012 BTC + 2,000 LUMA (~₹12,500 or $180 USD)
11th - 20th Place: .006 BTC + 1,000 LUMA (~₹6,000 or $480 USD)
Contest details
Winners will be announced within 24hrs after the competition ends and a transparency report will be posted on our blog
To qualify, you must trade at least .1 BTC worth of tokens in the BTC market during the competition period.
No wash trading! Trading between yourself is not allowed. We want to keep the competition as fair as possible.
BTC rewards will transferred to winners accounts within 1 week. LUMA Tokens will be distributed after the end of our public sale
Stay connected!
Be sure to join our official Telegram Channel for news and announcements from Alluma.
Also, follow Alluma on:
Telegram Community Chat: https://t.me/allumaexchange
Twitter: https://twitter.com/allumaexchange
Facebook: https://www.facebook.com/alluma