Alluma, the first institutional grade cryptocurrency exchange dedicated to the emerging markets in Asia, has recently announced the joining of several influential advisors including Jehan Chu, Co-Founder & Managing Partner at Kenetic, and Pavel Bains, CEO of Bluzelle, a leading blockchain project.
Alluma will focus on three areas initially: strong liquidity through global exchange partners, design and user experience to increase adoption and usability, and providing a fluid customer experience from on-boarding to support.
Alluma will be launching in India in the coming weeks and have plans to enter the markets across Asia with an eye on the Philippines, Thailand, Malaysia and Indonesia. Headquartered in Singapore, we have a rapidly expanding office in Delhi and plans to open an office in Manila soon. These are all rapidly growing cryptocurrency communities and underserved in terms of exchange services.
Importance of Alluma's new advisors and connections
With Chu's and Bains' recent decision to join the Alluma advisory board, both advisors intend to provide a strong value-add approach in developing strategic partnerships for Alluma and to extend customer reach for its product portfolio.
Through Chu and Bains' network, Alluma will be able to expand its presence in Asia through strategic partnerships.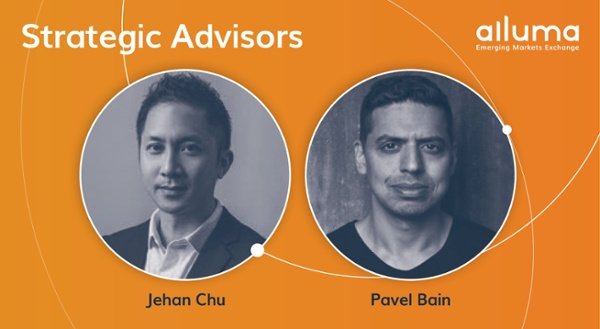 Alluma's Most Recent Partnerships
Chu and Bains can help foster key partnerships in the future that will help expand Alluma's credibility and global outreach.
"We're incredibly excited to have Jehan and Pavel join the Alluma advisory board. With their experience, guidance and support, Alluma will be able to foster strong partnerships across the cryptocurrency and blockchain space."
Pavel Bains, CEO of Bluzelle said:
"Emerging markets will power the next wave of crypto-adoption but people need easier ways to obtain them. Alluma solves those challenges while keeping best practices that both consumers and regulators will like."
Jehan Chu, Co-Founder & Managing Partner at Kenetic said:
"The India, Thailand and the Philippines markets are some of the biggest opportunities in crypto. Proven exchange technology, local market expertise and a veteran team and advisors are what make me excited to support Alluma."