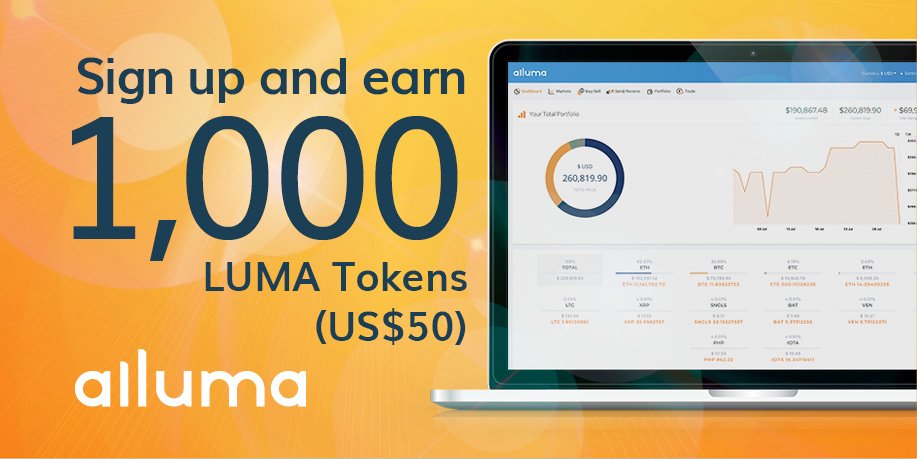 In celebration of our public beta we want to reward you, our most avid followers, with a chance to line your pockets with LUMA tokens by doing what you've been waiting to do - trade on Alluma!
So, here's the deal:
We're giving away 1,000 LUMA tokens ($50 USD) to each of the FIRST 500 people who sign up, verify their ID, and make their first trade.
How does it work?
Participating and earning tokens easy, just start by signing up for Alluma beta here: https://go.alluma.io/welcome-beta
Complete ID verification (How do I do this?)

Trade over $25 USD or more during the promotion period
We'll review all activity at the end of the promotion and notify the first 500 people who qualify! (We'll also post a transparency report on our blog so everyone can see the results)
Important: In order to be eligible for $50 in LUMA your ID verification must be accepted and trade volume must exceed $25 USD before the promotion period ends.
The Details:
This promotion starts August 2nd, 12:00 PM SGT (GMT+8) and ends August 17th, 00:00 AM SGT (GMT+8).
Alluma reserves the right to amend or cancel this promotion at any point.
Rewards will be will be distributed within 2 weeks after the Alluma public token sale ends.
FAQ
What's the LUMA Token?
Our native token, LUMA, will power numerous aspects of the Alluma ecosystem including our exchange and training academy. We are minting 500,000,000 tokens.
Why are we we giving away tokens?
We believe in the power of community and need your help to build the best trading experience possible. We want to reward the strongest supporters in our community with the opportunity to own a piece Alluma before anyone else. We've set aside over 4 million LUMA tokens to give to our community through various initiatives and plan to continue to reward those who help make Alluma great.
How do I sign up?
You can read our-by-step guide to creating an account here: https://support.alluma.io/hc/en-us/articles/360000264554-How-can-I-create-an-account-on-Alluma
How do I complete my ID verification?
To complete ID verification you must submit a valid government issued form of identity (such as a passport or driver license). Once yu submit these documents it should take our team about 24hrs to review and notify you via email.
You can read our-step-guide to ID verification here: https://support.alluma.io/hc/en-us/articles/360000264654-How-can-I-verify-my-account
How do I trade?
We've offer both simple buy or sell and advanced trading options.
You can read our step-by-step guide: How to buy cryptocurrency on Alluma
Learn more about Advance Trading
What tokens can I trade?
Currently, we offer Bitcoin (BTC), Ethereum (ETH), Ripple (XRP), Bitcoin Cash (BCH) & Etherparty (FUEL). You can trade any of these tokens during this promotion.