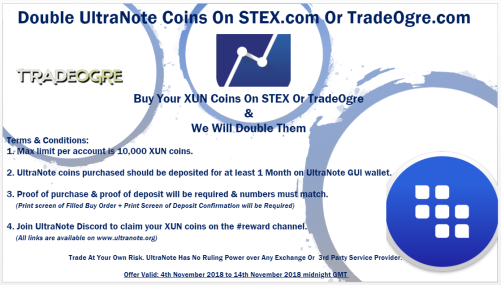 To celebrate the 1 year anniversary of Ultranote, the developers are matching coins bought on either of the following exchanges
Tradeogre.com
or
Stex.com
. They will match up to 10K of the coins that you buy.
You can find out all about Ultranote and also download the Wallet from here Ultranote.org
How to get this one time offer:
Between 4th and the 14th of November, buy some xun coins from the following exchanges: Tradeogre.com or Stex.com and do a print screen of your order as proof (remove any personal info if any).
Download the Ultranote wallet from Ultranote.org. Withdraw your coins to your wallet and take a screenshot as proof.
The wallet has a deposit feature where you can earn interest on your coins of up to 3%. Deposit up to 10000 coins for a minimum of 1 month to qualify.
Join the discord channel using this invite https://discord.gg/Dhkjzz5. Go to the #rewards channel and claim your reward. You will need both screenshots and your wallet address.
This offer is open to new and existing members of the Ultranote club
As an added bonus, if you resteem this article and leave your Ultranote address in the comments below then I will personally send you 200 XUN