I suppose it is best to start by saying that I am an old school Bitcoin guy. I remember the $1 Bitcoin, the $10 Bitcoin, the $100 Bitcoin, and the years between when it touched $1,000. Having witnessed the creation of cryptocurrency, it pains me to see ICO after ICO adding very little to the ecosystem other than muddying the waters. And those waters are already quite muddy. There seems to be a trend of adding one or more small features to what is basically a copy of Bitcoin, making a nice looking 1-page Bootstrap site, and uploading a whitepaper .pdf that might be read by 1% of the investors, launching an ICO and making millions. The multitude of ICO offerings and their associated marketing plans are starting to look like clickbait - "Better cryptocurrency because of this one simple trick! Governments hate it!"
The world of altcoins is mostly filled with shitcoins. CoinMarketCap.com, a site I have followed for years, currently lists 792 cryptocurrencies & 138 assets. Assets are digital tokens issued mostly on Ethereum, but also on Counterparty, NXT, Omni, Bitshares, and other blockchains. To the casual cryptocurrency enthusiast, this should strike you as pure madness. Do we really need 700+ cryptocurrencies, i.e. 700+ blockchains? Maybe one day we will, but for now the list is mostly filled with Bitcoin imitators, pump-and-dump scams, and even outright troll currencies. "Evil Coin" claims that "In Evil We Trust." Don't believe me? Check out the Evil Coin website. It is a dumpster fire the like the crypto it touts. There seems to be an endless stream of this drivel coming down the pipeline only to land on the already cluttered landscape of rotting shitcoins.
The atlcoin & ICO craze is perpetuated by the seemingly endless sums of money investors are willing to sail into the latest blockchain, hoping to find the next Ethereum in the rough. There now exists around $100B worth of value in the cryptocurrency space as a whole. What used to be dominated by Bitcoin, the first ever cryptocurrency now accounts for around 40% of the total market capitalization. How the mighty have fallen.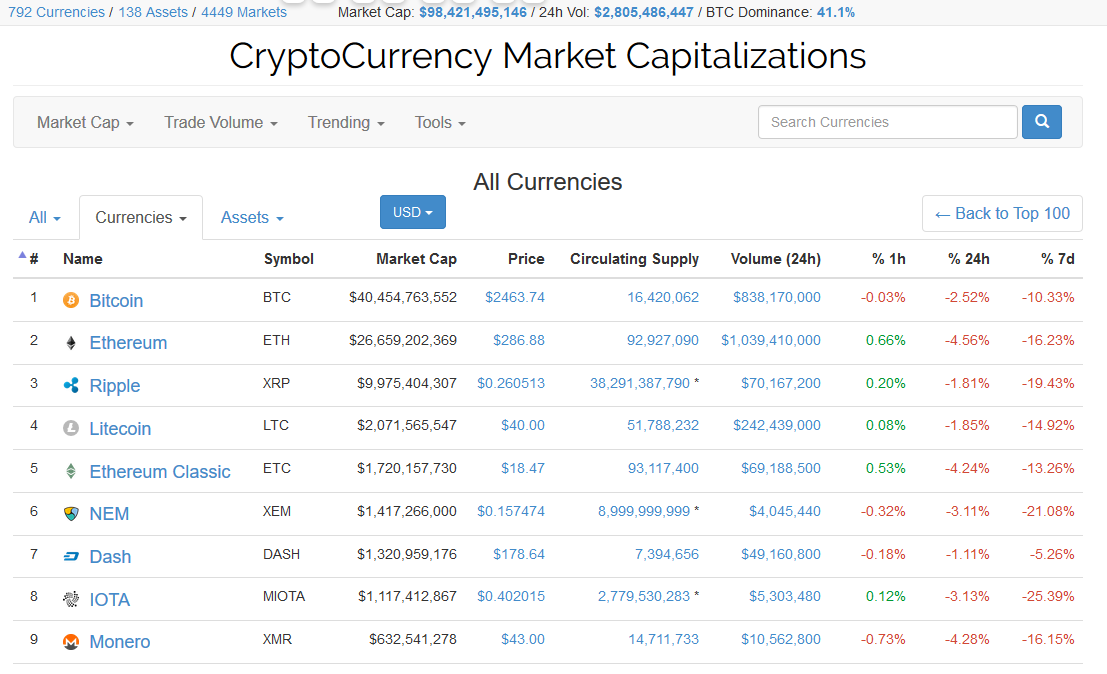 Until recently, the Ethereum crowd was cheering on "The flippening," but it never came. A few weeks ago, the value of Ethereum was skyrocketing whilst the value of Bitcoin was trading sideways or falling. Much of this can be attributed to investors using Bitcoin to buy Ethereum, and much can be attributed to Bitcoin's fractured leadership which has been unable to agree on a path to scale the original cryptocurrency. We are at the point where Team Segwit and Team Core are threatening to create 2 different currencies with a hard fork because... well, because we can't have nice things. Out of this Bitcoin scaling mess, Ethereum is the clear winner. Ethereum wasn't chosen from the list of 729 at random, Ethereum stands apart from the list of shitcoins because it actually does something useful. This is a novel idea in the altcoin world. Most altcoins do basically with Bitcoin does, but with something minor changed. Litecoin, one of the oldest altcoins, is essentially a copy of Bitcoin with faster blocks and a slightly different mining method. Basically a copy-paste. And you know what the market says? It says "Here, have a $2 Billion valuation." Ethereum is something totally different. This is a blockchain that is can handle token issuance and trade, execute smart contracts, and do some other stuff that I'll happily admit that I don't quite understand. Ethereum offers the chance to do things that you can't do with Bitcoin, and that makes it stand out in the sea of shitcoins. It is worth mentioning that Counterparty does some of the things that Ethereum does, such as token issuance, but as I understand it Ethereum does these things much more elegantly. I think Ethereum is overvalued at this stage, but I also think the hype train is so hype it could stay overvalued for a long time. You basically need it in your crypto-mix these days. Can't ignore it any longer. This brings me to the subject of StorJ.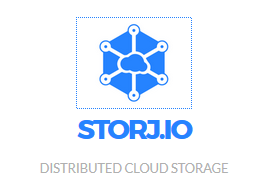 StorJ is a token-based trustless cloud storage system that rewards the "farmers" for renting out their HD space to the network with StorJ tokens. The "farmers" earn StorJ tokens in proportion to the amount of hard drive space they are renting to the network. Users that wish to store data can purchase space from the farmers with StorJ tokens. Hopefully this kills Dropbox. Not that I particularly hate Dropbox, it's just that StorJ is a much better system for storing data: rent your internet neighbor's HD (And 2 other internet neighbor's HDs. The data is redundantly stored 3 times so it should always be online). Farmers get paid, and users buy storage more cheaply because StorJ cuts out the middle man. Poof, there goes a business. It's nothing to be mad about, it's progress. I digress. StorJ recently started a process to move it's token from Counterparty to Ethereum. The process was accompanied by an ICO, releasing more StorJ tokens into the wild and raising more capital. Unlike most of the ICOs you see today, StorJ actually does something. In fact, StorJ has been offering distributed, trustless file storage for a few years now. I met some of the StorJ principals 5 years ago, long before ICOs were a thing. The nerds behind this one have been dreaming of a Dropbox killer for a long time. When they initially launched the service, Ethereum wasn't a big thing yet, and Counterparty was all the rage if you wanted to issue a token. So a few years ago StorJ raised capital by selling their Counterparty asset, and then did it again this year, raising about $30M on the Ethereum blockchain, complete with a conversion plan so you can make your old Counterparty StorJ into Ethereum StorJ. Oh they also took a random $3 Million headshot cash injection under terms I don't understand earlier this year. But who is looking at financials? I find value in cryptocurrencies that can be useful to me personally, and StorJ fits the bill. In the interest full disclosure, I traded some of my Bitcoin for StorJ tokens when they did their Ethereum-based ICO a few months ago. Fuller disclosure, I only bought because I know the world is currently crypto-crazy and StorJ actually does something useful and is currently doing it, so the raw & savage crypto-lust that values Dash & Monero in the Billions of Dollars could easily value StorJ tokens in the $100's of Millions. It currently does something and promises to do more things later. I could even spend some of the tokens to store my endless amounts of 4k camera footage.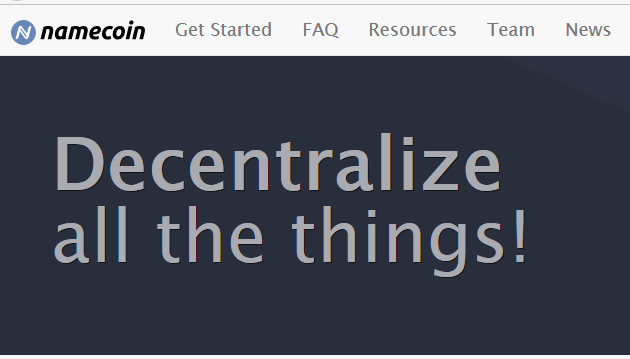 Another altcoin that stands above the rest is Namecoin. The original altcoin. Namecoin is a decentralized domain name system which is currently functioning, albeit little-used. That being said, it may become relevant in the future. Namecoin allows the registration of ".bit" domains and the network does the routing. No ICANN involved in the process. The valuation of the total Namecoin supply is around $35 Million as of this writing. Namecoin has no hype train, they have no marketing team and their ICO was done a few months after Bitcoin began by a bunch of cryptonerds tinkering around, assuming the whole thing wouldn't last very long but still doing it anyway because they can and because it's cool. Writing ICANN out of the equation is cool! While Namecoin is old school, you very rarely hear about it in the daily crypto-conversation. If there is something undervalued in this absolute insanity of a market, it may #46 sorted by market cap, Namecoin.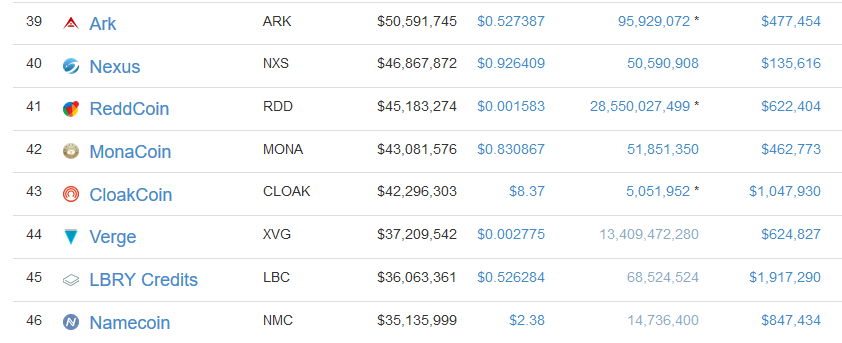 One more thought on the absolute insanity of the market: There are now 30 cryptocurrencies valued at over $100 Million, and the top 8 are over $1 Billion. It is obvious that everyone wants to keep making billion dollar things, but how many similar billion dollar things can the market bear? Could Namecoin squeeze into one of those valuations, deserving or no? I think it's a great gamble.
What about this site and the STEEM cryptocurrency? Honestly, this is my first day here, my first post saying some things I wanted to get off my chest and onto the internet. I saw the multi-hundred million valuation of the STEEM token and with a heavy sigh started in on my research. To my surprise, I didn't find a shitcoin, I found a community. I'm not quite sure why this idea wouldn't work with Bitcoin, why we had to re-invent money AGAIN to change the dynamic in social media, but I plan on contributing to see what this is all about. My strategy if I make any STEEM from writing these articles is to save around 30% of it just in case this is the next Facebook & Twitter and convert most to Bitcoin, some to Namecoin, and some to Ether. With the Bitcoin blocks full and uncertainty surrounding when and how a fix will be applied, I think the best strategy today is to buy the market minus the shitcoins with at least a small % of your holdings. 
I'm old school Bitcoin and still a big believer, despite the current conflict, but I'm willing to take a look at STEEM and evaluate it on it's merits. I'm initially skeptical, but open to looking into it and using this platform to write my thoughts on crypto. It helps that I'm pissed off at Bitcoin right now. It's like my hot, cool girlfriend drank too much and started talking all kinds of smack at the party and is now passed out drunk. I'm not saying I'm going to cheat on her, I'm just saying that I'm starting to consider more options.  I'd really like us to get back together again like we used to be. It was all low fees, fast confirmations. You know, how love is supposed to be. 
I am considering doing an in depth destruction of every shitcoin out there. I'll start with Ripple and work my way down. Earn some STEEM and drop some knowledge.