Say what? NO WAY BUDDY BOY! Bitcoin, Ether, Altcoins, are all In the Red?
What's a girl to do?
Well RED DAYS ARE GOOD! I LOVE Shopping!
The great digital currency Bull Run of 2017 came to a screeching halt late last month, June 2017. Boy! After hitting all-time highs, Bitcoin broke $3,000 and Ethereum partied at $400. Today, everything is sucking the big one. Is the Party Over?
All Cryptocurrencies (Altcoins – Alternative coins to Bitcoins) are biting the dust. We can sing some 1970's and 1980's songs right now. "Another One Bites The Dust!" or how about "Til the End of Time" .. Okay that was a far stretch…
We're now two weeks into July. And the landscape is looking ugly as all get up.
How bad is it? Alex Sunnarborg, a researcher at Coindesk, tweeted a helpful chart that shows the respective declines for bitcoin and other currencies since the start of the July.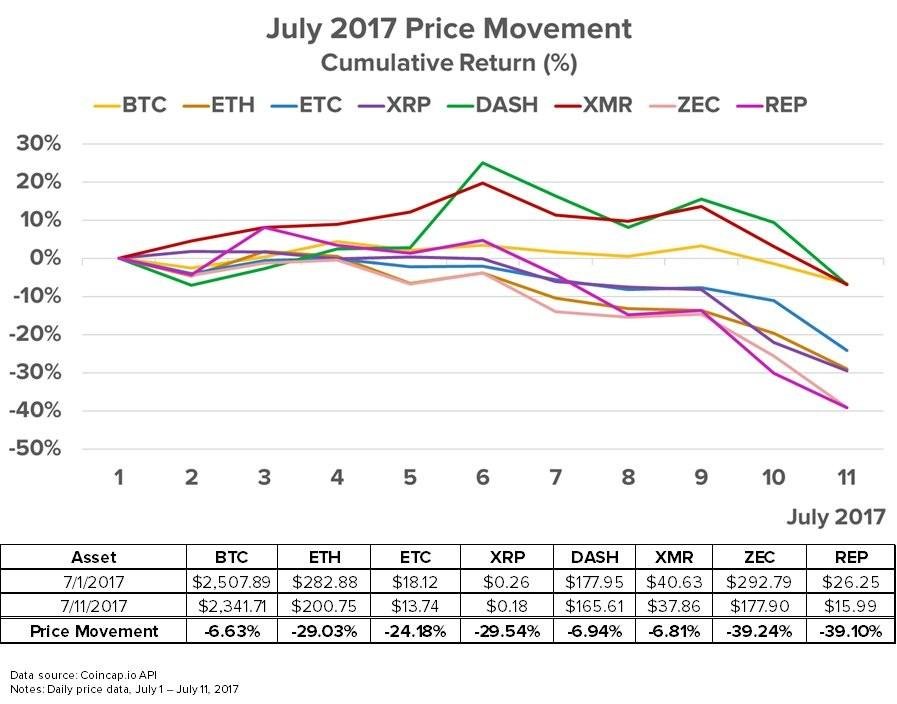 Bitcoin, Ethereum, Altcoins Prices Falling Fast
As you can see, Bitcoin did not fare as badly as some of its smaller rivals. The original digital currency is down around 6.5% while Ether, the cryptocurrency associated with the decentralized computing network Ethereum, is down 29%. Ripple dropped a brutal 39%. OURCH!
That chart is for 12July. But it is even more abysmal for today, 15July. Bitcoin is sucking some hot air right now.
My colleagues are asking me should I sell and take the Loss? Well I don't give investment advice but quite frankly crap happens.
Folks, there are many reasons for the declining prices. We've got the greed factor of course. ICOs on the Ethereum blockchain going cray cray with their ridiculously high money grab. And then there is Segregated Witness and Chain Split inevitable happenings in August. You know… where there will be 1 or more NEW Bitcoins. WOO HOO! Let's confuse the markets AND the public already!
Bitcoin, Ethereum (I hate when I have to refer to Ether as Ethereum but most people get confused when I talk about Ether .. so there), Altcoins prices dropping is indeed a BIG DEAL. Cryptocurrency prices are crashing and burning right now.
It's been a chaotic week for cryptocurrency traders: Prices for most of the hundred largest digital currencies, including Bitcoin, fell big time on Thursday morning, many by 10% or more. As of 12:00 p.m. EDT, bitcoin prices had fallen more than 12% to $2,277, and prices for Ethereum-traded Ether had fallen more than 14% to $318, in the previous 24 hours, per Coin Market Cap. Shucks As I type this, Bitcoin is sub-$2100 and Ether is below $200. STOP! OUCH! Stop the Torture!
Of course, these types of wild swings are not unusual for cryptocurrencies or investments in general. Ho Hum! Indeed, many in the industry are treating the dips as a healthy "correction" — which is when a price dip is welcomed because it brings the asset more in line with its perceived fair value. Sheba Jafari, head of technical strategy at Goldman Sachs echoed that sentiment in a note to clients reported by Business Insider that bitcoin prices were "heavy," meaning high.
"I'm happy that the price is being corrected to something more realistic," Daniel Vaughn, a programmer who builds products on the Ethereum platform, told Mic. "This sort of wildly speculative investment is bad for the technology since it's still in its infancy."
Other cryptocurrency proponents echoed the sentiment that the falling prices weren't necessarily a bad thing. Nicholas Bratskeir, CEO of Minery, which deals in blockchain processing power, said that a lot of the correction was due to so-called sell walls: "[Investors] have their accounts automatically set up to sell when it hits a certain price, and it takes the money out of this infrastructure."
I, too, am of the opinion that this price correction is good for the long-term. There is no way that Ether (yeah! I said Ether and not Ethereum) could sustain at that high arse $400 mark. And when Bitcoin hit that $3000 window, I wanted to cringe. But I prospered from the wild swings happily.
There are likely other pressures on cryptocurrency prices at the moment, including media reports about a series of hacks that included two of the major exchanges (blah blah blah) and of course newbie mainstream adoption. That will be another article.
"One of the big drivers in blockchain is trust," Bratskeir said. "When stories like this come out, it's bad for trust."
There's much more than bad press at play. There's the USA and their penchant for making sure no one makes any money unless the guvment gets kickbacks and start their regulation rain dance.
Cryptocurrency proponents are worried about a bipartisan bill being introduced in the Senate by dimwit Iowa Sen. Chuck Grassley and dweeb California Sen. Diane Feinstein called the Combating Money Laundering, Terrorist Financing and Counterfeiting Act." Bitcoin.com called the bill a "pit bull assault on bitcoin freedom," because it would treat digital exchanges more like banks, subject to greater reporting requirements. The bill was introduced on May 25, but has not advanced to a vote.
They would have to first educate the Senate about cryptocurrencies. Duhhh… Let us pray that their cluelessness will cause the bill to be rejected rather than approve any time soon.
I mentioned the Hard Fork, Chain Split, La Dee Da, that is happening soon 01August. "We're gonna see a lot of roller-coastering until Aug. 1," Phillip Alexeev, a cryptocurrency investor and head of growth at Sketchfab, told Mic.
Why Aug. 1? That's the deadline that's been set by the bitcoin cartel (chuckle) to implement something called Segregated Witness or SegWit, a "protocol upgrade" that would "fix some stuff" deficient in the Bitcoin blockchain. Business Insider described the issue as bitcoin's "civil war."
So what does Waptrick say about the cryptocurrency firesale? Well, you should always trade these volatile cryptocurrencies and have a plan. Not eveyone does. Some buy and hold on hope and a prayer. But you need to learn how to watch the market or pay someone to do it for you in order to sell on the dips and buy on the upswing. And then come back in later to buy and on and on.
I don't believe Bitcoin is going anywhere but let us give it time. Let us see what happens in August. It could be as anti-climatic as the Y2K sky is falling epidemic that never happened.