Hello Nature Lovers !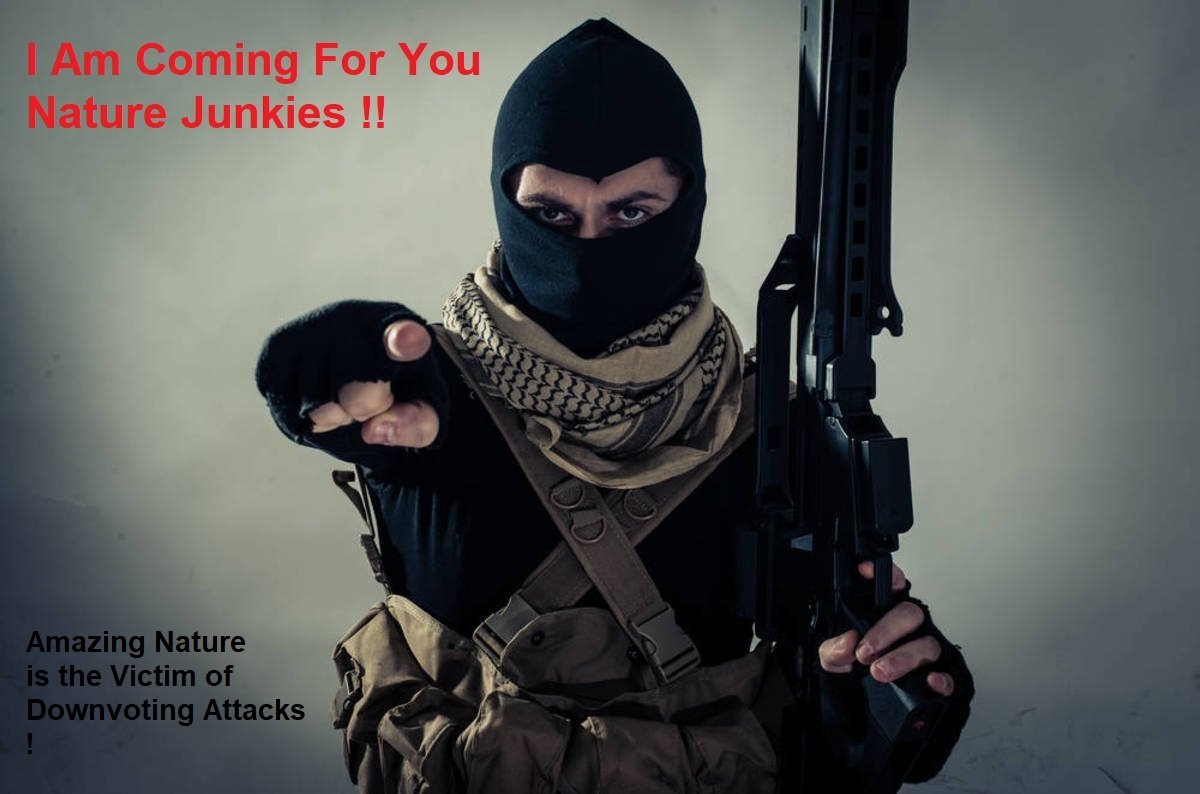 Taken and edited from the internet
---

---
Our little contest became the is the victim of downvoting attacks !!
I would like to inform you about some serious issue. The amazing nature contest is currently downvoted on a regular base by downvoting attacks. Those attacks are executed by a steemian with the username @mmmmkkkk311 . This steemian seem to have created three more accounts on steemit for the same purpose of downvoting, called @mk-sports-token, @mk-photo-token and @mk-pal-token. Right now at the moment it is the third attack from this steemians site. I also figured out that I am getting downvoted on my other posts beside this contest.
---

---
Why is he doing this ?
I am quite sure that this steemian does not just hate nature. So far he just hates bidbots, upvote programs and seems to have some other issues regarding contests where you can win something. Nethertheless, as you all know, the amazing nature contest also rewards his winners. For this purpose we are all using SBI, so that kind of seems to be annoying him.
---

---
What can we do now ?
I am not quite sure what we could do now against those downvoting attacks, so maybe we can find a solution together. I really would like to ignore this little attacker, but I am afraid that his anger and hatred may jump over from me to you contestants which would be awful. Not only because some of you will continuously receive only 0 $ reward on all of your posts this way, but also, as this can cause immense motivation issues that may kick you out of steemit completely. One way to solve this would be to cancel the whole contest. If there will be nor rewards anymore than he may stop his assaults. But I do not like this idea at all. I love this contest and I will not sacrifice our beautiful little nature community by starting to buckle in front of a terrorist. So what are you thinking about this issue ? Lets try to find a solution how to save our little community and all their members ^^
---

---
Participants of Amazing Nature:
@akinome
@alinix
@annephilbrick
@artofwisdom
@angelro
@atomcollector
@bahttg
@bigsambucca
@brittandjosie
@bucipuci
@cocolefleur
@davidesimoncini
@dkkarolien
@elkezaksek
@ellenripley
@hangin
@iamraincrystal
@isabelpena
@joebtc
@johannpiber
@justclickindiva
@kamrunnahar
@karbon
@kheys
@melinda010100
@mintymile
@molometer
@myjob
@mysteriousroad
@nelinoeva
@nilom
@ninahaskin
@paradigm42
@qwerrie
@redheadpei
@sayee
@sallybeth23
@seadbeady
@s3rg3
@theoctoberwind
@thesobuz
@travelsbyblue
@viking-ventures
@wongbraling
---
Best wishes,
Adalger