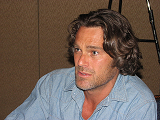 All Souls is an American supernatural hospital drama TV series created by Stuart Gillard and Stephen Tolkin, inspired by Lars von Trier's miniseries The Kingdom. It initially aired on UPN for a season from April 17, 2001 to August 31, 2001. The series tells the story of the medical staff of All Souls, a haunted teaching hospital. During his time as a medical intern, the protagonist Dr. Mitchell Grace (Grayson McCutcher) encountered various ghosts and discovered that doctors were conducting unethical experiments on their patients. Executive producers include Aaron Spelling, E. Duke Vincent and Mark Frost.
Gilard (Gillard) based on his belief that medical facilities will be the ideal place for the horror series, as well as his research on the statistics of deaths in hospitals, thus setting the premise for "All Souls". Frost also believed that modern medicine is closely related to supernatural phenomena. Although the series was filmed in Boston, the filming was conducted in Montreal, Canada. The series was shot in a working mental hospital, and real patients appeared in the background of several scenes.
The ratings of All Souls were very low. It was suspended after the first two episodes were broadcast and cancelled after the broadcast this season. It has not been published on home video or available on streaming services. The critical response to all souls was mainly positive; commentators praised it for using horror and supernatural elements. Compared with other horror and science fiction television series, especially "X-Files" and the work of American writer Stephen King, critics have mixed reviews of the content and style of the show.