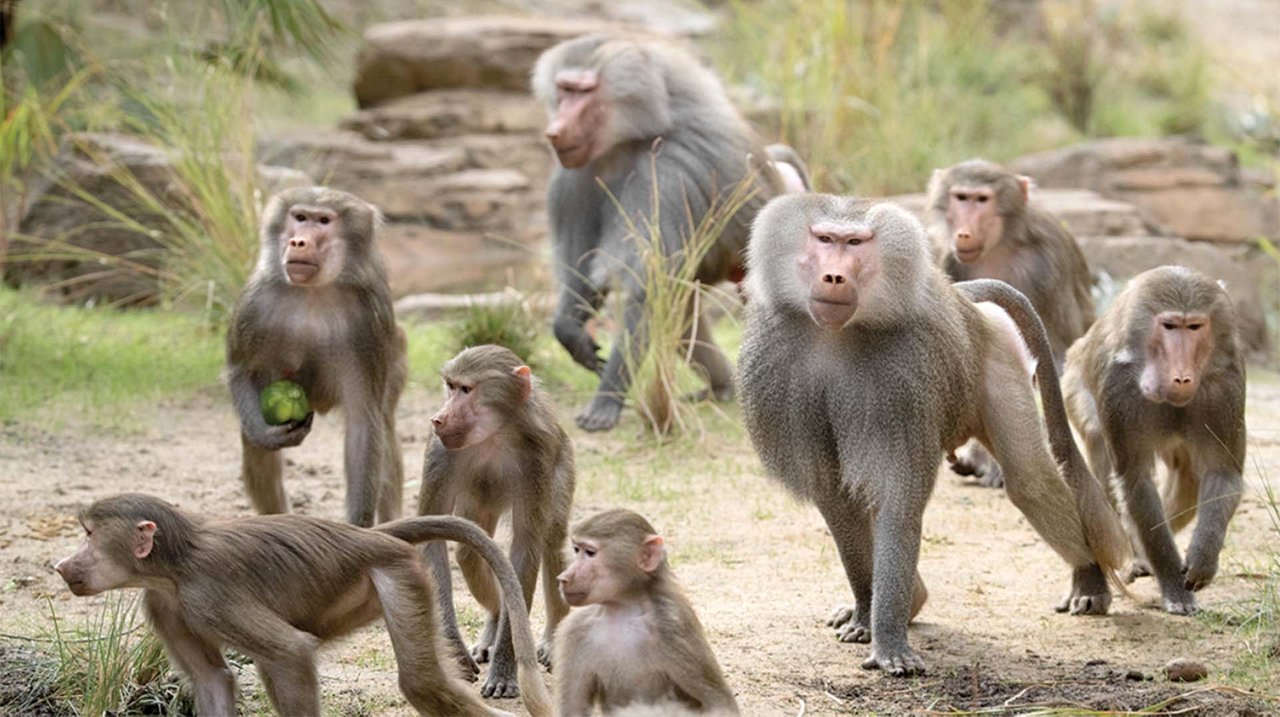 Most children enjoy animals. As a kid, I fondly remember going to the Los Angeles, San Diego, and San Francisco Zoos (can you tell I'm a California native?). It had been many years since I'd visited the Oakland Zoo, which is probably an hour's drive from the San Francisco one.
Here is a surprise: though San Francisco is the more glamorous city, Oakland's Zoo is actually better. The SF Zoo has never been that great; it's felt old for decades despite a few improvements over the years. But if the Oakland Zoo's superiority were a marginal conclusion before, the newly opened California Trail puts it way over the top.
When we visited the Oakland Zoo a few months back, my kids were enjoying it with friends, and I used the time to take some pictures. It also gave me the chance to notice a few things I may not have seen if I had been more absorbed with kid stuff. So I came away with a fun perspective and some snapshots for this post.
Let's begin this walk with the Hamadryas Baboons.
They were quite entertaining (at least, two of them were). I know that the Oakland Zoo isn't the wilds of Africa, but they have a fairly big confined area and a huge vertical rock wall there. What do they do with the rock wall? I would think if the zoo puts in such a large installation, it must be with hopes that the animals will use it.
Indeed, though most baboons were sitting around on the morning we were there, one young whippersnapper kept trying to scale the cliff face. Typical boy: invincible, full of piss and vinegar, and did whatever the heck he wanted, especially the opposite of what his parents preached. He also was a really good free climber until he reached a certain point on the wall. But whenever he kept reaching that spot, he'd fall, all the way back down.
Fortunately, there was a carpet of green grass and leaves beneath the cliff.
Unfortunately, his father also was there waiting. And dad was NOT pleased.
Here is a picture I took of them.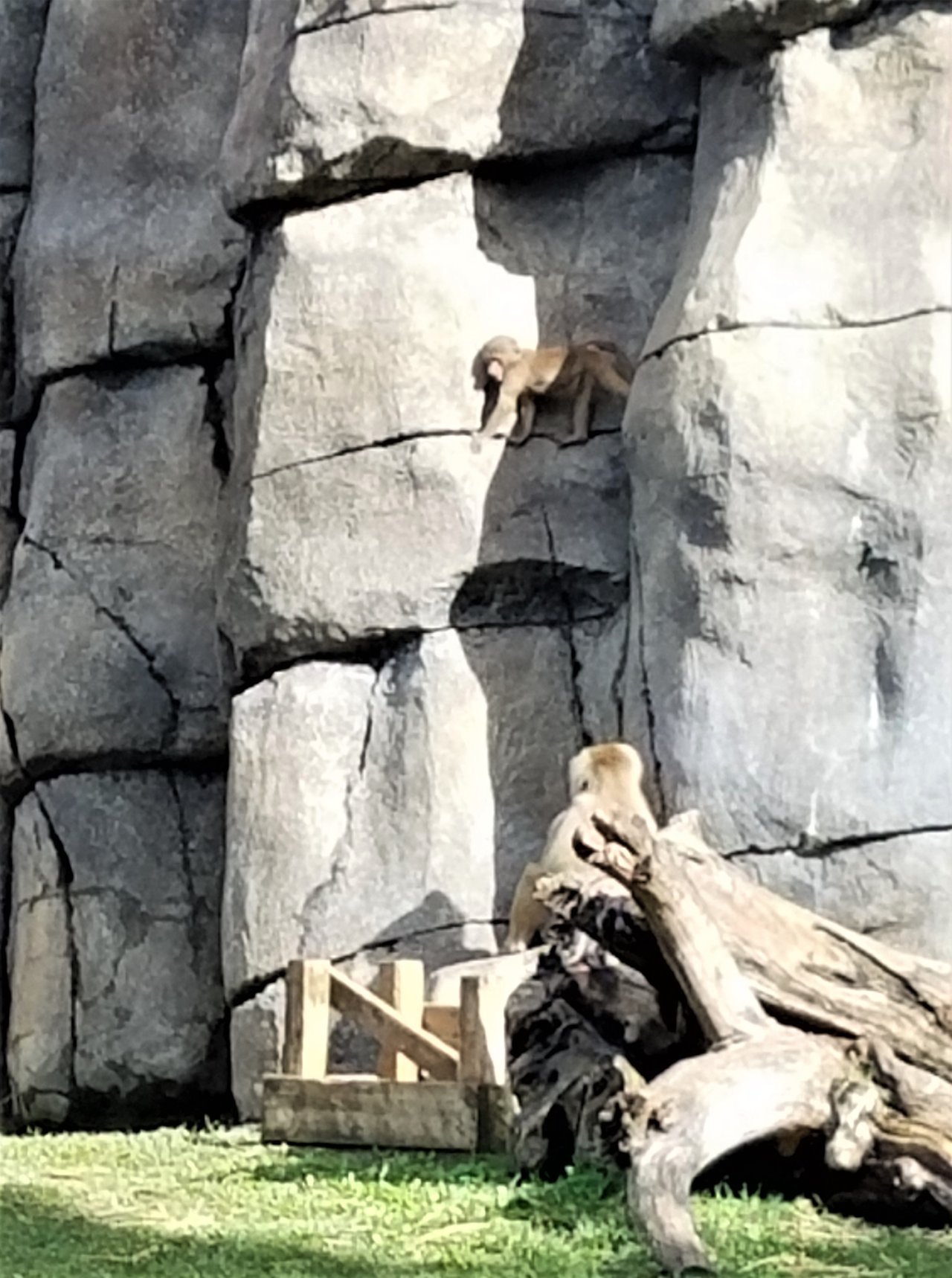 I'll call him the father because it was a male baboon and his sole occupation that morning seemed to be teaching that kid a lesson. Each time the pattern unfolded, it had the same ending, and the little guy's fall off the cliff was the least violent part. Because whenever this young baboon fell down, his father grabbed him and thrashed the daylights out of that kid.
I'll say that again. Each time the little baboon fell down from the cliff, the father baboon gave him a beating. Really. If I hit my kids 1/20th that much, the police would haul me off to jail and I'd be in there for years. This big baboon took the little one, picked him up, hit him, and whacked his whole body into the ground, using him as a baboon battering ram, each time the little dude fell down. I saw him do the same thing time and time again.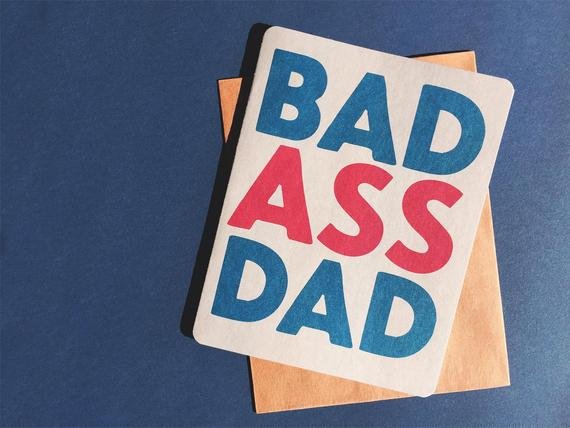 I'd like to say that I was horrified to watch this father baboon beat his kid, but it was more like watching a cartoon where you knew the recipient of that violence would keep getting up, bend back into shape, and make the same mistakes again. I had to imagine this was normal baboon behavior and without projecting my human sense of the baboon boy's well-being, it certainly seemed as if a lesson was being taught. What were the costs? Bodily damage? Head injury? Emotional trauma? If that were a human kid, all of those might apply. And maybe for the little baboon also.
But the little dude kept on getting back up to repeat the pattern. I saw it happen again and again, at least six times. He'd get away from the dad, start climbing the wall, and either he'd get high enough and fall again to get thrashed by the father who sat there waiting for him or else the father would grab him partway, pull him down off the wall, and then thrash him. That's how I know the father wasn't punishing him for falling, but for trying to climb. It wasn't a bullying/escape scenario either, since the father left the kid alone and didn't hurt him until he climbed again.
For some reason this big baboon viewed the climbing as a bad thing. I don't know if the risk of injury was the reason he was cautioning the kid not to climb, because that kid picked up plenty more injury from dad knocking the crap out of him again and again. Could it be a dominance thing where another's high position on the rock was not acceptable to an alpha male? Was he only punishing this kid or had the other baboons (who were sitting at the bottom) also learned the hard way not to climb? In any case, the cliff wall was not used by anyone else during the 20 minutes I watched the baboons, so if the baboon boy wasn't able to use it, then it may have been a waste of money for the zoo to install.
Hopefully, that baboon boy will either learn his lesson or get big enough someday to keep big papa from thrashing him. In the meantime, here is a short video from this zoo, showing a new baby:
And here is a short video of some baboons climbing at the Budapest Zoo. Maybe others really do use these walls when they don't get beaten for doing so.
Next, let me mention the goats and gators.
The Oakland Zoo has a petting zoo with goats and sheep. They are entertaining for children, who like to touch furry farm animals. Most kids at this zoo live in urban or suburban areas. So aside from dogs and cats, most probably do not have much experience with farm animals.
I've been to other petting zoos before where the goats are too big and belligerent in wanting food. But the goats at the Oakland Zoo are about the right size for children and did not act aggressive. Good zoos also have a volunteer walking around with a dustbin thing to clean up after petting zoo creatures take a dump, since in many parents' minds, children and poop cannot share the same space.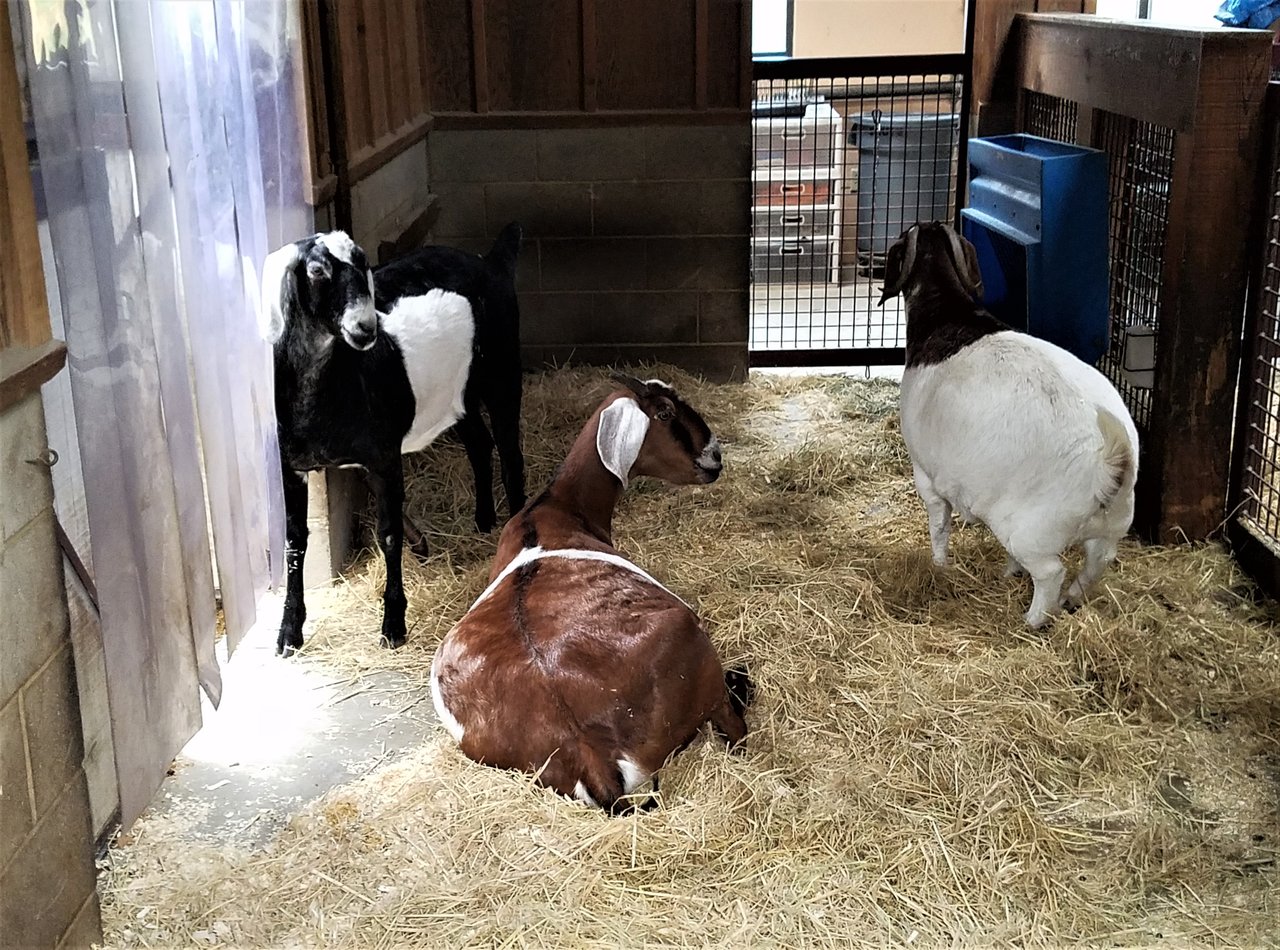 The strangest part of the goat exhibit was that, when I came out of it, there were alligators. And they had lots of alligators at this zoo. Oh, and the bats were nearby also. Fruit bats and vampires. An interesting choice of animals for that section of the zoo.
Good fences make good neighbors, as they say.
That got me to thinking, what do they feed their alligators? You can't just go to the pet store and pick up a bag of dry kibble or a couple of cans of tinned chicken. Pet food won't do the job. Maybe a whole chicken. Or a whole pet.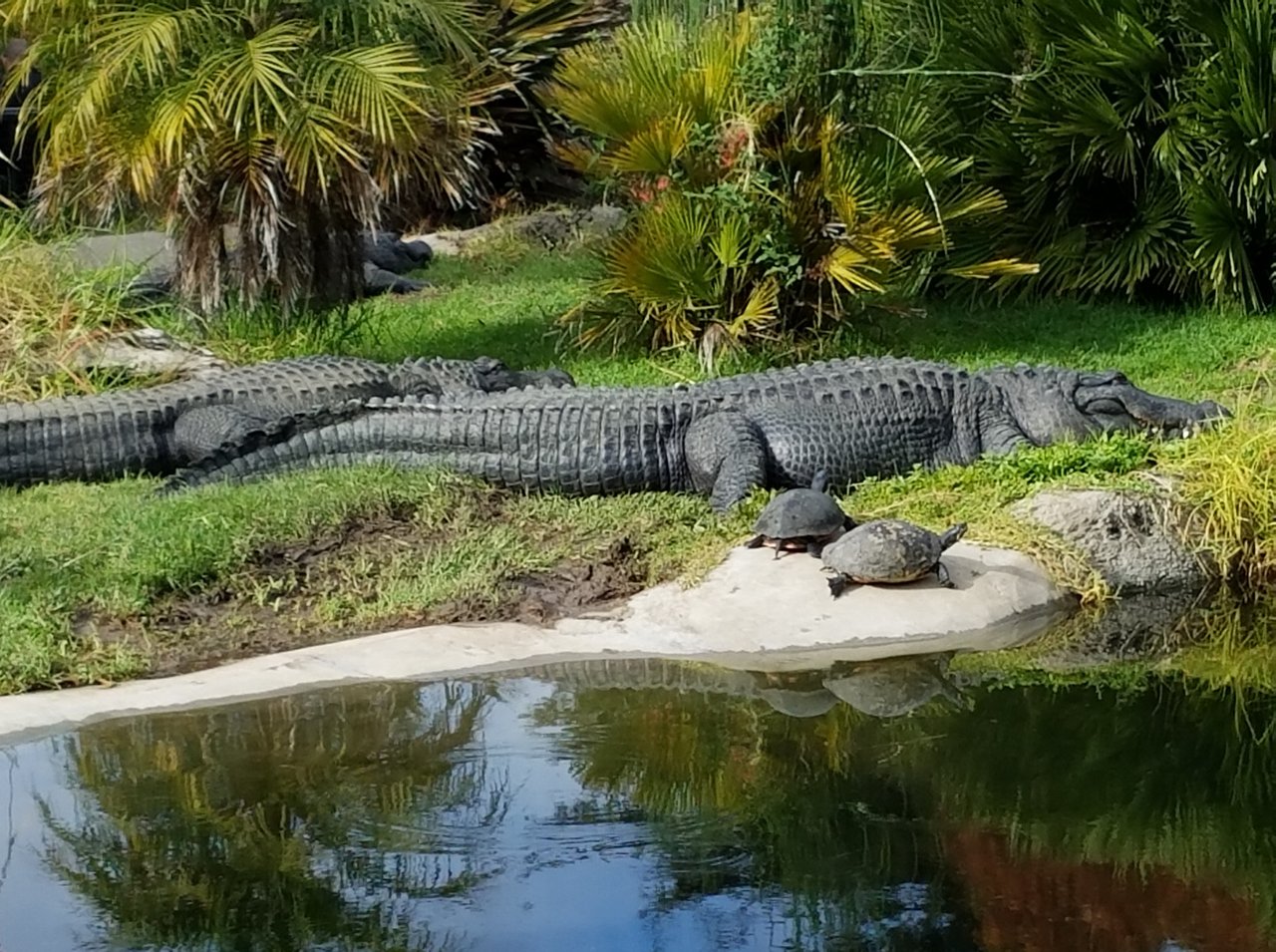 I wonder if any of the goats ever wander over there. Even if the fences prevent this, these gators must smell big mammal meat just a few steps away. There are turtles in the same enclosure as the gators, and they appear to be safe; the gators must have learned that turtles can slip into their shells and be encased in the equivalent of hard bone armor. In return, the turtles seem to barely notice the alligators while they are sitting right next to them in the sun.
But I didn't see any goats go in there. If they had, I doubt they'd come out again in one piece.
Photos by the author, except for top photo, which comes from the San Diego Zoo.
Please tune in again soon for Part 2 of this post.