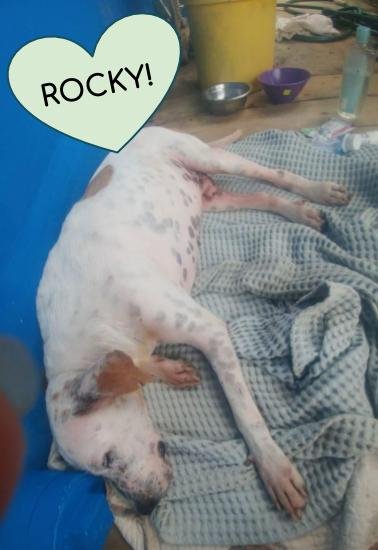 Good vibes everyone! This is the 2nd update about Rocky, a street dog some good people, @evecab and I rescued on Friday the 22nd of March.
With the help of a few, we managed to take him to a local vet. He was badly infested with ticks and with a lot of pain in his legs/hips because we believe a car hit him.
Life always puts in my path animals in need, and some of you that know me know I can't turn my back on them. But this time was different, a little bit more difficult to deal with since the local vet did not have the resources for his treatment, and on top of that I still have the big task of finding a home for him.
---
I also wrote a 1st and important Update 9 days ago: Let's help Rocky! // Update # 1
---
Once again I want to take the opportunity to thank to all the people that wrote all those nice comments and also the ones that supported with your votes / shares and very importantly… your economical donations. You guys know who you are and you guys are heroes, we would have never done all this if it wasn't for your contributions.
Rocky is still with the second vet Mr. Tello close to the border to David City. Initially, Rocky was supposed to stay for a week over there, but last Monday he decided to keep him for 5 more days under care for proper recuperation and therapy.
The X-rays confirmed that Rocky did not have anything broken. But according to the vet, Rocky has an injury at the end of his spine and the beginning of his tale, at one of his vertebres where there is a nerve. This is causing his lack of mobility in his legs.
A surgery could be very risky for him, the vet is sure that Rocky will recover at least 80% of his mobility after the analgesic, and other medication to help support the health and functions of his nervous system, plus the therapy he is currently in.
These are some of the pictures the Vet sent to Javier. Javier is the owner of the Dog Camp in Boquete who is our contact with the Vet Dr. Tello, and the person that helped us transporting Rocky from David city to the border.
Unfortunately I am still waiting for an explanation of the X-Rays so there is no much I can say about these:
---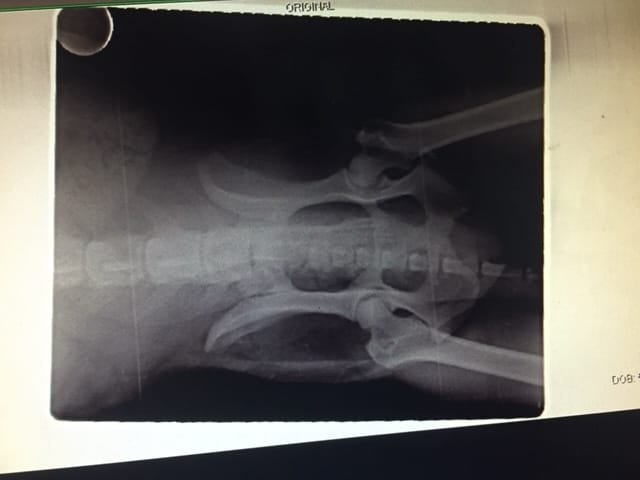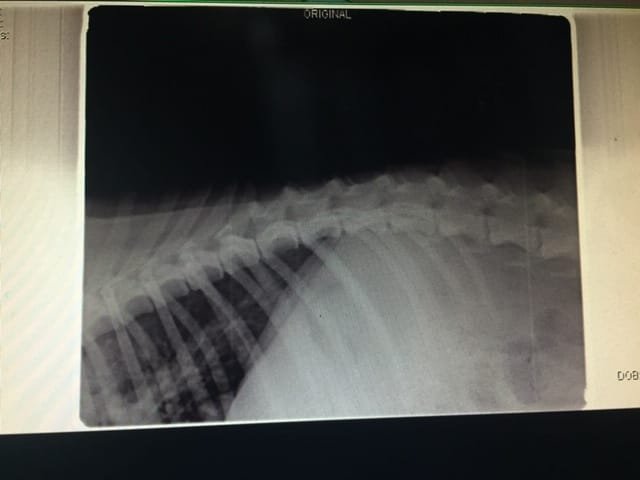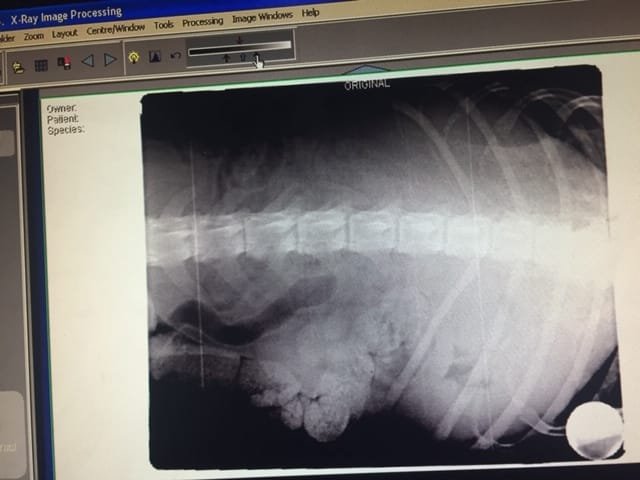 ---
The good news is that no surgery was needed, and that we all know exactly what's going on with Rocky.
Donations transparency:
Until today April 6th, this is what have been donated to us:
STEEM (including SBD) = 120.338
BTS = 1,100
WLS = 12,922
BTC = 0.07840924
USD Cash = 25
USD Paypal = $513
Plus the rewards of @evecab's and my steemit post = 67.66 STEEM
I also sent 1,000 WLS from my wallet in advance from the WLS that the whaleshares post is currently generating.
And if it wasn't enough, our friend @karinxxl also wrote a post about it to collect more STEEM for the cause: Dogs, crypto and charity !
Exchange and conversions:
I had to convert all crypto into BTC, using more than 1 exchange and pairs, to then sell fractions for fiat.
STEEM + SBD = $52.40
BTS = $67
WLS = $868.23
BTC = $300
USD Cash = 25
USD Paypal = $513
Total so far = $1,825.63
---
Expenses list so far:
Local Vet Clinic = $226
3 Ferry Transports = $120
Gas for transport = $70
Taxi from border = $30
Total expenses so far = $446
Please take into account that we still have to pay for the most important bill which is the Vet Clinic of Dr. Tello.
We will not know how much it will be until the end, plus the food and medication he will need afterwards.
---
Dear community, I'm so happy to tell you that with all that money from donations, I'm sure that we are going to cover Rocky's expenses and will be able to donate what is left to the Rescue Pot at the local clinic. For instance, there is a female dog that needs to get fixed, but that I will take care when I am done with Rocky.
Right now my biggest concern is the new home we still need to find. Thankfully, our friend Marcela, who also helped us with Rocky, will keep him until we find that new lovely forever home for our dear Rocky.
---
I am expecting to write one last time about Rocky and to also keep you updated with the expenses list.
Thank You!