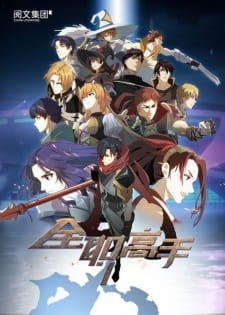 Disclaimer: This review is a share of my opinion about the anime adaptation of King's Avatar. I have not read the manga version. The review is limited only to the anime adaptation. Spoilers will be present. Image Source
The King's Avatar comes somewhat of a novel series in this era of anime where new animation companies enter the scene. I've been used to watching anime from a Japanese story telling perspective. This one was produced by Tencent, a Chinese company.
I'm just going to do you a favor for the limited attention span you might have. This is a bad show and I don't recommend watching. It has it's own redeeming qualities but not enough to convince me a good impression.
Summary of the Post:
The Plot
The Characters
The Strengths
The Flaws
The Conclusion
---
The Plot
I'm just going to drop a link to wikipedia's version of the plot
My Version:
The gamer God Ye Xiu was forced to retire out of inside politics. Calling it as forced retirement may be the wrong term as he was offered a position as a training partner for the main team which he has been booted out of. That means he still gets to work but on the background. He was also not in the position to negotiate the deal as it's implied that having him resign is a better course of action than quit and have his contract bite him.
Ye Xiu spent most of his days playing games and winning for the team. It's also implied that he supported his fellow gamers who are no longer in the competitive scene financially. It's difficult to get a formal job if you placed eSports gamer in your resume while approaching above age of prime. That's a reality these athletes face.
He does get a job as a manager on a local shop and intends to build a strong team to come back to the competitive scene once more. The show makes a small comedic relief at his secret identity being a God in the game of glory. Not that he intentionally keeps it a secret to his boss. It's just that he doesn't go through extensive lengths to prove it is him. The consequence of a famed gamer being hidden all the time from public eyes.
---
The Characters
Ye Xiu, the God of Fighting is the only one you will most likely remember among all characters. The show did not spare any opportunity it could to put this character up to a pedestal. He has everything, skills, looks, and infamy in the game of Glory. Little to no character development just like the other characters in the story.
These writers probably relied too much on good looking drawn males and female characters, smooth animation, and flashy fight scenes to carry their characters for them. We, the audience are left with characters intentionally painted perfect from the start and this is already poor story telling. I'm not going to discuss other characters because the main protagonist is the biggest reflection of what this show really lacks.
Ye Xiu is too perfect to be a protagonist. We have a protagonist that is a skilled tactician and constantly winning at every challenge he faces. He is the sole driver of the show that proves there is no conflict in this story that he does not allow to happen. The show doesn't show mistakes he couldn't recover from.
Whenever he would require some assistance from the other members of his party, you can expect some small screen time but it would be an inevitable reason to build up his character for the audience to adore. He isn't a jerk of a character, there's nothing to be hated about him being a chill dude. But damn, he's so perfect that watching a challenge he takes on becomes boring because you would likely know the end before it begins.
The supporting cast of characters play the stereotypes. We occasionally see some personality here and there but guess who takes the spotlight afterwards? Almost each episode introduces a new character having interested in this mysterious new gamer in the server. The show never did give much justice to each supporting character as far as I can tell. We are left with a loud mouth happy go lucky player, the skilled prodigy newbie, the terribly written antagonist that can't even do evil right.
The show robbed its characters a lot of potential to be liked by their audience at a deeper level. It's difficult to connect to a protagonist who lives a life like an eSports player. Heck, that's a dream to most people just playing games casually.
This show suffers from a lack of personality.
---
The Strengths
This shows fight scenes are the closest if not on level with Fate Series' Unlimited Blade Works which is a major accomplishment. The studio spent their budget well on the visual aspect of the the show. I've watched the fight scenes and compared it to some movements from fighting games and mmorpg and it captures the intensity of what it would be like if these moves were translated to anime.
The show explores a fresh area where few have yet to tap into. That is trying to capture what the competitive eSports are like. We occasionally see some of the lifestyle of eSports athletes have. They are not all about playing games all day and the pressure to win is real. There are real politics involved in the gaming industry and some topics that are still taboo to most audiences. I think this is a saving grace for the show if portrayed right in the future.
---
The Flaws
I've already shed the show's most fatal flaw above. But other notable mentions include the lack of engaging soundtrack. Nothing really prompts me to have LSS even on the scenes where it's supposed to be sentimental. The soundtrack during fights were ok but not that great enough to make me want to play it outside the show.
This show rushed so many important details that made the story less sense. I came across the manga version but never taken the story in depth yet. What I do know from the responses I got about some friends fond of the show was that most minor details that held the story together were cut out from the anime. They too shared my experience about the show being rushed with 13 episodes to build from.
I would really appreciate some down to earth explanation of what motivates these people to play the game. Because the eSports/Gaming Genre is somewhat new, it has a lot of potential for tapping into areas no other genre can accomplish. We can anchor some real motivations on why some people would want to pursue a career where they can be easily replaced by younger and skilled gamers.
We, as an audience can get educated about the eSports beyond what professional gaming is all about, what goes on behind the curtains when players are training, the psychology, the mindset, and what each player has to sacrifice to achieve a goal they want and not necessarily winning for the team.
---
The Conclusion
It just feels that this show was a wasted potential during it's season 1. I'm waiting for season 2 to end so I can binge watch it again and see if my opinion about it differs. But don't take my bias as your guide. You might want to try the anime out and maybe you can see something I didn't. The King's Avatar isn't something I would recommend for viewers that have high focus on character development and dynamics of story telling. But I'm hoping it can redeem itself on Season 2.