It seems hard to believe it has been three years since I signed up on SteemIT. I guess time flies when you enjoy posting and interacting on SteemIT.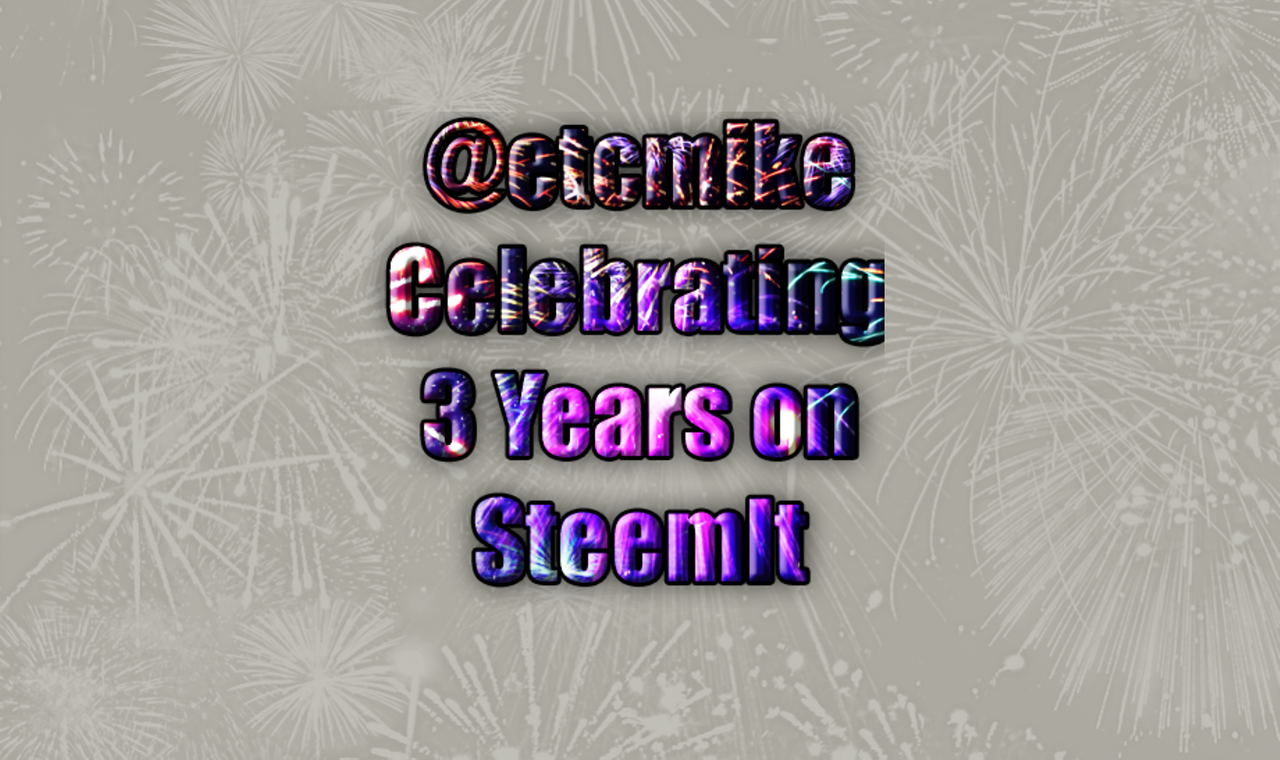 Created using Adobe Photoshop
My Introduction to SteemIT
On 7 August 2016 I watched a YouTube video by The Dollar Vigilante.
I was intrigued. And learned how to signed up for a SteemIT account. Back then the easiest way was to have a Facebook account. I did not have a Facebook account and had to create one. That was the first and last time I did anything on Facebook. With my newly established Facebook account, I was able to immediately sign up for a SteemIT account and start blogging.
Humble Beginnings
Like many on SteemIT I did not immediately start earning money for every post. But I kept blog posting and slowly built a following up to what it is today.
My advice to newbies is to be consistent and persistent, it takes time to build your audience.
My First Big Payout
My first big payout was not on a post at all, but on a comment I made on another post.
This is why I always upvote meaningful comments to my blog posts.
Investing in SteemIT
After posting on SteemIT and making very modest amounts on blog posts, I started learning the mathematics and algorithms behind SteemIT. I looked into how massive amounts were being made on some blog posts. I quickly learned the value of increasing my STEEM Power.
My Introduction to Cryptocurrency
SteemIT was my introduction to the world of cryptocurrency. The fastest way to increase my STEEM Power was to buy Bitcoin then use it to power up my account.
Today you have multiple exchanges and ways to use cryptocurrency to increase your STEEM Power.
If you believe in the power of SteemIT and the STEEM blockchain to revolutionize social media and empower individuals like I do, investing in STEEM Power is a way of showing your support!
STEEM Eco-System
In the past year I have seen the STEEM economy grow by leaps and bounds. The STEEM blockchain is powering a growing number of decentralized applications that extend far the SteemIT platform. It will be interesting to see the expansion of the STEEM economy in the coming year.
Perpetual Power Down
Some may notice that my account is in a state of perpetual power down. This power down frees up a portion of my STEEM Power each week and allows me to put that STEEM to work in the STEEM economy.
Promoting STEEM
I would urge everyone to continue promoting SteemIT and the STEEM blockchain through various channels. Post your articles on Twitter and other social platforms to inform others of the opportunities provided by the STEEM blockchain and SteemIT.
Support Those Who Promote STEEM
Some of us, like myself, are not great at promotions. But within the SteemIT community there are those who excel at promotions. We can support those who advocate and promote SteemIT and the STEEM blockchain.
@stephenkendal is one who excels at great promotional ideas. Stephen has been an exceptional supporter and support of SteemIT and the STEEM blockchain. Supporting Stephen's efforts on SteemIT and on Twitter is a great way of supporting one of the great advocates in our community.
Grateful to the SteemIT Community and Developers
As SteemIT and the STEEM blockchain continue to evolve, I must say I am very grateful to the SteemIT community for their support and the SteemIT Inc. developers for continuing to improve the most rewarding social media site on the internet.
Grateful to My Followers and Supporters
Thank you to my many followers and supporters. During the next year I will continue to look for ways to reward your support.
While HF21 will change the way rewards are paid out (from 75/25 in favor of authors to a simple 50/50 reward pool split between authors and curators), this will not change my strategy of rewarding those who support my posts:
Use of delegated stakes to increase your rewards;
Being among the last of the voters to upvote my own posts.
Thank You!
3Anniversary
If you like this post, you can upvote, comment, follow, share, and re-steem this post.
Thank you!