Intro
For some time I was looking for a desktop/laptop app to write posts for Steemit. A month or so ago I tried a couple very quickly, but didn't get any of them to do what I wanted, ie make it super simple for me to write a post and post it on Steemit. Yesterday I stumbled upon SteemWrite. Only this morning I installed it, and immediately loved it! This post is written AND posted from SteemWrite.

Image: Editor Screen
SteemWrite
It has all the tools Steemit has, including the reward choose (no rewards, 50/50, 100% SP); Upvote, or not, your own post; Tags; Direct publishing to Steemit without copy/paste into another front-end (eg Steemit "Submit a Story") + the ability to keep drafts AND more formatting tools that I was missing in the standard Steemit post editor:
More Header font sizes: 6 in total
Alignment options: center and right side alignment
Horizontal line
And a really cool one:
And what about this one:
Scheduling for Publishing
User Friendliness
I have only very short experience using SteemWrite, but so far so good. Installation was super simple, just download the app, install it by clicking the downloaded file, open it and add your Steem account with Steem/Steemit username/password. Automatically all your historical posts are loaded into the app. For writing a post, navigate to the Editor tab, and start writing your post. All the setting for a post are presented in a menu on the right side of the window, with terminology as you know them from Steemit "Submit a Story" front-end. The picture below is a desktop screen image I took when finished writing this post.
In section summary I created a table. It is very easy to create the table, insert rows/columns and also remove them. There is a window to set table properties such as borders, line style, colours, however no pull down lists to actually make a selection. I guess this is not further developed yet.
I would say, with my current experience, this app deserves at least a 9 out of 10 on user friendliness.
Stability
For me, stability of an app is THE most critical element. When not stable, than I stop using an app, how cool or how simple such app is. So far so good, not any hickups, crashes, or waiting times when selecting something, or writing this post.
Therefore I can give this App a 9 out of 10 for stability.
I maybe should give a 10, but then there is no room for improvement anymore, and everything can always be improved + I do not have that much experience yet with the app to be able to determine if it really deserves a 10 for stability.
Platforms Supported
Versions for Mac and Windows are available; I'm using the Mac version. 9 out of 10 (Linux is not supported).
New Releases?
I don't know if this app is still maintained, or new versions will be created; I really hope the creator is still active.
This app was published about 4 months ago on Steemit by @steemwrite https://steemit.com/introducemyself/@steemwrite/introducing-steemwrite-post-drafts; no update posts since then though. @keverw could be the creator of the app, but also hardly any activity by that account in the last months.
Summary
| | |
| --- | --- |
| User Friendliness         | 9/10      |
| Stability | 9/10 |
| Features | 9/10 |
| Platform Support | 9/10 |
| Overall | 9/10 |
Questions to YOU
Are you using a desktop App to write your posts for Steemit?
Which desktop App are you using?
Did you know about SteemWrite?
What do you think of SteemWrite?
Looking forward to Your Feedback!
I never ask for ReSteem; but please ReSteem this post for visibility to as large group here in Steemit as possible. I really really like the app and really like to see further development on this. And once you tried the app yourself, I'm pretty sure you will like this app as well.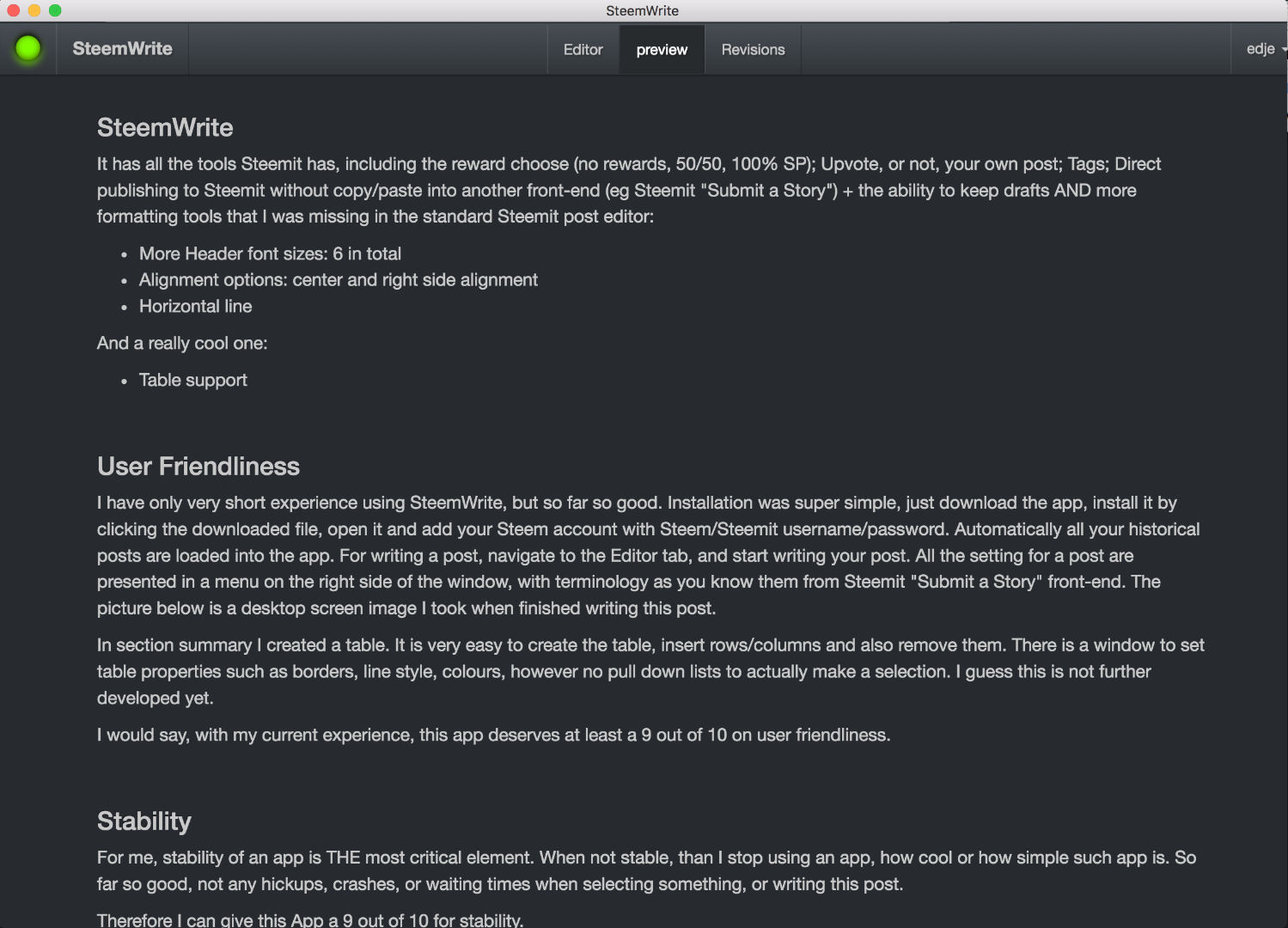 Image: Preview Screen