Synopsis:
"With strange qualities, dark thoughts and unexpected attitudes, the damn children create an atmosphere of chaos in the acacias park. When the visiting child discovers the back of history, his life is at the mercy of events. While the park changes radically showing him the cruel reality, he is still waiting for the return of his parents..."
---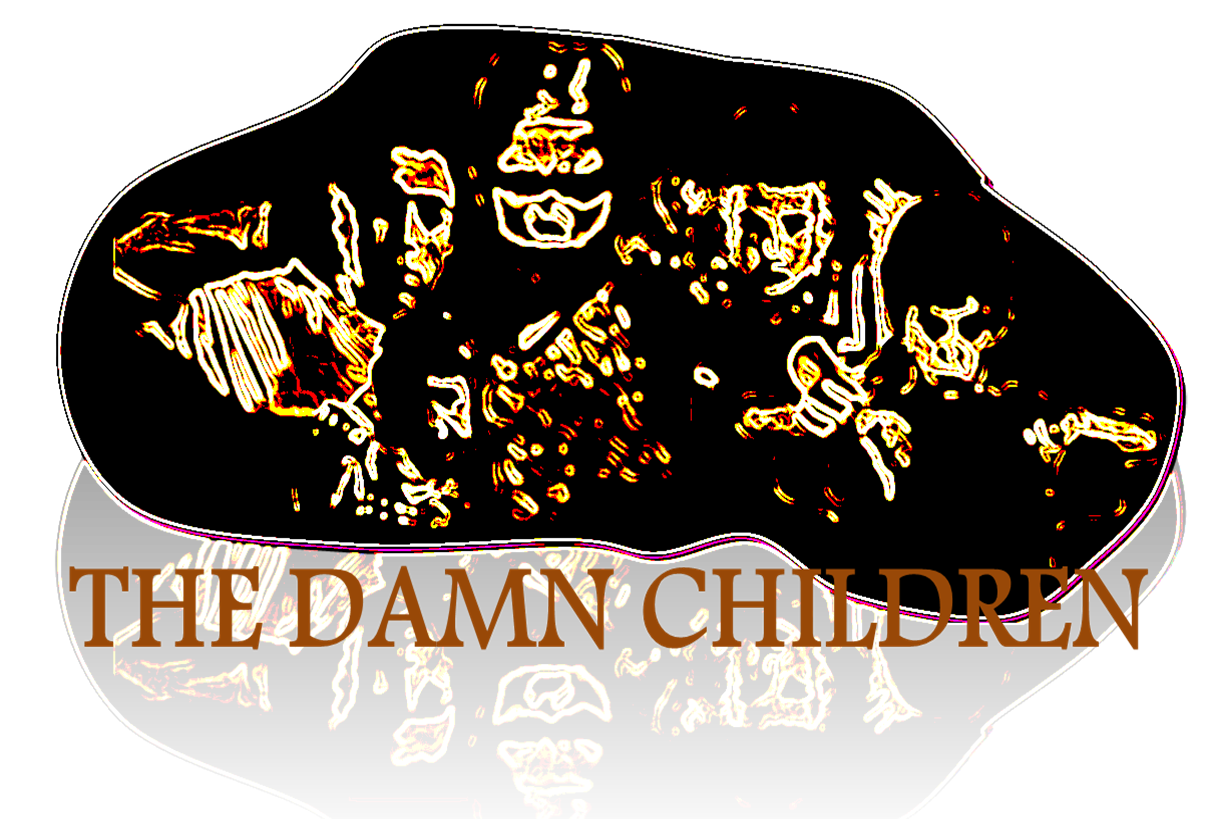 (original banner created by the author)

---
At the beginning of that warm day and with blue sky... I played with my new friends which I had just met. I was very pleased to deal with them, in the depths of my naivety. We ran in a park surrounded by symmetrical maze-shaped bushes. At both ends there were acacia paths of yellow flowers.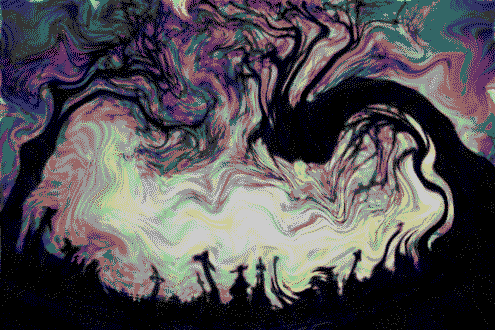 source
That park was somewhat abandoned, judging by the dry brush and that halo of loneliness, of little visited place.
MARTINA
He was big, he was ten years old. The voice is sharp but with a strong imperative tone. He was in charge of driving the swing and liked to give orders. She wore a black knee-length dress with white lace and polka dots, a black choker with a bow.
| source | The color of his skin, pale, was almost like paper and his eyes slightly sunken. |
| --- | --- |
The central link in the chain of children holding hands appeared in formation: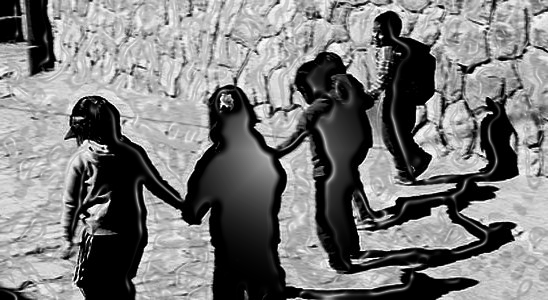 source
~:~
_ Are they your brothers? I asked; Who has brought them?_
_Why do you say it, maybe we look alike...! (his voice mistreated me a little)
_ Well, they always hold hands, I replied_
_We are inseparable! We hope you come back for us.
_ I don't understand! Where do they live?_
_In the labyrinth, we came to plant seeds.
_ What? ... Seeds? But when will your parents arrive?_
_ No one ever comes Here! And you! You must start getting used to it...
~:~
Turning his head, he waved his hair, brushing the tip of my nose. A long black braided hair in a single loop to the waist. I was surprised with that character, I didn't see any meaning in the things he told me ...
I felt the freezing breeze, a certain sudden change in the environment was happening along with his words, I saw the reflection of lightning falling from the sky, as fast as a blink ... Likewise, that light rain began dampening the park's boundaries .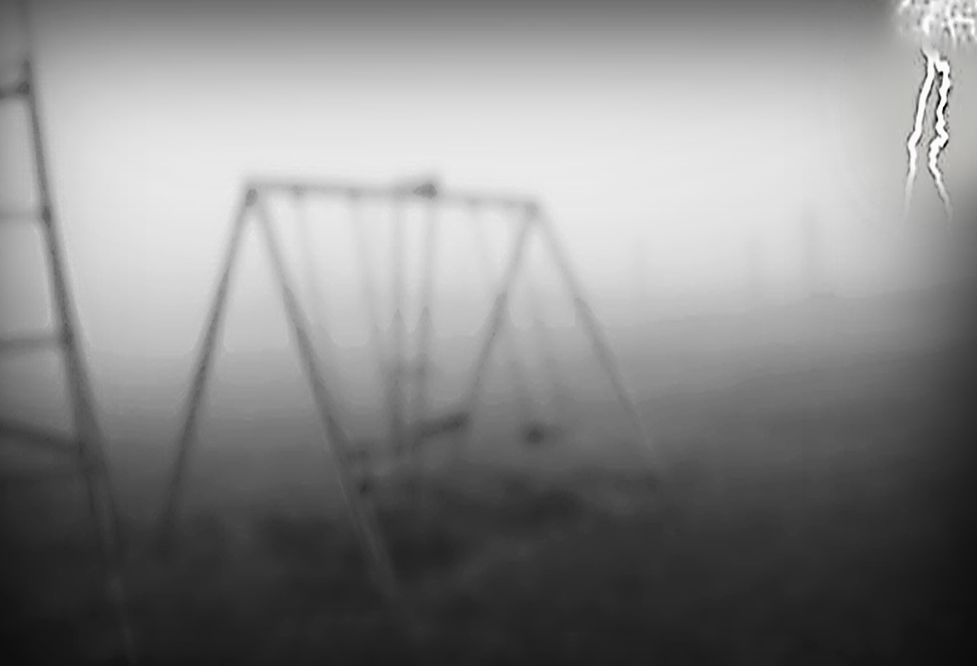 source
---
Martina used to carry another smaller girl, about four years old, whom she protected and consented to. He carried her on the shoulder by tapping her back like a baby. Amazed I noticed something strange in her, I thought:
-"This one is not very big, to receive so many pampering!"-
Martina sang and cried at the same time:
_ "Martina will always take care of you, Martina will make you bloom; Run Daphne, run Daphne!, they are coming for you..."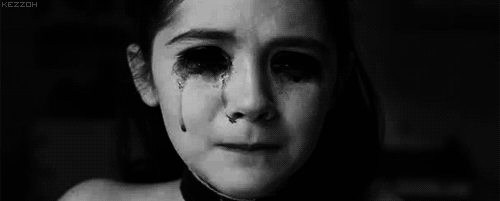 source
And the acacia trees stirred, on the ground I saw the sap fall into the dark cry of a still life. The yellow petals went into a sepia tone, then turned ocher, finally they came off dry.
Something like that, as if the park were in great pain or an infuriating complicity with those two girls ... Martina's rudeness showed the reverse of the story marked on her face, along with black tears that exposed her fragility.
---
I had nothing left to say:
"Will the baby bloom?, The lullaby that Martina intoned seemed from the time of aforetime. ...They come for you?, What were these two girls playing, Who invented that stupid song?"
---
DAPHNE
The spoiled girl hid her face. It looked like a doll, an inanimate being, only pronounced a few words, the rest of the time it slipped to the ear of its protector in a constant machination:
| source | -"Wheel, Labyrinth, Wolf ... Seed," Daphne whispered.- |
| --- | --- |
The children had a small red cart, rectangular in shape with black wheels and a strap, similar to those used to play in the sandbox. I was shocked by his magnificent toy, I looked at it everywhere. Her frosty red color was impeccable and without asking I borrowed it, I barely managed to shake it, just then everyone turned to me and disapproved of me with a group look.
I felt sorry, -It happens to be arbitrary!- I said. I don't know how they could notice my intention to take their toy, it was as if someone had told them: Look! Now!
Then I sneaked back to the wooden benches with a warning face; from there I looked at something I shouldn't...
| source | Martina placed the spoiled woman on the cart, put her head on a pad... |
| --- | --- |
And he covered his legs with a blanket.
The Daphne girl wore a wool hat. Dropping her hair on her cheeks, shrinking, she remained in Martina's arms; it sank in the neck, rose to the ear, I did not like the way of looking at that protected girl, it made double sense...
---
"Just looking at it began to arise in my mind a sea of questions, exclamations of all kinds; present, past, diffuse images of a future. In fact, I was curious to know, but..."
---
... And they followed my high thoughts in search of a reason, without being able to take their eyes off them. So many unknowns drove me crazy, so many voices, was the whisper of daphne also in my ear: Rueda, Labyrinth, wolf... Again, Rueda, Labyrinth, wolf... there was a kind of stormy mental communication; His eyes psychoanalyzed me. I concluded that this girl had the power to read my mind.
---
ANDREW
I got a big surprise with the unique child "Andrew", one more of the lot. Tucked into the water fountain all day, looking towards nothingness... No thought was going through his head.
Definitely an autistic at the service of Martina's mastermind. For him every game became boring and for more enthusiasm, little by little it sank into deep mental gaps.
It was inevitable to notice his blunt clavicles and Adam's apple on his neck. His arms reached his knee, he was shy, Martina repeatedly subjected him as trying to interrupt his endless journey.
Raised on the suspended bars his feet brushed the ground, the wind could rock him, that lanky boy remained an hour hooked to the structure, andrew never knew how or why he climbed there.
---
The time has come, the time has come! Everyone come to the tree, I will need your help. They ran after Martina while she pulled the wagon. I joined them but they looked at me again with their eyes 'Chinese', -A good understanding few words- I turned around!, again towards the wooden benches and sat down to wait.
~:~
_ "Hold your waist! Andrew, firmly... Use the fingertips, one on each side of the vertebra."
_ I do well, ... tina?
_ "Yes, continue to behind the neck, Andrew!"
_ "Now, face up; bend your knee... Can you see the tendon?"
_ I see it tina... it's stiff!
_ "Remember to move your ankle in circles,
_ How are you doing?, did you understand Andrew?"
_ ...Yes, tina!, if I understood, first the leg... left, which is worse.
~:~
---
"I remained hidden behind the bushes, listening to that dialogue. Witnessing the strange event that filled me with intrigues, at the same time it caught me and invited me to keep watching..."
---
Do not give up, give!, This time you will ...
The roll on the cake floor, it's your turn Marco, you know what to do!, Then run and go down the cart.
Martina kept turning instructions:
Andrew !, face down, again on the back.
Look at me when I speak to you Andrew!,
You !, Marco, continue, you do very well...
---
MARCO
Clinging to Martina's left hand with intertwined fingers as a sign of trust, another link in the chain, a six-year-old boy, really agile and fast despite his small stature.
She wore shaved hair, a faded yellow flannel, also faded jean shorts.
It was who turned the wheel, also a great runner. His legs were like a cheetah, just a sign of martina was enough for this obedient disciple to fly and surrender at his feet.
When Marco spoke I could never understand what he said, because he had some diction problems as if his tongue weighed.
Apart from the group, he argued alone, with a gesture of impatience, he scraped the floor with his shoes, scratched his head, looked up in shock, as if waiting for something, from someone. Then he ran to martina:
---
_ -¡tii-inna, i-naa!, ¿wh e -en w- wi-i-ll co-mee ba-a-ck ma- ma, co-mee ba-a-ck pa-a ?-,
"Soon !, you too will bloom frame..."
---
Thus came the hour of truth. They had practiced a kind of daphne rehabilitation, but I still couldn't figure out what my eyes saw. They were very complex situations for the understanding of a child, in the same way I had to witness the strange scene.
I stood on the wooden bench so I could look directly. I soon heard the pleading voices that came from all directions, a prayer and a curse, the silent crying that denoted pain, the laughter of a girl and the cry of help.
I already knew where those voices came from, the daphne girl and her mental power ...
Now standing on the acacia carpet, with the destabilizing leg trembling, daphne remained leaning on the wagon with one of her hands and with the other clinging to martina, all eyes were on the little one.
The strong breeze approached bringing black clouds and a partial darkness, I had the impression that the wooden bench was moving as if it were going to take off from the floor...


Then followed;
Daphne rushed to the ground, again and again, failed to take a step. Thunder, lightning, the impending storm made swirls of incredible heights, the ashes and mist of the park were carried to the sky. Acacias barely distinguished themselves in the rain.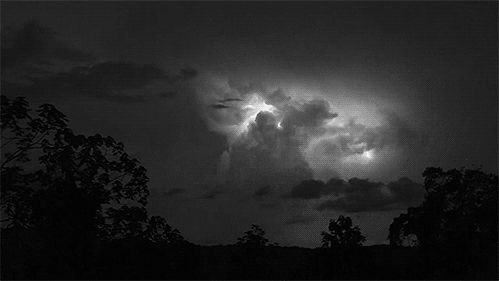 source
As a snake crawled the daphne girl, her now inaudible prayers didn't help much when she was snatched by the wind. Andrew went to help her, picked her up but the wind could do more than her hands, tearing it out in the whirlwind.
Then Marco ran in a hurry and it was no use, again down, daphne bit the ground, moaned helplessly. One of the acacias was struck by lightning and we were all stunned, blind at the time ...
Now she was martina, at that moment she began to cry of helplessness, pure grief, recognizing that her beloved daphne would never stand up again despite her continuous attempts.
The rain accentuated, continued in the form of hail and I had to hide under the wooden bench.
I don't know where Marco and Andrew went. But if I managed to see the silhouette of martina when lifting the little girl from the ground and then disappearing between the walls of the maze...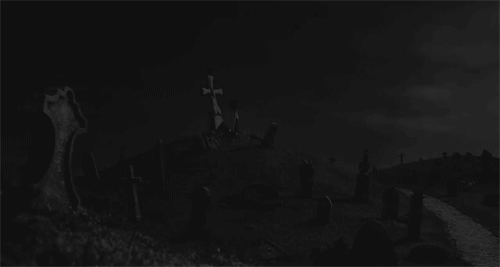 source
END
---
---
#venezuela
THE DAMN CHILDREN
Regards,

Thanks for your kind attention