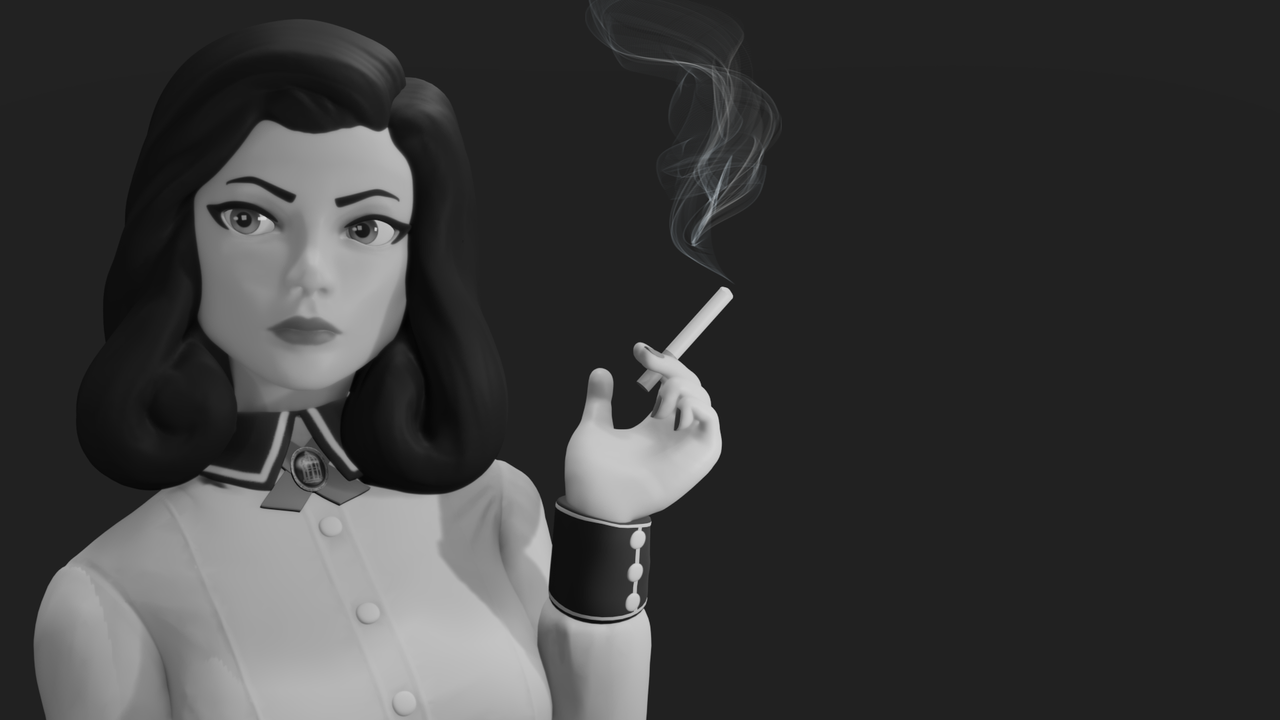 "Booker…are you afraid of God?
-No. But I'm afraid of you."

-Elizabeth and Booker (BioShock Infinite) 
---
For a lot of people that's a pretty heavy statement to make, but hey, if you know BioShock Infinite, its world-building is based around a pretty hefty topic too. And the only thing that might be as heavy as that? Vertex painting this 3d sculpture that I make with a shit ton of polygons. 
This is my contest entry for @archdruid's yet another fun gaming contest that I almost missed and can only submit 1 entry for (which is a shame, by the way); Archdruid Gaming Contest | Gaming Decades: The PRESENT. I'm so excited to bring you my jibber-jabber about my favourite game of all time, BioShock Infinite, but at the same time, I wasn't sure what was I supposed to post. A review? A fan-fiction? A bunch of pretty screenshots I took in the game and bravely tag the post with "photography"? Or perhaps another 20 haiku like last time? All of that sounds like some great ideas, but my inability to work fast says NEIN! 
So I decided to do what I do best, 3d sculpting. And in this post, I will also talk a little bit about this amazing character Elizabeth. But first, here it is, Elizabeth Comstock rendered in Blender 2.8 EEVEE in black and white to give her the noir look that she had when she first appears in the DLC Burial at Sea.   
---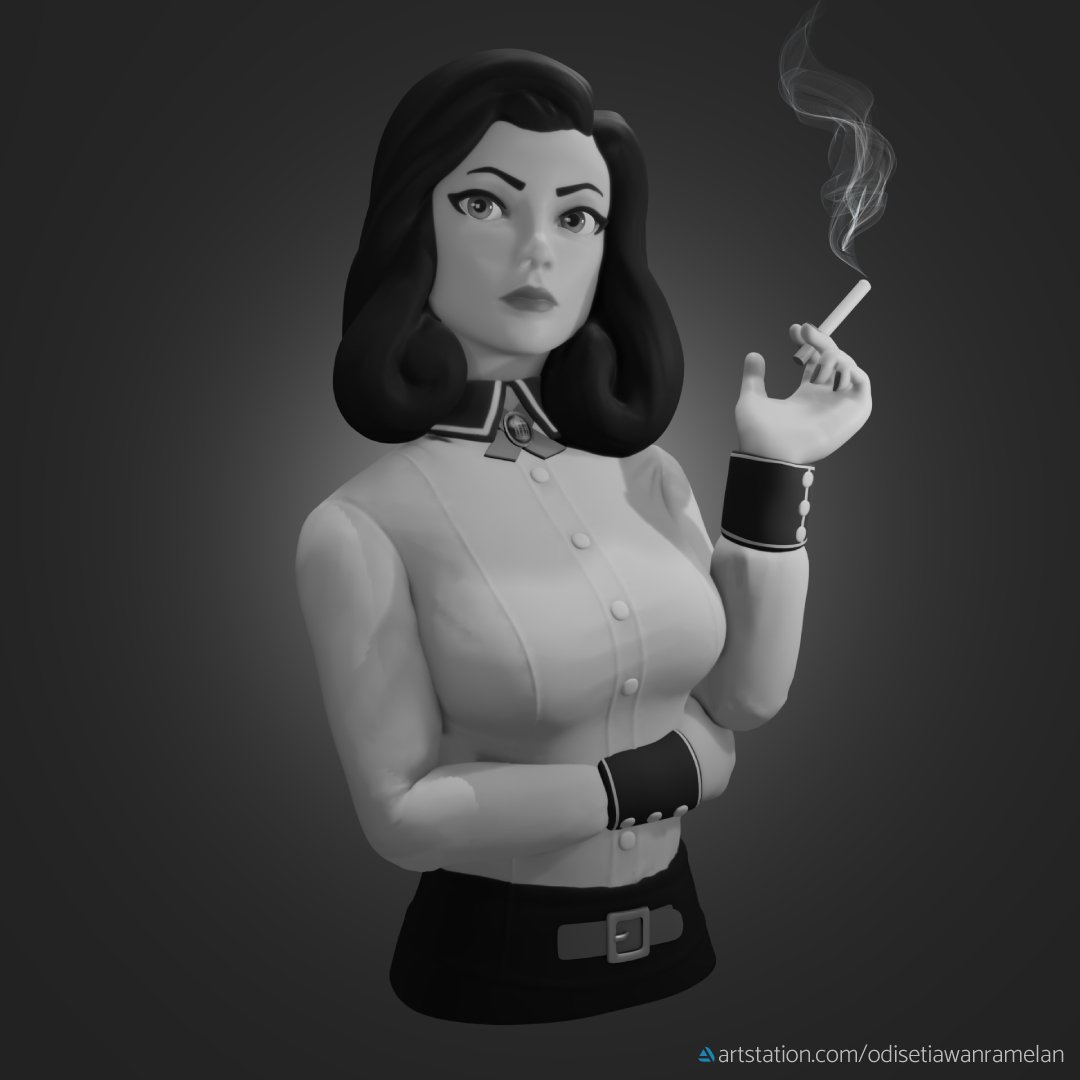 Elizabeth

"There's a world of difference between the what we see, and what is."

-Elizabeth Comstock  
---
The sculpture above is Elizabeth's final appearance as she appears in the DLC Burial at Sea. Along the course of the game, she changes in both appearance and personality. When the player first meets Elizabeth as Booker DeWitt, she's locked in an angel-looking-shaped tower that she always believed as her home, but is actually a big cage that suppresses her power with a lab to observe her built in it. 
Major spoiler alert!
Booker takes Elizabeth out of the tower as a girl who just discovered both the wonders and the bad things of the world and try to find and enjoy the positives, grows to understand that her existence can bring about a chaos from the reign of one man and the fall of many others, then realise that she has to do something about it herself, which she did, she does, and she will.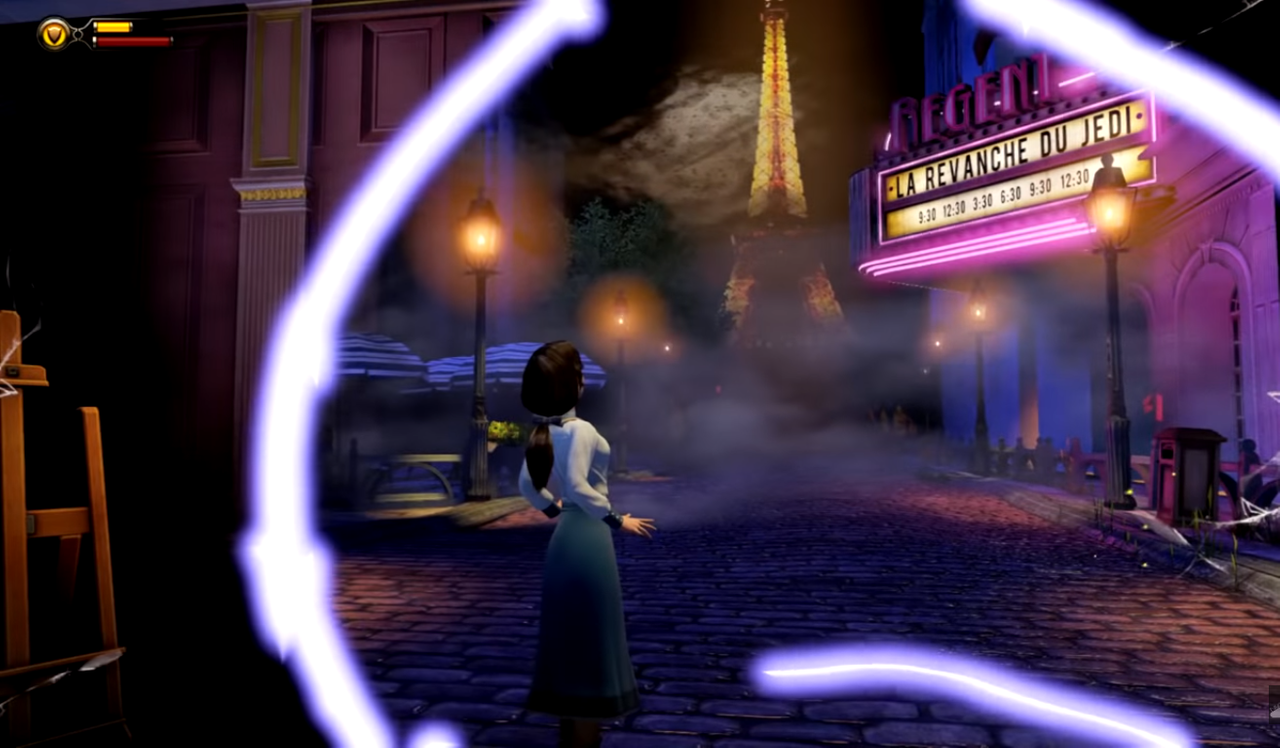 Elizabeth opens a tear to someplace. In-game footage, not my 3d creation.
"What makes the girl different? I suspect it has less to do with what she is, and rather more with what she is not. A small part of her remains from where she came. It would seem the universe does not like its peas mixed with its porridge."

-Rosalind Lutece  
---
Elizabeth can open up a portal to a parallel universe. She used to be Anna DeWitt, the daughter of Booker DeWitt from, let's say, timeline A, who was stolen by a man named Zachary Hale Comstock in timeline B as an infant, thus the change of her name to Elizabeth Comstock. Due to a little accident during the struggle between Booker and Comstock, Elizabeth's pinky finger got severed when the portal closed, which resulted in one Elizabeth existing simultaniously in two different realities. Because of this glitch in the universe, she can manipulate tears—a rip in the fabric of space and time—a big part of her lore that serves nicely in the combat gameplay.
This big part of her lore not only play a big part in the main storyline too, but also saved the game from being a 20 hours long of escort mission hell. Storywise, as Booker the player has to escort Elizabeth to escape the floating city Columbia. However, gameplaywise it actually feels like we're the one being escorted by Elizabeth. She's the one providing health replenishment, weapons and other useful stuff she brings from another timeline, and keeping Booker up and fighting.
---
Trivia 
Take a look at this Elizabeth cosplay photo. Pretty cool, right? Well, guess what, that is who Elizabeth's model is based on—a Russian cosplayer Anna 'Ormeli' Moleva. So basically she's the real-life Elizabeth, though not including the voice which was done by a different person.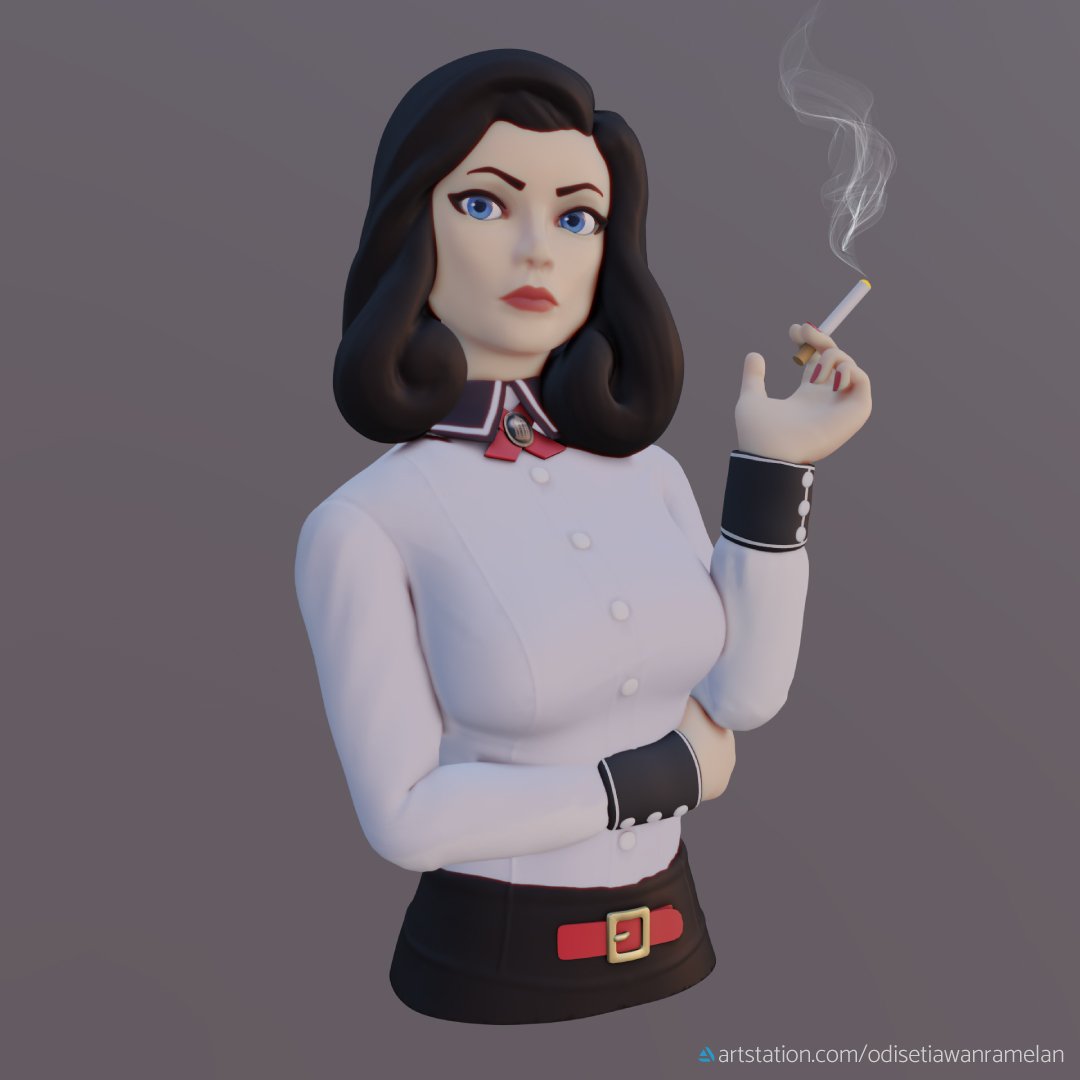 Preview viewport render
---
Oh yes, she is actually coloured. I decided to vertex paint her instead of going through the longer route to retopologize and uv unwrap her because this is for a one-off render only. However, due to my laptop screaming in agony while I paint her texture in extremely high-polycount I can't give much texture details. 
I've been spending a lot of time in modelling and texturing some of my other WIP characters that I forgot how to sculpt some things, which is somewhat frightening. Yes, I think that's what I feel. I think I'll try to do one speed sculpt a day to keep my hard-acquired sculpting knowledge.  
But, good thing the result turned out the way I was going for, so I'm quite satisfied. Although it kinda sucks that the sculpted details on her clothes (wrinkles, bumps and crevices, etc) which I spent a lot of time on are barely visible after she's posed. As a reference for those of you who never played the game here's the original character looks like: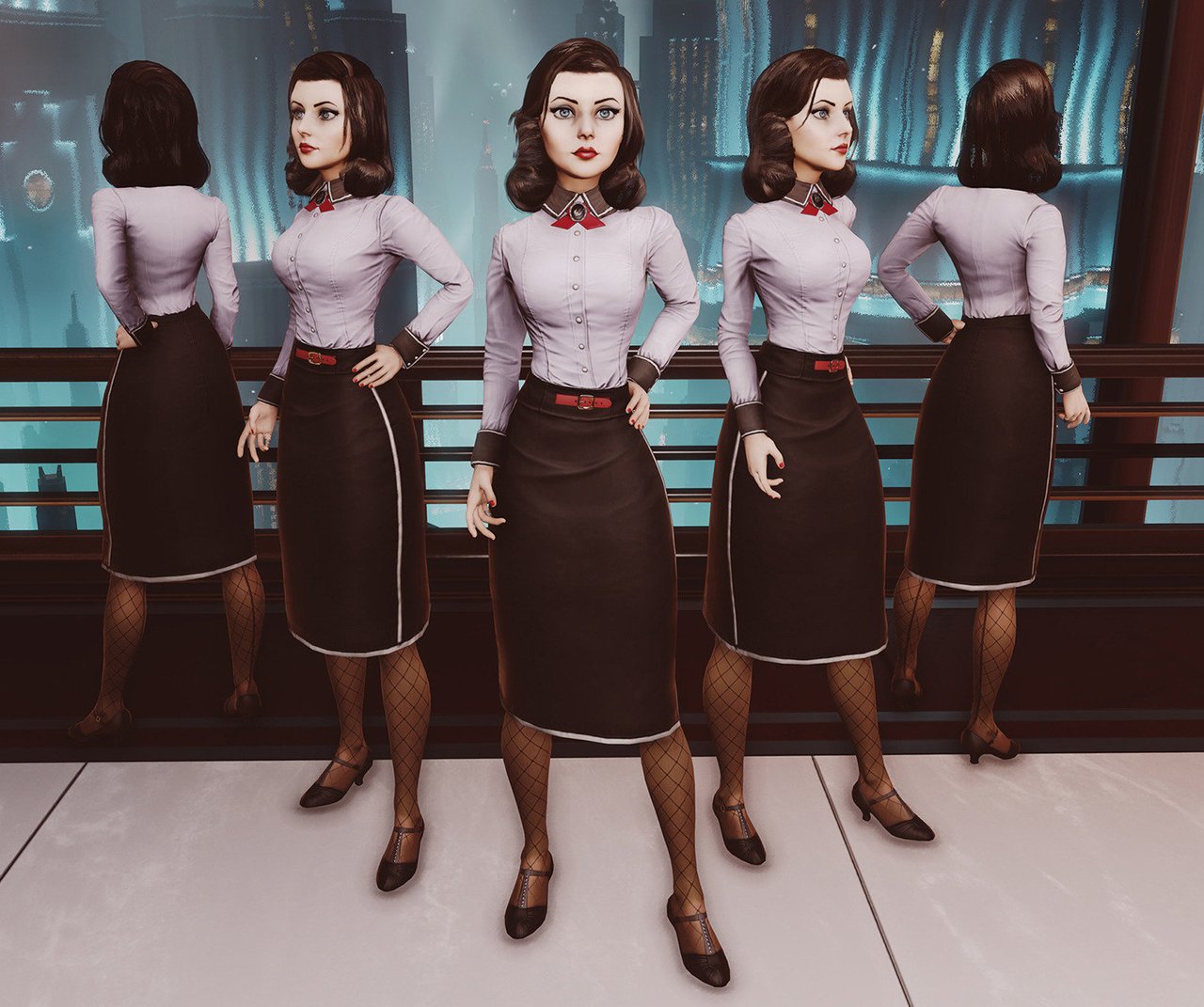 Image property of Gavin Goulden 
---
This femme fatale look is her third appearance in the game, which suits her matured, darker character really well. Especially during the scene where blood splattered to her face and shirt as she watches Booker gets brutally murdered by getting his body drilled from the back by a Big Daddy. 
Here's my sculpted model before the pose when the clothes details are visible: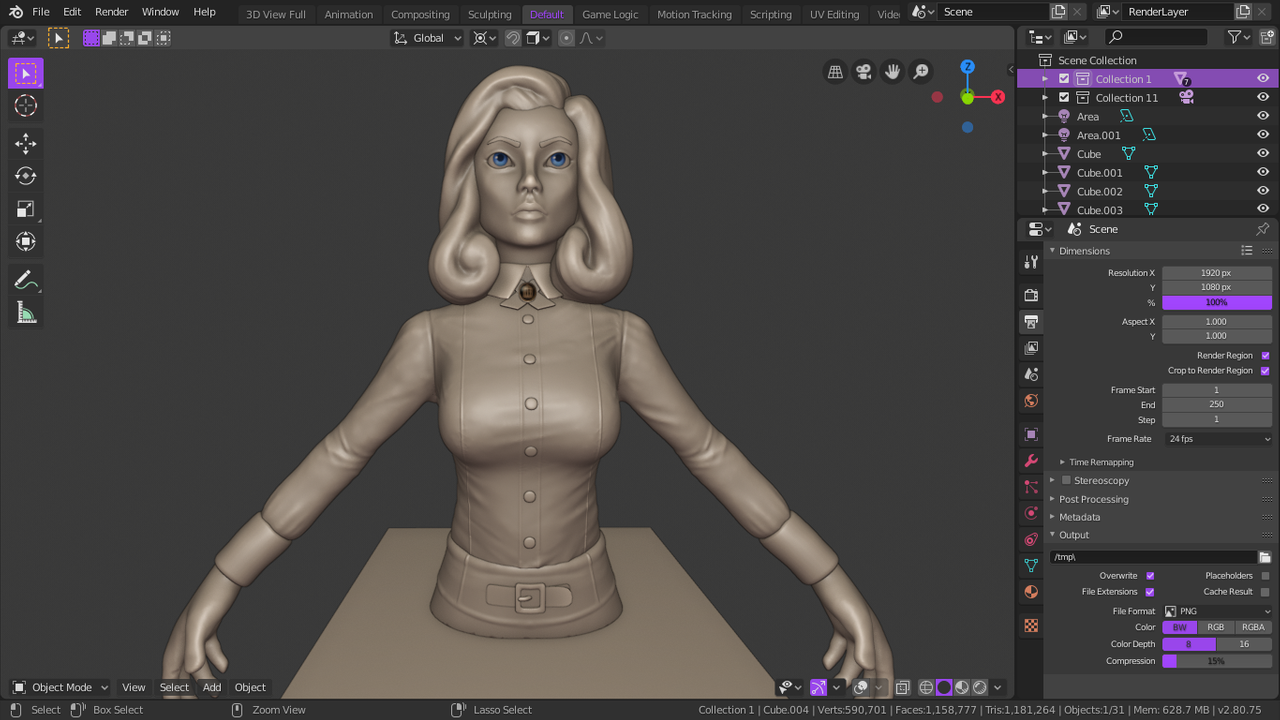 My friend didn't believe me when I said all this started with a plain cube. Well, it was something hard to believe for me as well before I began 3d modelling. But right now, sometimes staring at the default cube in Blender can get me started real quick, or make me confused what to make of it. 

As for now, my plan for my 3d modelling is to do more practise rather than research because in the past there was a time when I observe too much that I didn't create much. And my plan for this incredible game is to forget about it as much as I could, just so I can play it again a few years from now and get stunned by its story like the first time again. Though, making this post brought some of my memories of the game back.
Is there any game from the modern era that you love so much you want to put it on a pedestal? If not, maybe you'll like BioShock Infinite then. I like hearing what you think about my work. So if you have any questions, critics, or any thoughts let me know in the comment below. Thank you to @archdruid for the fun contest, and thanks to you for visiting my post. I hope you'll visit again on the next one!
I'll leave you with this music from Rapture Records.


Commission

I'm open for commission. I make 3d rendered stylized character portraits for your icon, portrait, wallpaper, etc. And I make logo too! Click the buttons below to see the terms and conditions.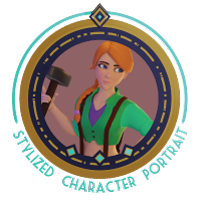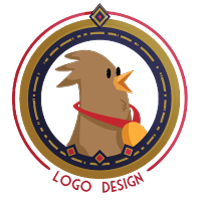 If you're interested, you can contact me on:
Discord: Rain#9999
Twitter: @ProbablyRainite
Email: careforacoffee@gmail.com

Coming soon:
Combining Commissioned Characters
Stylized Game-Ready Weapons
Stylized Game-Ready Character
Stylized 3d Print-Ready Character
---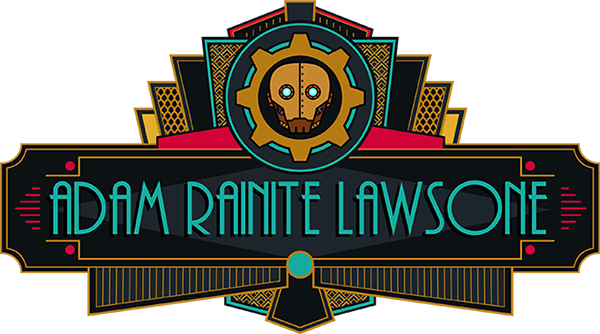 ---
©2019 Adam Rainite Lawsone