Hello Guys! Another Drawing for the day, i just want to share it with y'all because this is my entry to the art contest i'd joined last year, its was so fun and i never expected that my entry will got the 1st place. ♥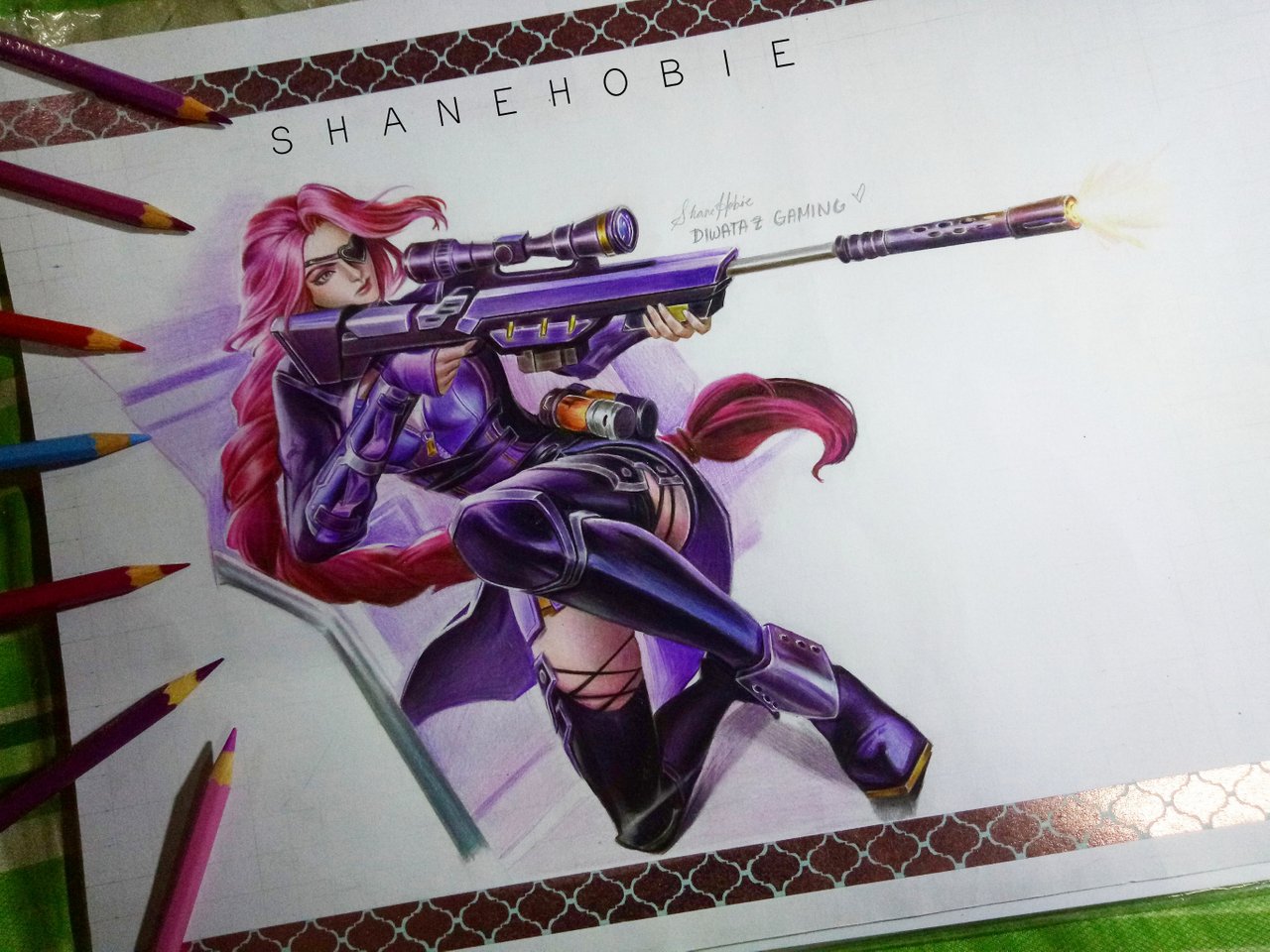 I don't usually joining art contests because i thought that i will never win. And now i'm so happy that i can.
I will show you the process of it, and list the materials i used.
✏✏✏✏✏✏✏✏✏✏✏✏✏✏✏✏✏✏
MATERIALS:
Faber Castell Classic Colored Pencils
Faber Castell Pencil
A3 sized Orange(brand) Vellum Board
Cotton
✏✏✏✏✏✏✏✏✏✏✏✏✏✏✏✏✏✏
STEP BY STEP PROCESS:
GRID METHOD
First that we should always do is to lineart before coloring so we can have our guide of what part should we color these parts.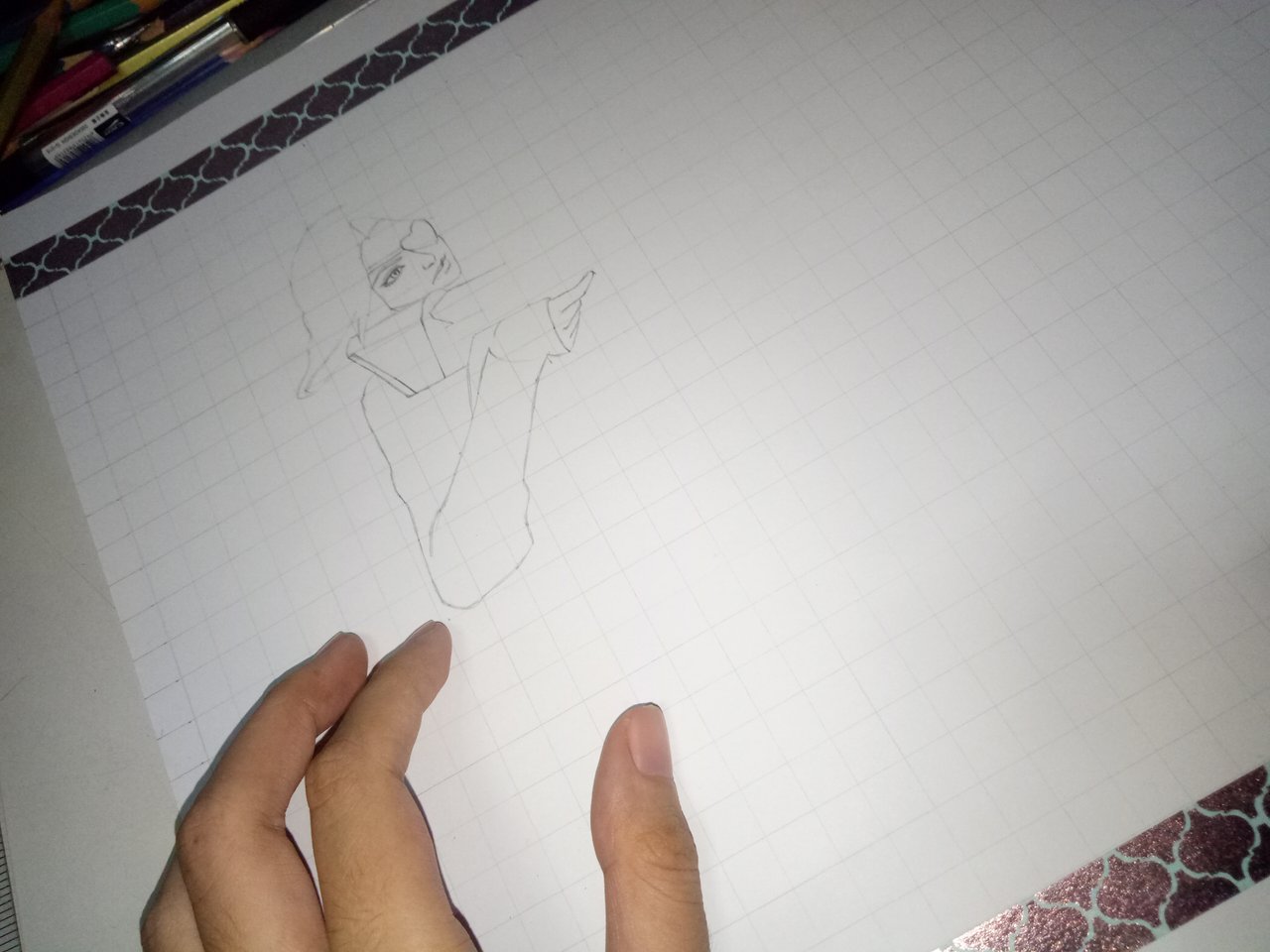 ✏✏✏✏✏✏✏✏✏✏✏✏✏✏✏✏✏✏
Then, after doing linearts, we can now start coloring it. First i will color the face first since i believe that when i do the face first it will determine if i gonna do it. Its just me you know, thats what i believe.
➖➖➖➖➖➖➖➖➖➖➖➖➖➖➖➖
Skin tone : Peach ➡ Gray ➡ Pink ➡ Peach/White.
Lips: Peach(slight base)➡ Red ➡ Pink ➡ Maroon(for dark part)
With Smudge method using cotton.
Black Pencil with sharp tip for detailing.
➖➖➖➖➖➖➖➖➖➖➖➖➖➖➖➖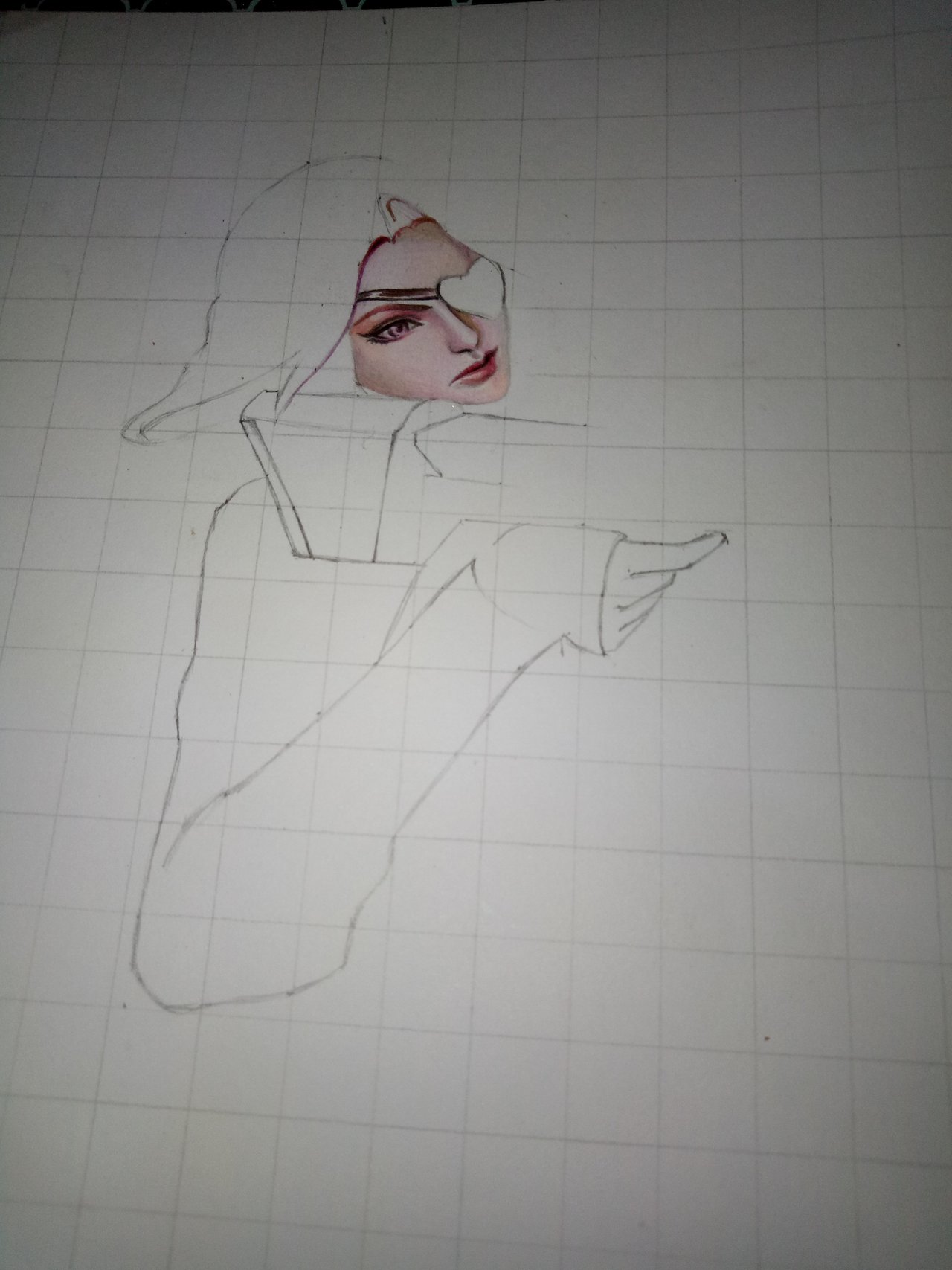 ✏✏✏✏✏✏✏✏✏✏✏✏✏✏✏✏✏✏
For hair, i'll use pink for base, maroonand black for dark parts, red for mixed color parts. Same method, layering and smudge until you can get her desired hair color.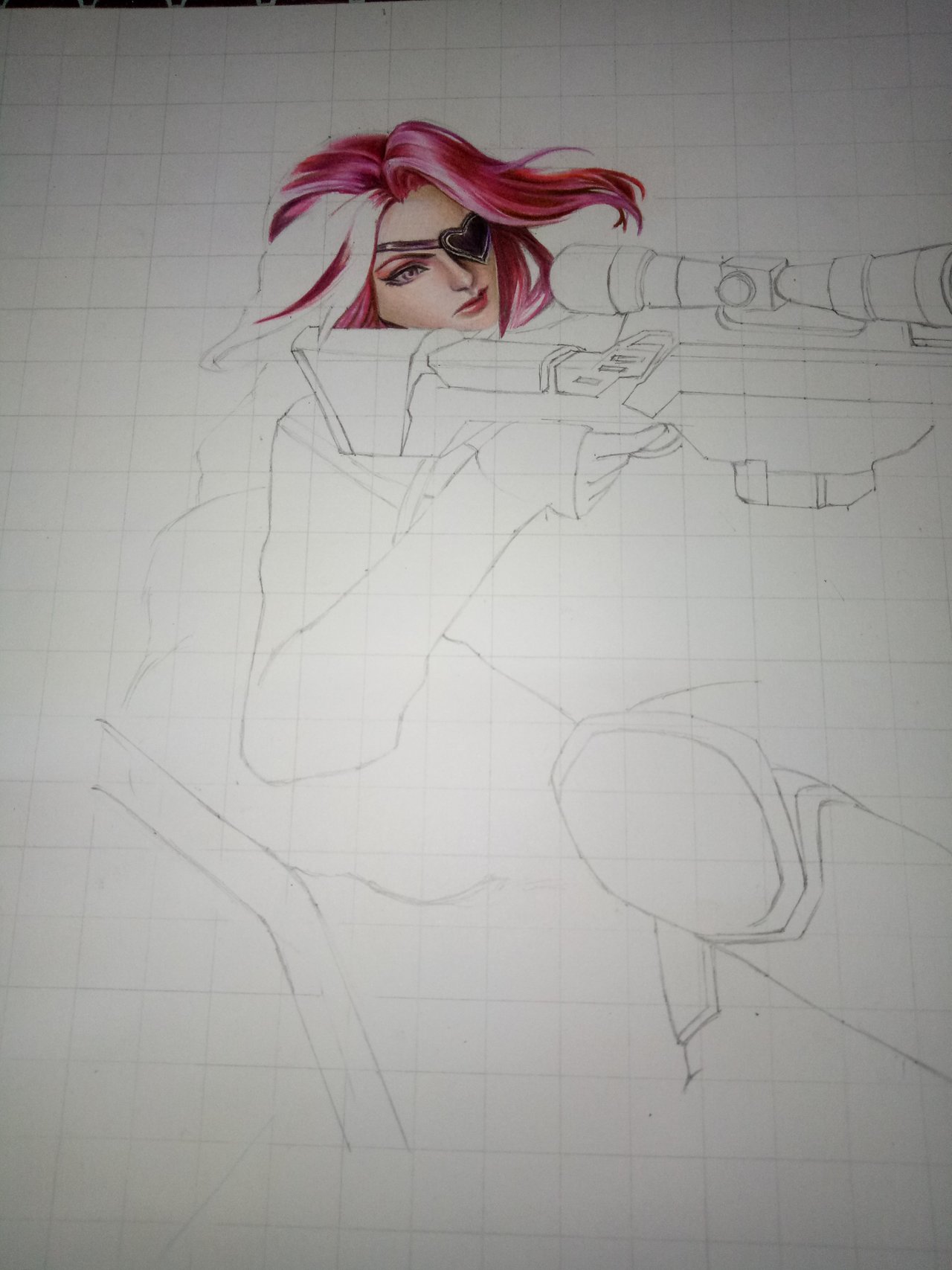 ✏✏✏✏✏✏✏✏✏✏✏✏✏✏✏✏✏✏
I didint finish the bottom part of her hair because of color mixed, i will do her sniper gun because i'm a quite excited of doing detailed parts her gun color is Blue Violet and black. Same method layering and smudge. Black colored pencil with sharp tip for detailing.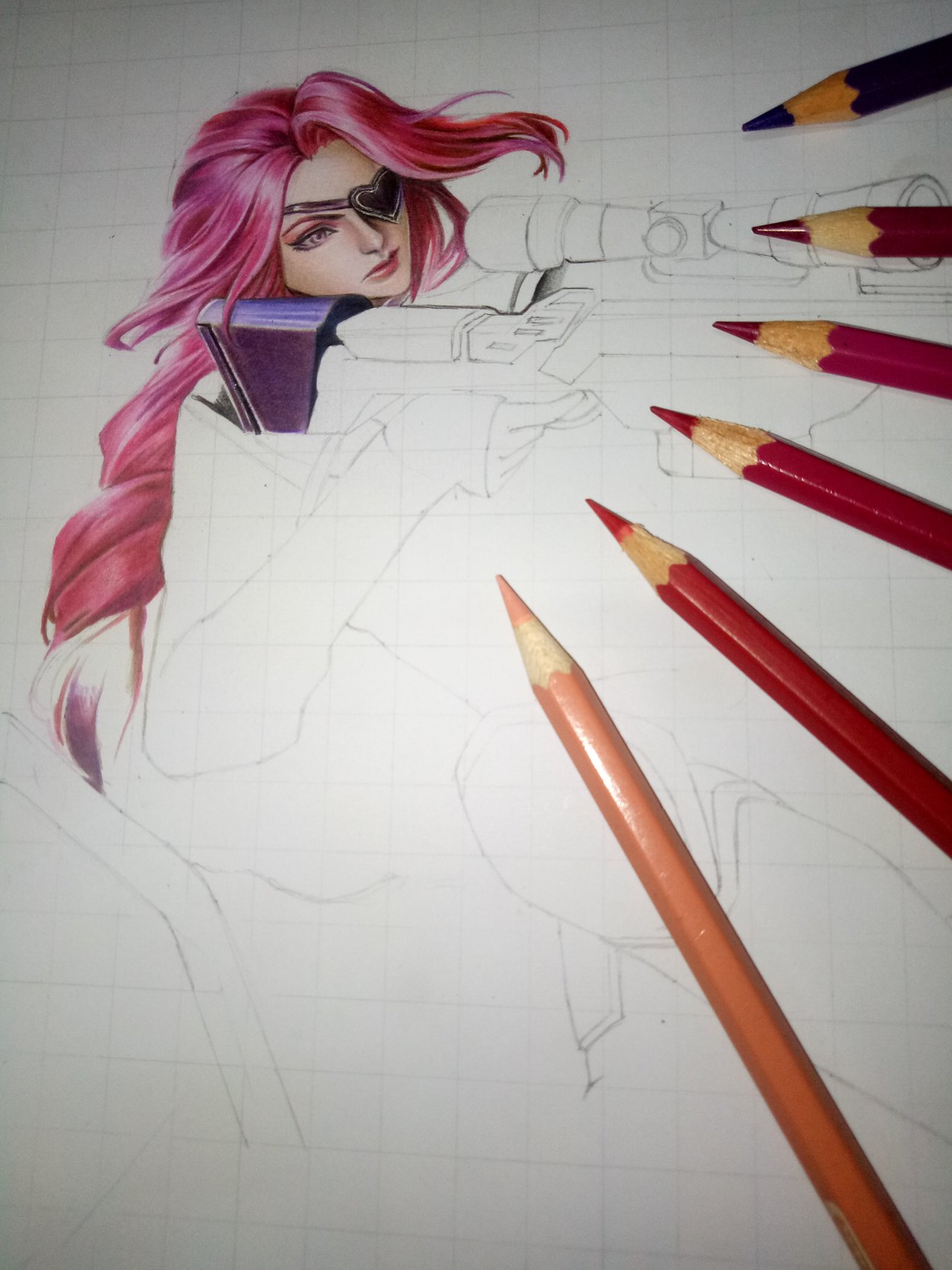 ✏✏✏✏✏✏✏✏✏✏✏✏✏✏✏✏✏✏
I just continue coloring her gun and her body. Make sure you color it with hard pressuring it might destroy your drawing.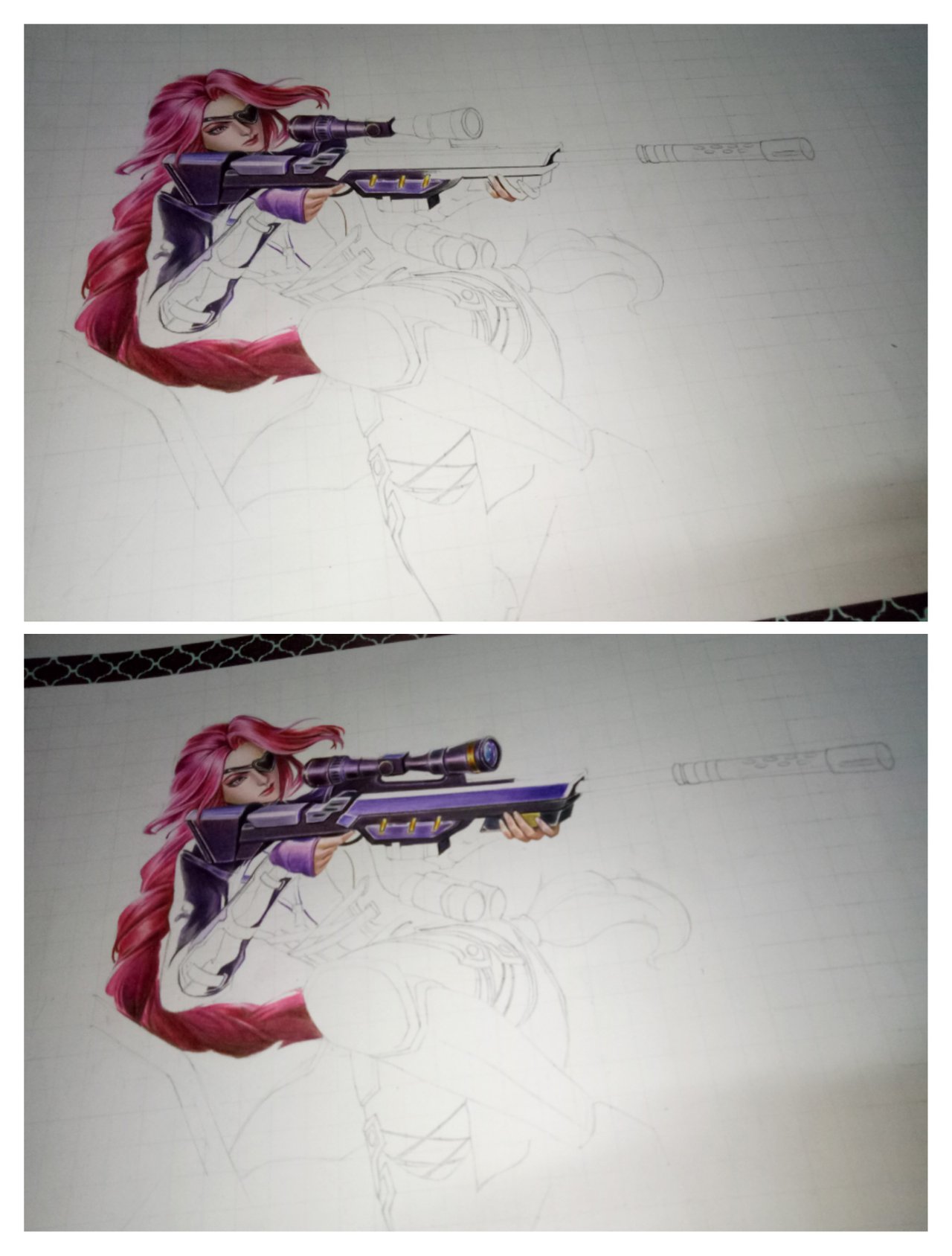 ✏✏✏✏✏✏✏✏✏✏✏✏✏✏✏✏✏✏
*These are the continuation process':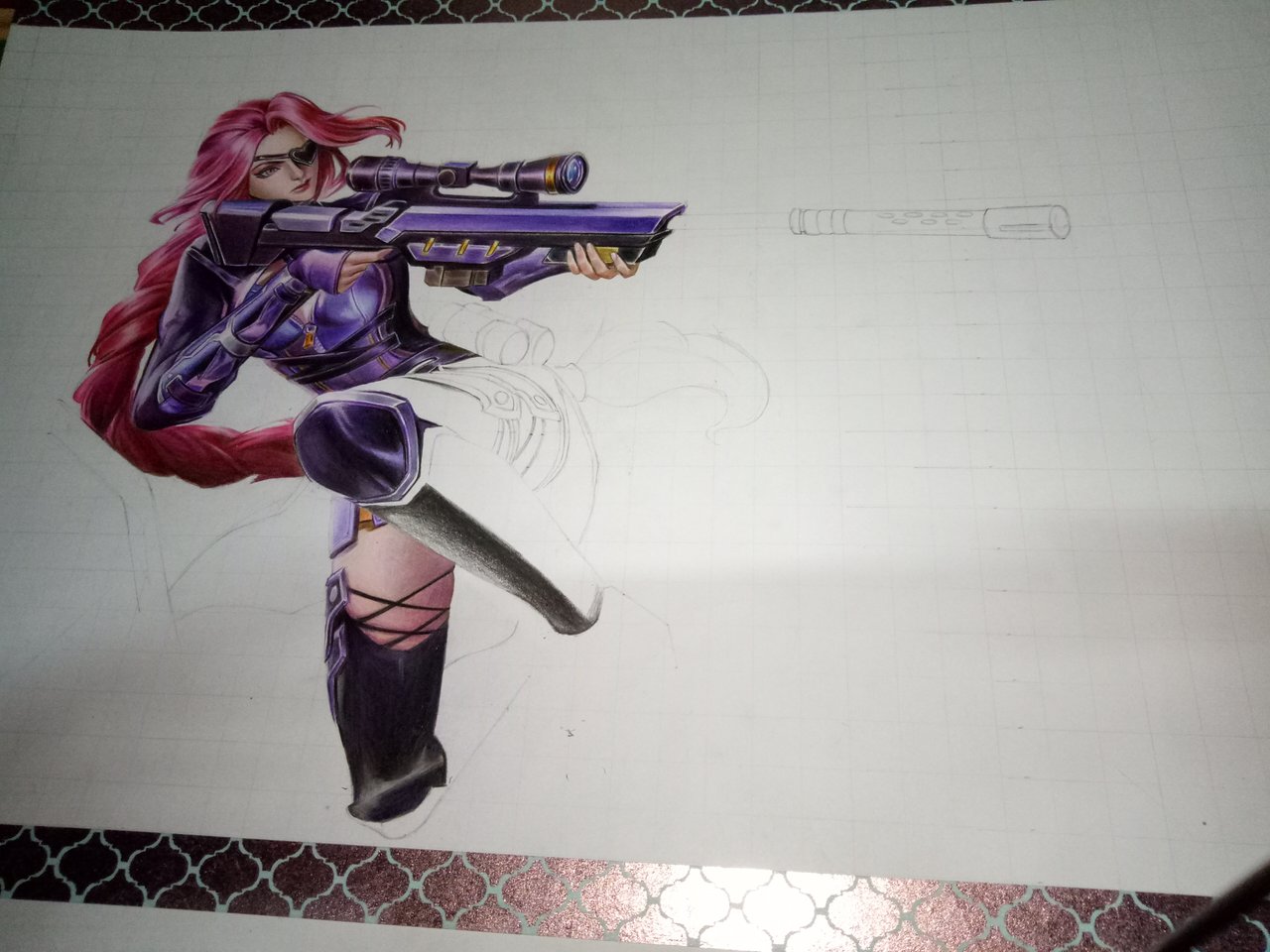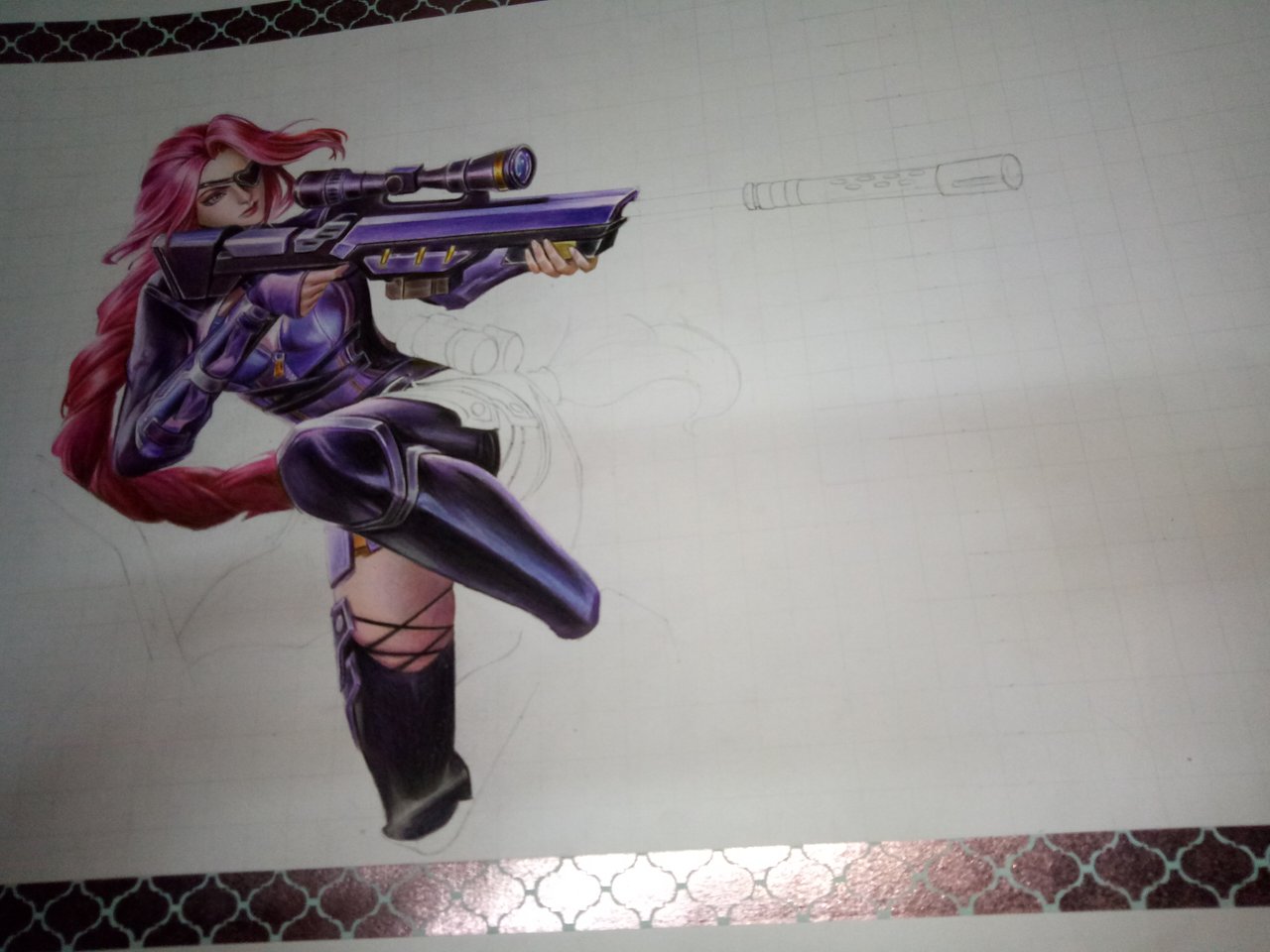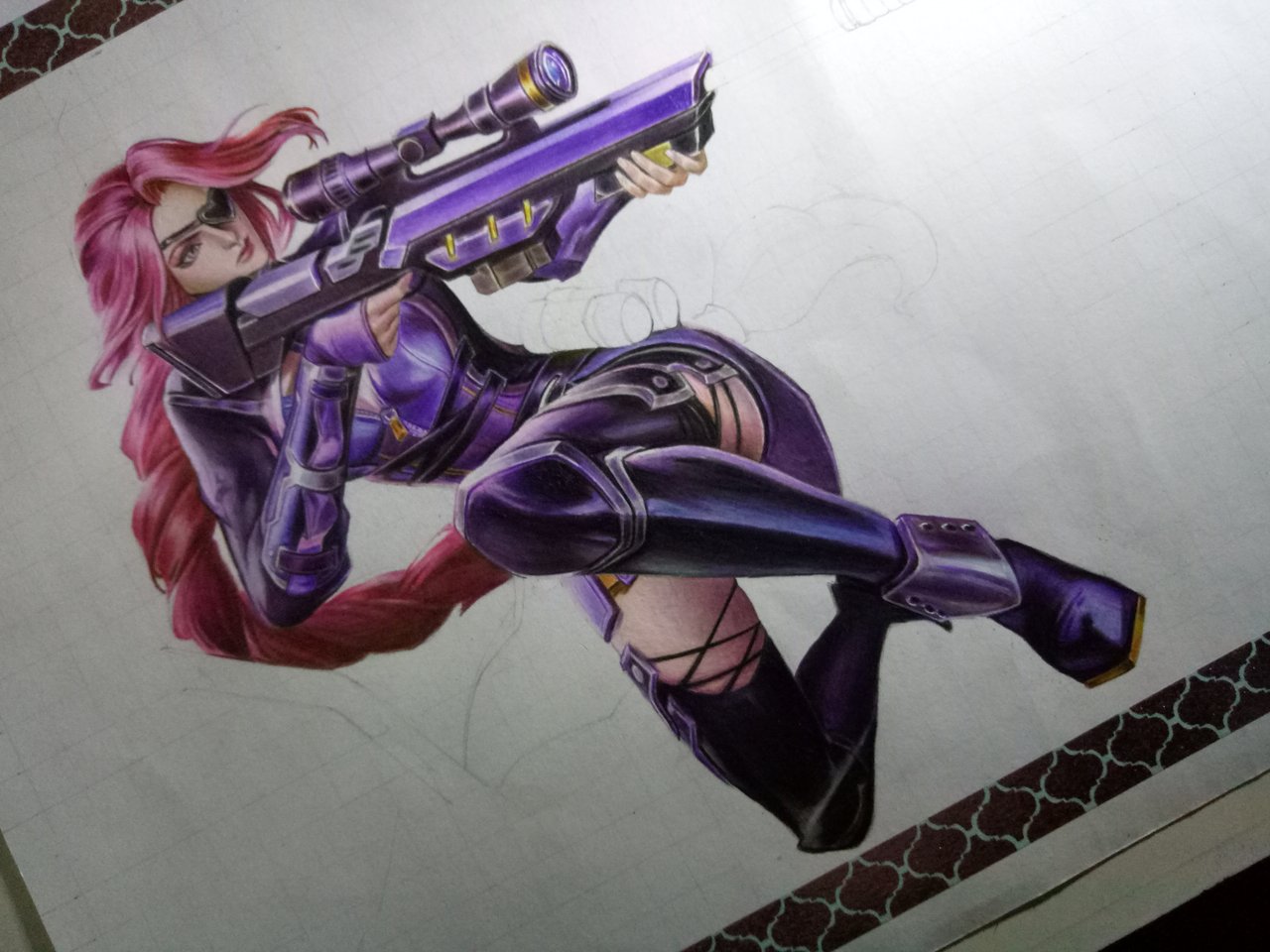 🌹🌹🌹🌹🌹🌹🌹🌹🌹🌹🌹🌹🌹🌹🌹🌹
And this is my finished drawing of Lesley's Lethal Lady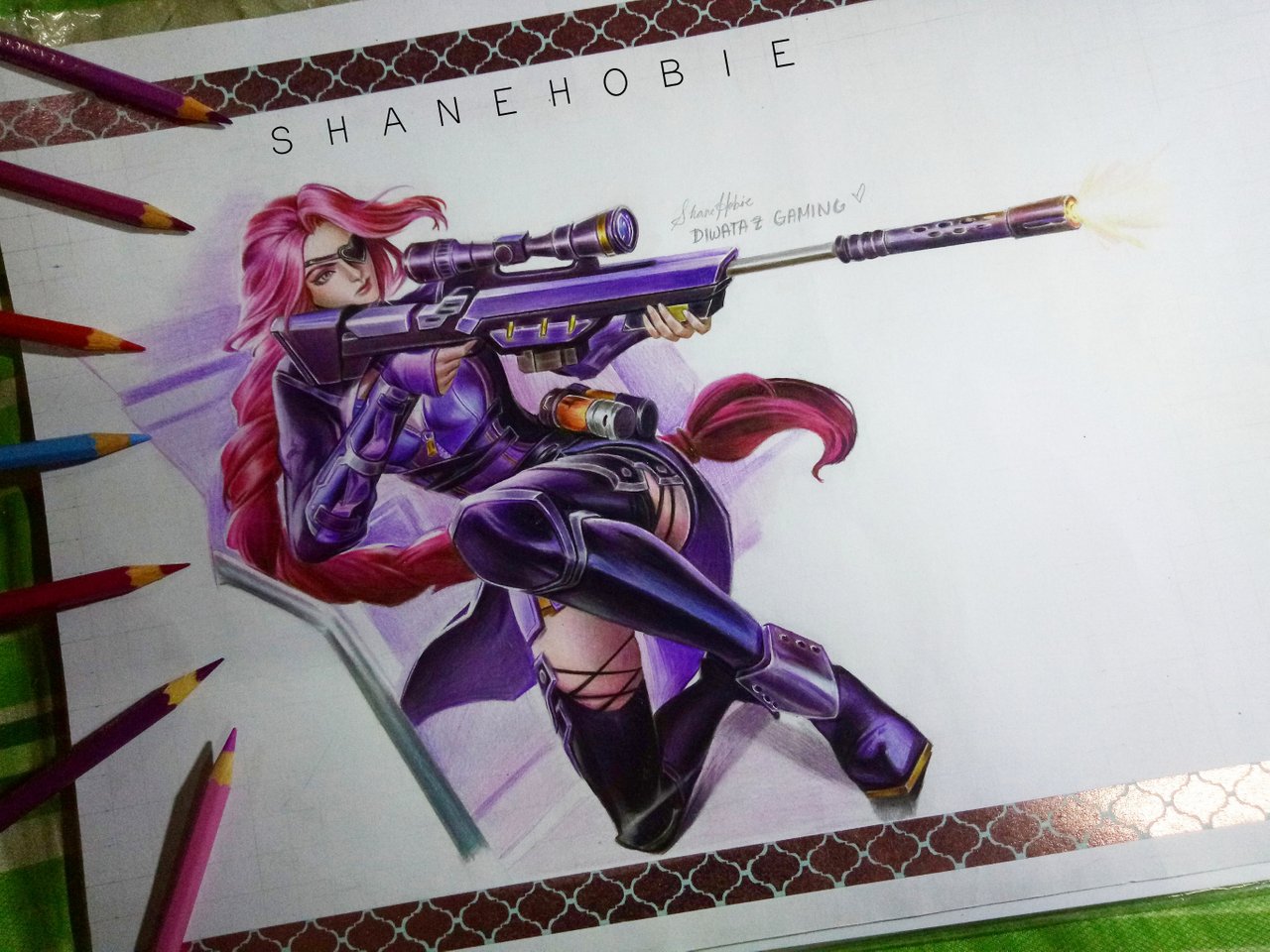 🌹🌹🌹🌹🌹🌹🌹🌹🌹🌹🌹🌹🌹🌹🌹🌹
"I HOPE Y'ALL ENJOY MY DRAWING BLOG JOURNEY"
"THANKYOU EVERYONE FOR VIEWING AND KEEP SUPPORTING TRADITIONAL ARTIST."
♥♥♥♥♥♥♥♥♥♥♥♥♥♥♥♥