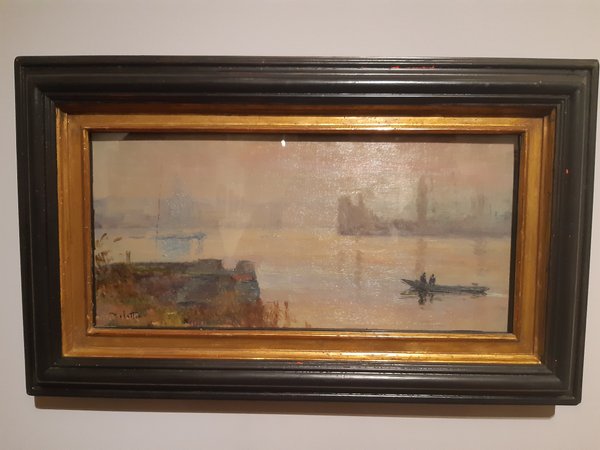 Joseph Delattre The loading ramp at Petit-Couronne.
Ciao a tutti steemians, qualche giorno fa sono andato a questa mostra artistica tenutasi ad Asti, la mostra si chiamava Monet e gli impressionisti della Normandia. Nella mostra erano esposte molte opere degli impressionisti francesi. In questo post andremo a vedere come è caratterizzato l'impressionismo. Vi auguro un buona lettura!
Hello to all steemians, a few days ago I went to this artistic exhibition held in Asti, the exhibition was called Monet and the impressionists of Normandy. The exhibition exhibited many works by the French Impressionists. In this post we are going to see how impressionism is characterized. I wish you a good read!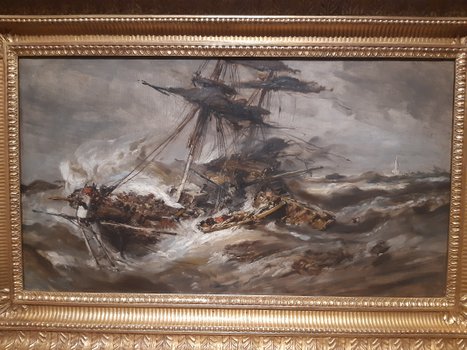 Eugene Isabey, Ships in storm.
L'impressionismo. The impressionism.
L'impressionismo è una corrente artistica che nasce in Francia, tra il 1860 e 1870 e termina attorno ai primi del novecento. L'impressionismo ha come soggetto la rappresentazione di paesaggi naturalistici all'aria aperta, di fatti, questo periodo viene definito "en plein air" ovvero all'aria aperta. L'impressionismo può essere visto come un proseguimento di altre due correnti artistiche, Il Romanticismo e il Realismo. L'impressionismo è stato in particolar modo influenzato dalla nascita delle macchine fotografiche, basti pensare che l'impressionismo era una pittura istantanea e come tale, si usavano particolari giochi di luce naturale causati del normale ciclo giorno-notte. L'impressionismo getterà le basi per un altro movimento artistico, l'espressionismo.
L'impressionismo prende il proprio nome da un'opera di Claude Monet, "Impression, soleil levant" ovvero "Impressione levar del sole".
Gli artisti principali sono: Claude Monet, Edgar Degas, Pierre Auguste Renoir e, citandone uno italiano, Federico Zandomeneghi.
La corrente impressionistica si sviluppa in particolar modo nella Normandia, una regione a nord-ovest della Francia. Non a caso molti paesaggi illustrati nelle opere impressionistiche sono tutt'ora visibili nella Normandia.
Impressionism is an artistic current that was born in France, between 1860 and 1870 and ends around the early twentieth century. Impressionism has as its subject the representation of naturalistic landscapes in the open air, in fact, this period is called "en plein air" or in the open air. Impressionism can be seen as a continuation of two other artistic currents, Romanticism and Realism. Impressionism was particularly influenced by the birth of cameras, just think that impressionism was an instant painting and as such, particular games of natural light caused by the normal day-night cycle were used. Impressionism will lay the foundations for another artistic movement, expressionism.
Impressionism takes its name from a work by Claude Monet, "Impression, soleil levant" or "Impression levar del sole".
The main artists are: Claude Monet, Edgar Degas, Pierre Auguste Renoir and, citing an Italian one, Federico Zandomeneghi.
The impressionistic current develops especially in Normandy, a region in the north-west of France. It is no coincidence that many landscapes illustrated in the impressionistic works are still visible in Normandy.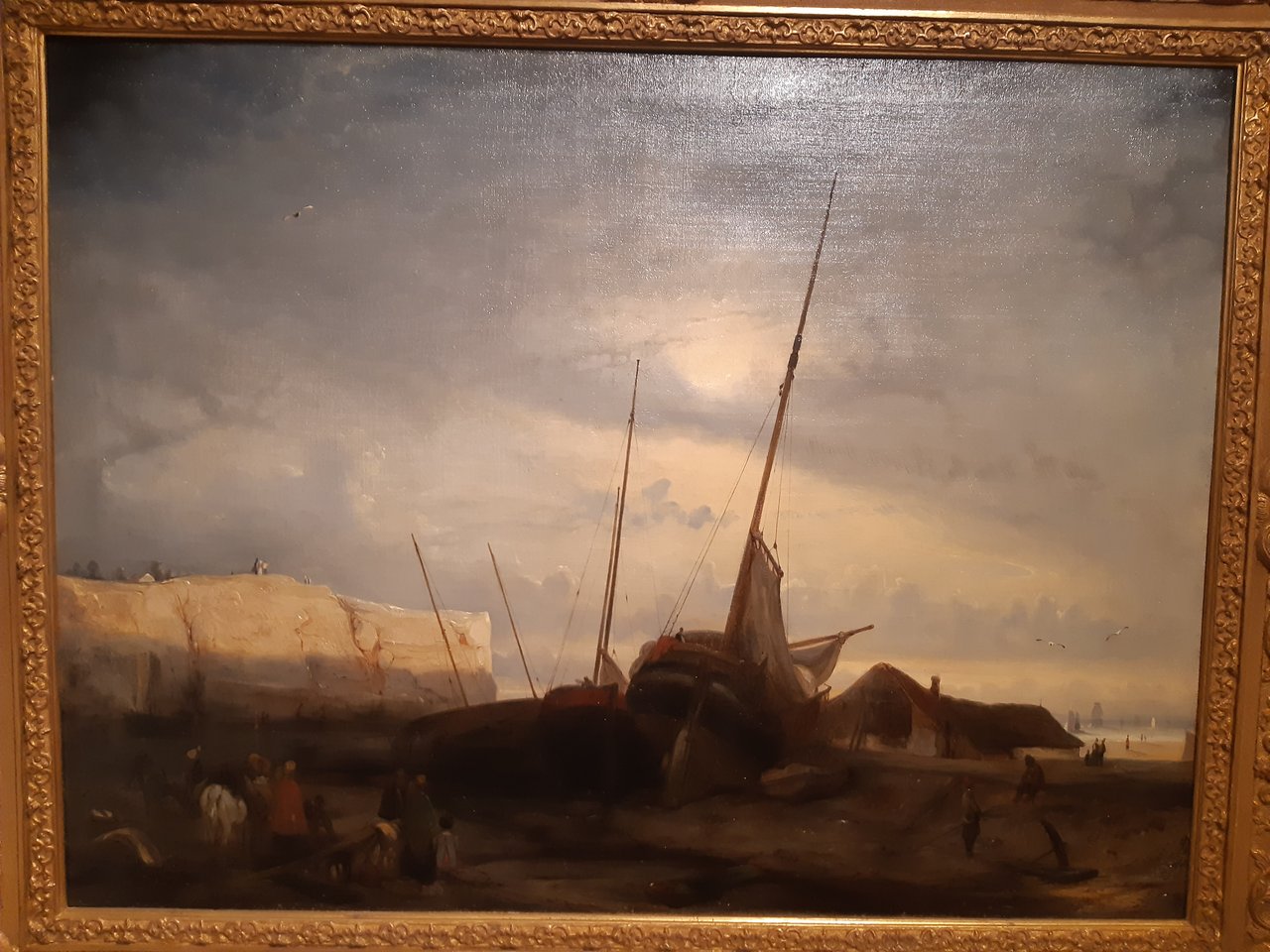 Eugene Le Poittevin, evening sun on the channel coast.
Due parole sull'impressionismo. Two words on impressionism.
L'impressionismo è una delle mie correnti artistiche preferite, mi piacciono molto i paesaggi naturali e mi piace anche del come questa corrente rompa tutti gli schemi artistici. Un dipinto impressionistico non sono altro che delle pennellate veloci, era diventato celebre il video di Monet che dipingeva, quel video da un'idea su come i pittori impressionistici lavoravano. Da vicino sono solo delle pennellate fatte a casaccio, da lontano invece danno l'idea di un paesaggio, è per davvero fantastico! Inoltre, consiglio a tutti voi di andare a vedere qualche quadro impressionistico dal vivo, dato che dai libri o online i quadri non fanno lo stesso effetto che fanno se visti in prima persona. Vedendo i quadri in prima persona noterete un sacco di naturalezza in quelle pennellate e vedrete del come da vicino siano solo degli scarabocchi, o meglio, delle semplici pennellate. L'impressionismo lo trovo geniale, per fare un quadro impressionista gli autori impiegavano massimo 2 ore, niente di più. Una pittura che coglieva l'attimo. Una tra le opere impressionistiche che mi ha affascinato di più è "La cattedrale di Rouen" di Monet. Sono una serie di pitture fatte sempre dallo steso punto di vista in cui cambiano solo le condizioni di luce che risaltano la chiesa di Rouen. La trovo un'idea geniale.
Impressionism is one of my favorite artistic currents, I really like natural landscapes and I also like how this current breaks all artistic patterns. An impressionistic painting is nothing but quick brushstrokes, Monet's painting video had become famous, that video giving an idea on how impressionistic painters worked. Up close they are just brush strokes made at random, from a distance they give the idea of ​​a landscape, it is really fantastic! In addition, I advise you all to go and see some live impressionistic paintings, since the pictures do not have the same effect from books or online as they do when viewed in first person. Seeing the paintings in first person you will notice a lot of naturalness in those brush strokes and you will see how close they are only scribbles, or rather, simple brush strokes. Impressionism I find it brilliant, to make an impressionist painting the authors took a maximum of 2 hours, nothing more. A painting that caught the moment. One of the impressionistic works that fascinated me most is Monet's "Rouen Cathedral". They are a series of paintings always made from the same point of view in which only the light conditions that highlight the church of Rouen change. I find it a brilliant idea.
Qualche foto della mostra. Some photos of the exhibition.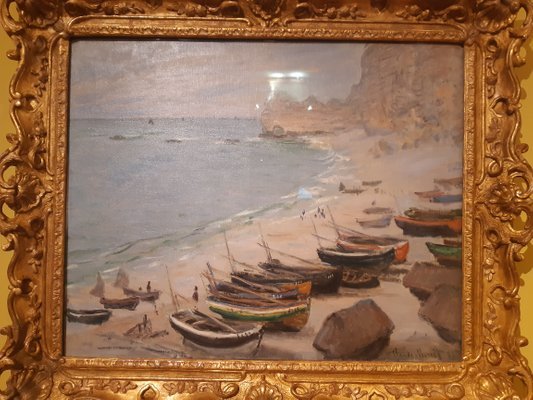 Claude Monet, boats on the beach at Etretat.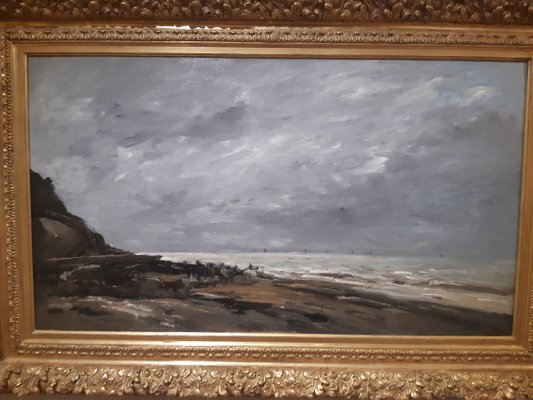 Karl Daubigny, gathering kelp at Villerville.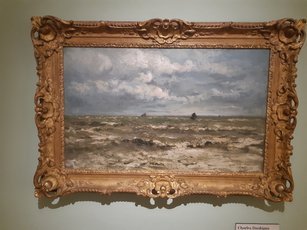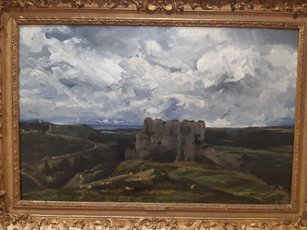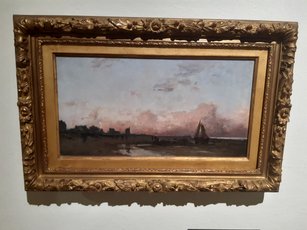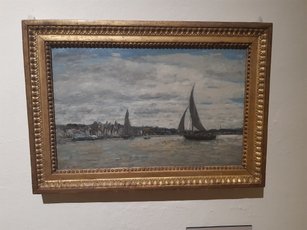 Starting from the top left: Charles Daubigny, Villerville-les-graves sunshine. Paul Huet, view of the castle of Arques-la-bataille. Adolphe-Felix Cals, sunset honfleur. Eugene Boudin, view of Trouville Harbour.
Spero che il post vi sia piaciuto, tutte le foto sono di mia proprietà. I hope you enjoyed the post, all the photos are my property.