THE HAUS
THE HAUS is an project that involves over 100 street-art artist and an old bank. Over time 165 artist turned every room into an extraordinary gallery. Through the entire journey in THE HAUS taking photos was not allowed. You could purchase an book at the end to have a souvenir. The catch to this experience was, that that the bank got demolished after the exhibition. It was a temporary gallery.
Each artist could decide what he wanted to do with his room. There was an total of 108 rooms on 5 floors. From demolished walls to sculptures as big as the room you could see anything. You could choose how much you wanted to pay for the entrance, but you had to wait at least 4 hours in the queue. If you want you could reserve and pay 10€ for an guide through the exhibition without having to wait.
The Haus was standing on Nürnbergerstrasse 68/69 10787 Berlin - Germany
THE HAUS closed its doors on May 31st 2017.
Artists that participated:
1UP
AKTEone
AMANDA ARROU-TEA
AMIGO
ANNE BENGARD
ANDRE LÖSER
ANDREA TAVOLARO
ARSEK + ERASE
ARTE CREATIVE
BASE23
BERLIN GUERILLA
BERLIN KLEBT
BOND TRULUV
BIRNE
CASE MACLAIM
CHRISTOPH VOY
CREN
CRISP
DANIELA UHLIG
DEEDEEKID
DEERBLN
DIE DIXONS
DINO RICHTER
DISTURBANITY
DRINK AND DRAW
DR. MOLROK
DXTR
EL BOCHO
EMESS
FELIX RODEWALDT
FIONA
GHETTOSTARS
GOGOPLATA
GUILLERMO S. QUINTANA
HERAKUT
HERR VON BIAS
HOLYWOW
HONSAR
ICKE ART
INTERNATIONAL JUSTICE MISSION
INNERFIELDS
NSANE51
JADORE
JEROME GRAFF
KALEIDO
KEF!
KERA
KKADE
KLEBEBANDE
KOBE EINS
KOIKATE
LAMIA // TAPE OVER
LAURUS & DEMUT
LENNART BREDE
LOUIS BOTTERO
MARIO MANKEY
MASHA
MICHA KOCH
MR.WOODLAND
MONSTA179
MR GALLE // TAPE OVER
NICK FLATT & PAUL PUNK
NOTES OF BERLIN
OMSK167
ONE TRUTH
ONUR
OSTAP
PAULO CONSENTINO
POPAY
QUINTESSENZ
ROCCO UND SEINE BRÜDER
ROTKÄPPCHEN GOLIATH
SASAN
SELFMADECREW
SEMOR
SEÑOR SCHNU
SIDNEY ARNOLD
SIZE2
SONICE DEVELOPMENT
STECKDOSE
STEFFEN SEEGER
STOHEAD
SUPERBADBOYS
TAPE THAT
TEKO VAN KUYK
TELMOMIEL
TURBOKULTUR
URKU
URZULA AMEN
UWE ARNOLD
VIDAM
WILLI TOMES
WIZET
YAT
Here are some pictures of the outside, since photographing in the inside was not allowed.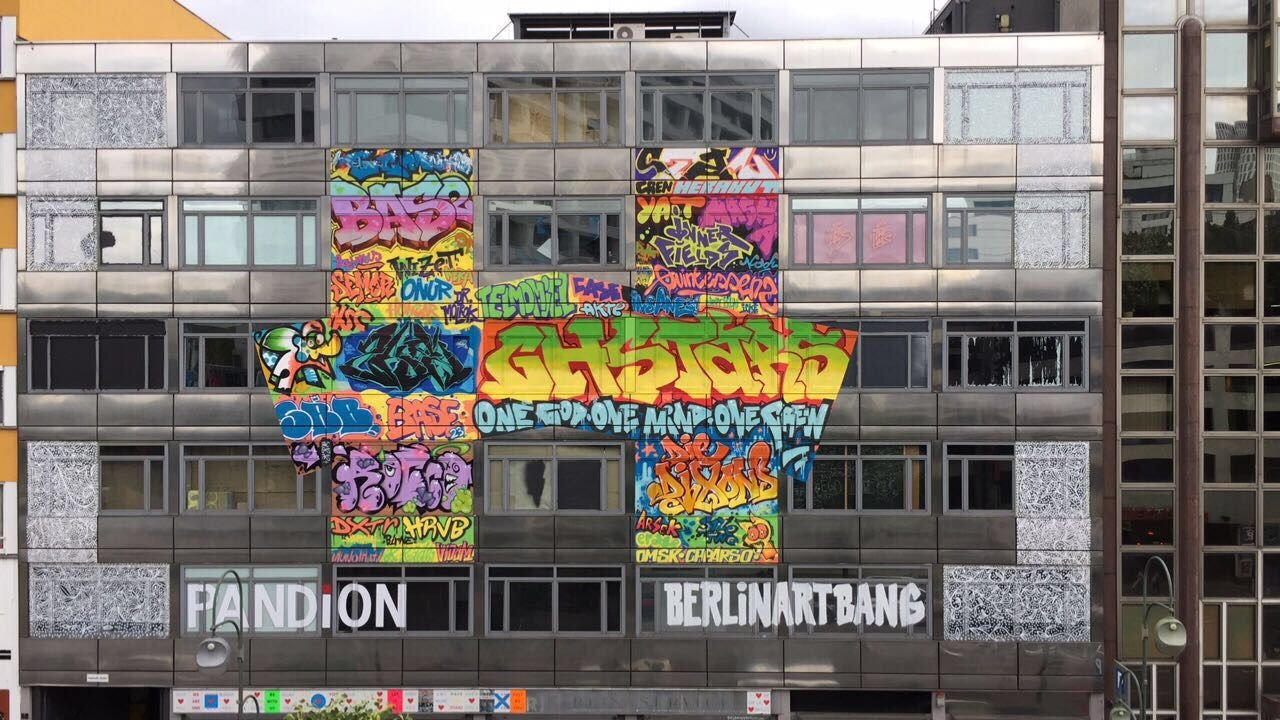 !