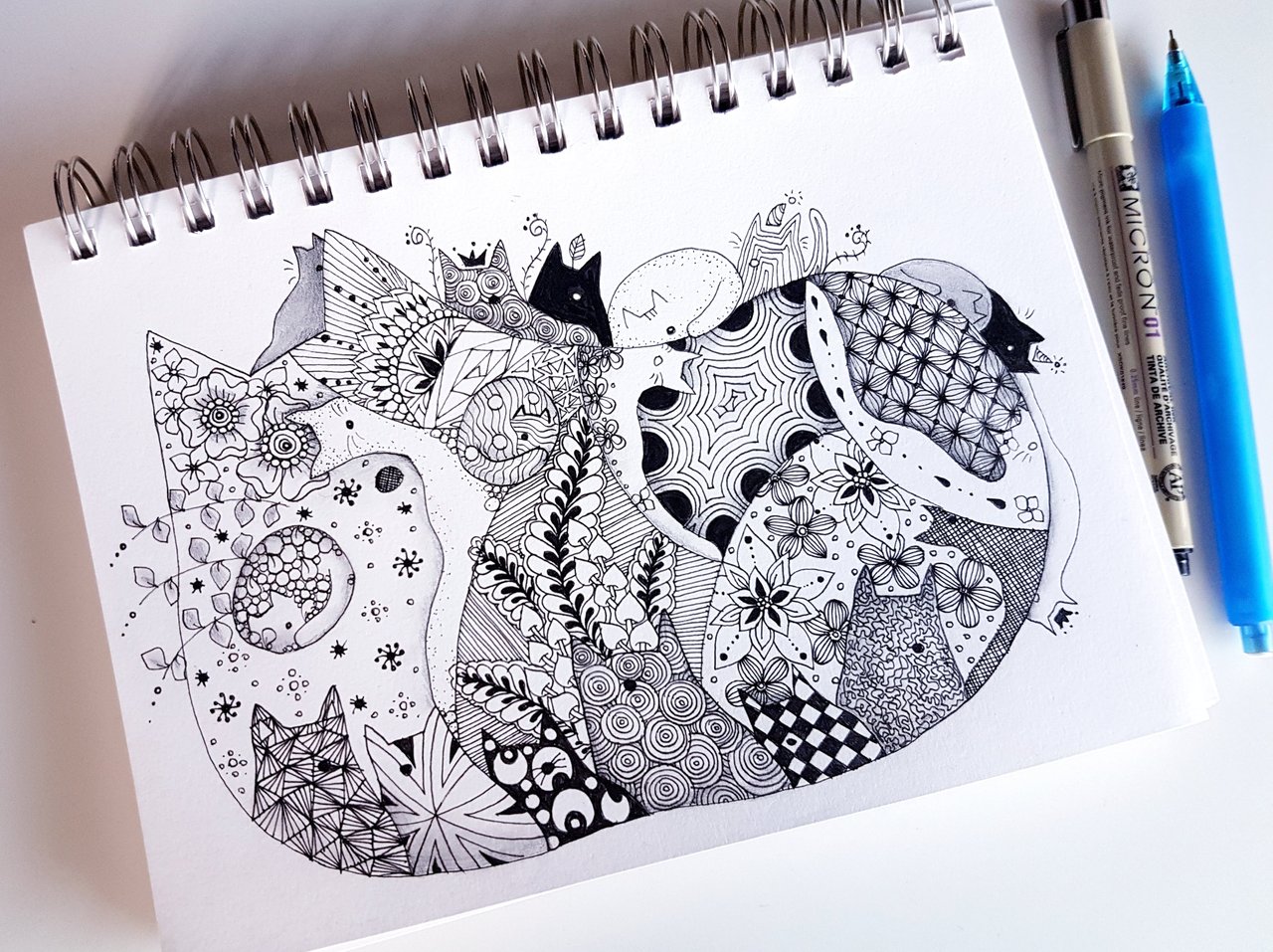 Hi everyone.
I would like to share the drawing that I used for the quiz for my Caturday SBI Giveaway #18](https://steemit.com/caturday/@djynn/caturday-sbi-giveaway-18-sbi-18).
The giveaway is running with a cat theme so I drew many cat shapes and I decided to fill them with different patterns.
Here is the rough sketch.
こんにちは、今日は先週のキャタデー SBI ギブアウェイ #18 に使ったパターンアートを紹介したいと思います。
このギブアウェイは猫をテーマに開催しているのですが、実はネタを考えるのが大変です、笑
今回は猫の形にパターンを描いて使うことにしました。
ザクザクっとスケッチして、猫の形を沢山描きました。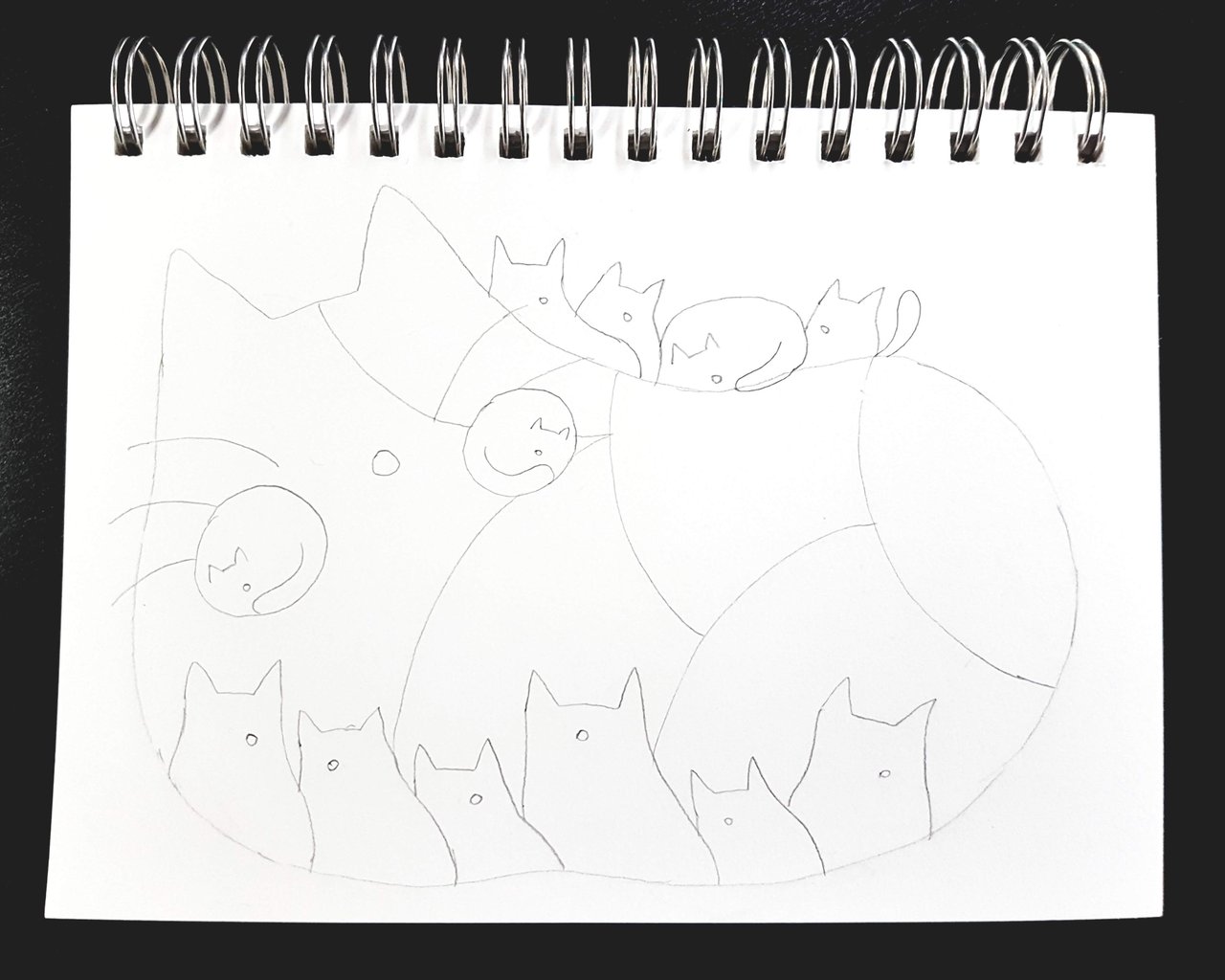 I added more cat shapes as I drew patterns.
I think it's easy to count the cat shapes when the pattern is not drawn on.
さらに猫の形を加えながらパターンを描いていきます。
パターンが描かれていないと、猫の形をいくつ描いたかわかりやすいですね。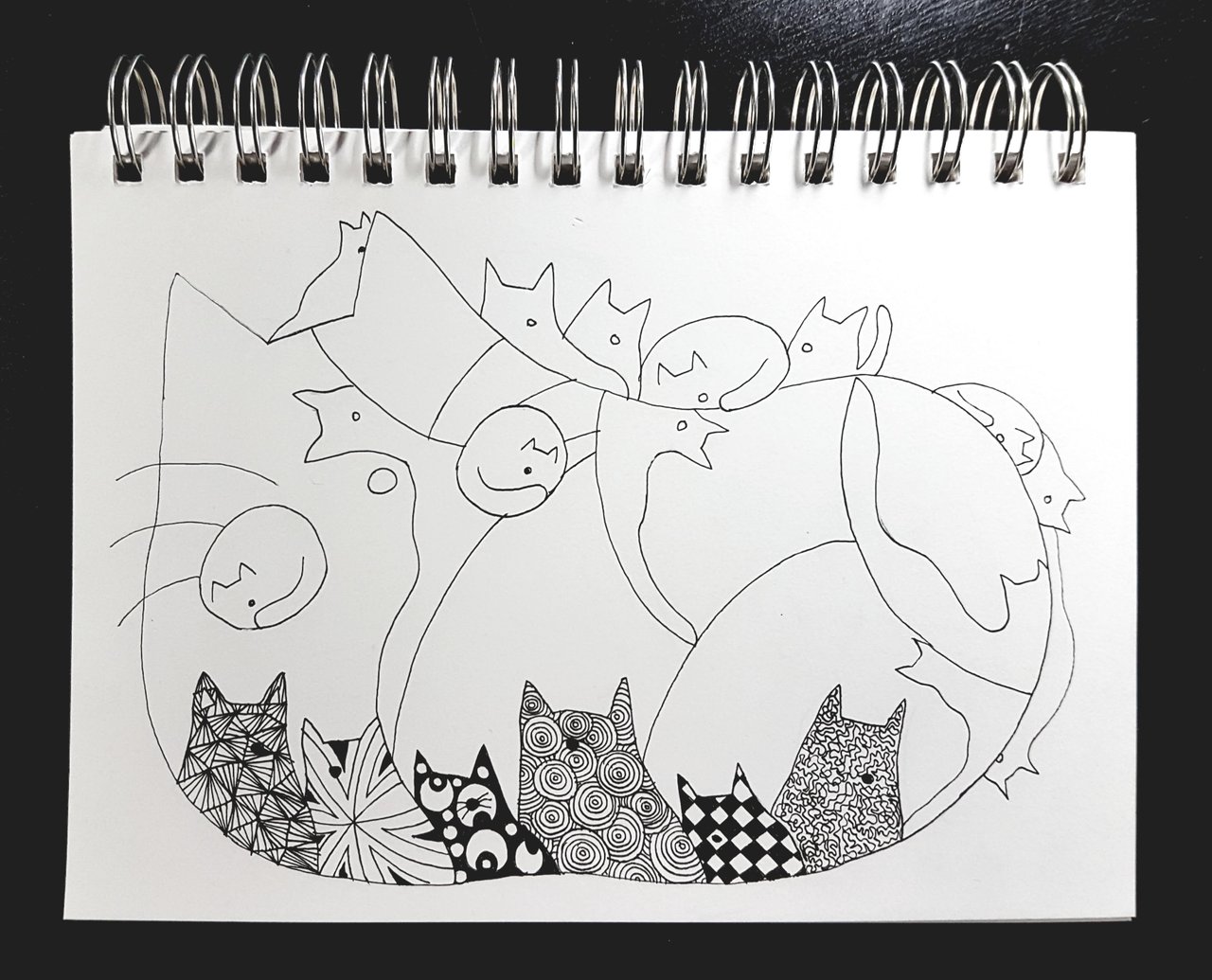 I'm having quite a good time drawing patterns lately because my hand is doing well.
I used to have to take many breaks stretching and massaging my hand but I was able to finish this with only a few breaks.
最近、手の調子が良いのでパターンを描くのが楽しいです。
以前は1つの作品を仕上げるのに何度も休みながら、手をストレッチしたりマッサージしたりしながらでないと描けなかったのですが、今回は2度ほど休んだだけでした。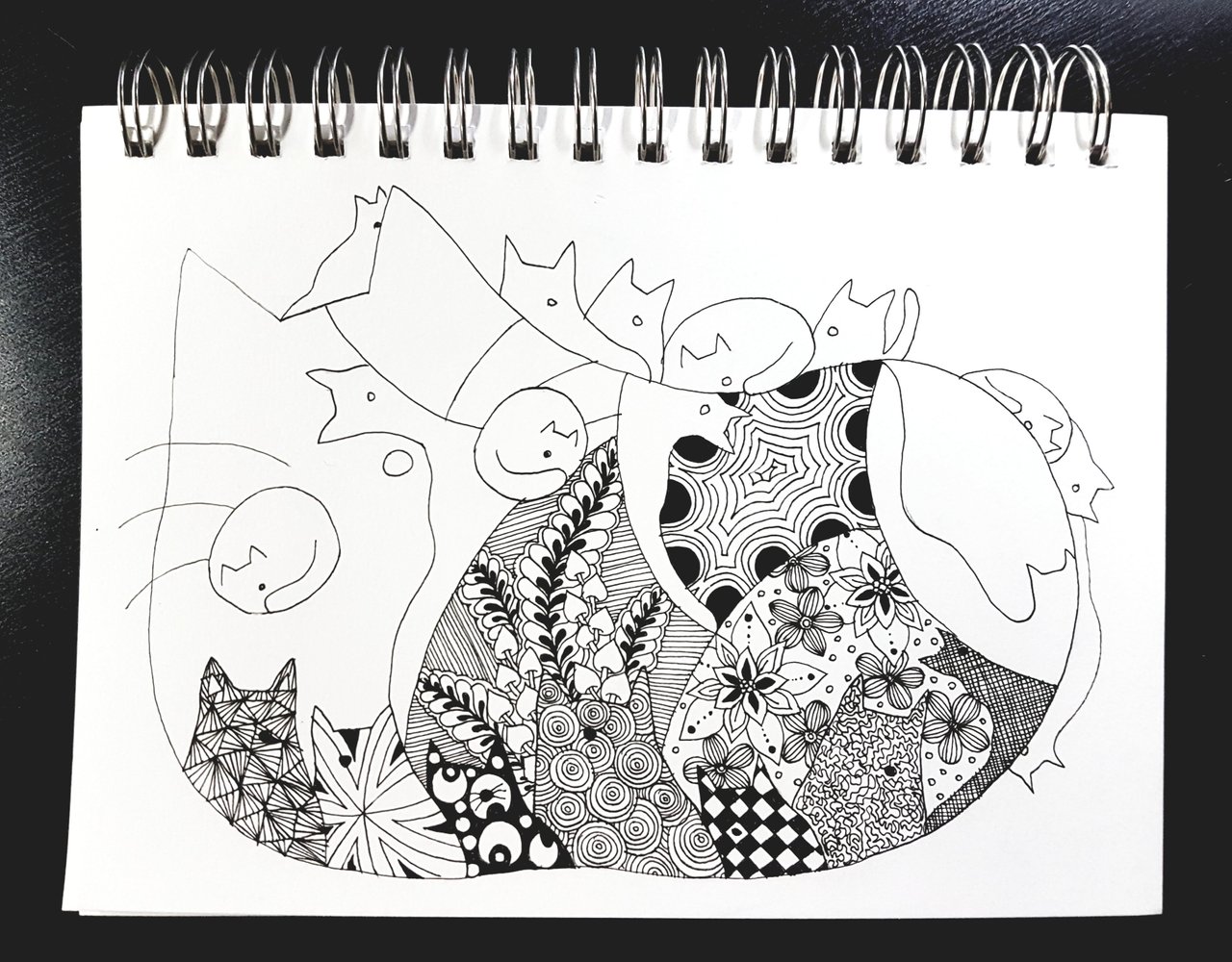 21 cat shapes filled with patterns to make your eyes wonky haha
猫は全部で21匹…全部見つけようとすると目がチカチカしますねwww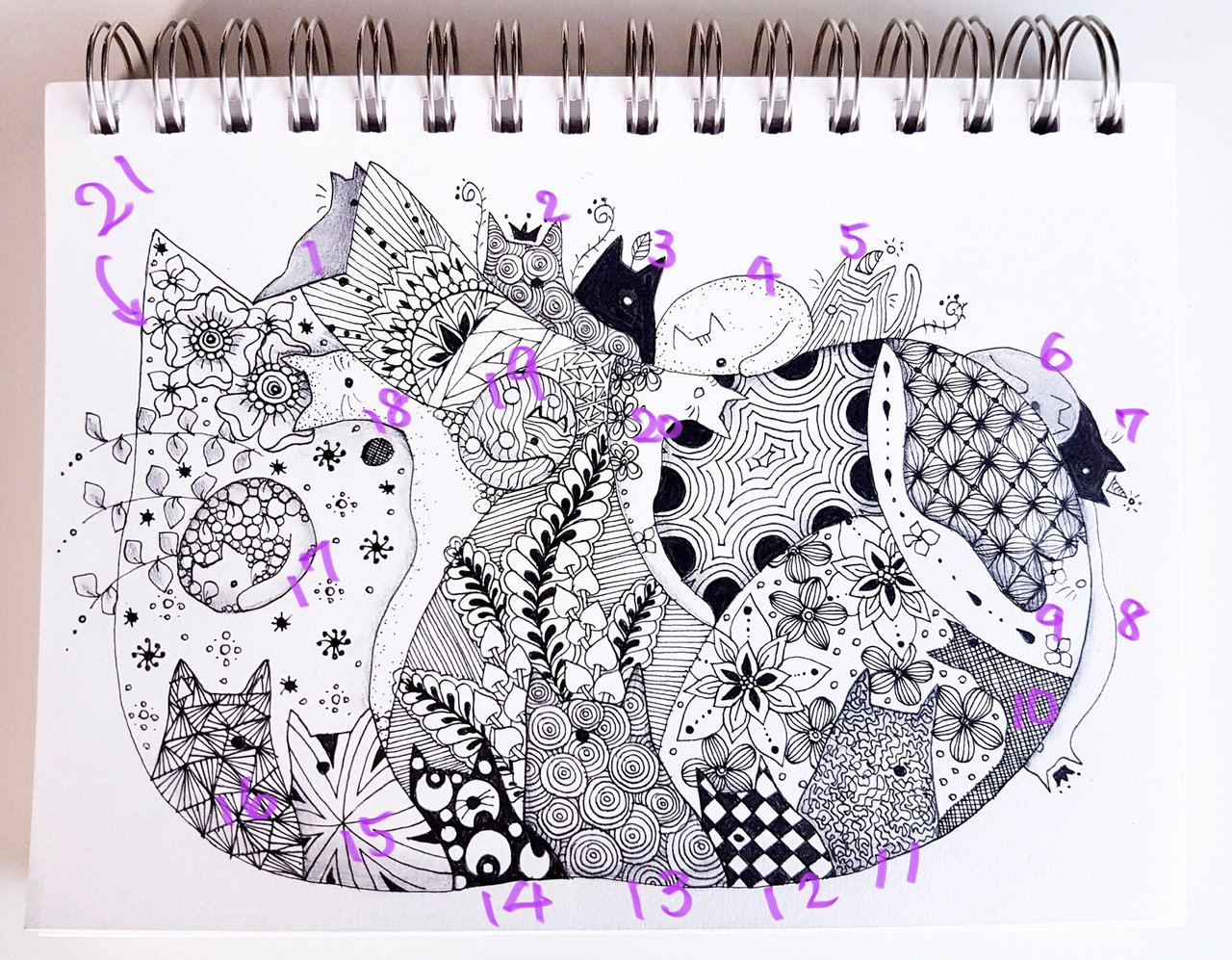 I hope you like it.
また頑張って描きます。

Thanks for visiting!
いつもありがとうございます!