Winter time is not the busiest of times for a herpetologist. With reptiles and amphibians dormant and tucked safely away, there isn't much to be done besides caring for our captive animals (and even many of them decrease their activity levels during this time). So @herpetologyguy has had some free time on his hands these past few weeks...
Last winter, I was inspired by some really talented steemians to try pyrography, the art of wood burning. These individuals do some amazing work, having practically mastered texturing and shading to create visually stunning pieces. It looked like a really cool challenge, and after receiving a beginner's pyrography kit, I started tinkering around seeing what I could create myself. I had a lot of fun, but man do I have a lot of respect for the professional pyrographers out there! It is some seriously difficult work (and I was just doing basic shapes) and it is a very slow process! Unfortunately, as spring came around, my life became substantially busier with our museum's big spring reptile event and our own household renovations, and my wood burning was put on hold.
Flash forward to this week. We finally finished a big kitchen renovation. Completely gutted and rebuilt; it was practically a nightmare, but we made it through. As we were filling the (brand new!) cabinets and drawers, we came across @ellepdubs cast iron pans. Up until now, we really didn't have a great place to store them when not in use. Anytime we put them away in our lower drawers, @herpetologyguy-jr would come along and drag them out. I was concerned he would drop them at some point, and either injure himself or damage our floors. Unfortunately, while our new kitchen is a major upgrade from the original, there still wasn't an adequate storage space. We had discussed possibly hanging the pans on the wall to save space and keep them out of reach of baby hands, though we weren't really sure how to do it.
After looking at various hooks and racks online, I decided none of them were really a good fit. They just didn't match our house/kitchen and would have looked out of place. I decided I would surprise @ellepdub and build a rack myself, and it was during this process that I broke out the pyrography kit. Having not touched it in almost a year, I was a little skeptical of how things would turn out. In my best work, I had only burned basic shapes that were completely black, so shading and any sort of color gradient was pretty much out of the question. I decided to start by putting our last name on the rack.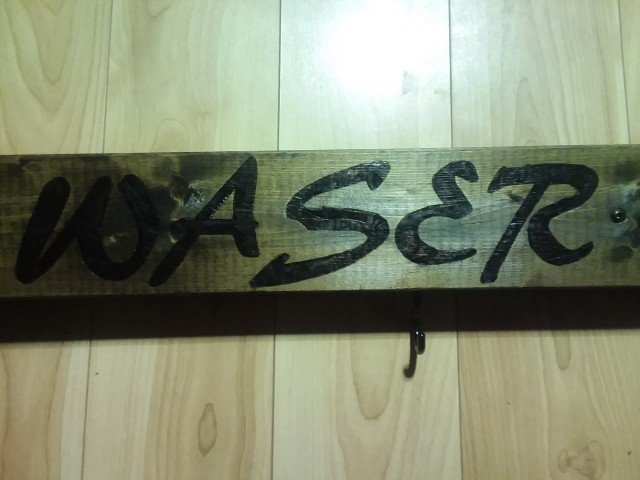 (Sorry for the glare, I never thought to take photos until after I stained it!)
It actually went more smoothly than I imagined! Problem was now I had a really long rack with our name in the middle of it and nothing else. I decided we needed some more decoration. @ellepdubs cast iron pans are a wildlife series, and the pans are decorated with bears, deer, fish, and other woodland animals. I must have been getting pretty cocky with myself over having burned the name reasonably well, so I decided that I would complete the rack by adding forest animals. Pretty ambitious for someone who had only done basic shapes, but I decided to just go for it before I talked myself out of it. It took a little work and a LOT of patience, but slowly things started appearing better than I anticipated!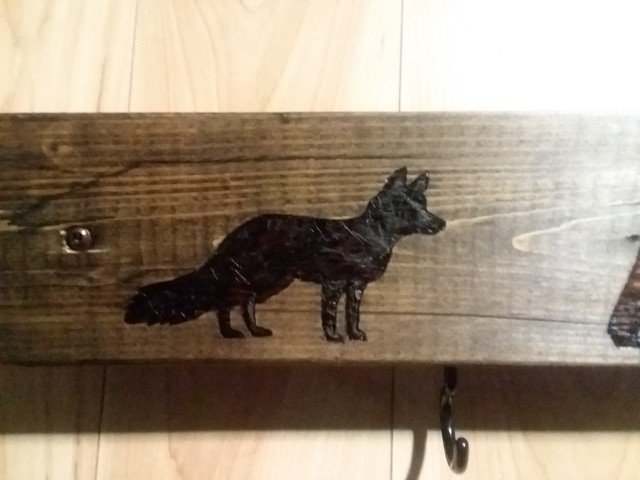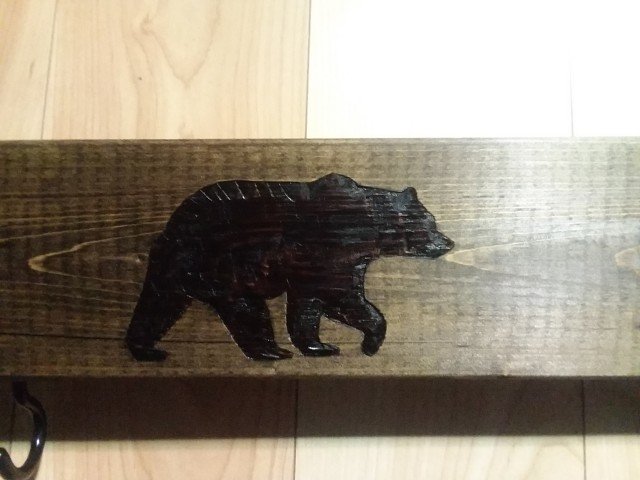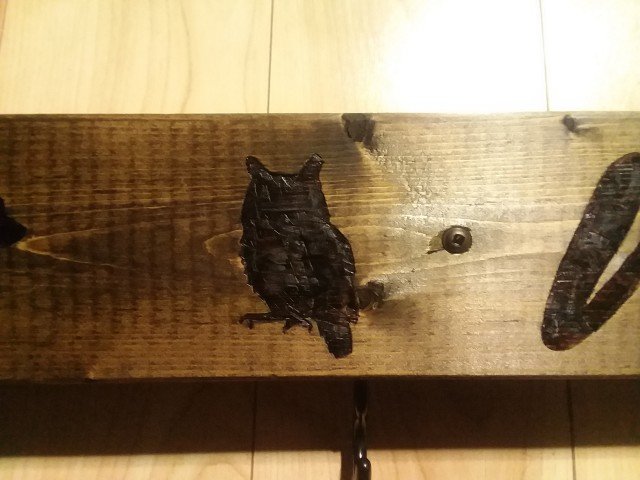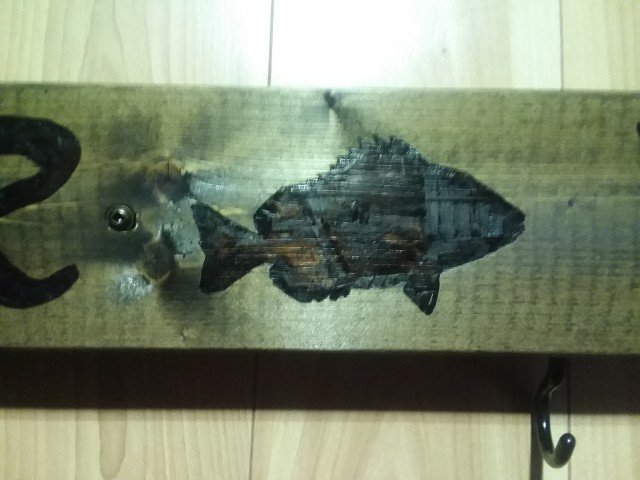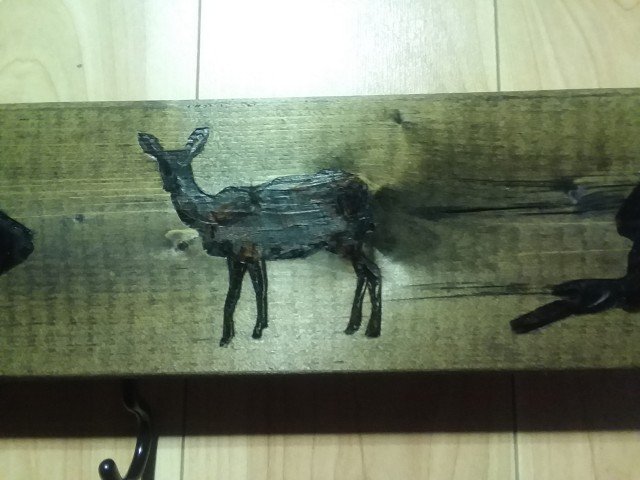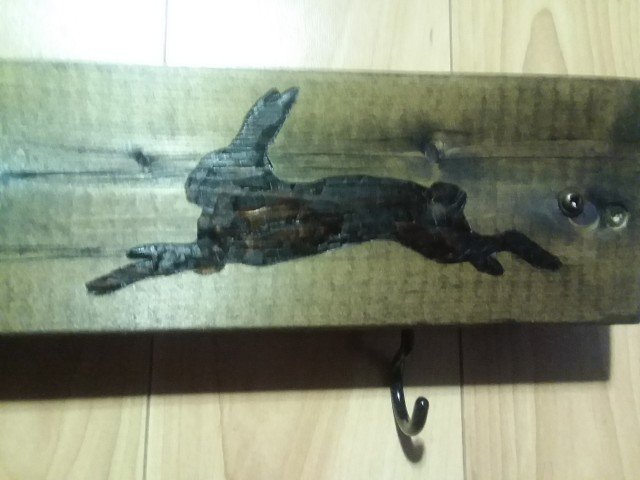 And finally, the finished product (after a really long 5 hour session)!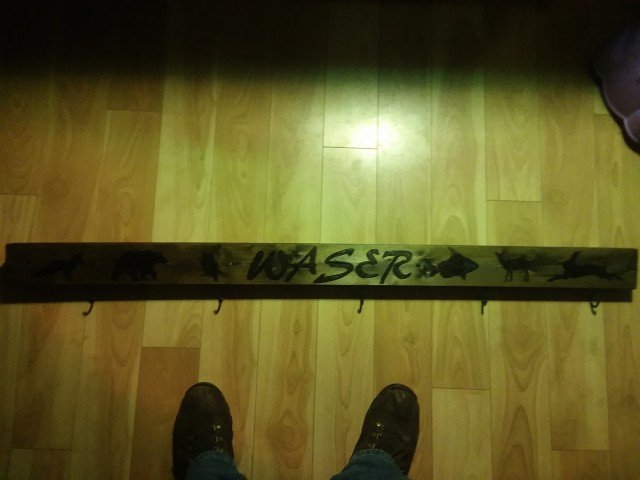 How I pulled this off I really don't know! I haven't touched a pyrography pen in almost a year and even then I wasn't much good in the beginning! Fortunately, the success of the project has really encouraged me to keep going (even though I was holding back some choice language roughly 3 hours into the project!). Hopefully more artwork like this will be on my page soon, but for now I am incredibly satisfied with quality (and @ellepdub loved the surprise!)!