MY INKTOBER SO FAR 🍁🍂🍃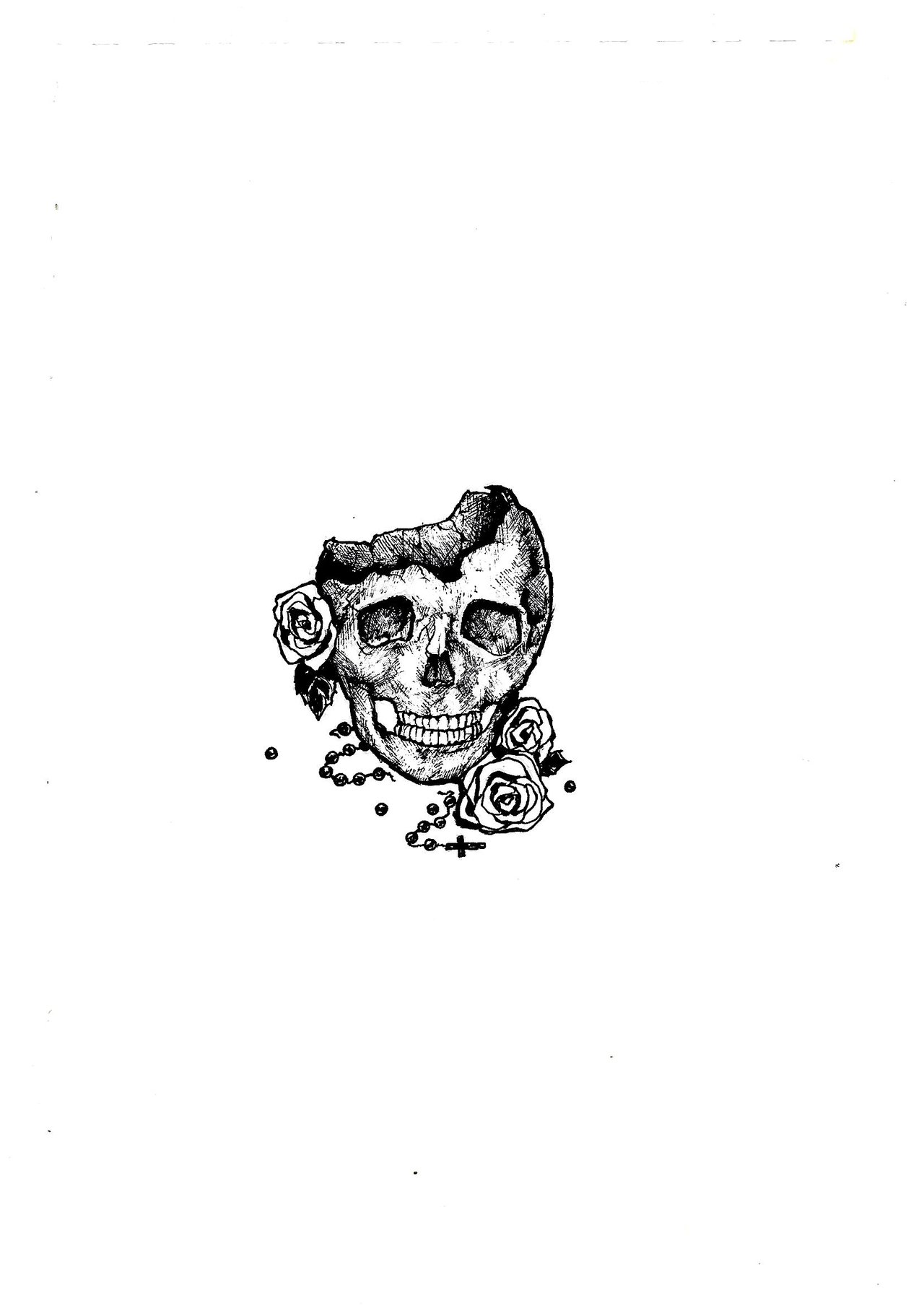 Alrighty! My first time to try inktober! Iusually don't participate but since I don't have much time for artworks in long term, I decided to make some INKTOBER artworks which are quick and easy to make.
There were also days I missed drawing one so I merged two or three themes together which to me was even more challenging. I am currently still drawing one right now but it will be on a next post and not this one. Leider!
Materials
⚜️For white artworks - this is just drawing paper and a regular sign pen or a 0.5 ink pen.
⚜️For black artworks - I used black paper my sister gifted to me and white ink - it's not artist white ink but "white out" I don't have any other materials right now because my old ones don't function now and I can't buy new ones.
HERE THEY ARE!
I'll add why I came up with the artwork.
(The title and daily theme of INKTOBER after every picture)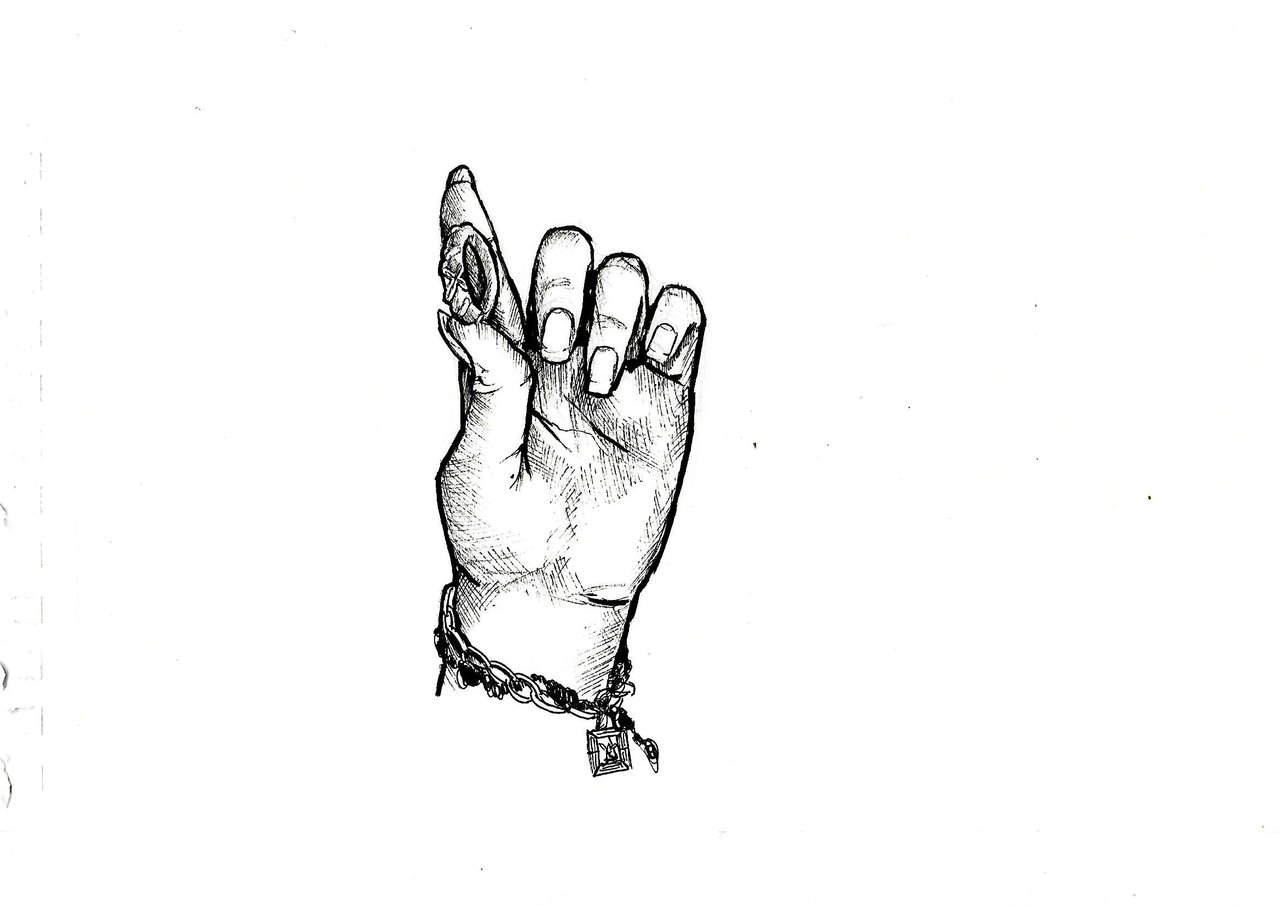 Title: hand
Theme: ring
I drew my rosary ring which I've been wearing since I was 18. I've drawn my hand before with this ring so I drew it again. Literally a ring. I didn't want to think too much since I've been back to school and busy. Easy, simple and make it look good.⚜️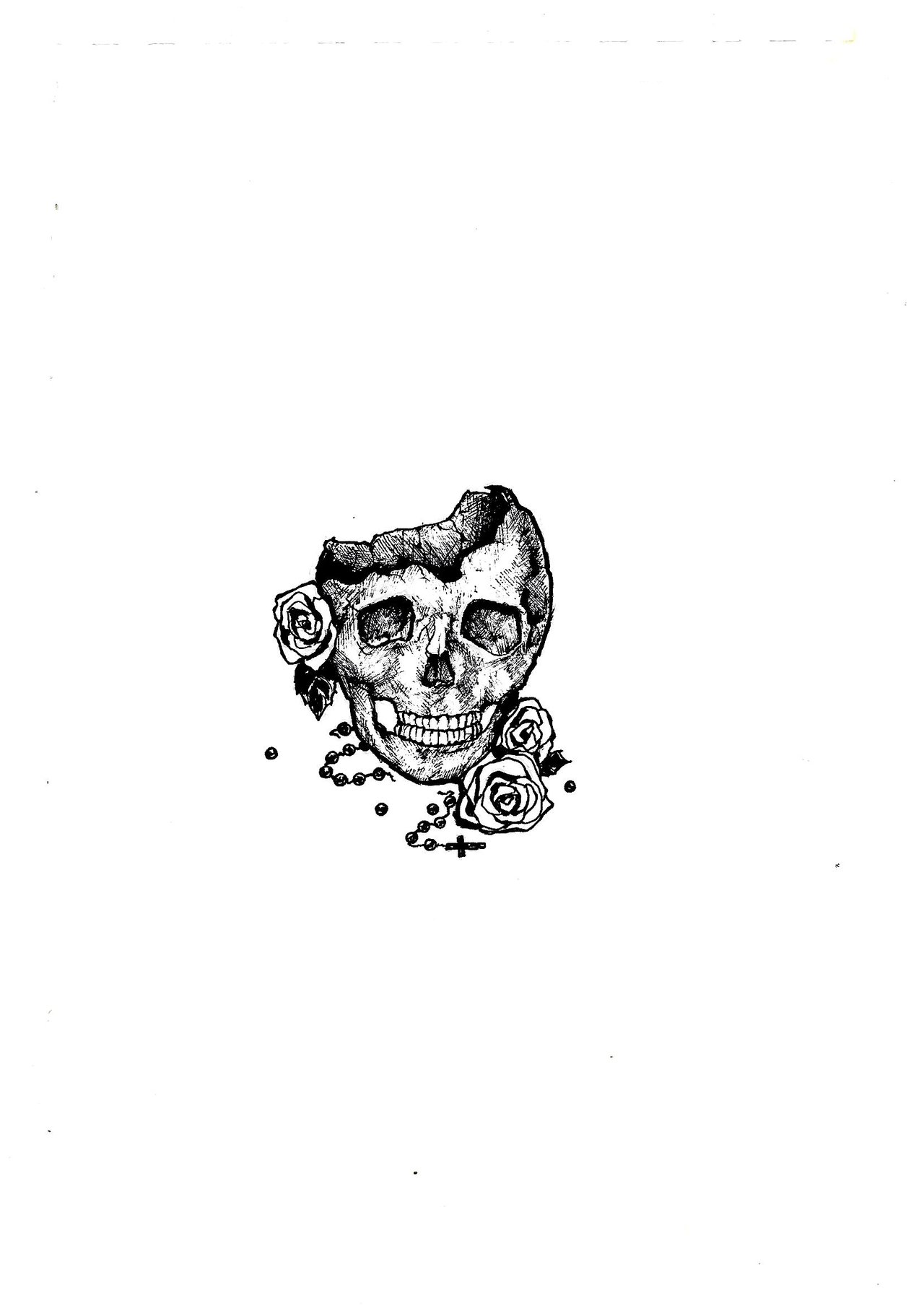 Title: memento Mori
Theme: mindless
So, I have problems getting creative so for "mindless" theme, I got a bit mindless. Haha! No, okay I was looking for some ideas. I thought of a skull since skulls are mindless and I came with an idea that putting a crack would expose the mindlessness and emptiness within. The roses are decorative and adds to the theme of memento Mori which I was going for. "Remember your death" is something that stresses out that we will all die one day and no amount of luxury or decoration can make your death look good if you have made waste to your life by failing to do good deeds, take care of your body and soul or give glory to our Creator. Veritas.⚜️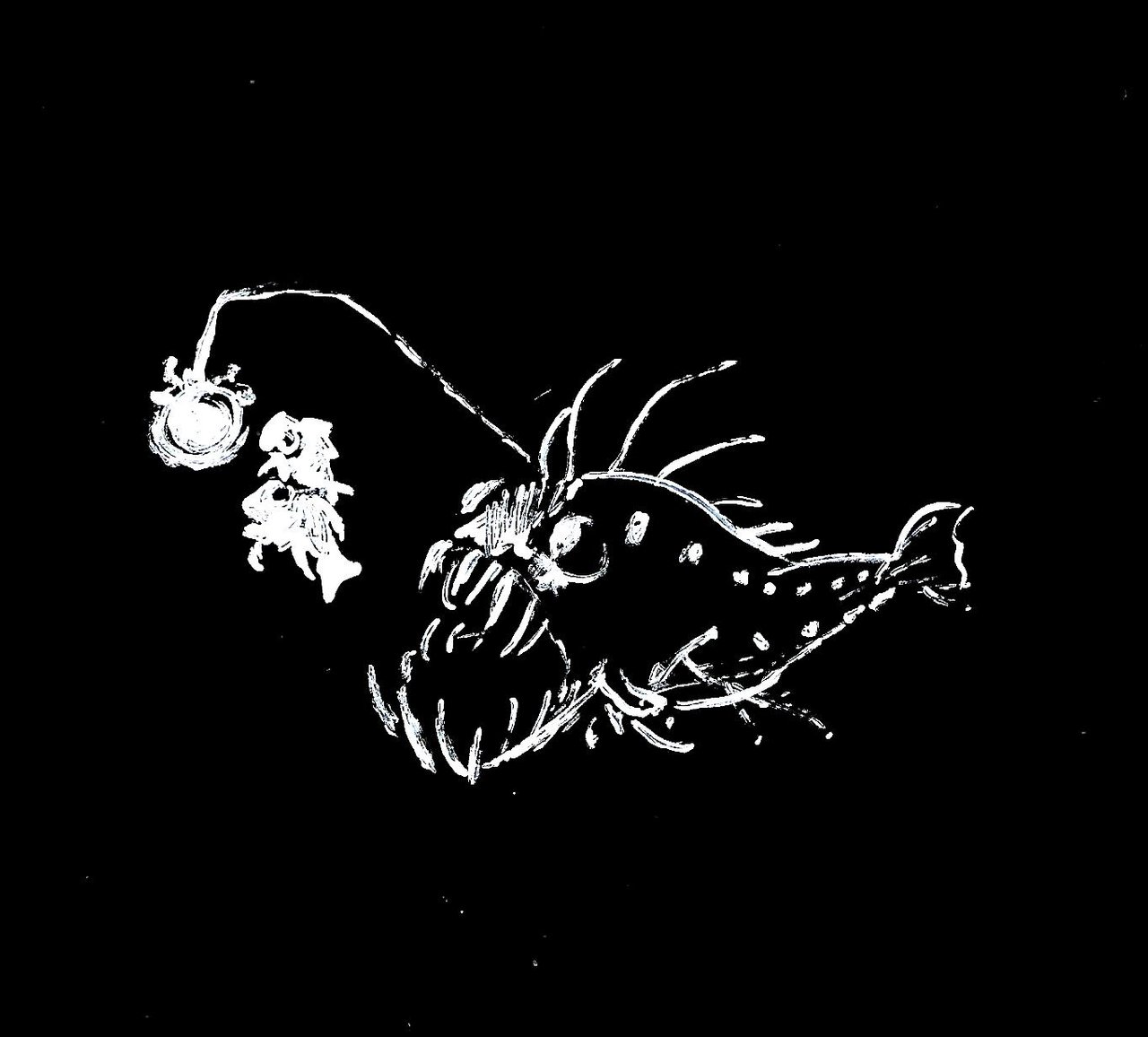 Title: Consent to deception
Theme: bait
the first thing that comes to mind with "bait" s fishing. Nobody else would think of another theme maybe? Anyone? Maybe? But anyway! I wanted to make it different (please not another fisherman) so I thought of an angler fish. So along with this, the theme is dark and I was meditating on how the theme is about deception. Bait is something that leads you to being captive. In relation to the real world, how many of us allow ourselves to deceive ourselves? How many worldly things do we focus on forgetting more important things? Sometimes it's good to realize priorities and actually getting to them and not just being a fish waiting for bait. ⚜️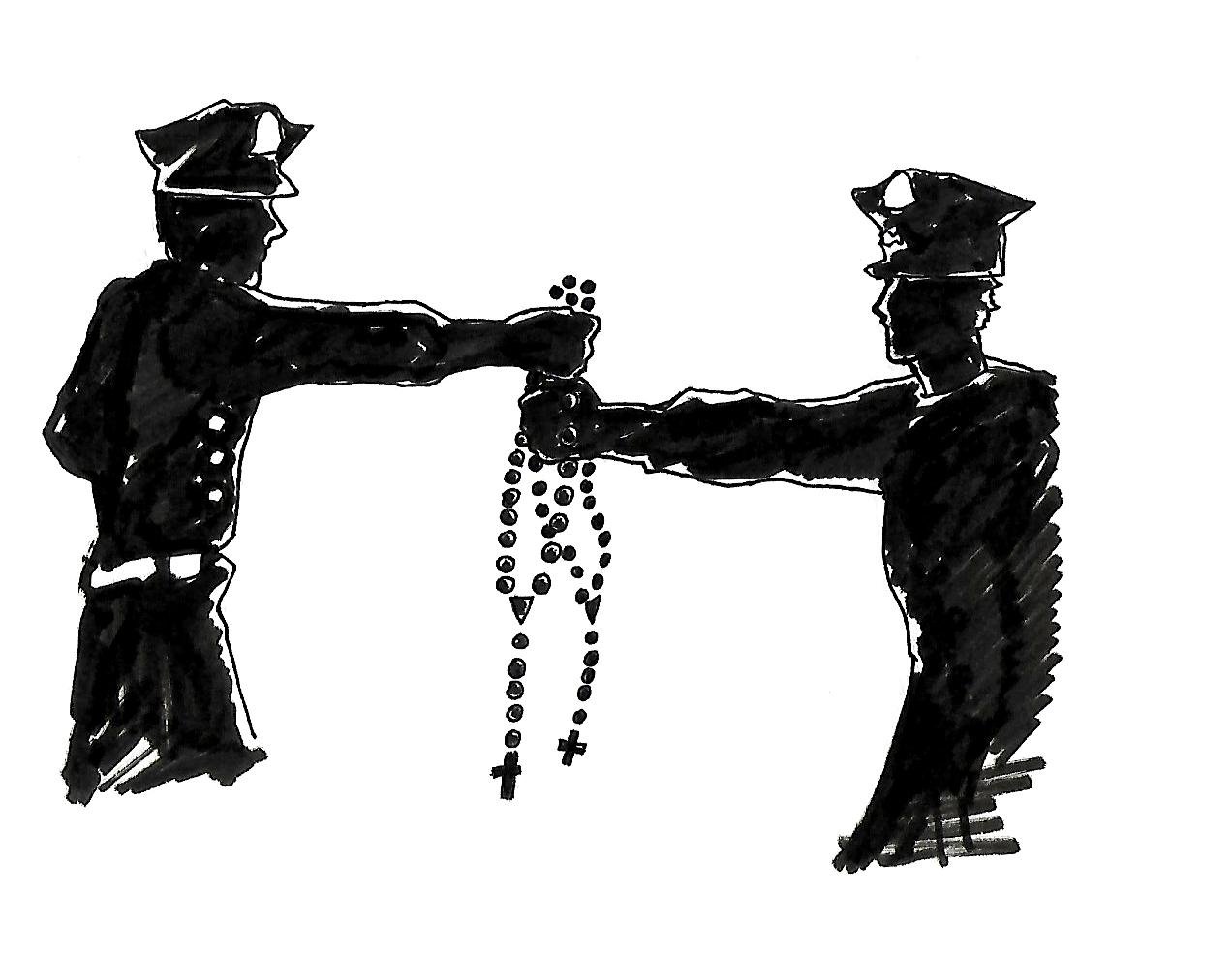 Title: rosary cop
Theme: freeze
This is the only other idea that doesn't involve ice or snow or cold. So this is a rosary cop checking on others if they prayed already. Cause prayer connects you to God, sometimes I do check on my friends if they've prayed or not.. No I don't force them, but I remind.⚜️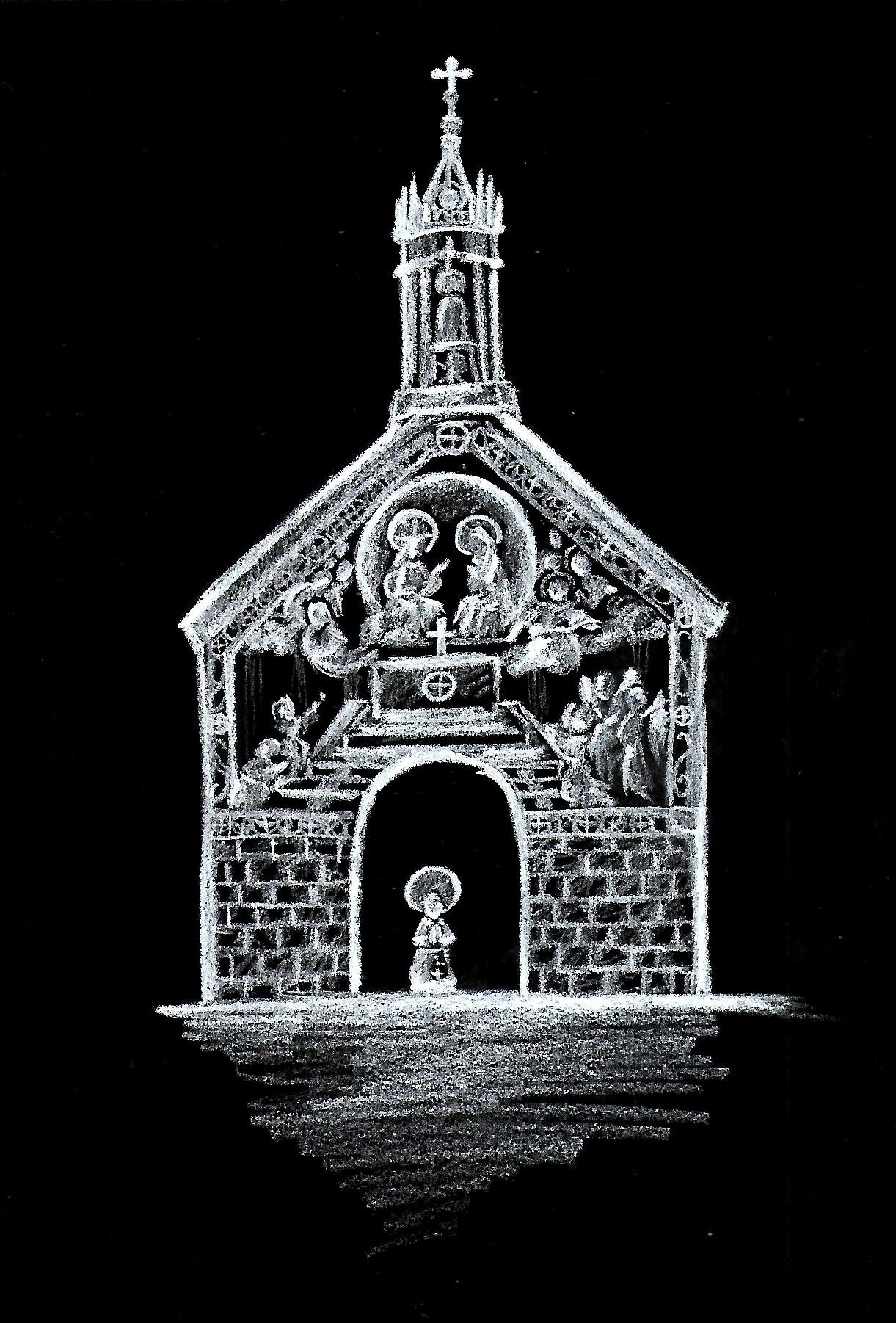 Title: build your church
Theme: build
This isn't ink, but just an additional trial sketch I made. This is St. Francis of Assisi who built a small chapel in Italy. I admire the traditional and classic designs and attempted to sketch it. Tricky how this is inverted drawing, you'll be drawing in reverse. Kind of hard to explain how but this is it.⚜️
Link to the chapel image:
https://www.pinterest.com/pin/21532904440073646/
You can go see how I did by comparing.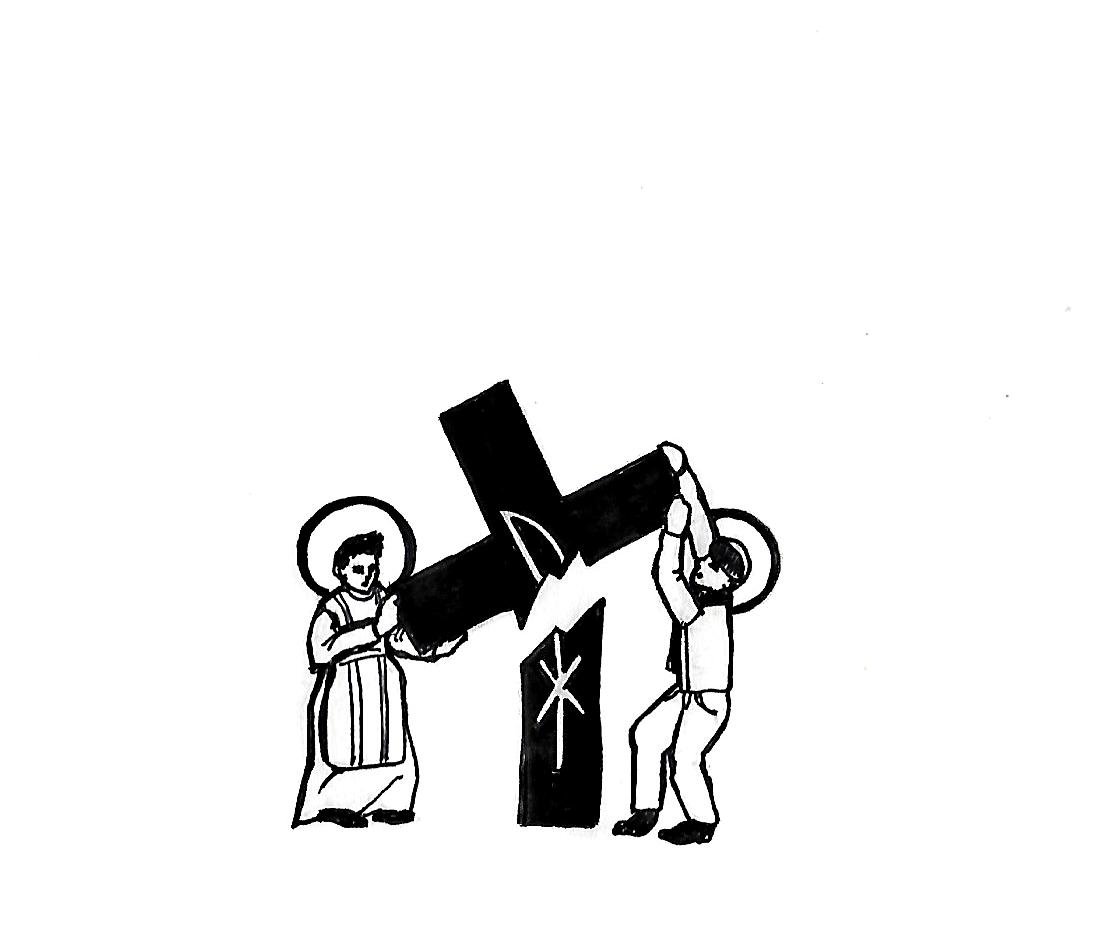 Build your church part 2
Theme: build
This is my real entry for build theme. So, the clergy and laity are building the cross, the church, the bride of Christ. Cause it's broken obviously, nothing on earth is perfect so we all should work hand in hand to improve ourselves and be better all for each other. As majorem Dei gloriam⚜️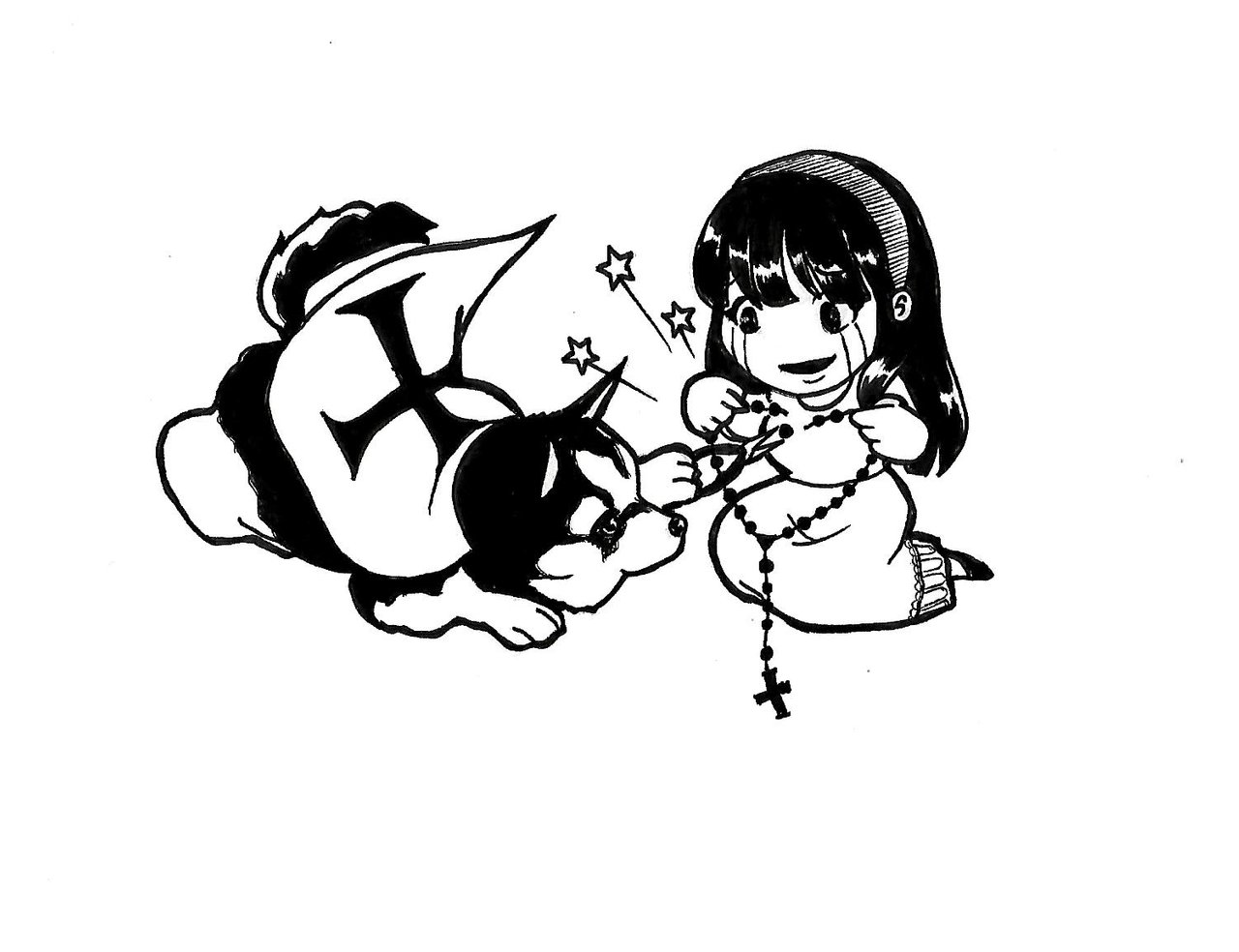 Title: Superhund
Theme: (a mix) husky, enchanted, frail
Since I missed, I merged three themes. So this is a superhero husky (der Hund) helping me make a rosary cause in my free time I make some and give them away to friends.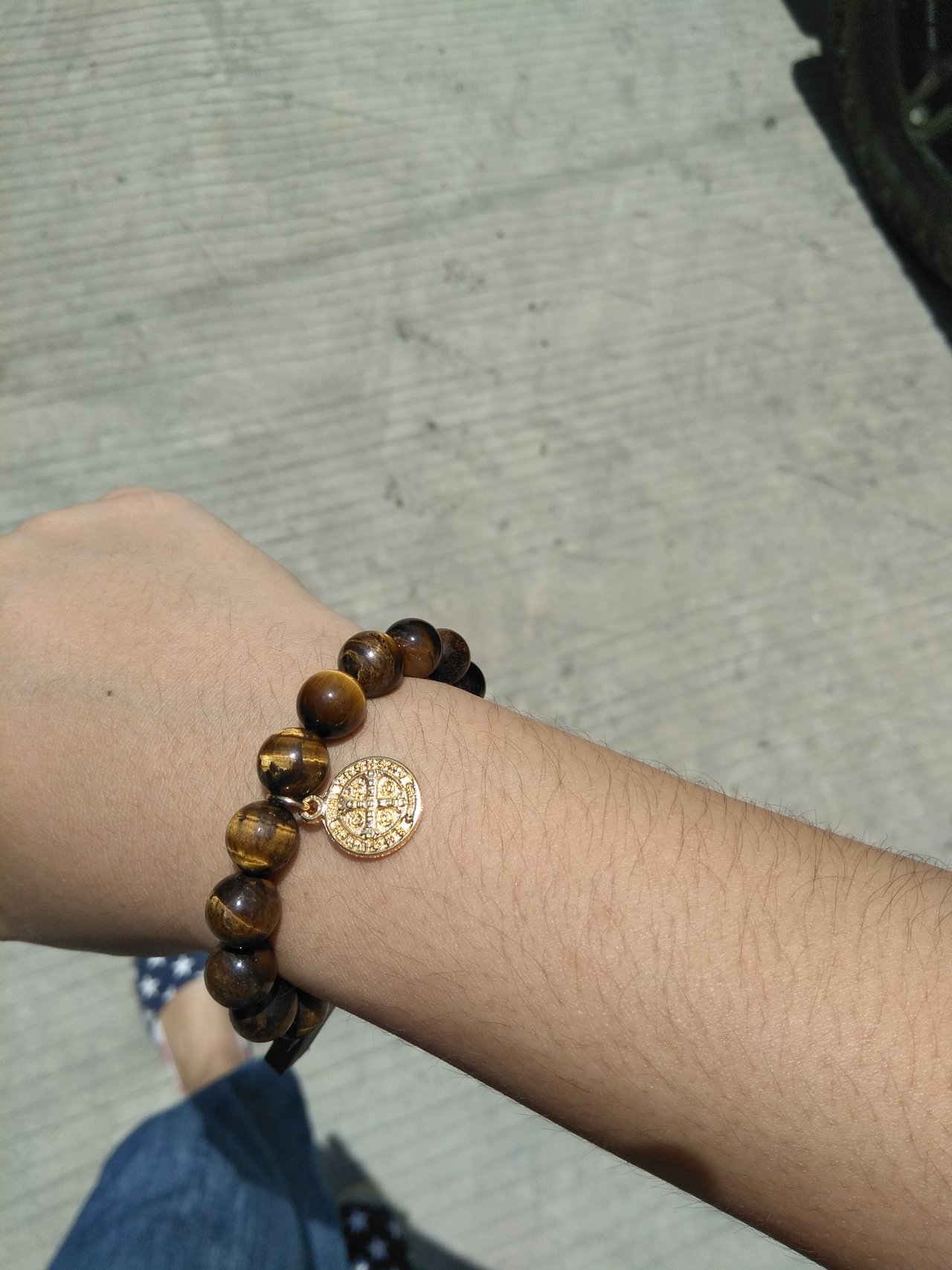 This is one I converted into a rosary bracelet but it is made of stretchy string/nylon. I also make ones made of wire and beads but I don't have a picture right now.⚜️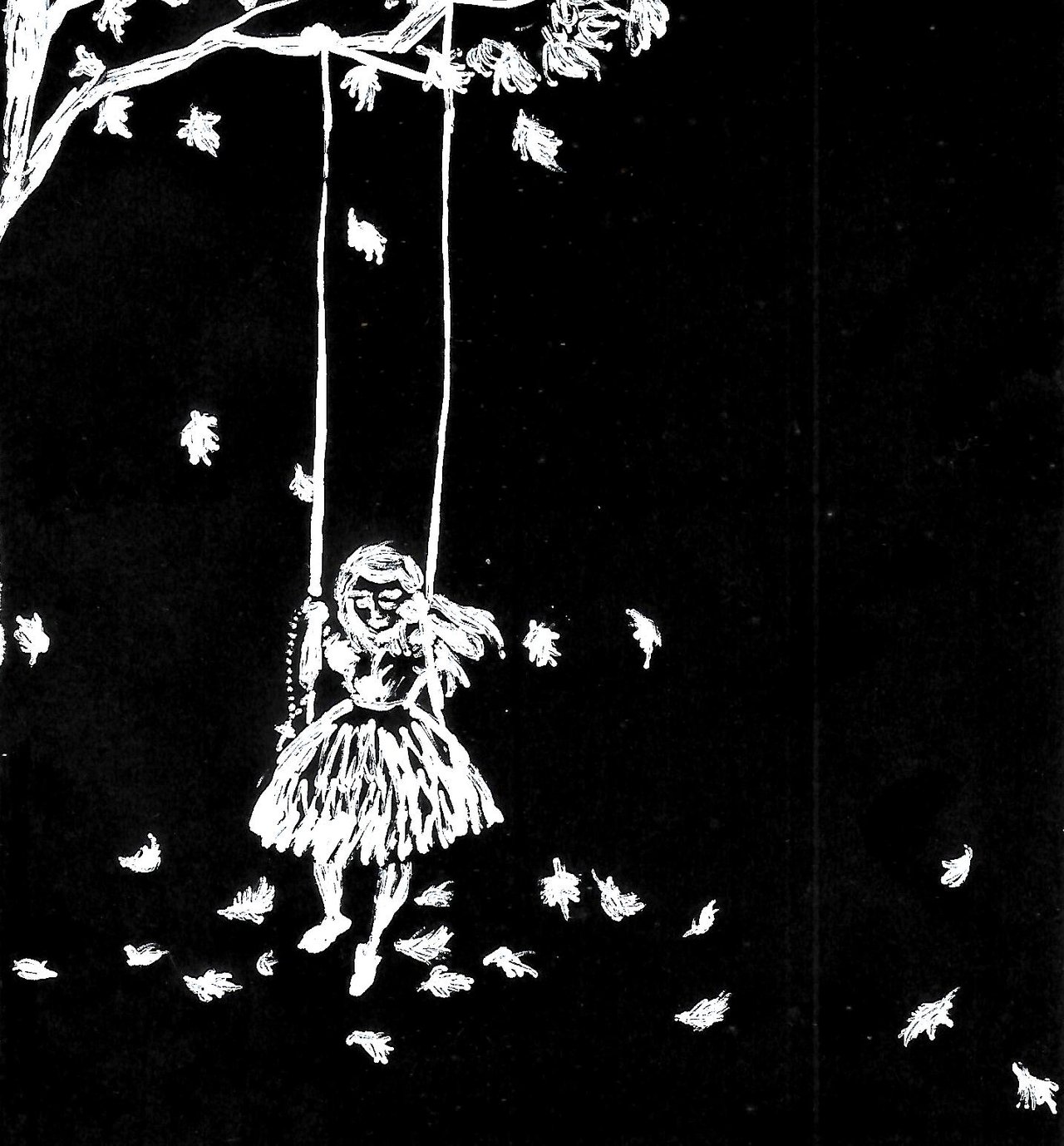 Title: lonely
Theme: swing
Swing and autumn together. And I matched a quote for this one, "when you feel the loneliness of life, pray." Said by Padre Pio.⚜️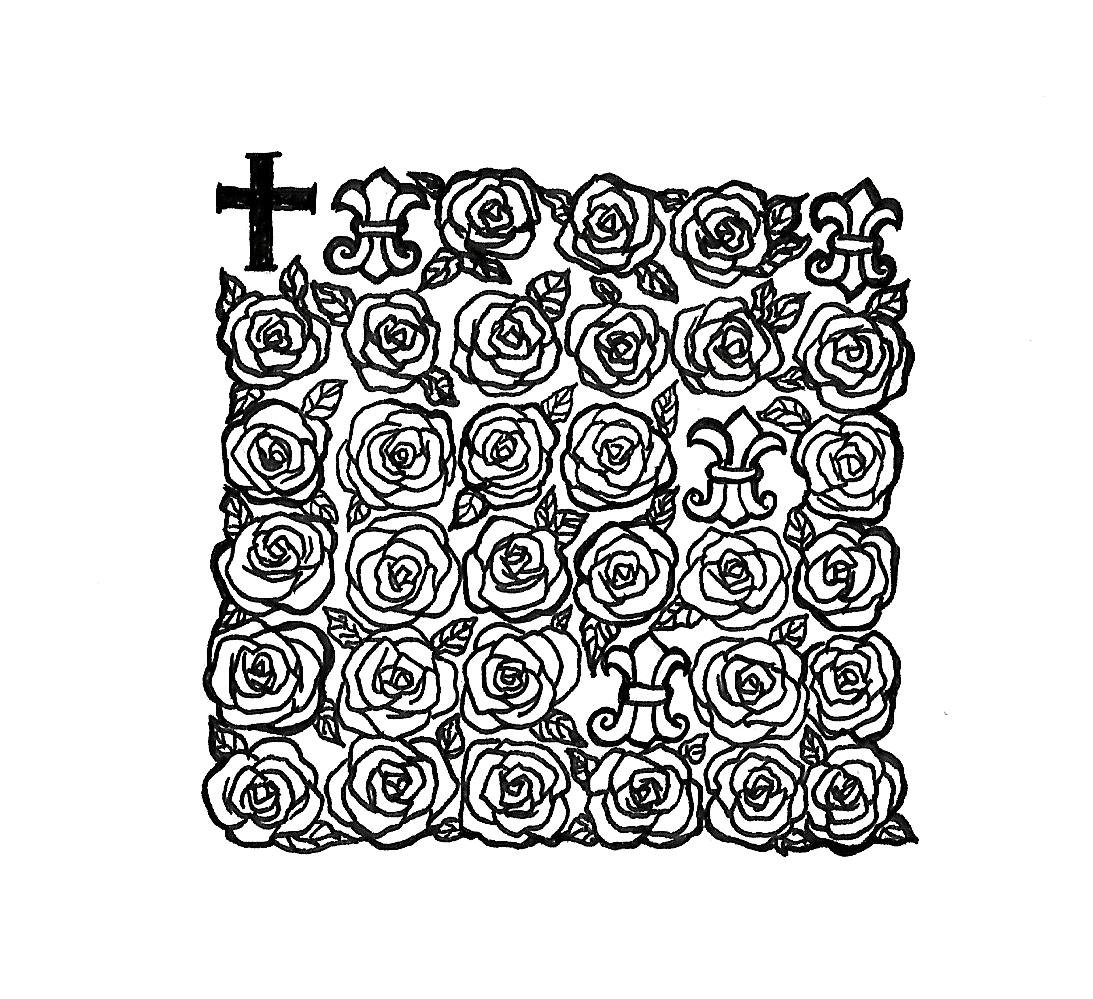 Title: untitled
Theme: pattern
I don't want to give away much if it is not obvious to you yet. A pattern is a pattern.⚜️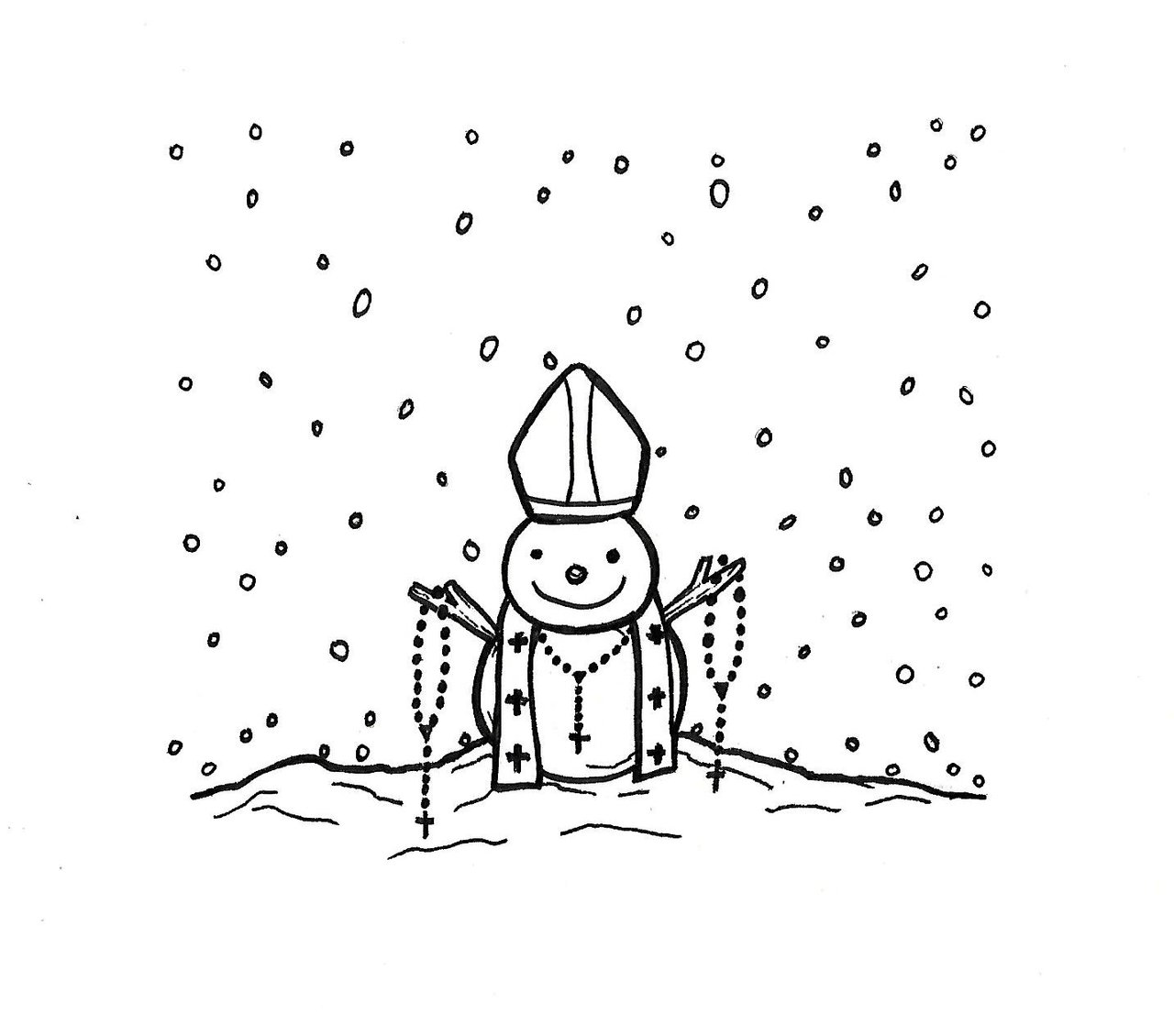 Title: snowpope
Theme: snow
The theme doubled. So, this snowman was already an idea that I thought of so I saved time thinking about this.
Zurzeit
(Now) at the time being, I'm making one more which is a combination of two themes. And since today I'm missing another one and perhaps only be able to draw one tomorrow, I'll make it 2 themes in one.
Process
✏️ Pencil sketch lightly
✏️ Ink it, by crosshatching, making solid thicker outlines and for the white charcoal sketch (the church drawing) I used a dark to light sketch and some smudging.
✏️ Erase and clean pencil marks
✏️ Scan and save
Very very simple. You can definitely do it too!
That's it for now folks!
Hope you enjoyed my weird ideas and art!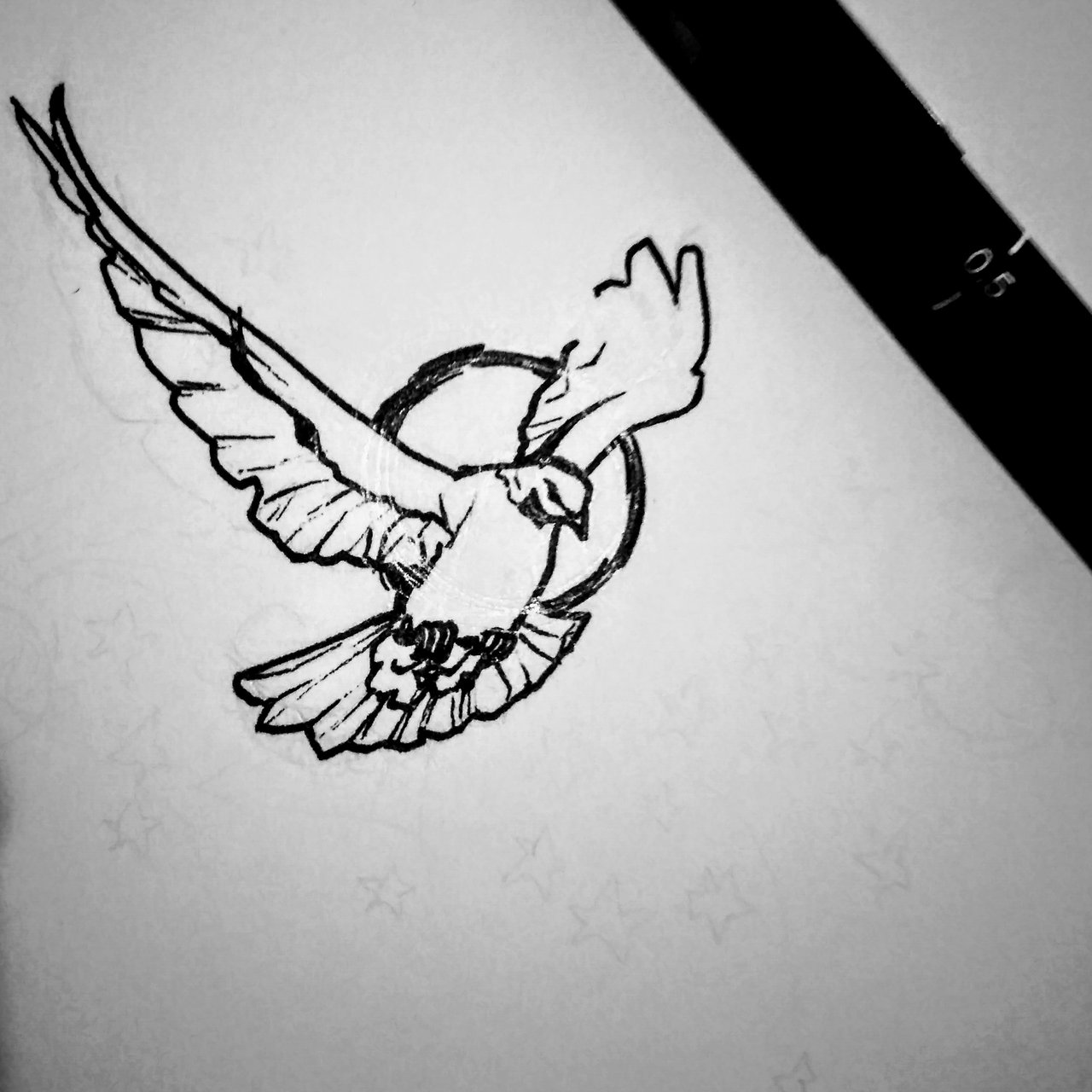 My current piece soon to finish
By the way!
I totally missed blogging! I'm gonna be more active here and I hope y'all still love hanging around and sharing stuff on here. It's pretty relaxing to just write and express. Nice to see y'all again guys!

🌍🌎🌏
THE ENVIRONMENT CALLS FOR YOU
HELP SAVE HER ♥️✨🕊️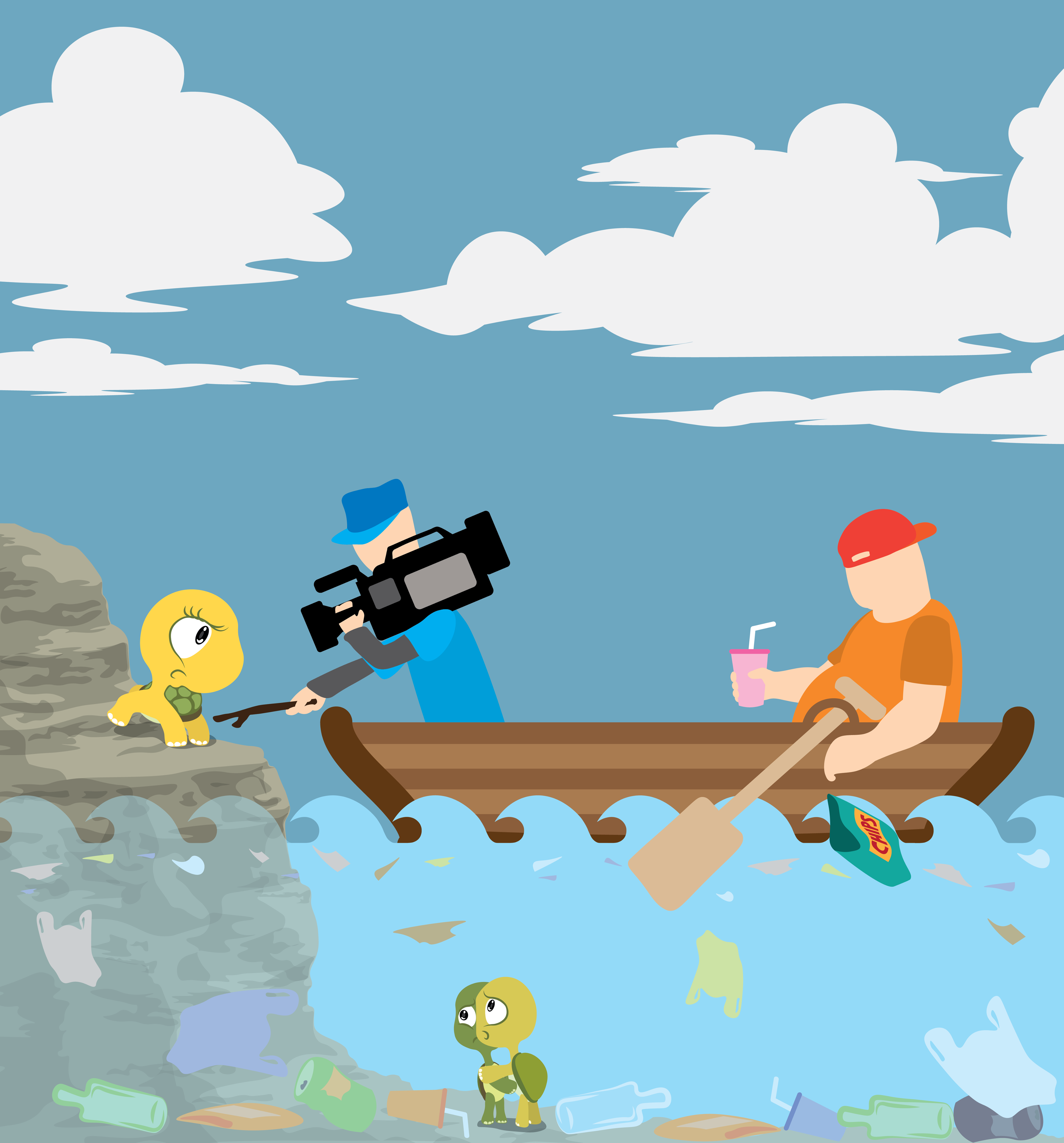 Protecting the Wildlife has never been so essential in the history of humanity as it is now. Bring awareness worldwide!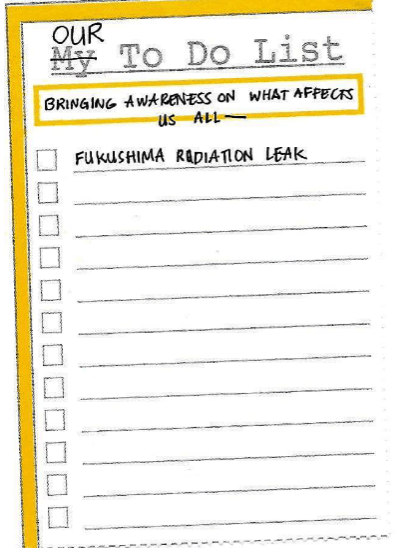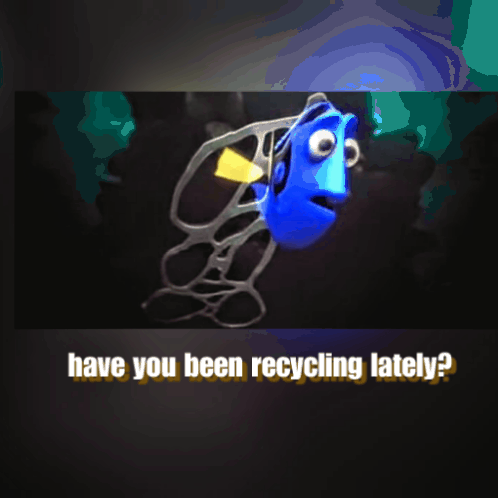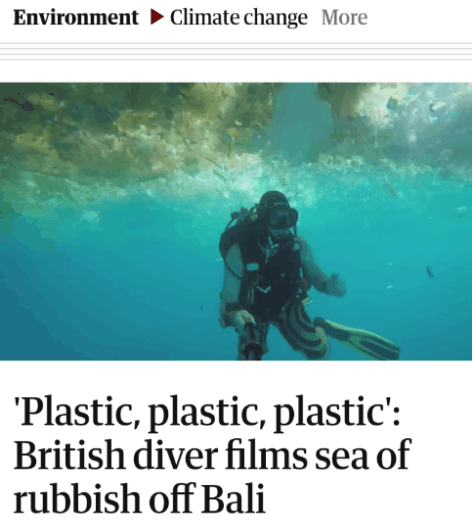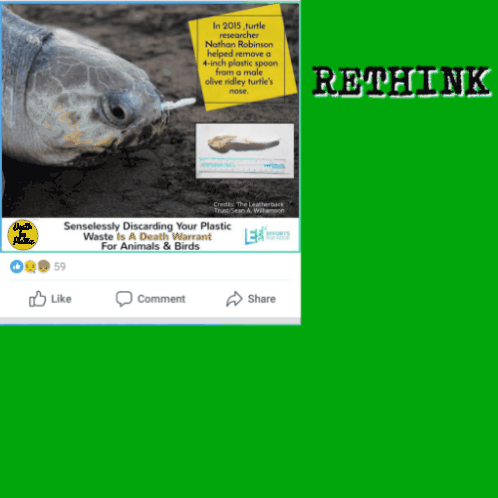 WE DO NOT INHERIT THE EARTH FROM OUR ANCESTORS, WE BORROW IT FROM OUR CHILDREN
🌏🌎🌍

😱IT IS IMPORTANT TO VOTE FOR WITNESSES☝️
I recommend:
@steemgigs
@blocktrades
@precise
@cloh76.witness
@ausbitbank

SOME AWESOME BLOGGERS
You don't want to miss😉
@gems.and.cookies
@anomadsoul
@surpassinggoogle
@topkpop
@hiddenblade
@deveerei
@korinkrafting
@fukumineko
@sethlinson
@mattphilleo
@deemarshall

That's all folks!
XOXO 💋
@jacinta.sevilla