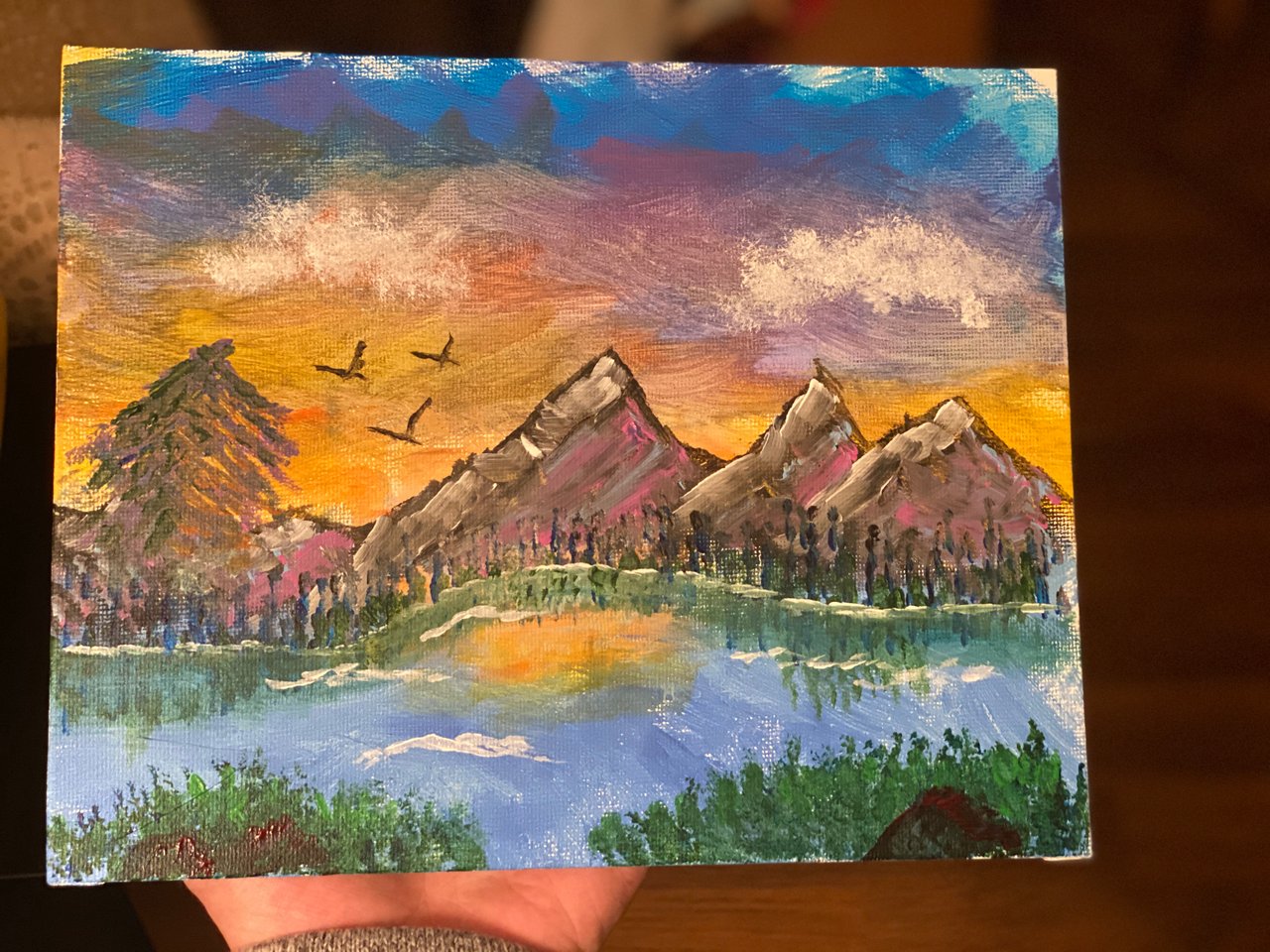 Serenity
@nicollefiallo Joins the STEEM Office Art Gallery
It has been a long time since my last addition, but my STEEM Office Gallery continues to grow. This time I added a very special piece that was gifted to me by the one and only @nicollefiallo. My STEEM Office Art Gallery now consists of 5 different paintings from 5 different artists that shared their work here on the STEEM blockchain.
@nicollefiallo claims this is her first ever landscape painting. It's painted with acrylic on an 8.5" x 11" canvas panel. The colors of the painting are absolutely beautiful (just like the artist herself). Pink, purple and blue skies blend with orange and yellow from the setting sun. Three eagles fly over a lake with mountain peaks in the distance. It's a wonderful landscape scene.
I was in the presence of @nicollefiallo as she was working on this painting. I swear it only took her about 40 minutes to complete. The picture above shows her holding up the finished product, while sporting an awesome NYE Disco Biscuits T-shirt.
Below is a look at @nicollefiallo's work station and painting palette.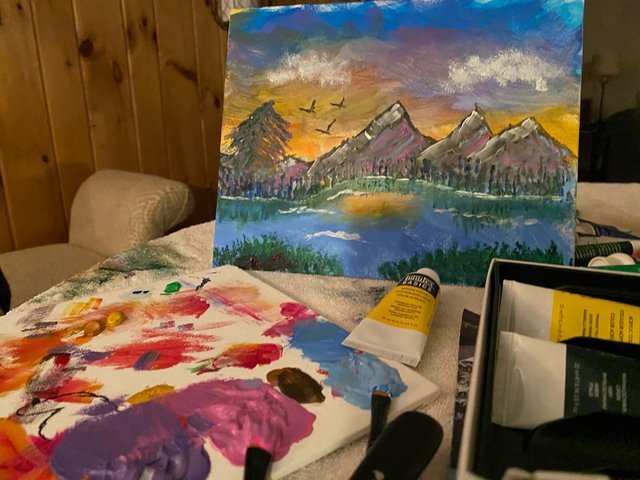 I framed the painting in a rustic wood planked picture frame. It now hangs on the wall in my office directly across from my desk. I definitely love to look at it throughout my day. It gives serenity.
Be sure to give @nicollefiallo a follow!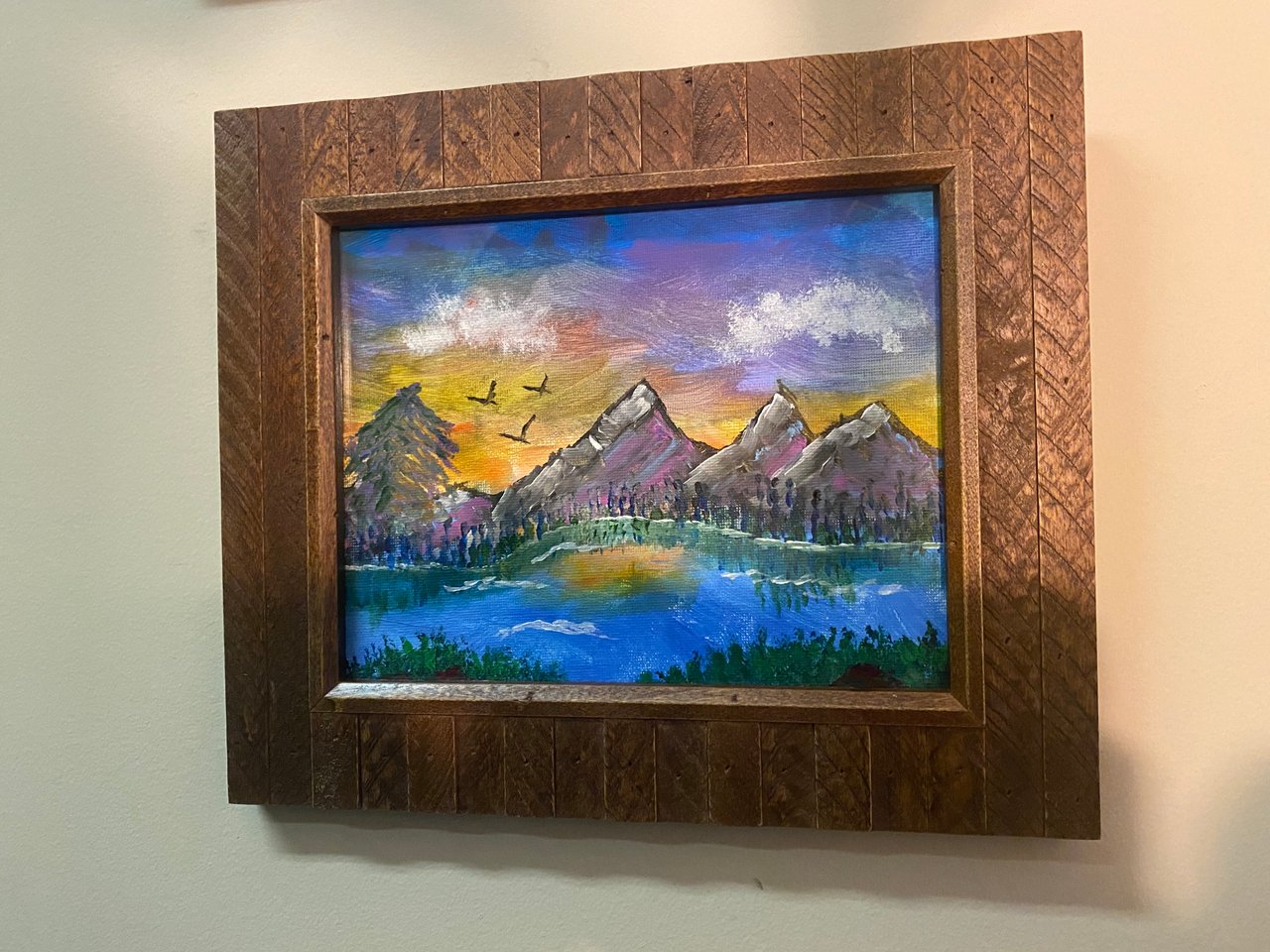 The STEEM Office Gallery

Want to Join My STEEM Office Art Gallery?
If you are an artist that uses the STEEM-platform to showcase your work, I would love to feature you in my STEEM-based Office Art Gallery. Reach out in the comment section if you'd like to send art to be added to the Wall of STEEM!

Thanks For Reading!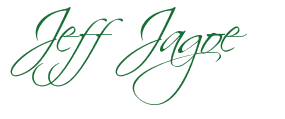 Sign Up to Menē for $5 towards 24K Gold Jewelry
Join Airbnb and Save $40 on your first trip
Get Paid to Read Your E-Mails with Earn.com
Earn STEEM Dollars & more by completing online tasks
Convert your online activity into Gift Cards, Crypto or Paypal with GaB
Join the SWIFT Universal Basic Income Experiment
Get Paid to Get Fit with the SweatCoin App
Use Bitcoin for Amazon Purchases and Save $$$
Join the TRYBE Publishing Platform on the EOS Network
Join Lolli for Bitcoin Rebates
Sign Up to Binance - A Leading Crypto Exchange
Join the TRYBE Publishing Platform on the EOS Network
Join Lolli for Bitcoin Rebates
Collect, Trade & Battle on the Blockchain with SteemMonsters
Join Actifit - Get Rewarded For Being Active
Send a Tip Using the Bitcoin Lightning Network

---